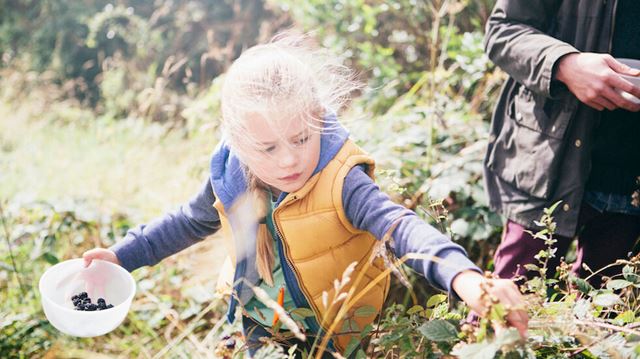 There are so many benefits to foraging, aside from the fresh and free food. Follow our guide to stay safe, and recipes to make with your bounty.
In a time when much of society is suffering from Nature Deficit Disorder, foraging offers the opportunity to get outside and really reconnect with the natural world around you.
As well as learning to identify which plants to pick from when foraging, there is also the chance of encounters with other wildlife – beautiful birdsong overhead, buzzing bees and fluttering butterflies in search of autumn flowers, or the simple joy of rustling leaves in the breeze.
Foraging is suitable for everyone, from young kids to those in their 90s, although some may need supervision, particularly around thorny plants. Spending time outdoors can provide exercise and the chance to practice mindfulness, or to create wonderful memories with friends and family.
What to consider when foraging
Take care when foraging, as many plants, such as blackthorn and bramble, have thorns or stinging hairs.
One of the most important parts of foraging is to know exactly what you are picking. If you are not sure, don't pick it. This is particularly true when foraging fungi, as it can be very difficult to tell apart the toxic and edible species. Take an ID guide with you when foraging.
Only pick what you need, be sure to leave some food for wildlife to eat too.
---
Discover more ways to enjoy nature:
---
Blackberries
Blackberries are a classic autumn fruit to forage, and can be used in so many different ways – if you are able to resist eating them all straight from the bush! The sprawling bushes of the bramble plant are a familiar sight to many, sometimes welcome but often a bit of a pest in gardens.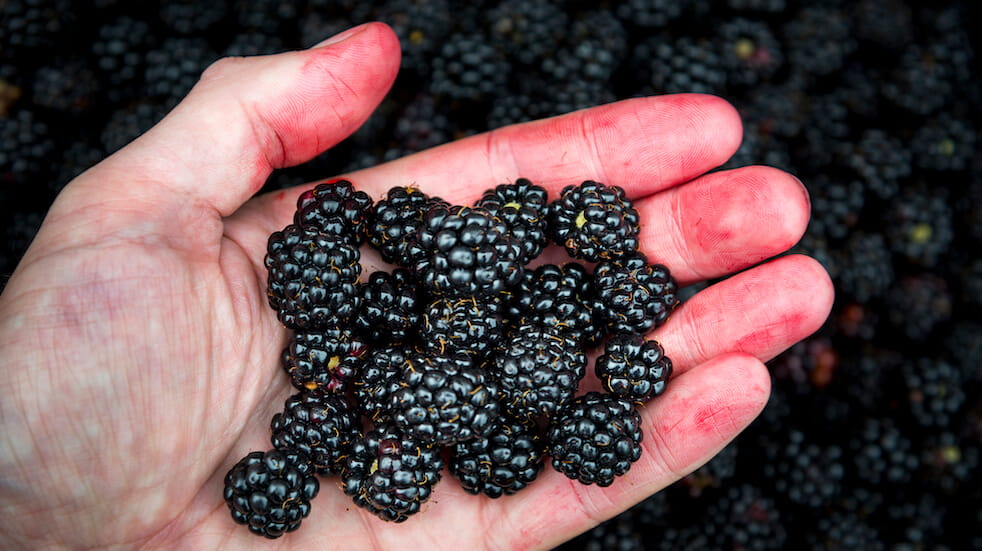 Sloes
One of the first hedgerow bushes to bloom in the year, blackthorn is covered with beautiful white flowers in early spring. Come the autumn, and in among the thorns you will find the deep purple sloe berries. Although not suitable to eat raw, they are great fruit for flavouring gin.
Sloes, damsons, bullace and plums are all part of the Prunus genus, and the first two can be easily mistaken for each other. Damsons can also be used to flavour gin.
Sweet chestnut
First introduced to the UK by the Romans, sweet chestnuts are now a classic tree to forage from. The nuts can be cooked in a variety of ways, but whichever way you choose, be sure to score a cross in them or they may explode!
Crab apples
Smaller and usually more sour than their domestic counterparts, crab apples are best suited to cooking and thanks to their high pectin content, are ideal for adding to jams and jellies.
Interestingly, crab apples usually grow alone and there may only be one in a whole woodland. Look out semi-parasitic mistletoe growing on the branches, as crab apple is a common host.
Rosehips
Rosehips are found on a range of rose bushes, but the most suitable ones for foraging are the ones from the common dog rose. A traditional recipe for them is a syrup, as the fruit is high in a number of vitamins, particularly vitamin C. However make sure they are cooked properly because rosehips eaten raw can cause stomach upset, as they contain lots of small hairs.
Elderberries
While elderflowers are great to make a summery cordial, their berries should not be forgotten. Like rosehips, elderberries have a high vitamin C content. The berries are very versatile, and can be used to make fruit vinegar and syrup, and added to hedgerow jam.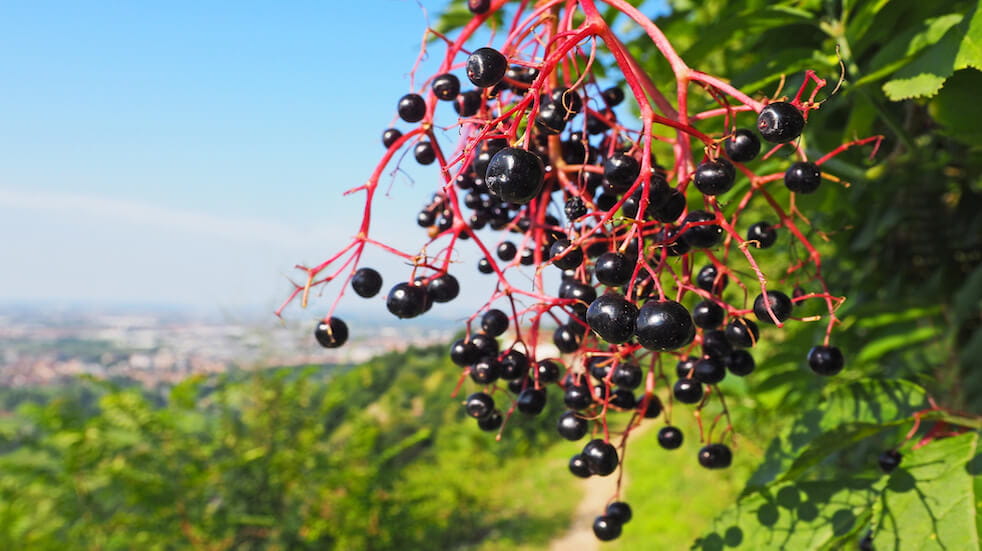 Hazelnuts
Ripe hazelnuts (also known as cobnuts or filberts) can be quite difficult to find in the wild, as birds and mammals will eat them before they are mature enough for humans to eat. However, they can be picked whilst they are still green and left to ripen in a dark, dry and warm place.
Haws
There are two species of hawthorn (also known as the May tree) in the UK, common and Midland. They look incredibly similar and actually hybridise with each other. Fortunately the berries, known as haws, can be foraged from both. The haws can be used to make jellies, ketchups and fruit leather.
---
Recipe: how to make sloe gin
Tradition has it that you're meant to wait until after the first frost to pick the berries, but you can mimic the frost and break open the skins by popping them in the freezer.
You'll need one bottle of your preferred gin and a spare, empty sterilised glass bottle. Pour the gin into a mixing bowl. Place your frozen berries into both bottles, until they're about half full. Add enough sugar to coat the fruit and shake around to mix. Top up with the gin and shake again. You'll need to leave it for about two months to develop, by which time the gin will have taken on a strong, dark purple colour. Taste, and if you want to leave it longer, do. Strain your gin through a muslin cloth.
From 365 Days Wild by Lucy McRobert, published by Harper Collins UK.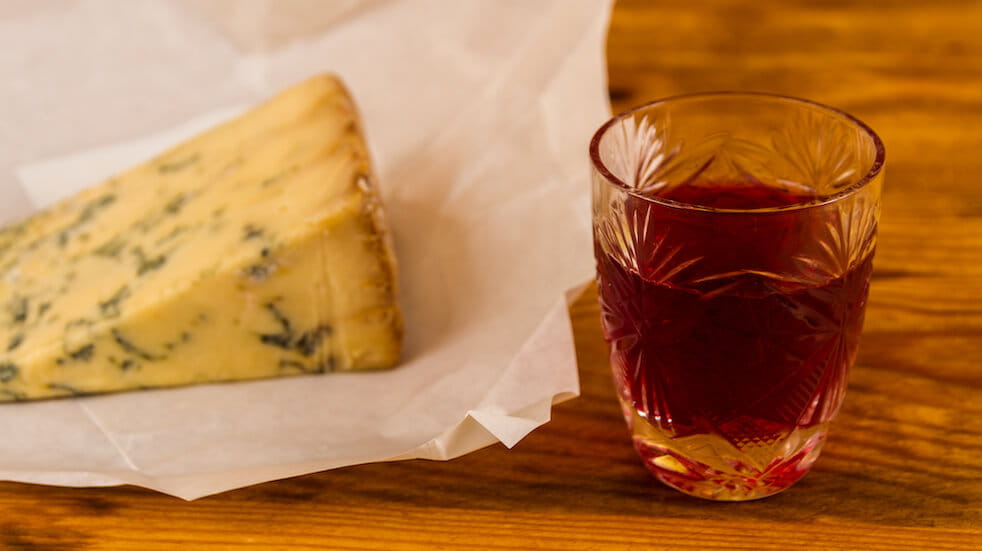 ---
Recipe: how to make blackberry and basil syrup
Wash 1kg of blackberries under cold running water and pour into a large preserving pan. Add the 200g cane sugar, the juice of a lime and 200ml of water to the pan and simmer for 15 – 20 minutes have softened to mush. Shred 1 mug of basil leaves into the pan and simmer for another five minutes, then remove from the heat.
Using a sieve with a fine mesh, strain the syrup into a fresh bowl to removes the basil leaves and blackberry seeds. Transfer to a bottle and leave to cool. Once cooled, store in the fridge to thicken.
Try drizzling over lemon sorbet or pour a little into prosecco bottles for a cool autumnal cocktail. Alternatively, freeze the syrup into ice cubes for an easy way to liven up drinks.
From Food You Can Forage by Tiffany Francis, published by Bloomsbury.
---
Recipe: how to roast sweet chestnuts
Preheat the oven to 220C/Gas Mark 7 (or heat a barbecue outdoors until it has died down and the embers are glowing), and split the chestnut skins with a sharp knife. Place in a roasting pan (or heavy cast-iron pan if using the barbecue) and roast for 20 – 30 minutes until tender.
To test whether they're done, take one out and let it cool for a minute or so. Crack the nut open – the contents should be soft enough to bite into. Let the nuts cool a little, then crack off the skins. Dip the inner kernels in a little butter and salt and eat just as they are.
From Foraging With Kids by Adele Nozedar, published by Watkins Media Limited.