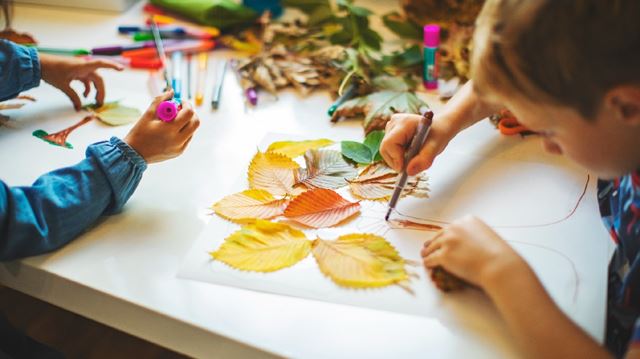 Whether you're looking to keep yourself occupied or to keep the kids entertained this half-term, these fun, foraged DIY activities combine the excitement of an autumnal treasure hunt with the fun of arts and crafts. Read on for our picks of the five best autumn foraged DIY crafts, suitable for every age from grandparent to toddler (with supervision of course).
---
Leaf pressing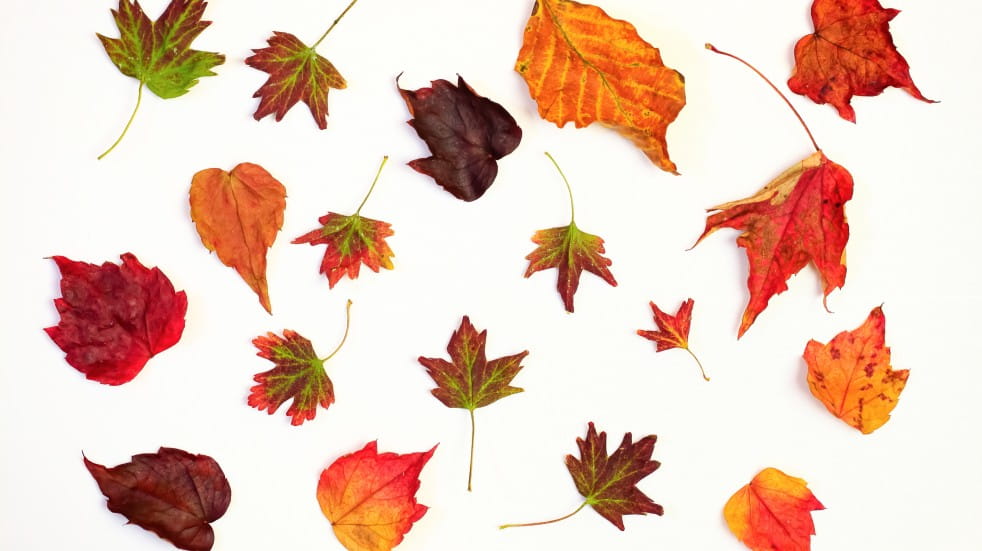 Like its spring/summer sibling, flower pressing, leaf pressing is simple, accessible and produces some beautiful results that (done correctly) will last year-round. As with flower pressing, the key to carefully preserving autumn leaves is removing their moisture. Unlike flowers however, leaves will dry out on their own, sadly curling up and disintegrating as they do so. Consequently, the key to preserving leaves is to remove their moisture without them crumbling before your eyes.
There are a few different methods to achieve great results, the most successful will depend on the type of leaves you've chosen and the state of their decomposition. The easiest and most common is through weight, placing the leaves between two sheets of wax or baking paper and then placing that under a pile of heavy books. This approach requires almost no equipment and will reliably produce lovely, pressed leaves that will last for some time. You can also achieve this same effect with a specifically designed flower press or an iron, which is useful for speeding up the process if you're strapped for time or pressing your favourite leaves with an impatient grandson or daughter. Robust preserved leaves also provide a useful component for lots of other autumn DIYs so it's a great place to start where sourcing crafting materials is concerned.
Find a full video tutorial on pressing autumn leaves here…
---
Leaf rubbing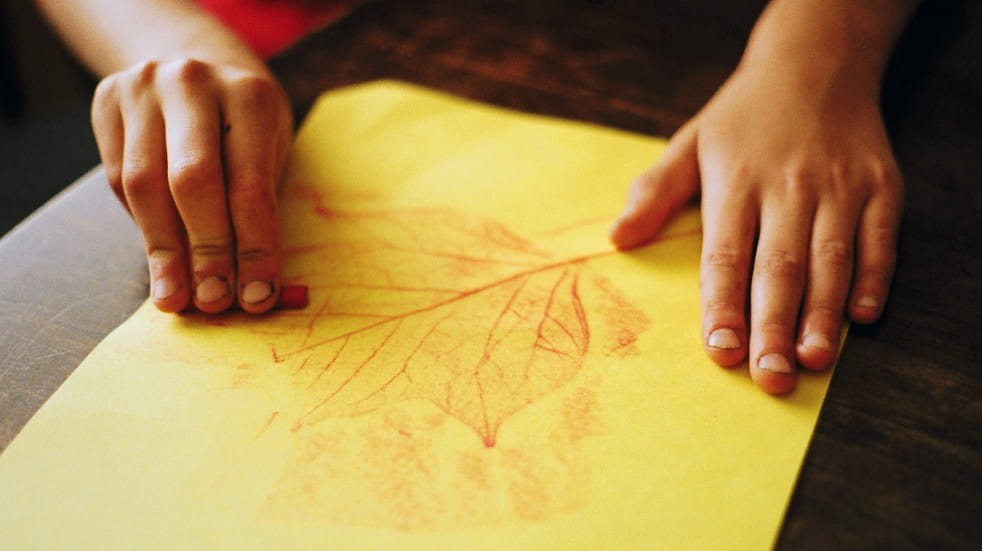 A slightly simpler craft than pressing, and one that's a little more accessible for very young children, leaf rubbing still produces a fun result. All you need to get started is a variety of your favourite leaves, ones with pronounced textures and veins work best (preferably leaves that have just fallen, as older crunchy ones tend to fall apart when placed under pressure), some crayons, paper and sticky tape.

Tape the leaves down to a surface – double sided works best as it will avoid the tape marks appearing in your final product – then lay your paper flat over the top. If you're crafting with very small children, you can tape the paper down too to help them keep it in place. Then, all that's left to do is rub a crayon held sideways over the area where the leaf is located to create a fun reproduction of it on your paper. A very straightforward craft on its own, if you want to add a bit more complexity, challenge the kids to arrange their rubbings into a shape that can be turned into a picture of something they like (extra points if they can make it autumn themed too!)
Find a simple video tutorial on leaf rubbing here…
---
Autumn wreath making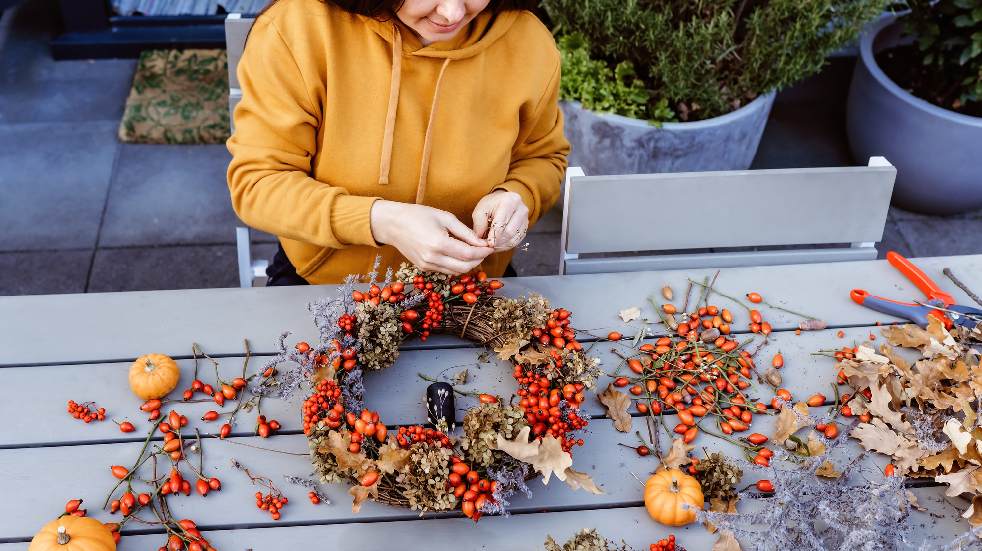 Not quite as easy for children to undertake on their own, autumn wreathes are nonetheless a wonderful way to bring the bright colours of the season into your home. As with all the crafts on this list, wreath making first requires you to head out into the countryside (or your local park) to source pretty leaves, berries, pinecones and twigs. Once you've done so, there are a few different approaches to wreath making, so we've selected the simplest to help keep the little ones engaged too.
Unlike clipped foliage wreaths, fortunately autumn wreaths don't require a floral foam ring as most fallen leaves won't be preserved for much longer being kept in water. We would therefore suggest an inexpensive wicker wreath ring instead, these can be purchased at most craft shops. Once that's been procured, all that's left is to take some garden wire and get to work applying your found objects to the ring, (the advantage of wicker being that spaces can be left without them looking unsightly). There's no exact science to wreath making, simply choose the foraged items you like best and attach them where you think suits best and get to work.
For a useful video tutorial on different wreath making techniques click here…
---
Needle stringing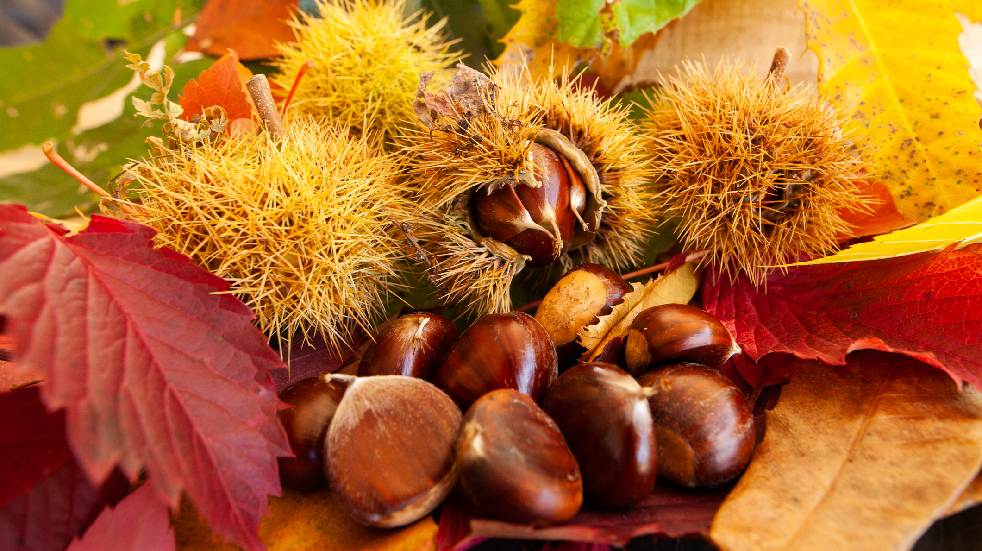 The slightly less-complicated cousin of wreath making, autumn needle stringing is a great way to get children involved in making some home décor that everyone around the home can enjoy. Perfect for little hands, needle stringing is a good way to introduce children to the basics of sewing in a controlled activity that will help to build their confidence too.
All you'll need is a collection of foraged leaves, conkers, pinecones and seedpods (or anything that can easily be pierced and threaded onto a line), a sharp tool for creating holes in your objects, and a plastic needle and yarn. Pre-prepare your foraged items by puncturing them with your awl or other sharp tool, and then help your young assistant with threading their plastic needle. Once that's done, you can get started threading your items onto a piece of yarn making sure to double knot it at the bottom to keep your them from falling off the end. Once completed, these threads make for lovely indoor autumn themed decoration that younger family members will feel pleased to have contributed to.
For a helpful child-friendly video guide to leaf-threading click here…
---
Foraged table decorating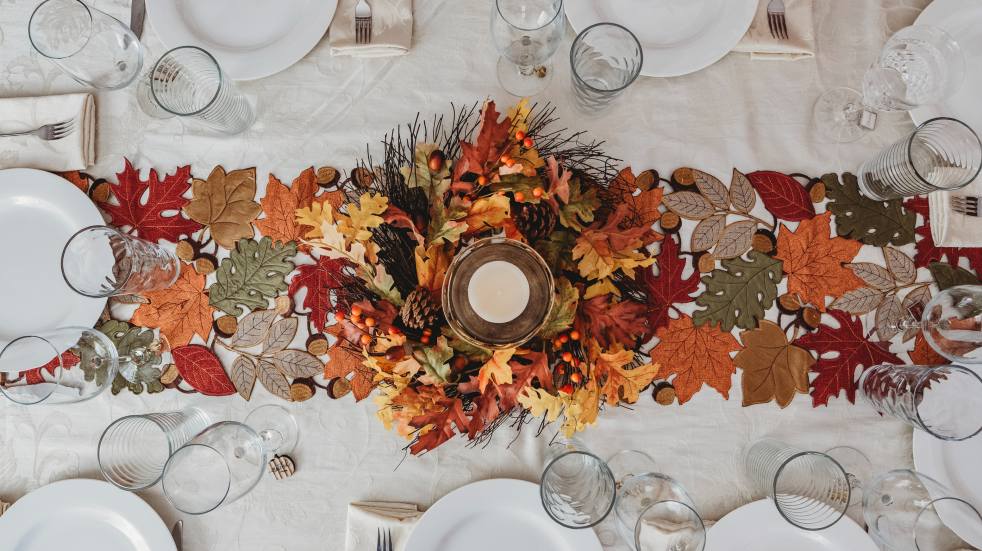 Finally, one for the adults (or perhaps for unusually houseproud nieces or nephews) table decorating is a great way to make those chillier autumn evening dinners extra special. Using foraged items, you can easily create exciting centrepieces filled with the bright reds and golds of the most beautiful season, and even incorporate some of the other crafts on this list here too (wreathes and needle strings look just as lovely on a table as they do hung on a door or in a window).
And if you're looking to take your table decorating skills to the next level, Boundless members can enjoy an online masterclass in floral centrepiece design and craft with Georgia Miles from the Sussex Flower School who will guide you through the process and answer any questions you may have during your class. Taking place on 7 December (just in time for the Christmas period), participants of the class will receive a free event goodie box with everything you need to make your festive centrepiece, including wire, ribbons and cinnamon sticks. We'll even throw in some tea bags and yummy shortbread biscuits to enjoy during the class. If you'd like to learn more about this event click here.
For a full table decorating how-to video click here…
---
Do more with Boundless
As a member of Boundless, you can make year-round savings on everything from home insurance to holidays, food to fashion. To find out how to join, visit our dedicated membership page.