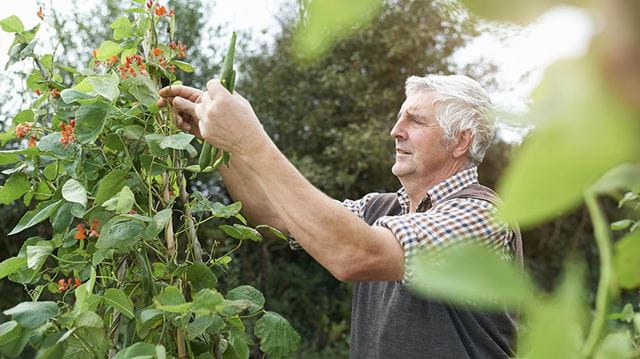 Whether you have an allotment, a garden or just some outdoor space with some pots, there's nothing quite like growing your own fruit, vegetables and herbs.
Not only can you use what you grow in your home cooking, but creating and being surrounded by greenery and produce is a good way to relax in these uncertain times.
Growing delicious produce takes more than just putting seeds in some soil. So, to mark Allotment Week (10-16 August), Rekha Mistry from BBC Gardeners' World magazine has some sage advice for getting the best results all year around, as well as recipes for what to do with your harvest.
1. Growing rhubarb
Rhubarb, a perennial plant, produces delicious stems from April to June when it is well watered and mulched around the crown throughout the growing season. Plant in late October or early winter. Then in February, try placing a black bucket over the sprouting crowns to achieve pale yellow leaves and succulent, bright red stems.
Rhubarb and vanilla cake recipe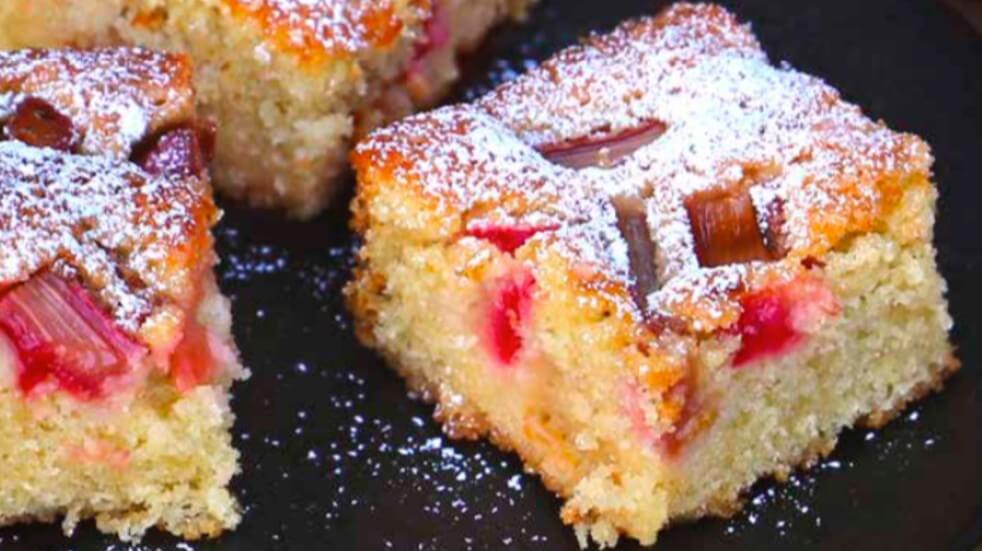 23cm rectangular baking tin
175g butter, softened
250g golden caster sugar
3 eggs
1 tbsp vanilla extract
175g self-raising flour
300g rhubarb, cut into 2cm pieces
4 tbsp Demerara sugar
1. Grease and line a 23cm rectangular baking tin. Toss the rhubarb in some lemon juice and drain.
2. Beat butter and caster sugar, then beat in the eggs and vanilla. Fold in the self-raising flour, followed by the rhubarb.
3. Gently pour the batter into the tin, sprinkle generously with the Demerara sugar. Bake in a preheated oven at 180°C for 30-40 mins until golden brown and a skewer comes out clean.
4. Cool completely on a wire rack before dusting with icing sugar. The cake will keep for up to a week in an airtight container in a cool, dark cupboard.
---
---
2. Spring onions
Welsh spring onions (Allium fistulosum) are a perennial variety of the root vegetable, with strong, upright, green leaves. They make for great fresh additions to hearty meals and also in winter salad lunch bowls. Because they love cool conditions, they are ideal for growing over winter, as well as starting from new seed in late winter for fresh early-summer growth.
Spicy spring onion and herb pancakes recipe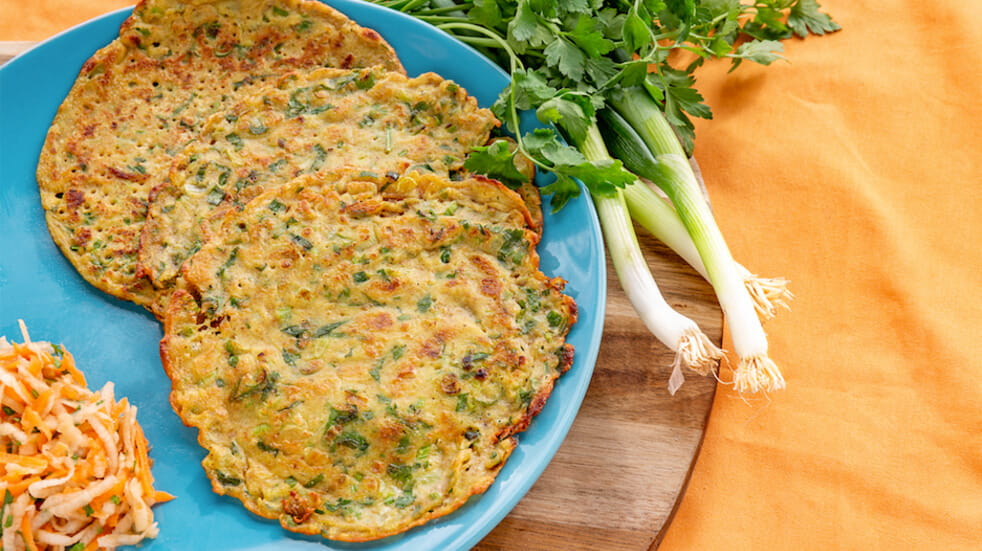 65g chickpea flour
65g plain flour
35g chopped spring onions (white and green parts)
30g mix of chopped parsley, tarragon and fenugreek
65g yogurt
1tsp each of chopped chilli, grated ginger and crushed garlic
1⁄4 tsp turmeric powder
1⁄2 tsp cumin powder
Pinch of granulated sugar (optional)
10ml sunflower oil (plus extra for making pancakes)
Salt and pepper to taste
1. Place all the ingredients in a bowl and stir well. Whisk in enough water to make a pancake batter of a pouring consistency.
2. Rest the batter for half an hour. If it has thickened too much, you may need to add a little water at this stage.
3. Over a medium heat, pour a ladle of batter into a lightly oiled pan, tilting the pan to cover. When small bubbles form, carefully flip and lower the heat, allow the pancake to cook, flipping over again if necessary. Each pancake should take around 5 minutes to cook.
4. Serve with a fresh slaw.
---
3. Broad beans
'Wizard' is a modern pale-skinned variety of broad bean. It has half the pod size of normal broad bean varieties, with no more than four beans per pod, and each plant bearing an abundance of pods. Sow in autumn and they'll perform really well, surviving even the harshest winters. This variety is suitable for raised beds and exposed sites alike.
Broad bean tortilla recipe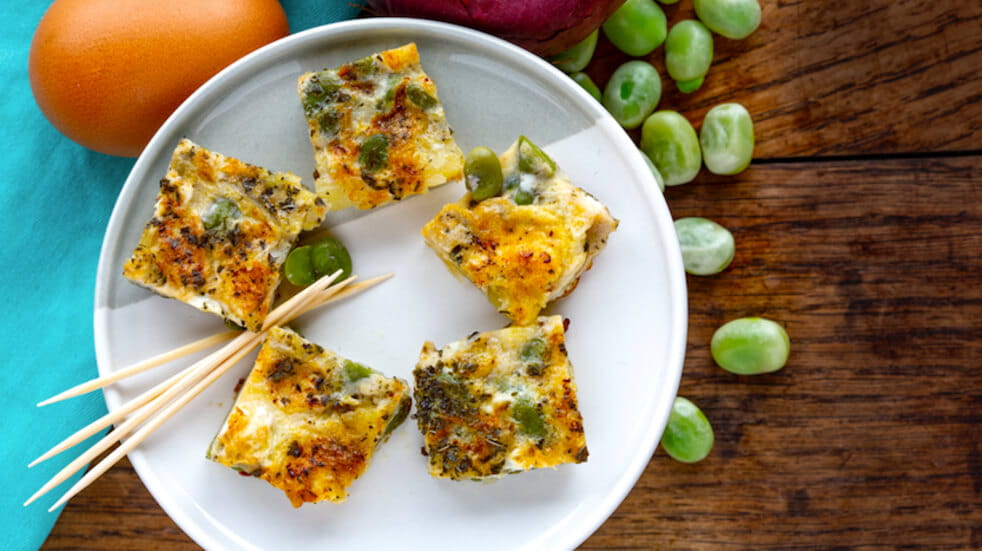 1 small onion
50g new potatoes thinly sliced
50g shelled broad beans
1 clove of crushed garlic
1⁄2 tsp finely chopped mint
3 large free-range eggs
2 tbsp olive oil
1. In a non-stick pan gently fry the onion until translucent.
2. Add garlic and sliced potatoes; mix gently together. Allow to cook with a lid on for 15 minutes over a gentle heat.
3. Add mint, season with salt and pepper and gently stir in the broad beans.
4. Pour in the beaten eggs and cook over a gentle heat until middle of the tortilla is just set.
5. Place a plate over the top of the pan and carefully slide the omelette out, place the pan over the omelette and flip it back into the pan to cook the top side. Alternatively you can finish cooking under the grill if your pan is oven proof.
6. Slice and serve, tapas style, either hot or cold.
---
---
4. Beef tomatoes
'Costoluto fiorentino' are deeply ribbed beefsteak tomatoes, ideal for slicing into salads, as well as for roasting and adding to sauces. Although they are a cordon variety, it's better to grow them outdoors as bushes from spring onwards to encourage smaller, salad-sized fruits. They're hungry feeders, so at the onset of first flowers in summer, the weekly feeding ritual begins until harvest season ends.
Tabbouleh recipe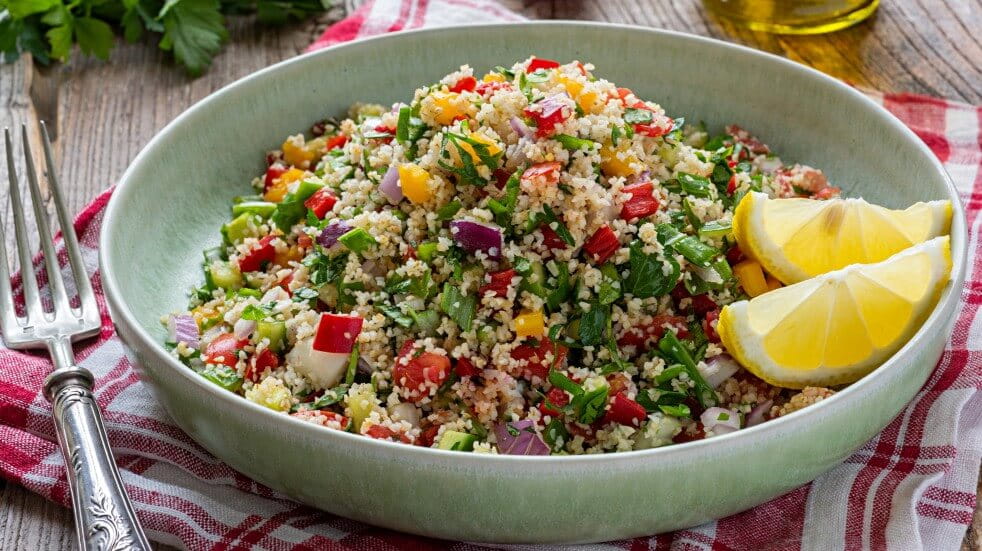 400ml vegetable stock
250g bulgur wheat
3 tomatoes diced
1 cucumber cored and diced
Large bunches of mint, parsley and spring onions
1tsp cumin
Juice of 1 lemon
100g mixed olives
4tbsp extra virgin olive oil
Salt and pepper to taste
1. While the stock is heating up in a pan, place the bulgur wheat in a heatproof bowl.
2. Add the hot stock to the wheat and leave for 20-30 minutes until all the stock is soaked up.
3. Place the soaked bulgur wheat in a large mixing bowl, and add the cucumber, herbs and tomatoes. Toss well before adding the cumin, lemon juice, olives and olive oil. Season and serve.
4. You could vary this salad by adding steamed young beetroot, diced radish, grated kohlrabi , sliced red pepper and nasturtium leaves and flowers.
---
---
Rekha Mistry is a keen veg grower who loves to try exotic varieties and experiment with them in the kitchen. She appeared in the 2015 BBC Two series, Big Allotment Challenge.
All photos from BBC Gardeners' World magazine