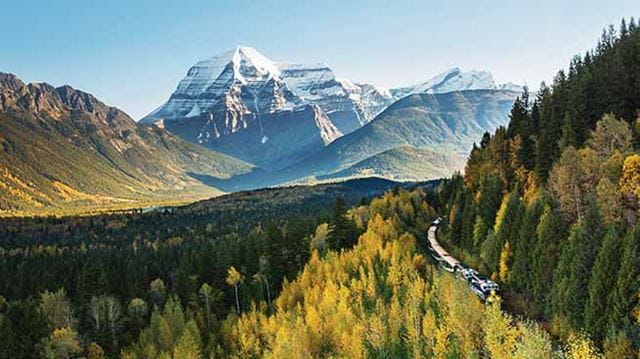 What's your idea of holiday heaven? Maybe it's a road trip through glacier-capped mountains and low, lush valleys, where every curve of the highway reveals yet another breathtaking view? Or perhaps it's a foodie escape, filled with unforgettable food and wine – or a wildlife-watching tour, getting up-close with whales, dolphins and polar bears? Whatever your passion, Canada has an adventure for you – and the experts at Canadian Sky can make it a reality.
Choosing where to visit in this vast country can be difficult, so it's best to focus on a couple of Canadian icons you want to experience and build your holiday around those. Just for starters, you can enjoy a Rocky Mountaineer train journey through the snow-dusted ranges of Banff National Park, feel the cool spray of Niagara Falls on your face, witness grizzly bears hunting for salmon in the wild – and so much more. Read on to discover it all, and find out how to create your trip of a lifetime.
---
For scenery seekers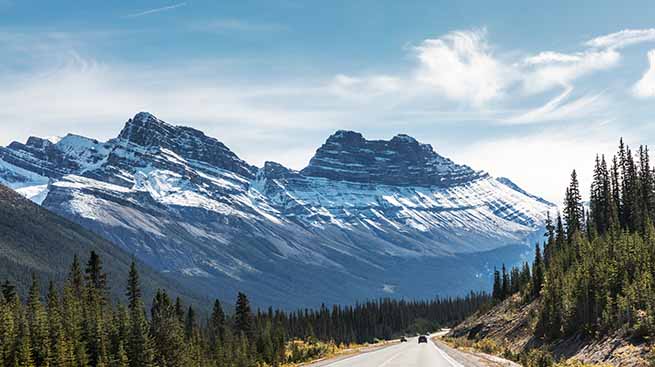 After the narrow horizons of the past couple of years, Canada's epic landscapes feel all the more invigorating – and they're packed with unique experiences. In Ontario, for example, you can visit the lakeside metropolis of Toronto, sip Sauvignon Blanc in the very vineyard where it was grown, and gaze out over the Thousand Islands – a peaceful archipelago in the St Lawrence River that snakes gracefully out of Lake Ontario and is renowned for its wildlife, fishing and millionaires' mansions. See it all for yourself on Canadian Sky's 'Experience Ontario's Great Lakes, Wineries, Cities and Niagara Falls' holiday, a 12-night self-drive adventure.
To explore the turquoise-bright lakes for which Canada is so famous, head west to Alberta's Banff National Park. Thanks to glacial mineral deposits in the water, the likes of Lake Louise, Peyto Lake and Lake Minnewanka have an almost ethereal beauty, such is their vivid, eye-catching hue.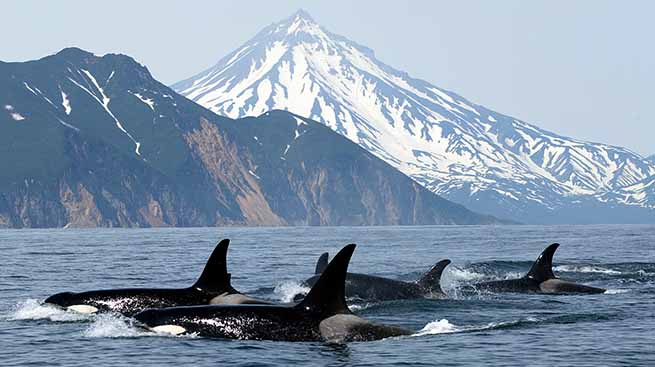 Surrounded by lush forests and a panorama of peaks, the scenery is best enjoyed from the water itself – on a boat tour or, to get even closer to nature, a guided kayaking trip. Canadian Sky's 10-night 'Best of Canada' itinerary combines both Ontario and Alberta, and features two days in Banff itself, a lively mountain town on the edge of the national park, at the foot of Mount Rundle. The wedge-shaped peak of this mighty behemoth provides one of Canada's most iconic and humbling backdrops: an awe-inspiring prelude to the mountains stretching out beyond.
---
For nature lovers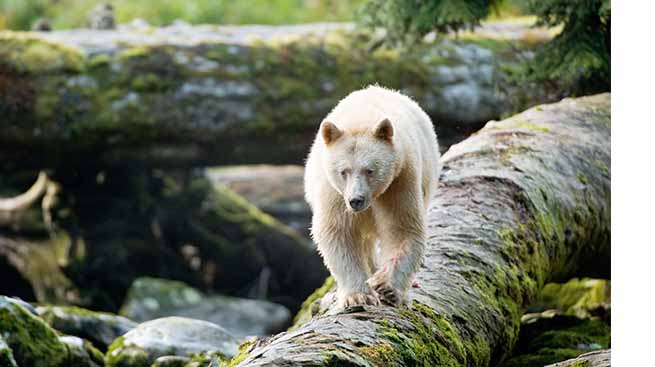 If you want to see wildlife in its natural habitat, living without interference or confinement, you've come to the right place. From bottlenose dolphins swimming in the coves of British Columbia, to the caribou and moose of the eastern provinces, Canada harbours some incredible fauna – with myriad ways to get up close responsibly.
Take a whale-watching tour from Vancouver Island and you'll likely spot the black-and-white flash of a pod of orcas, fluking and fin-slapping within metres of your vessel. Meanwhile, in the eastern provinces of Atlantic Canada, Nova Scotia is the place to see minke, pilot and fin whales, as well as countless bright-beaked, characterful puffins. Further inland, you may be lucky enough to spot a moose.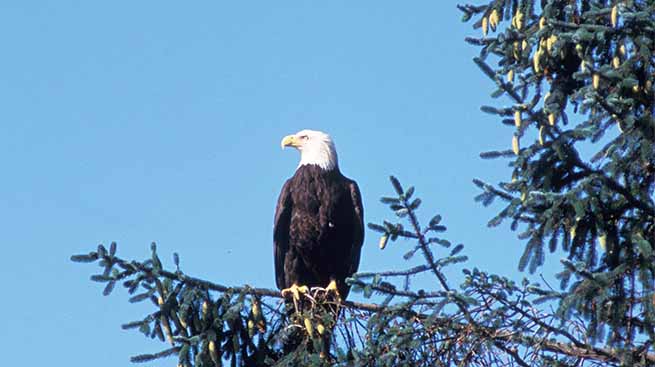 The whale-watching season runs from April to October, with opportunities to kayak alongside them or witness the action from a boat cruise. The vessels are often fitted with hydrophones, so you can hear the whales communicate beneath the surface. Of course, Canada is synonymous with bears – from fluffy-yet-fearsome polar bears to gigantic grizzlies and mythical spirit bears. And while you won't want to get too close, they are breathtaking to watch in the wild.
In Manitoba, Canadian Sky offers the chance to spy black bears in Riding Mountain National Park, and polar bears on the icy tundra of Churchill: two of the province's 'Big Five', which also includes beluga whales, moose and bison. If this makes your eyes widen in anticipation, Canadian Sky's seven-night 'Manitoba Big Five Safari' trip may well be the one for you.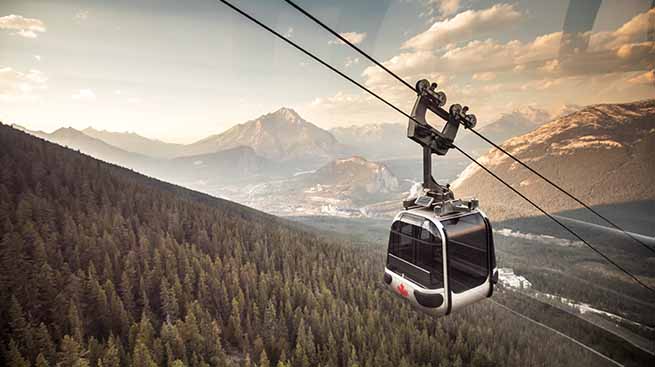 Alternatively, if you've set your sights on British Columbia, you can see grizzlies fishing for salmon at the Sonora Resort near Vancouver, and track the namesake ursines of Spirit Bear Lodge, a unique community-owned retreat in the Great Bear Rainforest reserve. Canadian Sky's experts will advise you where, and when, to go for the best chance of sightings.
---
For rail adventurers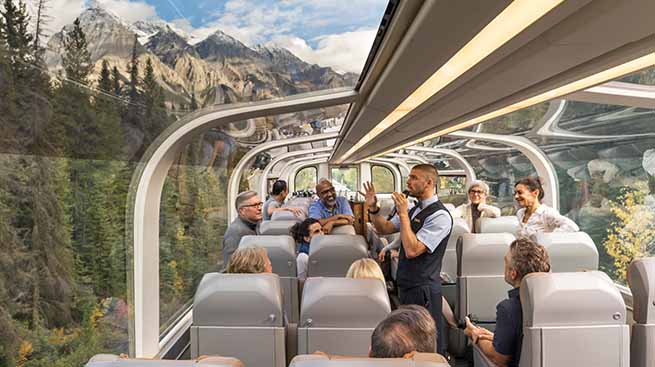 With its glacier-capped peaks and ancient pine forests, the Rocky Mountains – the largest range on the continent – feature magnificent scenery at every turn. You could drive through them – indeed, Canadian Sky offers self-drive tours that take you through the Rockies – but a landscape of this scale and spectacle warrants your fullest attention, so consider travelling onboard Rocky Mountaineer instead to admire its wild wonders in the utmost comfort.
The railway offers three main Canadian routes to choose from, each winding through high mountain passes and steep-sided canyons. And you can even extend your journey beyond the peaks, to the vineyards and lakes of the Okanagan Valley, or the cities of Vancouver and Calgary. Along the way, you'll enjoy à la carte dining, attentive service, and views in every direction, whether from the comfortable lounge chairs of the SilverLeaf carriage, or the glass-roofed GoldLeaf coaches, which also feature an open-air vestibule.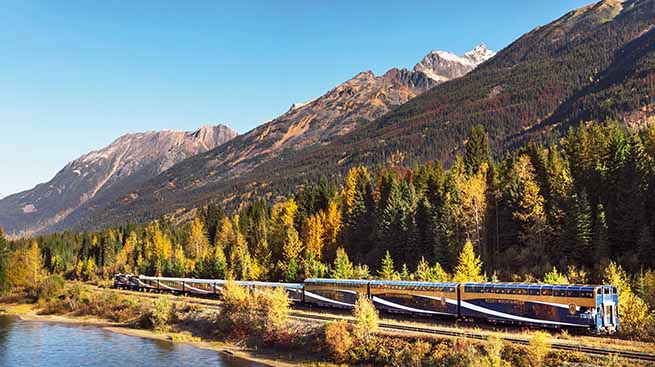 Canadian Sky offers multiple ways to incorporate a Rocky Mountaineer journey in your holiday, whether adding it to a road trip or an elegant cruise, or making it the focus of your itinerary by combining multiple rail routes.
On its nine-night 'Canadian Rockies at Leisure' trip, for example, you'll spend a week exploring Alberta on an independent tour – which features the cowboy heritage of Calgary, the cloud-grazing scenery of Banff National Park, and tranquil Lake Louise – before joining Rocky Mountaineer for two indulgent days, travelling westwards to Vancouver in style.
---
Travel with the experts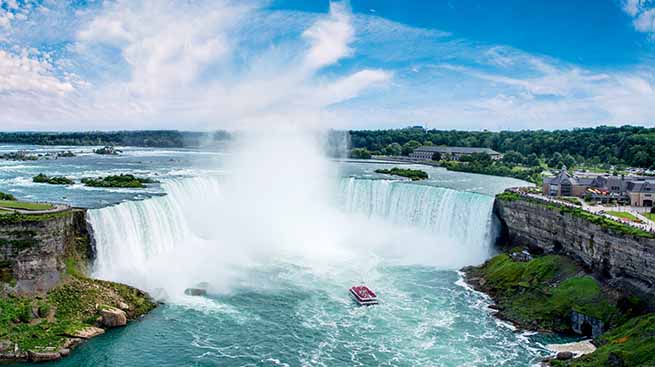 Canadian Sky specialises in tailormade holidays to this incredible country, with one aim: to make your experience unforgettable. Whether you want to tour independently, join an escorted trip with like-minded travellers, or take a fly-drive adventure that encompasses Rocky Mountaineer too, this award-winning travel operator will plan the perfect itinerary – with no detail too small, and no ambition too big.
From flights, car hire and accommodation, to day tours and extra special excursions, every element is designed by its team of knowledgeable travel planners. As each trip is unique, the options are infinite – so the adventure begins with a chat with its experts, or by browsing the customisable itineraries on its website. With flexible booking options and ATOL protection, you'll enjoy peace of mind and financial security, too.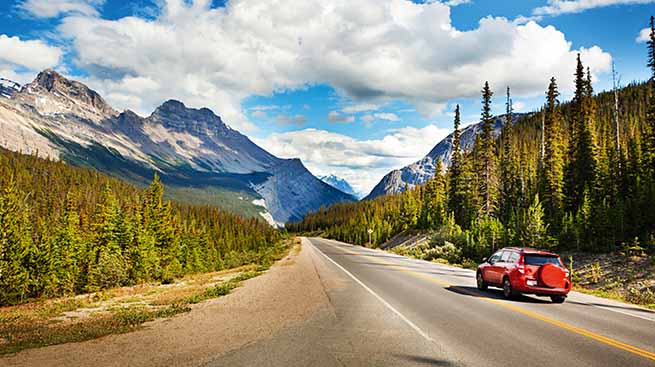 And the service doesn't stop when your holiday is booked. Seven days a week, Canadian Sky's team is on hand to answer any queries, assist with travel logistics, or amend your booking where possible. It's this attentive service that's led the company to win multiple categories in the prestigious British Travel Awards for the last six years.
---
For intrepid souls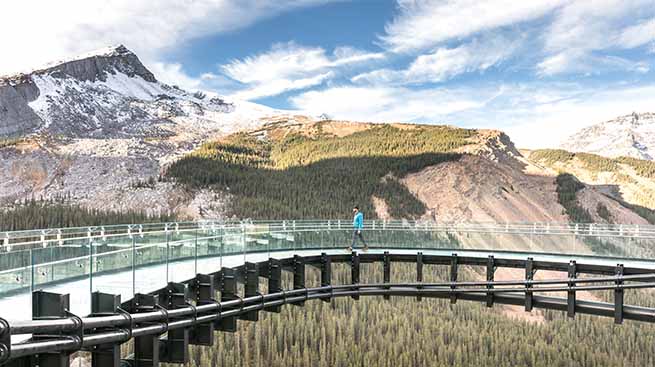 Of course, you could spend your trip simply admiring Canada's landscapes – lingering over views of Manitoba's wind-sculpted snowdrifts, or Ontario's peaceful woodlands and rivers. But for an extra buzz, why not step outside your comfort zone? From mini thrills to all-out adrenaline, Canada has countless adventures to choose from.
For a soul-stirring road trip, Alberta's Icefield Parkway weaves through Banff and Jasper National Parks, between Lake Louise and the town of Jasper, with frozen summits and spectacular waterfalls along the way. It takes just three hours to drive, but it's best to set aside an entire day, with stop-offs at the Glacier Skywalk (a glass walkway high above the Sunwapta Valley) and an unforgettable journey across the Athabasca Glacier on the Ice Explorer truck. For dinner with yet another incredible view, catch the Banff Gondola up to the mountain-top Sky Bistro: here, live music and cocktails await, with a 360˚panorama of peaks.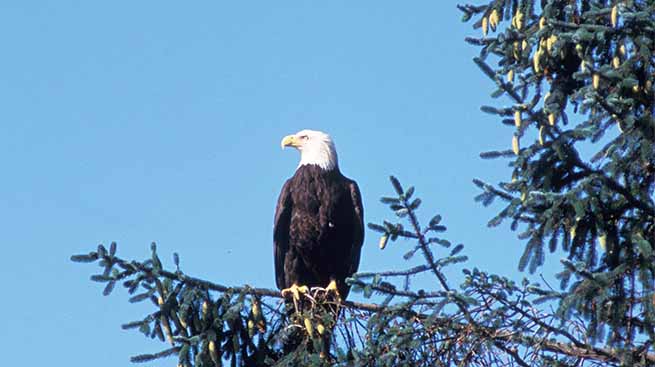 For an escorted tour of this indomitable landscape, try Canadian Sky's seven-night 'Spectacular Canadian Rockies and Glaciers of Alberta' holiday – or arrange a self-guided road trip with the help of its experts. All itineraries can be adjusted and extended so that you can create your perfect holiday.
In British Columbia, even your hotel transfer can be an adventure. Here, float planes provide seamless transportation between the coast and countryside, with epic sightseeing opportunities aplenty. Canadian Sky's seven-night 'Encounter BC – Vancouver, Whistler and Victoria by Float Plane' itinerary is ideal for exploring in luxury. It features three flights between the cities and mountains, with sumptuous accommodation and bird's-eye views of the glacier lakes.
---
For urban explorers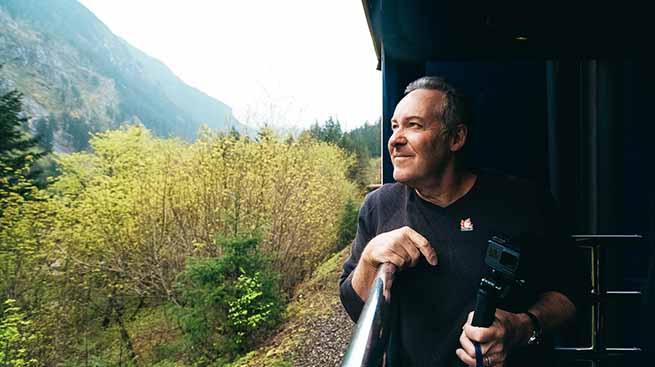 Wherever you venture, your holiday will begin with a flight into one of Canada's cities: the creative coastal hub of Vancouver, perhaps, or the multicultural metropolis of Montreal (the world's second-largest Francophone city, after Paris). If you've got a busy itinerary ahead, it's tempting to dash straight from the bright lights to the open road – but it's far more rewarding to linger awhile. From fascinating museums and world-leading galleries, to attractions, restaurants and shops that suit every budget and style, Canada's cities are full of unique things to do.
In Toronto, for example, you can scale the CN Tower – over half a kilometre tall – to gaze out over the placid blue waters of Lake Ontario, and the sparkling skyscrapers of downtown. Whether you book a sunset supper at its 350m-high revolving restaurant, or brave the 'Edgewalk' around the rim of the observation deck, you'll enjoy views that stretch out over the city and state, as far as Niagara Falls some 160km away.
For a closer look at these iconic cascades, the Falls' eponymous city offers exhilarating ways to get within spritzing distance of the action: from a Hornblower cruise and a thrilling Behind the Falls tour, to a wild walk beside the Grade 6 rapids upstream.
To see all of these cities, book Canadian Sky's 20-night 'Canadiana' tour, which takes in Ottawa and Calgary too, before ending in Vancouver, whose glittering harbour provides a suitably striking finale.
---
Explore Canada with Canadian Sky
Enjoy a free excursion, such as a Niagara cruise, city tour or bear spotting experience, on Canadian Sky's holidays. The 10-night holiday 'Best of Canada' costs from £2,559pp and includes return flights from London, internal transfers and accommodation. The nine-night 'Canadian Rockies at Leisure plus Rocky Mountaineer' costs from £3,249 and includes flights, accommodation and a two-day Rocky Mountaineer rail journey. Both holidays include free excursions worth up to £150pp, exclusive to Boundless members.
To book, or see the full range of tours, visit boundless.co.uk/CanadianSky or call 01342 332691 and quote 'BOUNDLESS'.