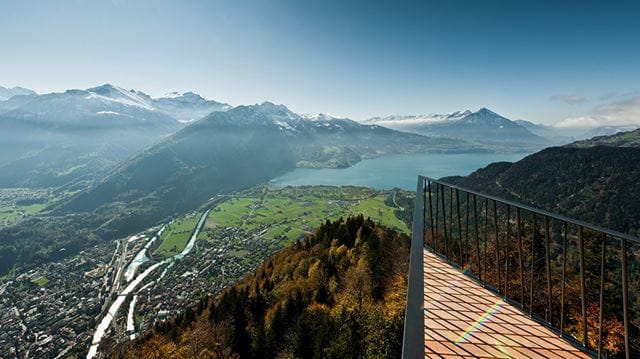 The canton of Bern lies in the heart of Switzerland, full of picturesque towns, panoramic views and UNESCO-listed wonders. Swiss travel experts Made in Bern map out a road trip that takes in some of the best sights.
There is so much to see in Bern, from cultural delights in its unspoilt towns – including the Swiss capital – to stunning vistas of the Bernese Oberland, a UNESCO world heritage site with the Alps/Eiger, Mönch and Jungfrau peaks. The best way to experience this region is a road trip, such as The Grand Tour of Switzerland outlined below. Whatever your preferred mode of transport, from motorbike to Mazda, you'll have the perfect excuse to stop and stretch your legs whenever you spot a view that invites you to linger.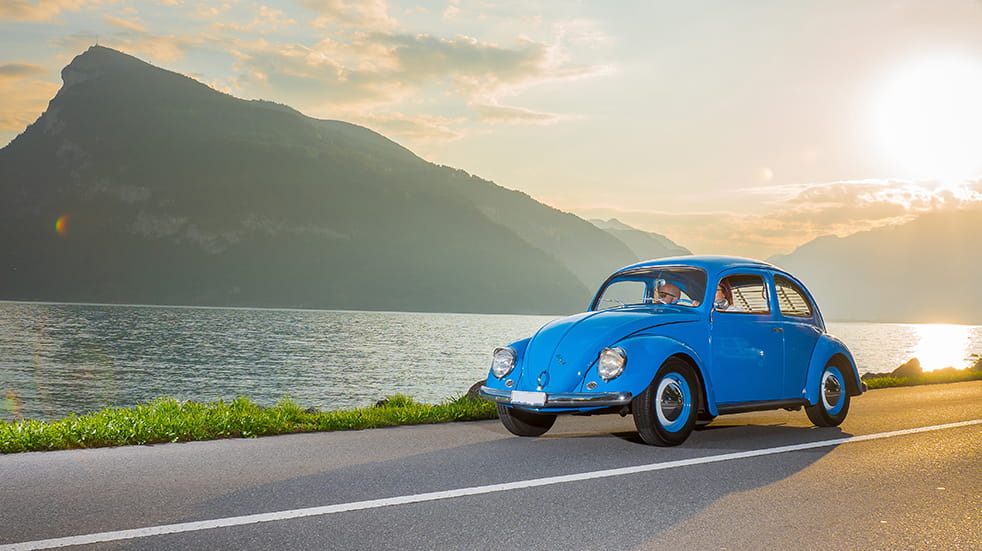 Along the route you can wind down in peaceful Gstaad while, from Interlaken, you can take a train to the Jungfraujoch – a journey offering beautiful views of the UNESCO World Heritage site of Jungfrau-Aletsch. But if you're just in the mood for people-watching, Thun's delightful cafés are a must. Bern's Old Town, a UNESCO World Heritage site, is an essential stop off for culture buffs, with its colourful fountains, the 'Bern Münster' cathedral and Zytglogge, the famous clock tower. From there, it's on to the Emmental region, where you'll find gourmet treats in abundance.
First stop: Gstaad
From lush meadows to eternal ice, Gstaad is a wonderfully diverse destination. Brave the suspension bridge connecting two peaks, try an exciting husky tour or, for a slower experience, enjoy a fondue picnic in the meadows.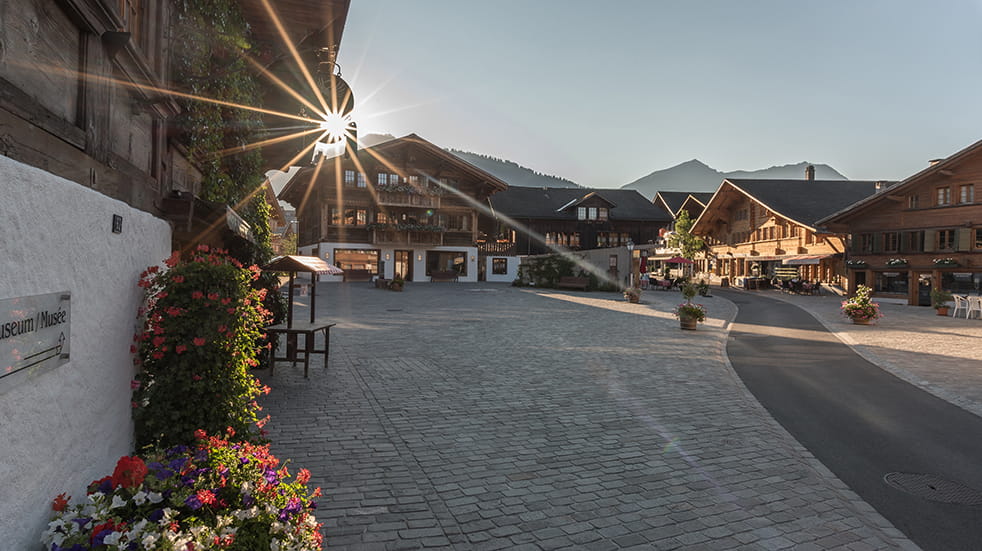 Second stop: Diemtigtal
In this 16km valley of the Simmental, you'll feel the rest of the world is far away. The unspoilt Diemtigtal valley is an oasis of wilderness and pristine beauty, and the village of Diemtigtal itself is welcoming and cosmopolitan.
Third stop: Interlaken
Sitting between two lakes and presided over by the three mighty mountains, Eiger, Mönch and Jungfrau, Interlaken offers spectacular views wherever you turn. Whether you're looking for culture or adventure, it's the starting point for a whole range of activities.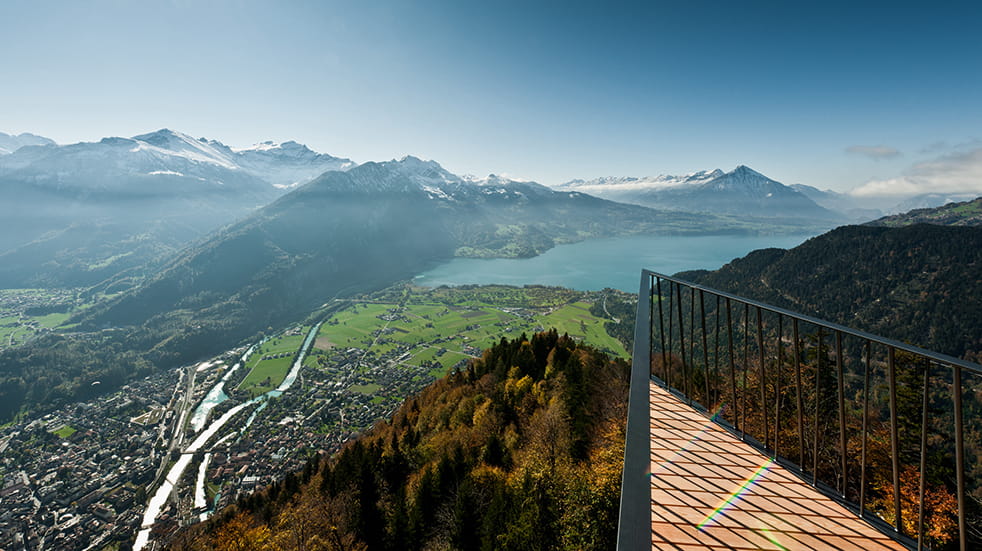 Fourth stop: Jungfrau region
A visit to the Jungfraujoch – the 'Top of Europe' – is a jewel in the crown of any trip to Switzerland. For more than 100 years, the Jungfrau railway has made its journey to Europe's highest-altitude railway station at 3454 metres, right at the heart of the UNESCO World Heritage site of Swiss Alps Jungfrau-Aletsch. It's an experience not to be missed.
Fifth stop: Thun
And relax... Picture-book Thun, located at the western end of Lake Thun, is the gateway to the Bernese Oberland. Its medieval old town lies a short distance from the lake's shore, on the river Aare – if you're in the mood for a diversion, the turreted castle dates back to the 12th century and houses a museum.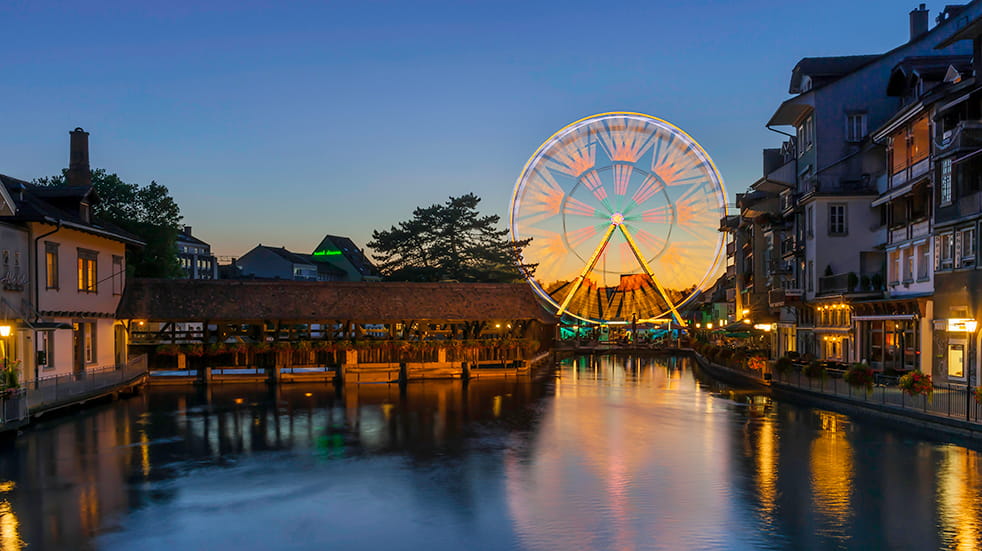 Sixth stop: Bern
Not many cities have managed to retain their original features quite as successfully as Bern, Switzerland's' capital. The old town is a UNESCO World Heritage site and offers top-notch shopping thanks to six kilometres of historic arcades – the locals refer to them as 'Lauben' – in one of Europe's longest covered shopping promenades.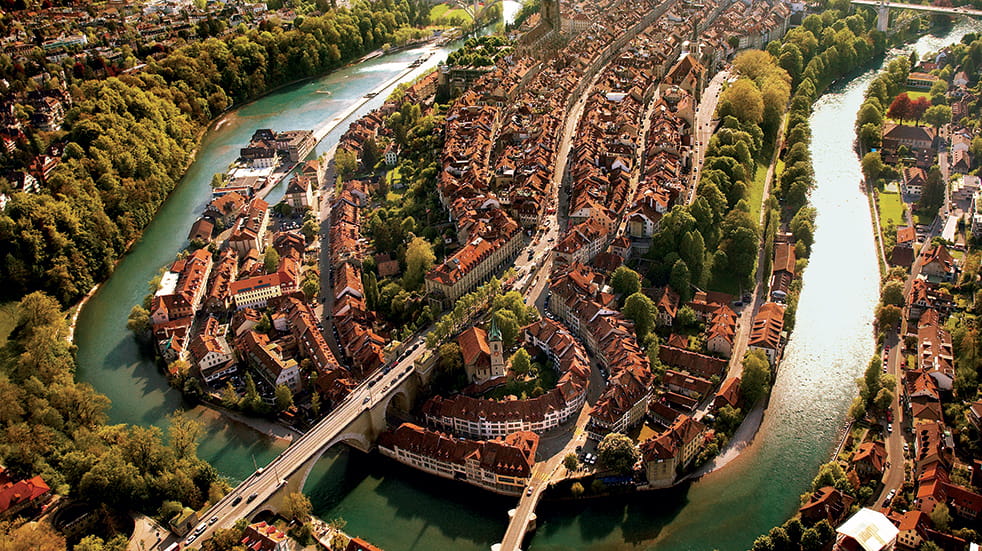 The village of Trubschachen is a fusion of tradition and innovation, and a foodie's delight. Enjoy fascinating insights into three groundbreaking Swiss companies, including Dorftöpferei Aebi – one of Switzerland's best-known and oldest ceramic pottery makers – and, of course, find out more about that delicious cheese.
Let's hit the road in Switzerland
Find out how you can experience Made in Bern's Grand Tour of Switzerland.