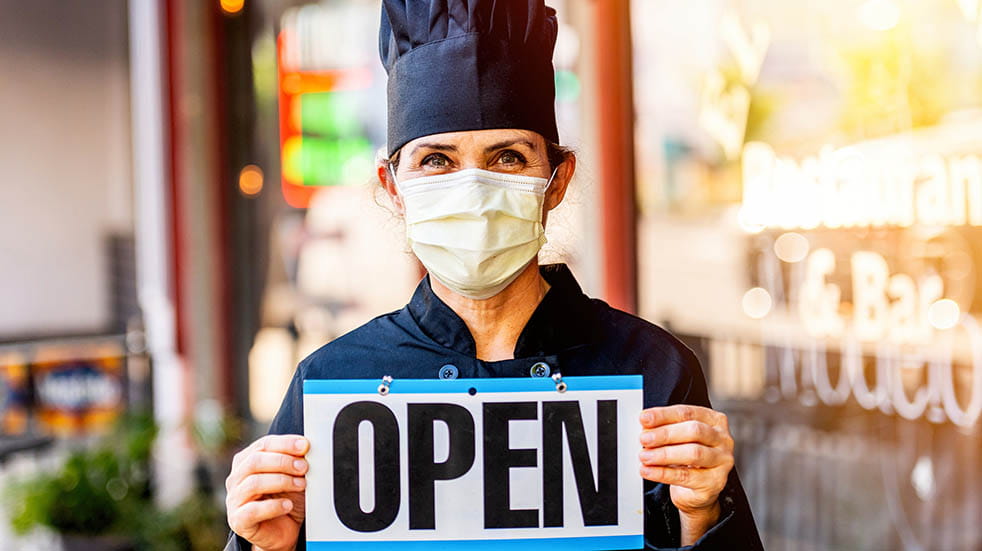 After months in lockdown due to the coronavirus, the home nations are starting to see a number of restrictions being eased.
But what exactly are you allowed to do? Can you take a much-needed holiday? Meet up with friends and family? Enjoy a pint at the pub? The extent to which you can enjoy those freedoms depends on whether you live in England, Scotland, Wales or Northern Ireland. Read on to find out what the guidelines are in your region.
Please note that social distancing guidelines apply, unless otherwise stated. Currently, these are as follows:
England: Where possible, you should stay two metres apart. In cases where this is not possible, you should keep a distance of 'one-metre plus' while providing appropriate 'mitigation' (i.e. wearing a face mask) to reduce the risk of transmission
Scotland: Two metres apart is the general rule, but some businesses in the retail and hospitality sector are now allowed to operate a one-metre policy if they put certain safety measures (i.e. improved ventilation) in place
Wales: You must stay two metres apart, except for in businesses where this is not possible (i.e. hairdressers)
Northern Ireland: Two metres apart is the general rule. If this is not possible, one metre is acceptable as long as appropriate mitigations are made.
1. I want to go on holiday here in the UK. Is that allowed?
England: All holiday accommodation – including hotels, hostels, B&Bs, apartments, cottages and camping/caravan sites – was allowed to reopen from Saturday 4 July. And with restrictions on travelling distance having been lifted, you are free to venture as far as you like (both within England and to the other home nations).
Scotland: Self-catering holiday accommodation was allowed to reopen from Friday 3 July, with all other accommodation able to resume business from Wednesday 15 July. The five-mile travel limit has now been lifted, meaning you can travel across Scotland and into the other home nations.
Wales: Self-contained accommodation – including cottages, hotels with en suite facilities and caravan parks where visitors can use their own toilet, etc – is now allowed to open. It is hoped that campsites with shared facilities will be able to open from 25 July, but this will depend on the evidence available at the time. You are now allowed to travel anywhere in the UK.
Northern Ireland: All holiday accommodation is now open to residents of Northern Ireland and people from across the UK.
Bear in mind that some holiday accommodation may be operating limited services. You are advised to check which facilities will be open at your intended destination when you book your trip.
The UK holiday venues that have reopened include those owned by Boundless:
• Whitemead Forest Park – the woodland oasis in the Forest of Dean that offers a range of luxurious accommodation, as well as spacious camping and caravanning pitches, in an idyllic setting
• Our portfolio of outstanding cottages, including Parkergate in the heart of the Lake District, Cotswold Cottages, and Treworgie Barton in the rolling hills of North Cornwall
• West Cliff Hotel, a resort close to the beach in Bournemouth
Boundless partners Hoseasons and Cottages.com have also resumed business, offering a wide range of holiday options across the UK.
As a Boundless member, you can get a 20% discount on all bookings, as well as a Book with Confidence Guarantee that covers you in case the coronavirus pandemic forces you to change your plans. For more information, visit our dedicated Boundless Breaks page.
2. Can I travel abroad?
All home nations: If you travel abroad, you will need to self-isolate for 14 days upon your return. That is unless you are travelling to one of the countries the Foreign & Commonwealth Office (FCO) has identified as "no longer posing an unacceptably high risk for British travellers". In which case, you will not need to self-isolate.
Travelling aboard cruise ships is currently not recommended. If you are visiting a foreign country, you should always adhere to its individual safety regulations.
• Need to get a refund on a cancelled foreign holiday? Read our advice
3. Will there be a greater risk of me being infected with COVID-19 if I travel by air?
In the early stages of the pandemic, many airlines grounded their planes or reduced their volume of flights, based on the threat of coronavirus transmission. Now, with some countries seeming to have the disease under control, air services are gradually returning to normal.
Is it safe to travel? In truth, there isn't a great deal of evidence on the subject. However, this study on the transmission of infectious diseases during commercial air travel may provide some clues. If you do choose to fly, it is advised that you wear a mask and follow social distancing guidelines where possible.
4. What are the latest rules for meeting up with friends and family?
England: Any number of people from two different households can meet anywhere, indoors or outdoors (people in your support bubble count as one household). You are not restricted to meeting with the same household every time – you can, for example, meet with one household on one day, and another the next.
As before, you can also meet up in a group of up to six people from different households, as long as it's outdoors – for example, in a park or garden.
Scotland: A maximum of eight people from up to three different households can meet indoors at any one time (people in your support bubble count as one household). Outdoors, up to 15 people from a maximum of five different households can congregate. Separate rules apply for children (for more information, visit link at bottom of page).
Wales: Two households can now form one 'extended household'. This means that members of those two households can visit each other indoors and outdoors, and even have physical contact with each other. Once you have chosen another household to go into an extended household with, you will not be able to meet with people from another household indoors until further advice is given.
You can, however, meet with another extended household outdoors, as long as there is a maximum of two extended households present.
Northern Ireland: Up to six people from a variety of households can meet indoors while social distancing. The number rises to 30 people when meeting outside.
5. Can I invite people to my home for dinner?
England: You can enjoy an indoor meal with people from one other household at a time (people in your support bubble count as one household), or an outdoor meal in a group of up to six people from different households.
Scotland: Indoor meals can be enjoyed by a maximum of eight people from up to three separate households (people in your support bubble count as one household). Outside, up to 15 people from five different households can eat together.
Wales: You can dine indoors or outdoors with people from your extended household (see answer to previous question), as well as outdoors with people from one other extended household. In the latter case, you should practise social distancing with people who are not in your own extended household.
Northern Ireland: A maximum of six people can eat together indoors. Up to 30 can enjoy food together in an outdoor setting.
• Read our round-up of delicious recipes from around the world
6. Can my family stay overnight with friends?
England: Members of two separate households can reside overnight together, whether that's at each other's homes or at holiday accommodation.
Scotland: Overnight stays are permitted providing they align with the guidelines set out in question 4. Couples may reside together overnight without physically distancing.
Wales: You are only allowed to stay overnight with people from your extended household (see answer to question 4), whether that's at your/their home or at holiday accommodation.
Northern Ireland: Currently, only people living alone and in a support bubble with another household are permitted to enjoy an overnight stay.
7. What's the latest advice regarding public transport?
All home nations: You are still advised to avoid public transport if at all possible. If you need to use public transport, you must now wear a face mask by law unless you qualify for certain exemptions (read the list here). With social distancing measures in place across the different modes of public transport, be aware that there may be delays in your journey.
8. What other businesses have reopened?
England: Many businesses are now open again, including non-essential shops, pubs (indoor and outdoor), restaurants, places of worship, hair salons, museums, heritage sites, wildlife centres and social groups. Indoor sports facilities including leisure centres, gyms and swimming pools are set to reopen on 25 July. For a full list of what is and isn't open, click here.
For more information on the opening of tourist attractions in England, click here.
Scotland: All shops in Scotland are now allowed to reopen, as is outdoor hospitality, including beer gardens and pavement cafés. Pubs, restaurants, etc, will be allowed to open their inside areas from 15 July, as long as they practise the correct social distancing procedures. Museums, galleries and libraries are among the other businesses due to open on 15 July. For a full list of what is and isn't open, click here.
Wales: Non-essential shops are now open again. Pubs, bars and restaurants were given the go-ahead to open their outdoor areas from 13 July. If all goes well, they will also be able to operate indoors from 3 August. Most indoor and outdoor attractions have now reopened. Indoor cinemas can reopen from 27 July. For a full list of what is and isn't open, click here.
Northern Ireland: The entire retail sector has been allowed to reopen, as have pubs and restaurants, hair and beauty salons, and tourist attractions. Indoor and outdoor gyms have resumed business, with leisure centres/indoor sports courts set to follow on 7 August. For a full list of what is and isn't open, click here.
9. Are pubs operating the same as they were before?
Not exactly. As mentioned in the previous answer, pubs in Scotland and Wales are currently only allowed to open their outdoor areas (indoor eating and drinking will be allowed in Scotland from 15 July, and in Wales from 3 August).
Other precautionary measures may include:
• table service being used where possible
• 'one in, one out' toilet systems
• ordering food and drink via contactless apps
• perspex shields separating groups of diners
• a suspension of live entertainment
• having to supply your name and phone number on arrival, to assist with the NHS Test and Trace system
10. I have a special occasion coming up that I'd like to celebrate. What are my options?
For advice on meeting up with friends and family for a celebration, see questions 4 and 5. To find out what businesses are open in your region, see question 8. If you're looking to book a meal in a pub or restaurant, it is advised that you phone ahead as many will be operating at a reduced capacity.
Note that if you're looking to book a venue such as a hall of a social club, the maximum number of guests allowed to attend may have been reduced to help with social distancing. They may also not be able to offer live music or entertainment.
• Read our guide to celebrating a special occasion in lockdown
11. If social groups are allowed to recommence, will I see an increase in activity from my Boundless group?
As has been the case with most organisations in the home nations, the various groups available to Boundless members – from the Classic Vehicle Group to the Camping & Caravanning Group – have had to suspend physical get-togethers during the coronavirus pandemic.
With restrictions slowly being lifted, we are hoping to resume physical social activity in the near future. In the meantime, we are discussing the possibility of running a series of online events for our member communities. If you would like to take part, keep an eye on our dedicated events page.
• Read our guide to volunteering with a Boundless group
12. Have public toilets reopened?
There is currently no government restrictions on public toilets opening. Public toilets are managed by local councils, and therefore they can decide whether or not they want to open them. If you are able to use a public toilet, you should ensure that you practise social distancing and good hygiene.
13. Do the above rules also apply to shielded people?
If you have been told that you are at greater risk of catching the coronavirus due to your age or medical condition, you may still have to limit what you can and cannot do.
There is different advice for England, Scotland, Wales and Northern Ireland, as well as resources to help you cope during this challenging time.
For the very latest guidelines on what you can and cannot do in your country, click on the relevant link below:
Click here for the latest coronavirus guidelines in England
Click here for the latest coronavirus guidelines in Scotland
Click here for the latest coronavirus guidelines in Wales
Click here for the latest coronavirus guidelines in Northern Ireland
All photos: Getty Images