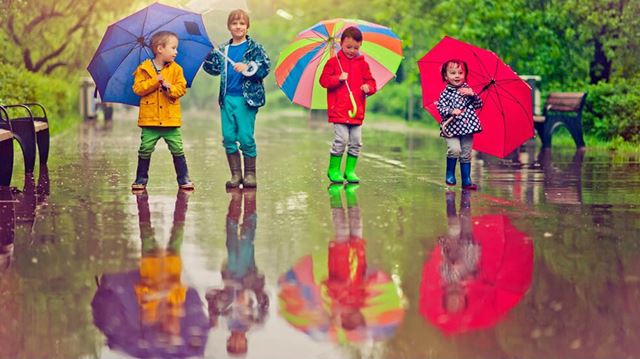 Whether you want to stay dry or make a splash outdoors with the kids, follow our top tips for rainy day fun.
Don't let rain spoil your family time; even when it's chucking it down outside, there are plenty of fab activities you can have a go at. Here are 21 easy and fun ways to entertain kids on a wet day.
1. Make homemade play dough
This is a super quick and easy activity for a rainy day and uses just a few store cupboard essentials, so there's no need to dash to the shops. You need four ingredients and a few splashes of food colouring. Once you've finished your homemade play dough give the kids some biscuit cutters and task them with making a teddy bears' picnic. If you store your play dough in a sealed container then is should keep for a good few months and can be used on another rainy day.
2. Sensory play with shaving foam
If you have young kids they'll love hunting for small wipe-clean toys in a tray of shaving foam. Add some water-based paint to create swirls of colour. This is also a fun activity to do on a mirror, as the reflections created are beautiful – just be on hand to supervise that your kids are being gentle with the surface!
3. Decorate biscuits
The kitchen is a great place to hang out when it's raining. Whip up some tasty biscuits and decorate them with icing and sprinkles. Find recipes at BBC Food. This is also a great way to practise numeracy in a fun way, as you can talk about the quantities of ingredients needed and how many biscuits you'll be able to make.
4. Put on a play
A fun wet day game is to put on a play. Write a script, hold auditions and rehearse before the curtain goes up in the sitting room. You can invite family and friends over to be the audience and make it even more special.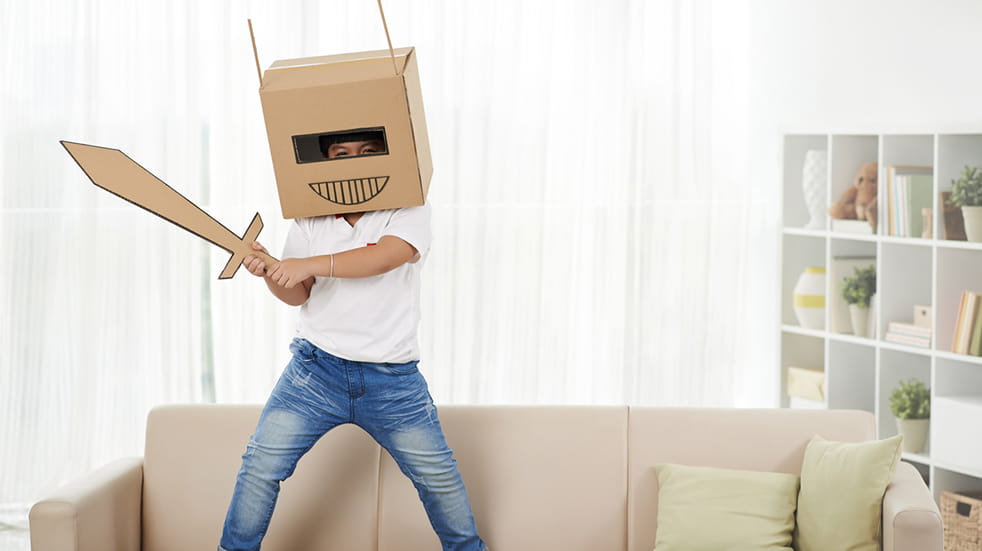 5. Make costumes for your play
What play would be complete without costumes? Raid the fancy-dress box or make your own costumes from things you find around the house. Decorated paper plates can make dramatic masks and flowing gowns can be conjured up using sheets and belts.
6. Junk modelling
Get creative with some sticky tape and the contents of your recycling bin. What up-cycled beasties, vehicles and structures will you make? Let your imagination run riot and see what fantastical creations everyone can come up with.
7. Just get wet
If you can't beat the weather, get in among it. The perfect wet day activity is to pull on your wellies and go for a walk or just jump in puddles. As the saying goes, there's no such thing as bad weather, just bad clothes, so a good waterproof jacket will mean rain doesn't have to stop play.
8. Rain art
While the kids are splashing about, pop a few drops of food colouring into some jars and let the rainwater turn them into pots of paint. Bring out some brushes and card and let the kids make some rain-inspired artwork. And, as you're outside, you won't need to worry about paint water being splashed on your carpets!
9. Dust off your board games
Challenge your kids to a board-game marathon and keep score of who wins each time.
10. Have a play date
You'll not be the only one with bored kids on a wet day. Call their mates and see if anyone wants to come round for a rainy-day play date.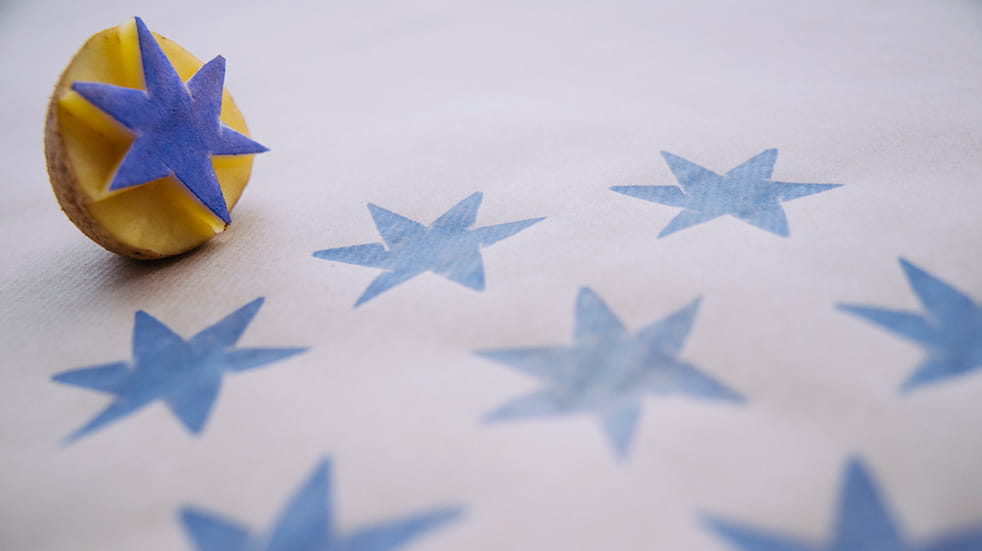 11. Vegetable painting
Chop up some potatoes or carrots and carve shapes into the flat ends. Dip these in paint and create a veggie masterpiece on card or paper. You could even turn these creations into celebration cards and tags for birthdays, Easter or Christmas.
12. Have a movie day
Set up your own home cinema by making tickets, closing the curtains and screening one of your favourite family films. If you've had time to plan ahead, add popcorn and drinks with paper straws for that authentic cinema experience.
13. Jewellery making
A wet day game that will keep kids occupied for ages is stringing together some new jewellery. Use beads from unwanted necklaces or painted dried pasta shapes.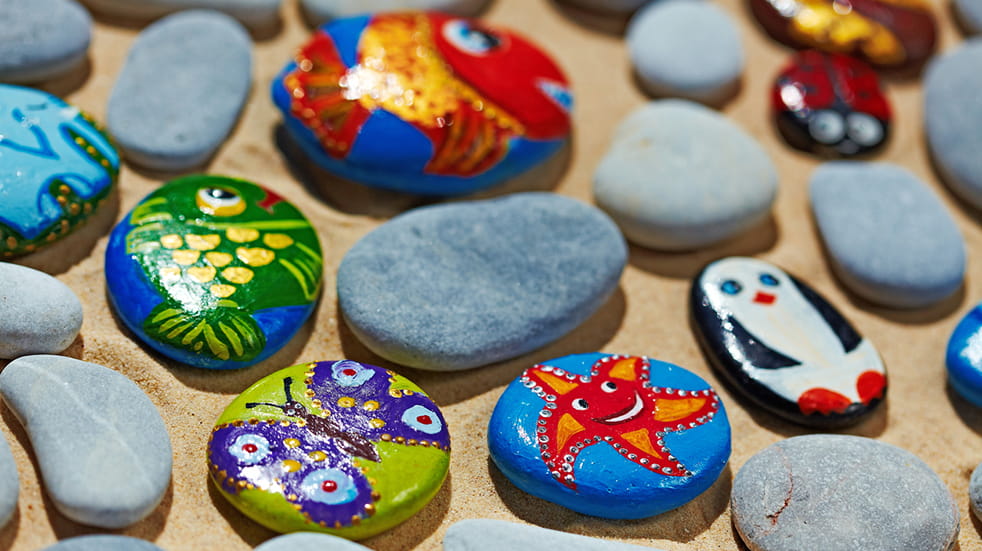 14. Decorate stones
Prepare to join the rock hunting craze by painting and decorating pebbles at home. If the rain eases you could even get out and hide them for others to find or search for them yourself. Don't forget to take pictures of your rocky creations!
15. Turn mini beast detective
Brave the rain and head out to discover what mini beasts do when it's wet. Search for them in bushes, under logs and in trees. If you catch them in a jar for closer inspection remember to always return them to their hiding place. .
16. Give each other new hair styles
Have a go at hairdressing and experiment on each others' mops with hair bands, bows and gel.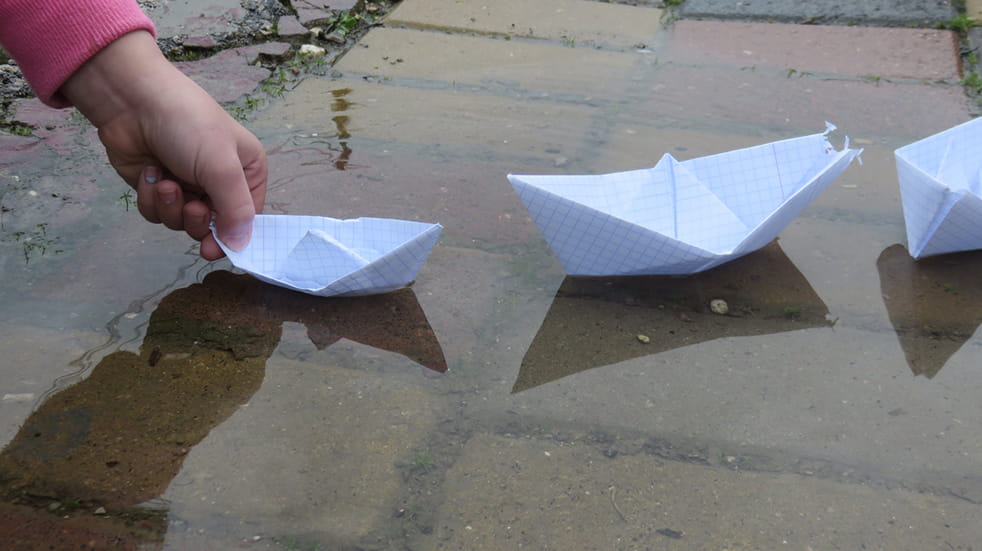 17. Float homemade boats
Design your own origami boats and float them in a puddle. If you find water running towards a drain you could even have a race.
18. Make a word search
Grab a dictionary and make word searches for each other to solve. Award a prize to the person who solves theirs the quickest.
19. Build a den
Sometimes the old ideas are the best, especially when you are looking to kick boredom into the gutter on a rainy day. An easy activity to do at home is to drape some old sheets over a table or chairs to make a den. Add blankets and cushions to make it cosy and, if you have a string of portable fairy lights, then these can make a simple den completely magical.
20. Write a magazine or newspaper
Become a journalist for the day and write your own magazine or newspaper. Conduct interviews with your family, take pictures or draw your own, and then stick it all together on paper – or even design your pages on a computer.
21. Listen to rain music
Take some pots, pans and cans outside and listen to the sound the rain makes as it plops onto each object. Can you hear a tune?
These rainy-day activities are from Claire Hall, who blogs about her family's travels and adventures at Tin Box Traveller.