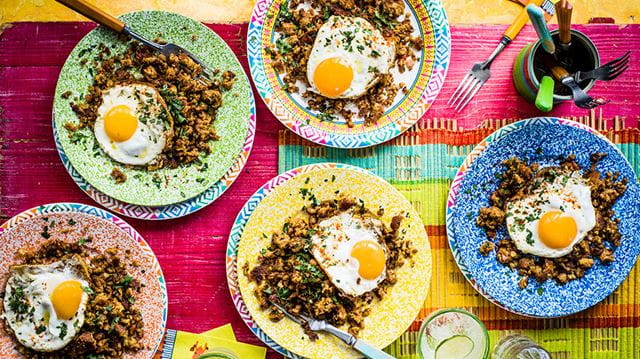 After three months in lockdown, some restrictions on travel are finally being lifted. But for many of us, the chances of jetting off on a foreign holiday before the end of the year remain fairly slim. Don't get too depressed, though, as you can still bring some of that continental sunshine into your home by rustling up some authentic dishes from around the globe.
With a few simple ingredients available at your local supermarket, you can prepare regional delights from just about anywhere. To help you get started, we've teamed up with our friends at Olive magazine to bring you ten delicious recipes from the likes of India, South America, West Africa and Scandanavia. There are options for meat-eaters, vegetarians and vegans, and we've even added a couple of scrumptious desserts at the end for good measure.
If you're feeling particularly adventurous, why not augment your culinary experience with some regional music – you could even experiment with creating your own costumes and decorations. Happy eating!
1. Chettinad chicken fry
Originates from: India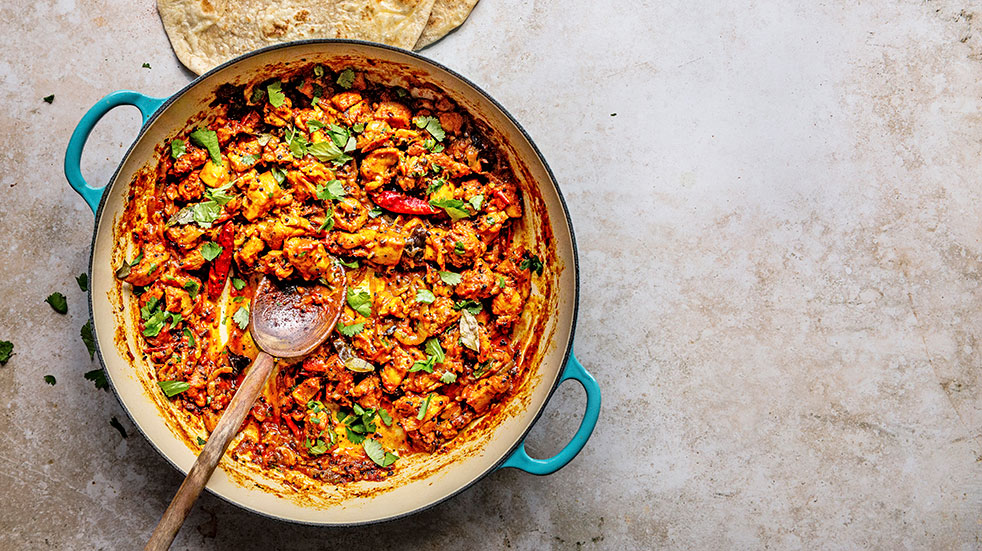 Maunika Gowardhan, author of Indian Kitchen, specialises in traditional Indian cuisine that's packed with flavour. Her simple take on this South Indian staple marries succulent thigh fillets with ginger, turmeric, fennel seeds, cinnamon and dried red chillies, and takes just 30 minutes to prepare (plus marinating time). Fragrant and fabulous!
• Read Olive magazine's full recipe for Chettinad chicken fry by clicking here
2. Grilled padrón pepper and chorizo skewers
Originate from: Spain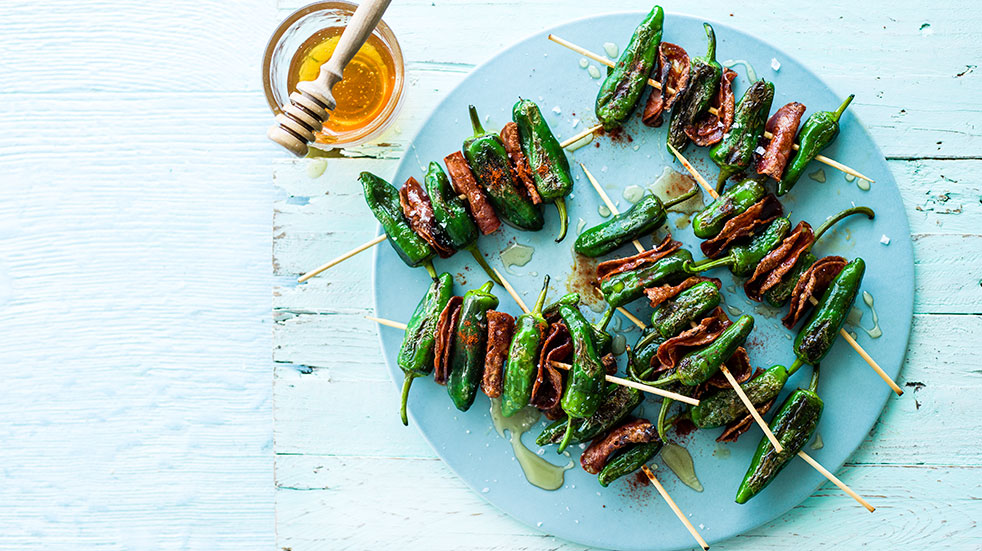 Nothing captures the essence of summer more than sitting at a pavement cafe, sharing some tasty tapas. Well, if the weather's good, lay the garden table and serve up some Spanish dishes of your own, including these mouthwatering bites. Simple to make, they'll bring the taste of north-western Spain to your palate in an instant – and don't forget to wash them down with some ice-cold sangria.
• Read Olive magazine's full recipe for grilled padrón pepper and chorizo skewers
3. Skagen toast
Originates from: Sweden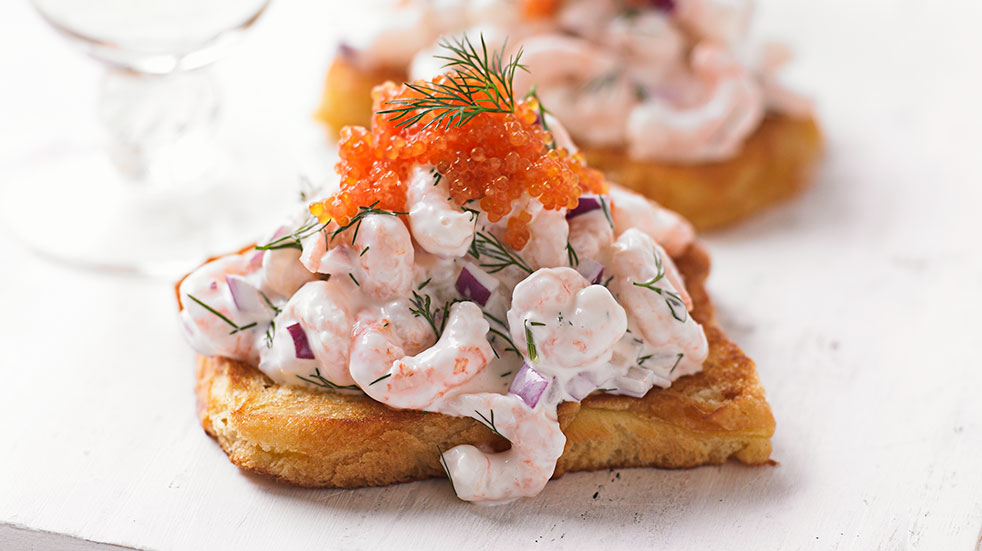 Conceived by the Swedish chef Tore Wretman in 1958, this yummy alternative to prawn cocktail has become hugely popular in Scandanavia, where it's served as a snack or a starter. The cod roe topping is not only easy on the eye, it also delivers an extra layer of flavour that complements the shrimp beautifully.
• Read Olive magazine's full recipe for Skagen toast
4. Gigantes plaki
Originates from: Greece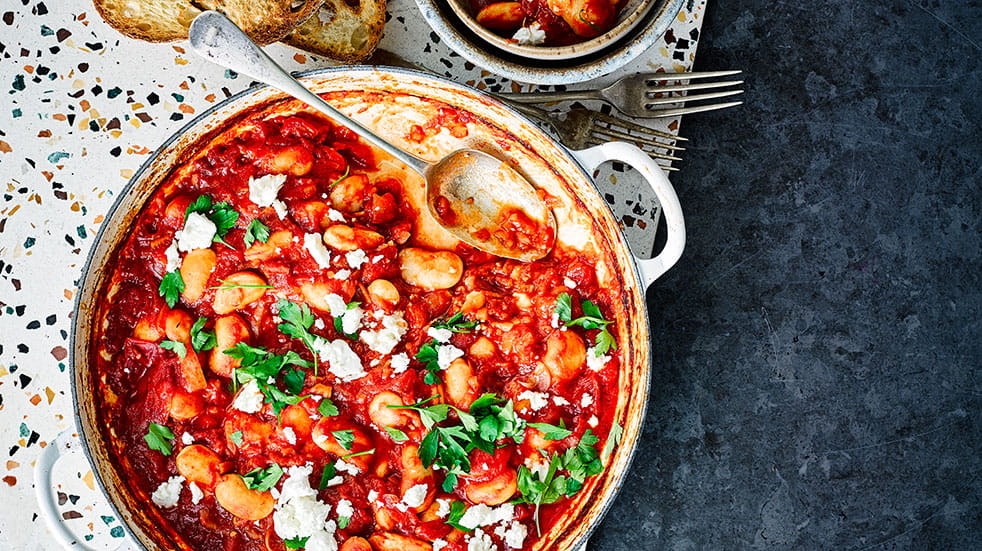 The picture-postcard islands of Greece are sadly off-limits for the time being. But the food that comes from that corner of paradise certainly isn't. This vegetarian one-pot based on Greek-style baked beans is not only brimming with Aegean flavours, it's healthy too – full of protein and fibre, a plate of this comes in at less than 300 calories. Serve it with a fresh Greek salad for a summery snack.
• Read Olive magazine's full recipe for gigantes plaki
5. Tigrillo
Originates from: Ecuador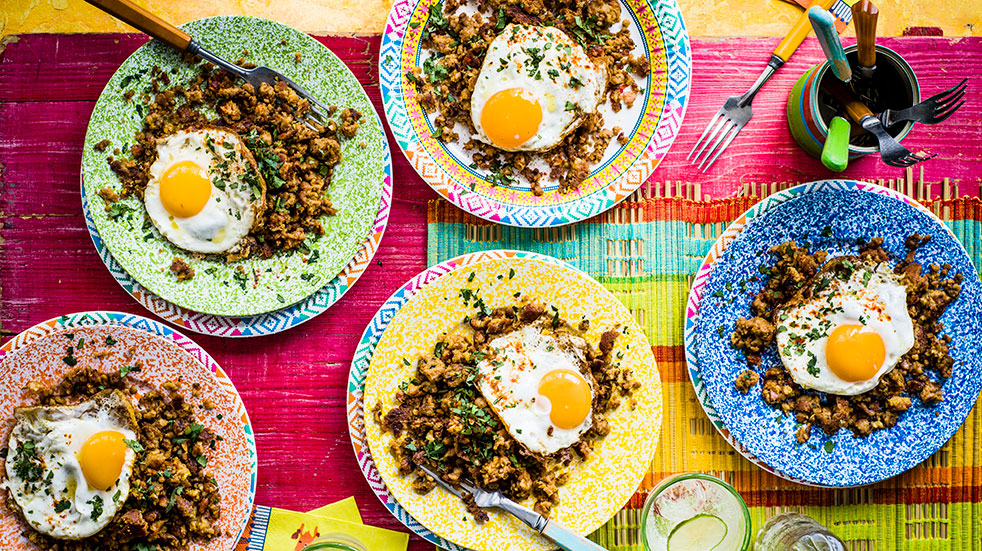 The Ecuadorians swear by this traditional coastal breakfast offering, and it's not hard to see why. Not only is it entirely delicious, combining streaky bacon, mozzarella, peanut butter, spring onions and paprika, the plantains in the recipe are full of carbohydrates, providing an energy boost that should see you through the day.
• Read Olive magazine's full recipe for tigrillo
6. Lamb, harissa and fennel salad
Originates from: Thailand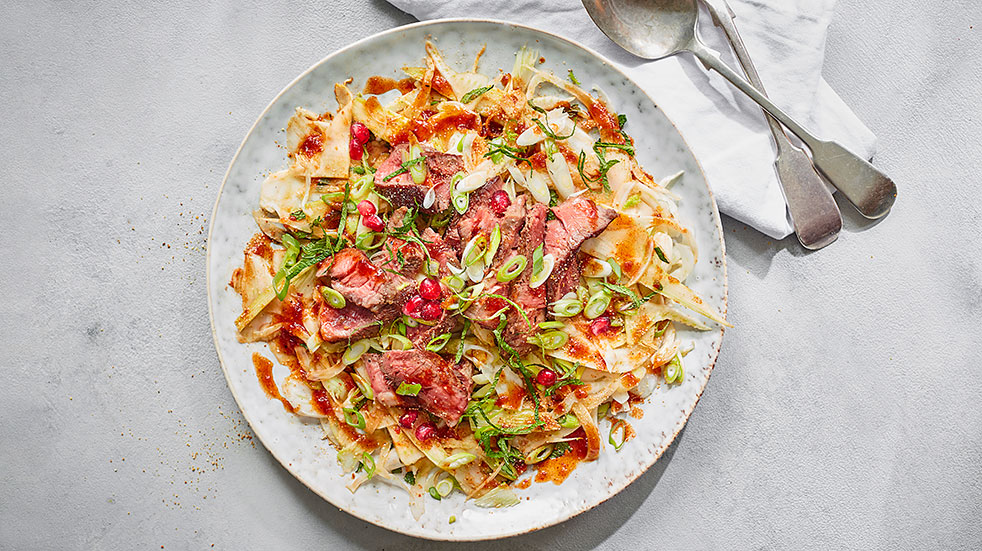 Inspired by her travels to Bangkok, Persian chef Sabrina Ghayour's punchy salad teams tender, pan-fried lamb steak with an assortment of zesty ingredients. With a preparation time of just 30 minutes, it's a healthy Thai treat that won't eat into your day.
• Read Olive magazine's full recipe for lamb, harissa and fennel salad
7. West African stew with sweet potato and greens
Originates from: West Africa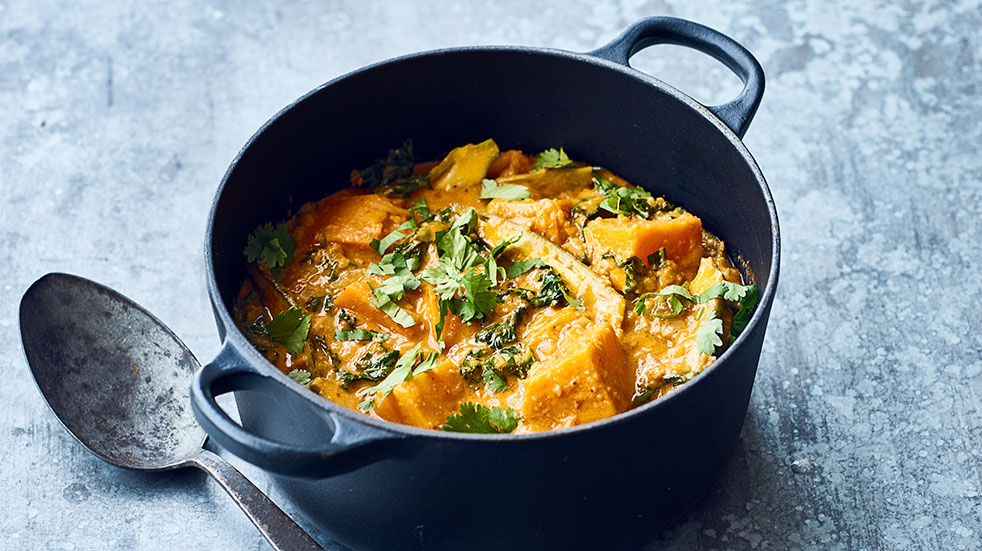 Suitable for vegans, this warming one-pot draws its goodness from the earth, combining sweet potato with okra and kale. With additional flavours of ginger, garlic and coconut, it's a tasty dish that will keep tummies satisfied come rain or shine.
• Read Olive magazine's full recipe for West African stew with sweet potato and greens
8. Turkish pide with cheese and peppers
Originates from: Turkey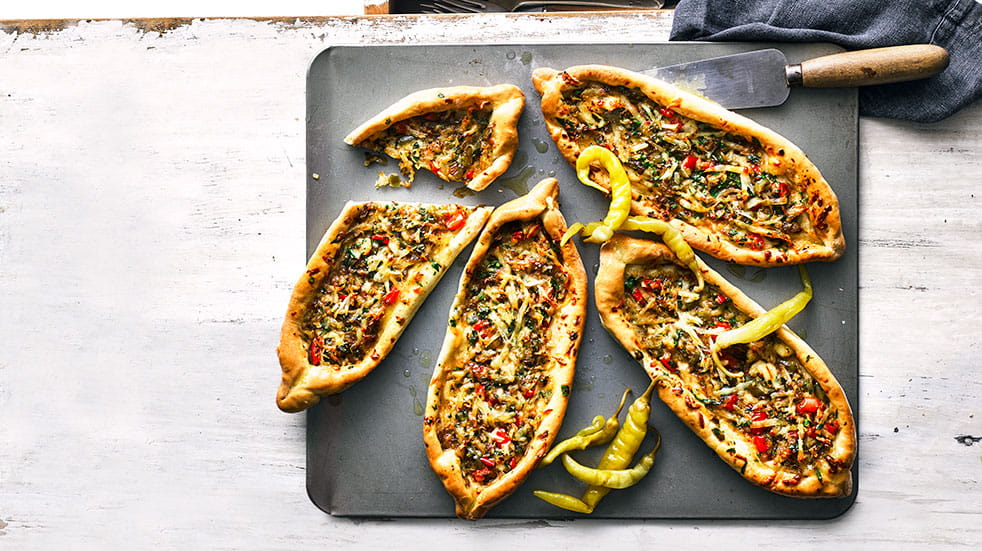 Turkey has seen a boom in tourism over the past few years, with people flocking from all over the world to explore its stunning beaches, Ottoman architecture... and fine cuisine. Served with pickled chillies, this vegetarian snack is filling and fragrant, tantalising the taste buds with ingredients such as halloumi cheese, chilli flakes and cumin.
• Read Olive magazine's full recipe for Turkish pide with cheese and peppers
9. Baileys pecan blondies
Originate from: USA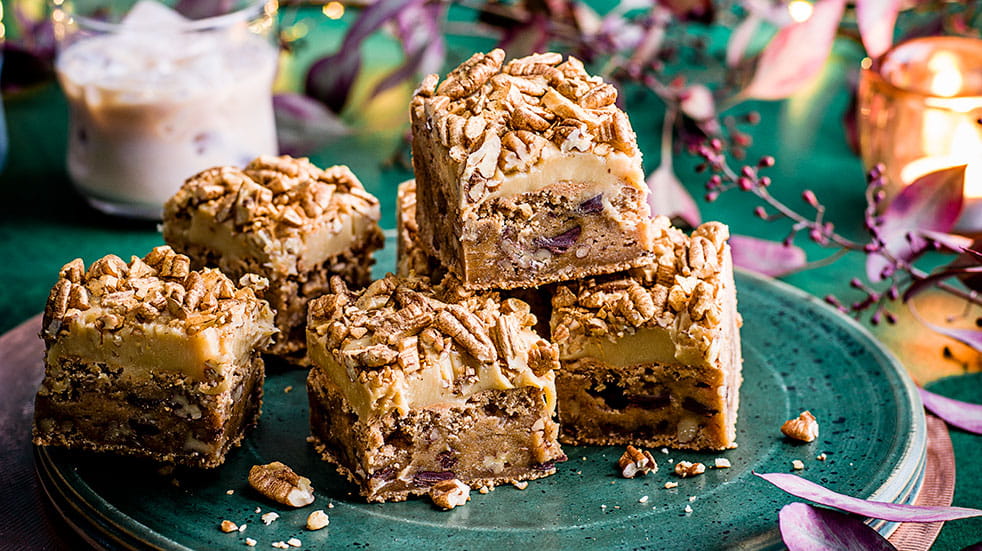 Popular in American homes at Christmas time, these indulgent bites go down a treat all year round. With their white chocolate Baileys ganache giving them a boozy boost, they're perfect for celebrations. The only downside is that they're rather moreish!
• Read Olive magazine's full recipe for Baileys pecan blondies
10. Cardamom and raspberry Swedish buns
Originate from: Sweden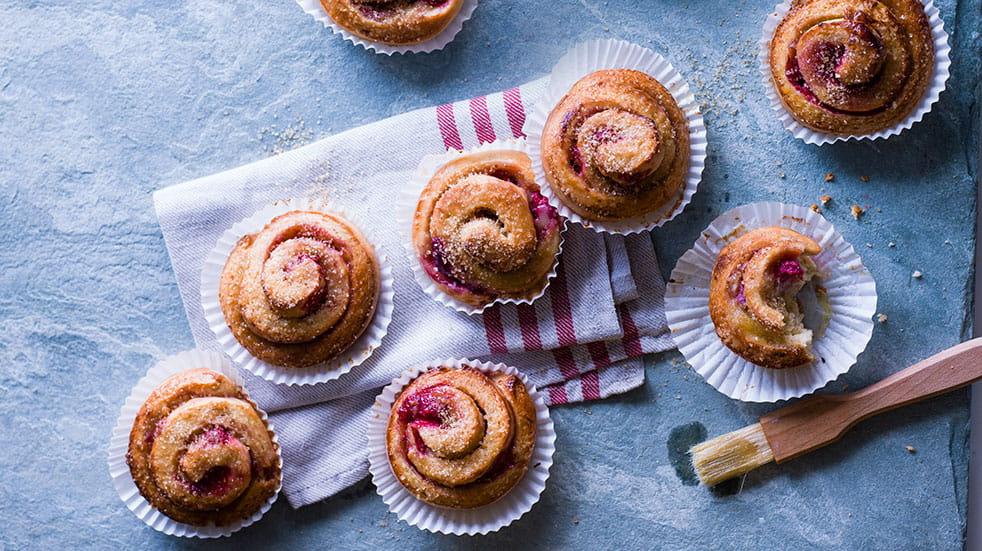 We challenge you to look at this picture without licking your lips. Inspired by classic Scandinavian baking, these buns combine a brioche-style dough with a gorgeous fruity filling for a taste sensation that can best be described as 'melt in your mouth'. If you've never been to Sweden before, these might just tempt you.
• Read Olive magazine's full recipe for cardamom and raspberry Swedish buns