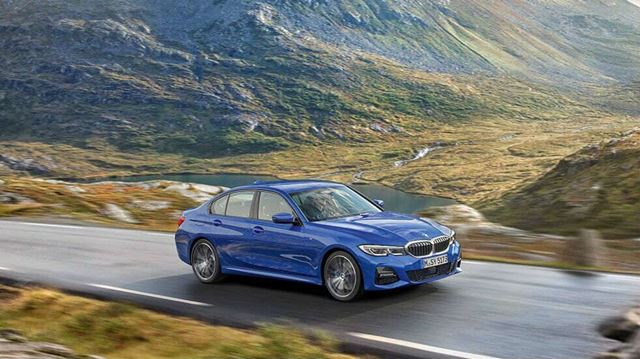 Thinking about a new car? From a practical SUV or stylish estate to a fun pocket-sized 4x4, we've got six of the best on the market this spring.
Saloon: BMW 3-Series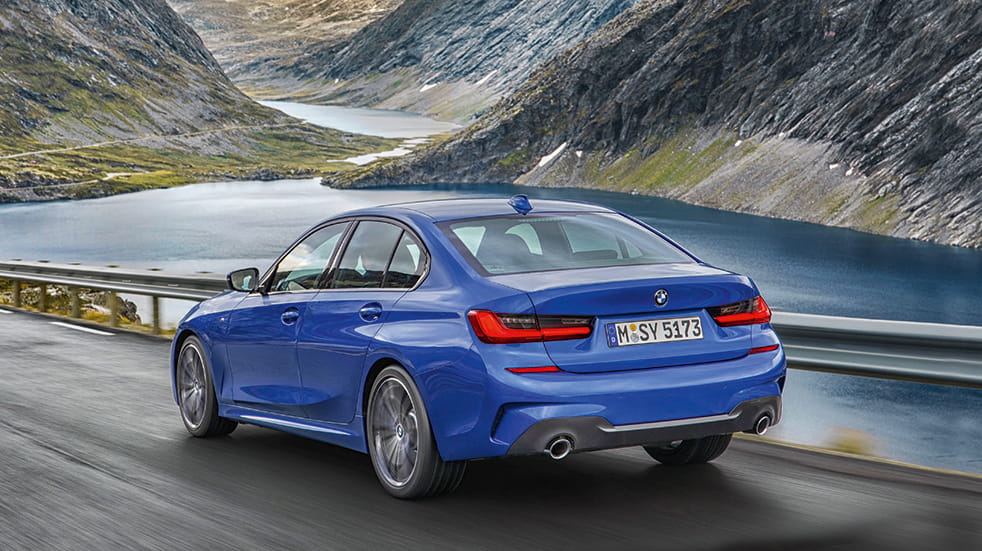 I say sunglasses, you think Ray Ban. I say sporty saloon, you think BMW 3-series. It's an exemplar, and it deserves to be. The 3-series has always been great to drive, but that's just a part of it. People come back for more because it's also a robust piece of German engineering free of any irritation-inducing flaws.
The all-new one has lost weight but gained girth – an apparent contradiction, but a valuable one. The added width and 7cm more length bestow extra space in the boot and back seat. Mind you it's not so handy in tight parking spaces.
Engines, whether petrol or diesel, come in a wide range of outputs. All manage to over-deliver versus rivals. Performance is refined and mustard-keen. There's no economy penalty either, but even so an especially fuel-disdaining plug-in hybrid is on its way shortly.
The new 3 is a pleasure to steer, reacting to your hands like it's already read your mind. The BMW engineers don't care to admit it, but knew it had to match the Alfa Romeo Giulia, a car that knocked the last 3-series off its pedestal as the most delightful saloon for driving.
It has. But reaching that pitch has come at a price. The firmed-up suspension jostles your body over imperfect urban and rural roads, and a trace of turbulence remains even on a motorway. Some atonement comes by way of very low background noise from wind and road.
The new car's standard-fit sat-nav and connectivity matches the previous version's maxed-out options. The screen snappily displays high-res traffic-aware maps and nicely integrated phone and media, and is reasonably user-friendly. An extra-cost system brings a fancier touch-screen and digital instruments, but that tips into the realm of gimmickry.
Put the owner of an outgoing 3-series into a new one and they'd feel right at home. BMW has overhauled the entire car, but it's about polishing not reorienting. Smart strategy.
The spec: BMW 320d Sport
Engine: 1995cc 4cyl diesel, RWD, 6spd manual/8spd auto
Power & torque: 190hp, 400Nm
0-62mph: 7.1 seconds
Top speed: 150mph
Fuel economy: 67.3mpg
CO2 emissions: 110g/km
Price: £35,010 (range starts at £33,610)
---
Read more of our great motoring content:
---
SUV: Volkswagen Touareg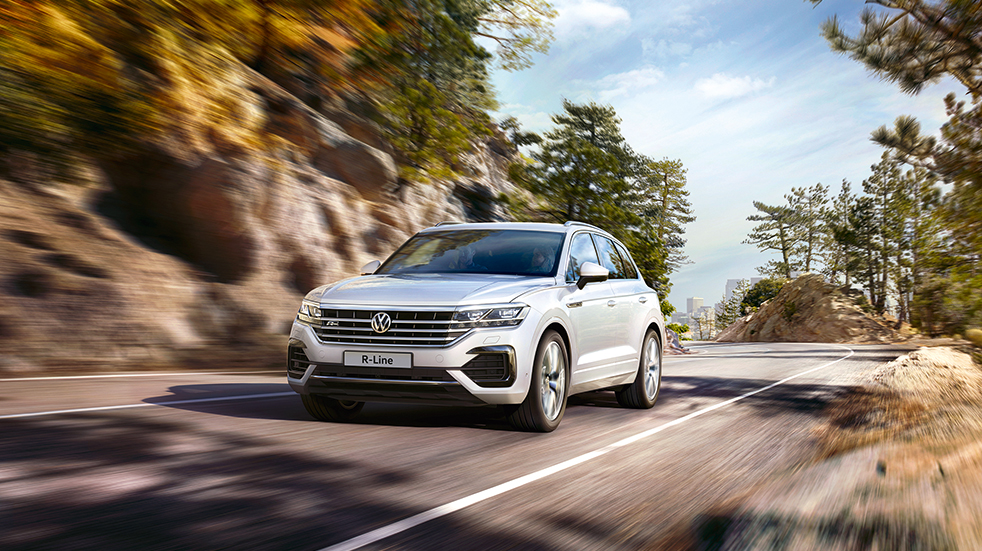 Need to haul heavy trailers or traverse forbidding terrain? VW's big 4x4 will oblige. This new one is more luxurious too – as advertised by a rather glitzier front-end than previous models.
The plush cabin serves up room for five to stretch, and a gluttonous boot. Top versions have 'Innovision' – the dash carries a pair of control-and-display screens so vast it's like you've crashed into a Dixon's window. That's not all the tech; you can tick boxes for advanced driver assistance and even night vision.
The V6 diesel engine is effortless. But driving smoothly takes focus because the automatic transmission changes gear unpredictably. Also the suspension is too lumpy. An optional adaptive air-sprung set-up provides a remedy – but comfort should be standard in a big luxury SUV.
The spec: VW Touareg 286 R-Line
Engine: 2967cc V6 diesel, 4WD, 8spd auto
Power & torque: 286hp, 600Nm
0-62mph: 6.1 seconds
Top speed: 146mph
Fuel economy: 42.8mpg
CO2 emissions: 173g/km
Price: from £55,195 (range starts at £48,995)
---
Family car: Hyundai Santa Fe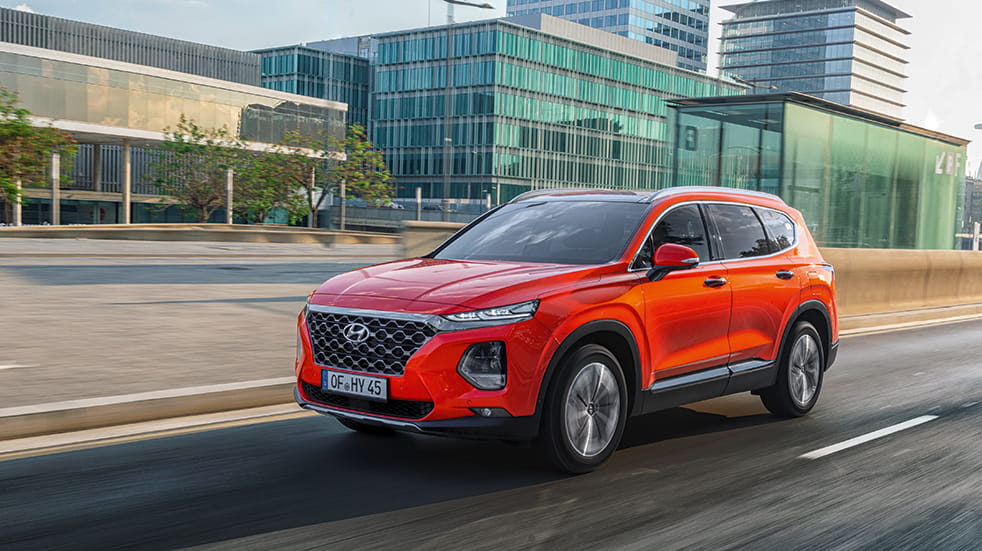 It looks like a big 4x4, and it can be if you pay for that drive option. Many versions are actually just front-drive – signalling its other, perhaps truer, vocation. It's a family car. As a seven-seater it's champ of school runs, and of family outings with grandparents.
The cabin offers plush materials, a screen that plays nicely with your phone, and extra ventilation and power sockets for rear passengers. OK the third row of seats is for kids only, but there's still a bit of boot behind.
Throwing all those passengers around bends will make you unpopular. So the Santa Fe doesn't encourage or reward it. The suspension is soft and comfortable, performance laid-back to a fault. Noise is low too. All families need calm.
The spec: Hyundai Santa Fe Premium 4WD Auto
Engine: 2199cc 4cyl diesel, 4WD, 8spd auto
Power & torque: 200hp, 440Nm
0-62mph: 9.3 seconds
Top speed: 127mph
Fuel economy: 48.7mpg
CO2 emissions: 162g/km
Price: from £40,795 (range starts at £33,425)
---
4x4: Suzuki Jimny

Far teensier than other real 4x4s, if bigger than the Tonka toys it also resembles, the Jimny has few to no rivals. Don't confuse it with a small crossover: this is a serious 4x4 that can traverse a landscape as indefatigably as a goat. You'll have lost your bottle long before it gets into any difficulty.
It's a specialist tool, mind. On the road it's bumpy, directionally challenged and slothful. About as appropriate for driving on the tarmac as a monkey-wrench is for neurosurgery, in fact. And EuroNCAP's crash test came up with several areas of what it called 'marginal protection'. Lucky it's slow, then.
Yet the Jimny's a cult object, no doubt because it's charming beyond logic and cute as a button. It's a celebration of biodiversity in the automotive forest.
The spec: Suzuki Jimny SZ5
Engine: 1462cc 4cyl, 4WD, 5spd manual
Power & torque: 101hp, 130Nm
0-62mph: approx 12.0 seconds
Top speed: 90mph
Fuel economy: 35.8mpg
CO2 emissions: 178g/km
Price: from £17,999 (range starts at £15,499)
---
Estate: Kia ProCeed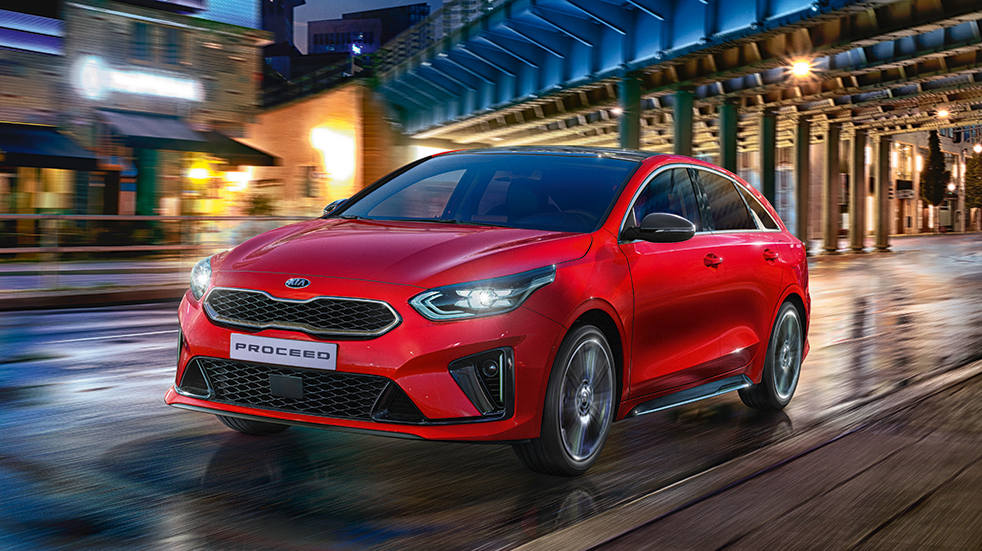 This badge used to reside on the tail end of a three-door hatchback, but these days no-one buys that sort of thing. Instead, for an offshoot body style of its thoroughly competent new Ceed five-door, Kia has come up with this slinky crossbreed-wagon affair.
Its boot is huge in area, although the stylish roof curve prevents it ingesting very tall stuff. It comes well equipped, and its driver aids and connectivity features are blessedly easy to operate. The GT version has a 1.6 turbo that gives brisk performance, but in using the whole of it you'll likely be discouraged by gruff engine sounds.
The ProCeed has its Korean parent's seven-year warranty, but it's European in design and manufacture. Its style should have lots of local appeal too.
The spec: Kia ProCeed GT
Engine: 1591cc 4cyl, FWD, 7spd auto
Power & torque: 204hp, 265Nm
0-62mph: 7.2 seconds
Top speed: 140mph
Fuel economy: 39.3mpg
CO2 emissions: 142g/km (NEDC)
Price: from £28,135 (range starts at £23,825)
---
Supermini: Audi A1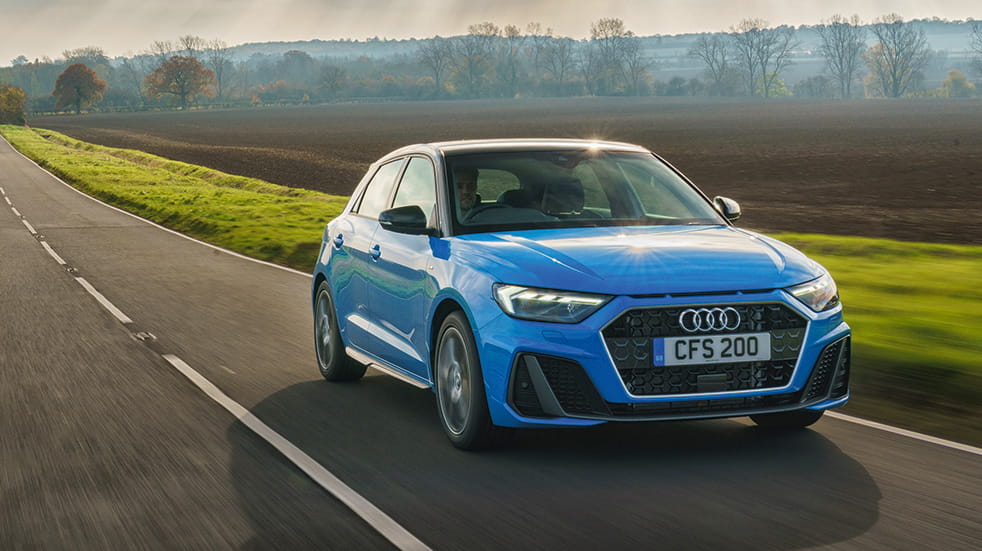 Agreeable little car, the A1, because it doesn't feel too small. It's roomy for a supermini, with good front seats, and it's got the gumption to tackle long trips.
Its economical but plucky engine goes quiet at a cruise. The fine central touchscreen carries navigation and connectivity. At night you've got bright LED headlights. It's pleasant to drive on winding roads, although not as spirited as a Ford Fiesta.
Only thing is, all that applies to the SEAT Ibiza and VW Polo. The three are basically the same car under different styling, all made by the Volkswagen Group. Audi has made little effort to make its version feel more luxurious or refined than the others, yet charges thousands more. Still covet that Audi badge?
The spec: Audi A1 30TFSi S-Line
Engine: 999cc 3cyl petrol, FWD, 6spd manual/7-speed auto
Power & torque: 116hp, 200Nm
0-62mph: 9.5 seconds
Top speed: 126mph
Fuel economy: 57.6mpg
CO2 emissions: 111g/km
Price: from £21,660 (range starts at £18,540)