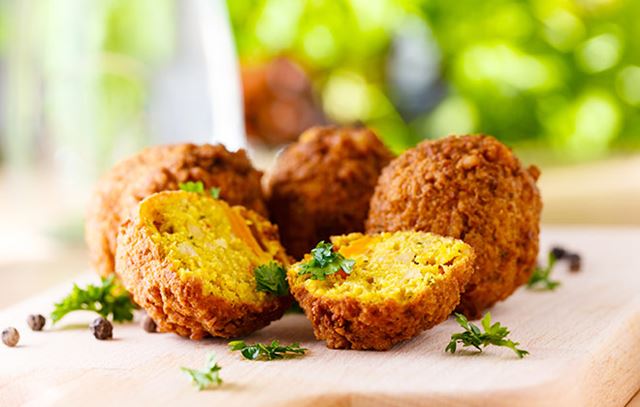 What you need from Monday to Friday are fast, fabulous crowd pleasers – clean plates guaranteed!
---
Falafel Wraps
Serves 4
Prep: 10 mins
Cooking: 20 mins
Ingredients
2 x 400g tins chickpeas, drained
2 garlic cloves, peeled
½ small bunch flatleaf parsley
1 tsp each ground cumin and ground coriander
2 salad onions, trimmed
2 eggs, lightly beaten
2 tbsp wholemeal flour
2 tbsp olive oil, plus extra for frying
3 tbsp tahini
Juice 1 lemon
Flour tortillas or flatbreads, shredded lettuce, sliced radish and plain yogurt, to serve
Method
Put the chickpeas, garlic, parsley, spices and onion in a food processor and whiz to a paste. Transfer to a bowl and add the eggs and flour, season with salt and pepper and mix well to form a stiff mixture.
Preheat the oven to 200°C/Gas 6 and line a baking sheet with parchment paper. Shape the falafel mixture into small patties and shallow-fry in olive oil for 2 – 3 minutes on each side until starting to turn crisp, then transfer to the baking sheet and bake for 10 mins.
Whisk together 2 tbsp olive oil with the tahini and lemon juice. Warm the tortillas and fill with the falafels, lettuce, radish and drizzle over the tahini dressing and yogurt.

---
Feta and Potato Frittata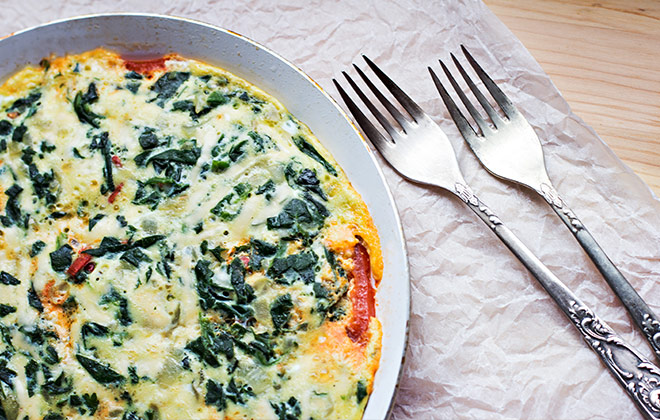 Serves 4
Prep: 15 mins
Cooking: 50 mins
Ingredients
3-4 tablespoons extra-virgin olive oil
450g Jersey Royal or Charlotte potatoes, peeled and cut into slices
1 small onion, peeled & finely chopped
250g young spinach leaves, washed
150g feta cheese, crumbled
6 medium eggs, beaten
50g Parmesan, finely grated
Method
Heat a 25cm wide, non-stick frying pan and add 3 tbsp oil. Add the potatoes and fry gently for 10 mins until half cooked. Add the onion and fry for a further 15 minutes until soft.
Meanwhile, briefly blanch the spinach in a large pan of boiling water then drain and cool – squeeze dry and roughly chop.
When the potato mixture is just cooked mix in the spinach. Season the eggs and pour into the frying pan – add both the cheeses and cook over a low heat for 10-15 minutes until the mixture is just set.
Cover the pan with a large plate and invert the omelette, then slide the omelette back into the pan so that you cook the reverse side for a further 5 – 8 mins until cooked through. Leave until cold.
Serve with a cherry tomato salad and crusty bread.

---
Ham & Tomato Pasta Bake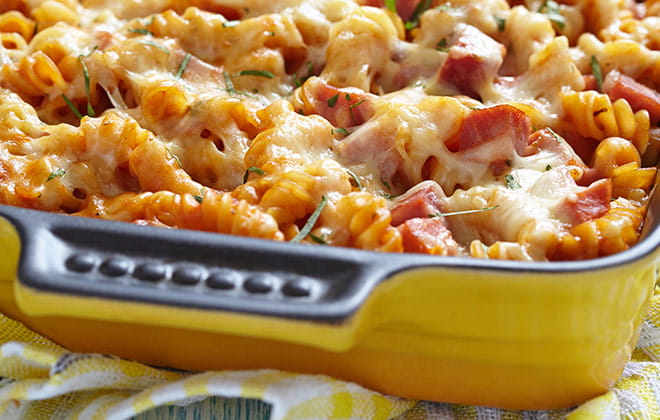 Serves 4
Prep: 5 mins
Cooking: 35 mins
Ingredients
350g rigatoni pasta
350ml passata
75g sun-dried tomato pesto
125ml double cream
200g cooked sliced ham, chopped
2 tsp fresh basil leaves, torn roughly
125g mozzarella cheese, shredded
Method
Cook the rigatoni in boiling water for 10 – 12 mins until just cooked, then drain well.
Meanwhile, combine the passata, pesto and cream and cook on a gentle heat for 5 – 8 mins until thick – season well.
Preheat the oven to 190c/Gas 5.
Mix the pasta with the tomato mixture, ham and basil, season and spoon into an ovenproof dish, then top with the mozzarella and b

ake for 20-25 mins until golden and bubbling. Serve with a green salad.