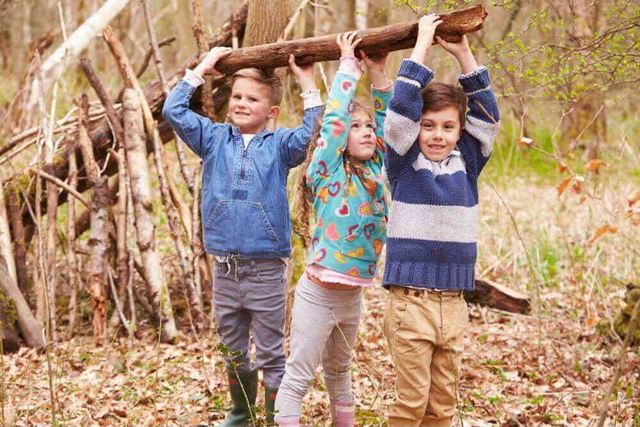 They've broken up for the hols and now you've got to keep them occupied. Here's how to keep your kids busy come rain or shine
1. A trip to the forest
More and more children are taking part in Forest School activities – they love to get out and explore and interact with nature: making dens, collecting bugs, climbing trees, heating hot chocolate with no electricity… Educationalists love it too; they say it boosts children's self-confidence, fitness and social development. The Woodland Trust produces a brilliant range of free resources to help your trip to the woods come to life – from tips on building dens to guides to help you identify leaves and – oh, yes – animal poo.
---
2. Obstacle-race decathlon
Most children love sports day and birthday parties with organised games. Sack race. Egg and spoon. Three-legged. Wheelbarrow. Pancake. Obstacle. Beanbag on head. You get the idea. Take your kids and a couple of friends to the park (or garden) and organise a decathlon of games and challenges. The other parents will think you're a genius!
---
3. Put on a show

You don't have to hire out the church hall and sell tickets (although, you could). Kids love acting out scenes from their favourite TV shows and films and doing assemblies at school. So why not help them write and arrange their own show? A version of a well-known TV show, perhaps, or a story that they are reading at school. Depending on age, interests (and, possibly, gender), this activity could be more slanted to music/dancing, fancy dress or designing tickets and creating props.
---
4. Paper aeroplanes

Everyone knows how to make paper aeroplanes, don't they? But the fact is, if you walked away from the screen right now and tried to make one, it would probably plummet to the ground rather than fly like a bird. So, here are some designs that work properly. Work on different shapes with your kids and their friends. See which planes fly best. See how the planes can be altered to fly better. When each child has found out which design works best for them, bring in the second part of the challenge – to decorate the plane in the colours and motifs of their own, personal airline.
---
5. Indoor crazy golf

You can buy a set of miniature golf clubs, balls, flags and holes for under a fiver. You could then set it up sensibly and play on your dining table. Or you could spread the course around your whole home, creating crazy golf obstacles/tunnels/funnels and slopes, using LEGO, train sets and old cereal boxes. Children of five – seven love this. It allows them to turn their existing toys (and bits of old rubbish) into a brand new world of sport.
---
6. Go for a proper bike ride

Maybe your kids are old enough to ride to school. Maybe they just pedal around the local park. So they would surely LOVE the opportunity to go half an hour on the train and get out and have a proper ride in a forest or a wood or along an old disused railway line. Some of you will be near one of these popular, traffic-free family cycle routes. Or maybe you could invest £12.95 in a guide to 400 of the best trails nationwide. It will be worth it: once your kids have done it once, they will want to do it again and again.
---
7. Cooking

Kids love to help out in the kitchen – and it's a great way of getting them to engage with new (and maybe unusual) foods that they might otherwise not try. If they have had a hand in putting the meal together themselves, they may be more likely to try eating it. Here's an incredible 51 recipes you can cook (and eat) with children, from BBC Good Food.
---
8. Matinee

After a busy, week-long programme of 'edutaining', what if it's now pouring with rain and your kids are just crying out for a bit of lazy screen-time? Give in. Give them, and you, a break and put on a film. But do it properly. Turn your living room into a cinema. Get the kids to design tickets (and maybe even film posters) and make popcorn and other novelty foods. Then turn down the lights and all sit together and watch a film together as a family, just like you would at the pictures. Except about 30 quid cheaper. Here's 20 films that you may want to watch with your children. It doesn't include The Railway Children, though, and it should, even though it will make everyone cry (in a good way).