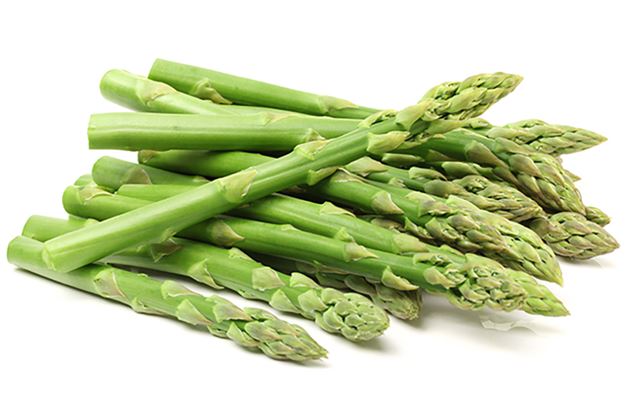 April to June marks the British asparagus season – Tara Crean suggests some simple suppers with one of our best-loved veg treats
Few vegetables inspire as much passion as asparagus. It has a tantalisingly short season, from St George's Day to the summer solstice (23 April - 21 June), and deteriorates rapidly on picking, so eat on the day of purchase. You can grill, roast, steam, boil or barbecue the spears, and then serve simply with a little melted butter, or pimped up with one of the recipes below.
We love asparagus in the UK. In fact, demand has increased by a staggering 540 per cent over the past 10 years, according a report by Kantar for the British Asparagus Association. And no wonder – it promises to boost libido, cure hangovers, improve brain function and protect against a host of diseases. What's not to love?
---
Macaroni Cheese with Bacon Crumble
Serves 4
Prep: 15 minutes
Cooking time: 35 minutes
Ingredients
8 rashers streaky bacon
50g breadcrumbs
150g Cheddar
300g macaroni
2 bunches asparagus spears, trimmed and cut in half
40g butter
40g plain flour
400ml milk
2 tsp Dijon mustard
black pepper
Method
Preheat the grill and cook the bacon on both sides until very crisp. Chop into small chunks and combine with the breadcrumbs and ¼ of the cheese, then set aside.
In a large pan of boiling salted water, cook the pasta for 9 minutes, then add the asparagus and continue cooking for another 2 minutes.
Meanwhile, melt the butter in a heavy-based saucepan, sprinkle in the flour and, using a wooden spoon, stir to combine. Add the milk a little at a time, beating well after each addition, until you have a smooth sauce. Stir in the mustard, black pepper and the remaining cheese.
Drain the pasta and asparagus, then pour the cheese sauce over and stir until everything's coated. Tip the macaroni cheese into a large ovenproof dish, sprinkle over the bread and bacon topping and grill until golden.
---
Or why not try these suggestions…
Give grilled asparagus a Mexican twist by adding a squeeze of lime, a hit of fresh chilli and a spoonful of sour cream. Toss to coat and then serve with a scattering of grated Parmesan.
For a light option with an Asian influence, serve asparagus with salmon, squash and rice. Coat the squash and fish in honey, cumin, chilli and ginger, then roast for 25 minutes, adding a bunch of asparagus for the final 10 minutes. Pile into a bowl with some brown rice, then top with chopped coriander and peanuts and spritz of lemon juice.
Another Asian-style option would be to roast your asparagus in garlic and little oil, and then coat with a dressing made from sesame oil, a little red-wine vinegar and sesame seeds.
This salad would make a lovely starter or light lunch: use a vegetable peeler to 'ribbon' carrots and asparagus, then combine with thinly sliced radishes. Dress with oil, honey, lemon juice and chia seeds.
Serve asparagus with flavoured butter. Add your favourite herbs and seasonings to softened butter, form into a log and chill until firm. Top steamed spears with a flavourful disc. Chilli and lime; mint and lemon zest; thyme and honey; parsley and shallot, and black pepper and chive are all delicious combos.
Why not top pizza with asparagus? Slather flatbreads with crème fraîche, sprinkle over flaked almonds and Parmesan and cook in a medium oven for about 10 minutes, or until golden. Top with steamed asparagus and some more Parmesan shavings.
For a quick and easy one-pan supper, put some new potatoes and chicken thighs into a roasting dish with a little rosemary, garlic, lemon juice and seasoning, then pop into the oven at 200C for 50 minutes. Add asparagus and cook for a further 8 minutes, then serve everything drizzled with the cooking juices.