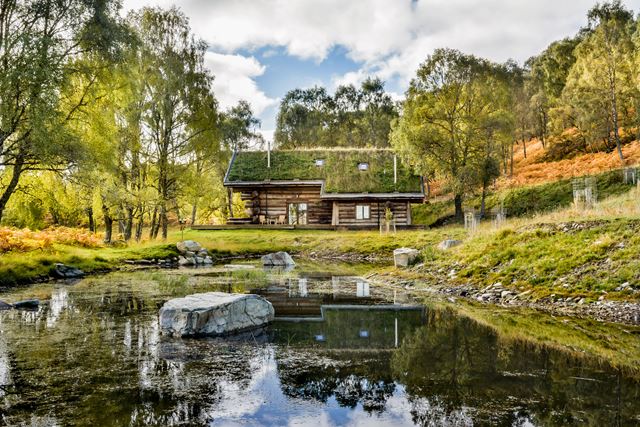 Rachel Roberts finds luxury in the wilderness as she gets away from it all at Eagle Brae, near Inverness
We were looking forward to meeting Eagle Brae's trio of goats. Barnaby, Billy and Buckara are permanent residents at this highland hideaway, roughly 20 miles west of Inverness.
It's two-and-a-half years since founders Mike and Pawana Spencer-Nairn opened their clutch of luxury eco-cabins, dotted across 8000 acres of estate, and their furry friends were originally brought in to keep the turf roofs in check. Four-hoofed lawn-mowers, so to speak.
However, the wild grasses and flowers haven't required a trim yet, so these Billy goats don't have anything to be gruff about, surrounded by some of the most stunning scenery Scotland has to offer. This is the land of glorious glens, ancient forests and deep, still lochs.
If this sounds a little bit fairy tale, Eagle Brae does cast a bit of a spell. Arriving there feels a bit like discovering that enchanted forest you read about as a child.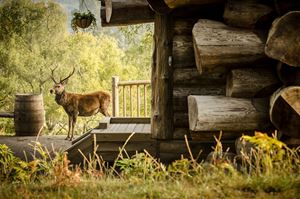 The log cabins – seven and counting – are ridiculously cute. Made from amber-hued Canadian Western Red Cedar wood, not only do they look good, the sweet aroma secreted by the timber is a divine natural air freshener too. Mike and Pawana's story is the stuff of fairy tales, too. They met in Chowki, a village high in the Himalayas. Mike was a mature student at Pawana's school and the pair fell in love. After marrying, two children quickly followed and they built their own family home in the Himalayan foothills, before turning their attention to the Struy estate in the Scottish Highlands, passed down from Mike's great grandfather. And so the idea for Eagle Brae was born.
But this lovely story is underpinned with sheer hard graft, too. It took five and half years to transform the wild land into the gorgeous retreat from the outside world that it is today.
The cabins are a wonderful expression of the couple's combined heritage.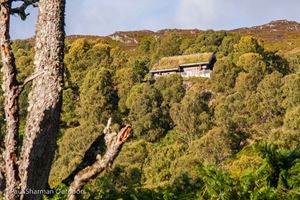 We stayed in the cabin called 'Stryx': though billed as accommodation suitable for two, there was easily room for another two guests. In all the cabins, you can see the intricate handiwork of Pawana's brother-in-law. She harnessed his talents as a master carver, commissioning him to create the gorgeous wooden panels depicting Pictish, Scottish and Himalayan symbols that line the walls and stairs. The tartan curtains and wool rugs were handmade in Rajasthan, and playful touches include the mounted heads of mythical Jackalopes (a jackrabbit crossed with an antelope), deer footprints etched onto the treads of the wooden stairs, and a secret cubby hole with a stash of sweets from the previous occupants.
You can't fail to be enchanted by this place. As dusk fell on our first evening, five or six stags and a couple of hinds sauntered nonchalantly by the kitchen window of our cabin, their antlers outlined by the dwindling sun.
They come down from the hills to graze and to cheekily hoover up the debris from the bird feeders. Mike told us that it's usually the females or hinds that visit, with the males off exploring and eating further afield, so we felt truly blessed. It's a twitcher's heaven here, too: we spied – and heard! –woodpeckers, Scottish crossbills and bullfinches, and there are majestic birds, including the golden eagle, kestrel and red kite in the immediate area.
While it can be tempting to stay in the comfort of your log cabin (the underfloor heating, courtesy of the eco-friendly biomass burner is utterly divine), there are plenty of activities onsite and in the surrounding countryside to lure you out of your blissful bolthole. These include fly-fishing, camera stalking, kayaking and husky/sled-dog rides on grass that are apparently even speedier than those on snow.
It's a doggy's paradise too. When our labradoodle Dolly, driven to canine delirium by the combination of dawdling ducks, visiting deer and the vast bracken-covered landscape, broke for freedom and ran several circuits of the land, we were mortified. But we needn't have stressed; no-one seemed at all fazed. Pawana's own pooch, Kyla, a huge friendly Bernese mountain dog, trots around all day, too, and came to 'call' for Dolly several times, sitting patiently outside on one of our two terraces.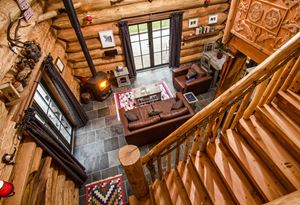 A glance at the guest book reveals just how varied the clientele is. An Indian colonel, loved-up honeymooners, city slickers and travellers from Uganda to Australia wax lyrical about their experiences at Eagle Brae.
Our comment was simple: 'When can we move in?'
Click here for more information about Eagle Brae or call 01463 761301