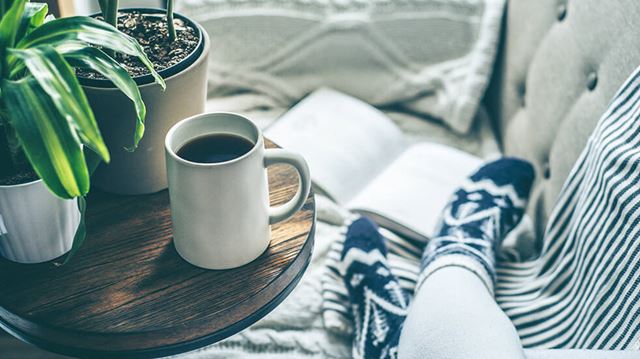 April is National Stress Awareness Month, so follow our expert advice to boost your well-being.
The Nordic countries of Denmark, Finland, Norway, Sweden and Iceland are often rated top in worldwide happiness surveys, with their traditions of hygge (appreciating a slower pace of life and spending time with loved ones) and a strong community spirit. Reducing stress has a positive impact on your mental and physical health, relationships and productivity levels at home and at work. So try our ideas for slowing down and making the most of your free time.
Seven ways to de-stress
1. Get in touch
Family and friends play a big role in supporting our well-being, so make time to connect with them throughout your day. Maybe have a chat while you're travelling, or in the half hour after you've eaten? It's a valuable way to spend time.
---
Feeling stressed? Discover five ways to feel happier
How spending time with your family can boost your well-being
Discover the anti-loneliness manifesto
---

2. De-frazzle your mind
If you spend time on a train or bus – especially if you're commuting to work – use this travelling time to help you de-stress. In the morning you can use the journey to get organised and ready for your day. Setting your goals – for work, home or both – will help focus your mind on what you want to achieve, which means you're more likely to do it. It will also help you to keep on top of everything, which in turn helps to reduce stress. On the way home, you could focus on the bigger picture – what do you want to accomplish on a personal level, and what do you need to do to get there?
3. Learn something new
Learn a language with the aid of an app, teach yourself how to use HTML, study for an additional qualification, or listen to a TED talk or a downloaded lecture – try Oxford University as one of many sources of free, accessible materials. There are endless sources of information at your fingertips, and it'll improve your cognitive skills as well as increasing your knowledge.
4. Expand your cultural horizons
A good book, audio book or podcast can help you switch off and forget the real-world stresses and worries. The cultural world is your oyster – you can read a magazine, listen to an arts review or discover new music. And a funny podcast is a great way to lighten your mood.
5. Game for anything
A brain-training app can help you wake up and get into a productive mindset, as well as providing longer-term benefits.
6. Write a list
If your worries are getting on top of you, write down your goals for the day – for work, home, or both. It will help focus your mind on what you want to achieve, which means you're more likely to do it, and help you keep on top of everything.
7. Get active
The benefits of exercise are well known, boosting both your physical and mental health, so finding a way to integrate exercise in your day will bring many positives. Look into the possibility of walking or cycling on short journeys instead of driving or taking public transport – travelling at your own pace will help reduce the stress of relying on timetables and sitting in traffic jams.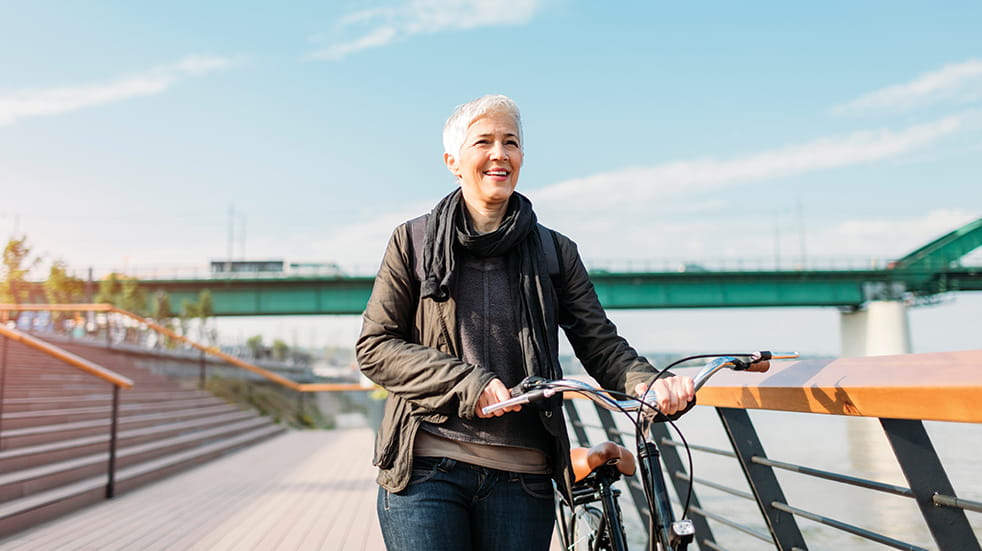 Take a breath
Kirstie Duhig is editor of In The Moment magazine, which focuses on well-being and mindfulness. She recommends focusing on your breath in times of stress, taking slow, deep and controlled breaths instead of the short shallow breaths we often take in stressful situations. "Try this '3-4-5' mindful breathing exercise," she says, 'breathe in for the count of three, hold for four, and exhale for five. Repeat for a minute or longer, until you've regained your calm."
You can read more of Kirstie's expert advice in her column in the May/June 2019 issue of Boundless magazine, which will be delivered to members at the end of April.
Switch off from technology
Our final, and possibly most important, piece of advice is to try and spend less time using your phone, tablet or computer. Instead of filling time checking emails or social media, just let yourself 'be'. Simply taking in your surroundings can be a positive step in itself – you just need to recognise that's what you're doing.