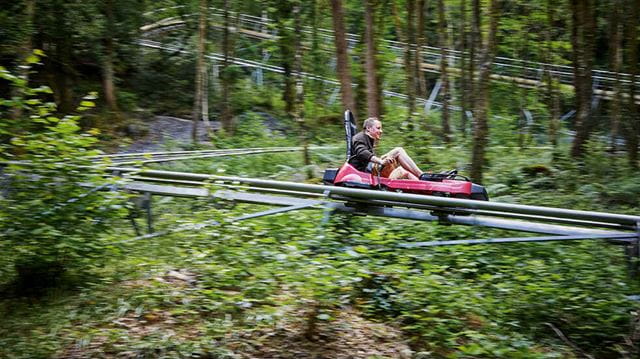 Zip World is a sprawling playground spread over three sites in Snowdonia, each with a different assortment of adventures - from treetop safaris to giant caverns, forest roller coasters and giant swings.
It's just a short flight across the Penrhyn Slate Quarry in North Wales, about 60 seconds from top to bottom. Slung in a harness and clipped to a wire, you zoom head first towards the landing zone a mile away, across what was once the deepest man-made hole on Earth. At first the ground blurs beneath you, until it suddenly drops away and you're soaring 150m above a sun-spangled lake, one arm extended like Superman, the other waving at the person beside you. They call it Velocity 2 – the fastest zip line in the world, the longest in Europe and, with four parallel cables, the ultimate family joyride. It accelerates from zero to 60mph in under ten seconds and keeps going until – on a good day – you touch 125mph, as a headwind roars around your ears and ripples your cheeks. At the top it's so high you could stack two Big Bens between you and the water, with room to spare.
The three Zip World sites in Snowdonia happen to be linked by some of the best driving roads in the country. Strung together they form a sort of adventure highway, along which you'll also find hiking, climbing, mountain biking, kayaking and white-water rafting. For a bit of fresh air and family fun, there's nowhere quite like it.
---
Discover more great days out this spring
Adrenaline-filled days out around the UK
Eight ways to entertain kids in the school holidays
The best days out for grown-ups
---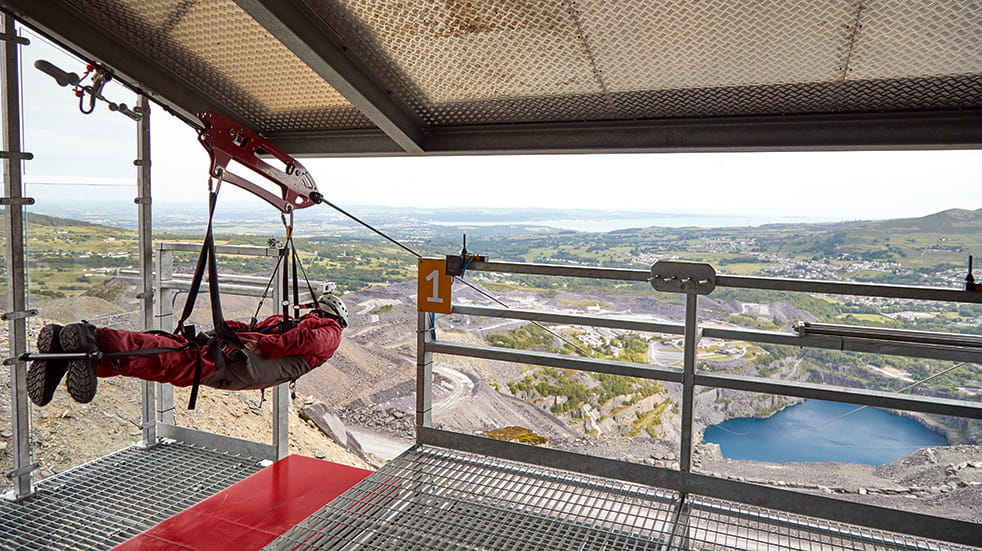 Dangling 150 metres in the air at the start of Velocity 2. On a clear day you can see as far as the Isle of Man from up here.
Fun for everyone
In fact, it's hard to know what's more fun – the adrenalised activities, or driving between them all. From Penrhyn Quarry – which is still a working slate quarry, and the largest in Britain at that – it's not far to the village of Llanberis at the foot of Snowdon. There you can ride the 4.7-mile heritage railway to the summit, though if you've come for the roads you'll carry on up the A4086. Otherwise known as the Llanberis Pass, it's a dreamy, river-like road, cutting through the steep valley and lined either side by stone walls and supersized scree. At the top there's a car park, from where the old miner's trail snakes up the mountain.
Unless you've brought your boots, keep going, as the road spills back down towards Betws-y-Coed and another of Zip World's attractions – Fforest, including the Fforest Coaster, a gravity-powered, 25mph luge run on rails, coiled among the towering pines. You can ride the sledges alone or in tandem, as long as your passenger is aged between three and nine. If they don't fancy the coaster there's lots more to keep them busy – during weekends and holidays the forest is full of kids, bounding around the canopy and zipping between trees. It was less busy when we turned up, though we weren't the only grown-ups making the most of the quiet weekday.
Take Sharron and Ian Griffin from Scarborough, who were also on an action-packed road trip and couldn't resist a roller-coaster ride through the woods. "It's our 30th wedding anniversary," said Sharon, wiping a tear from her eye after a go on the coaster. An emotional day, we asked? "On no, that's just from the breeze – it's windy on that thing!" After two more speedy runs they headed off towards Llanberis and the mountain railway. "We'll definitely come back," they said. "But with our grandson next time."
High roads and low roads
As your Coaster ticket buys you three goes, we jumped on for another. It begins with a familiar click-clack as you're pulled uphill on a pulley for what seems like forever. Nothing to do except sit back and smell the fresh pine before you're finally released. After a brief pause over the crest, momentum takes over and you quickly gain speed, rounding the first banked corner before dipping sharply downhill. The birdsong and wind-rush blend into one, but the sled glides silently, as if someone has buttered the rails. Thankfully there's a brake lever, which feels completely necessary in places. Who knew gravity was so effective?
Back in the car, and with the Coaster behind us, it was time to explore again. Drive in almost any direction from Betws-y-Coed and within five minutes you'll find another heavenly road. They're everywhere. Over hills, across moors, alongside lakes and streams. Any list of Britain's best roads includes at least five from Wales, and if it doesn't include the B4391 between Bala and Ffestiniog then it's not worth reading. Firstly, almost nobody uses it. The surface is silky smooth. It runs over empty moorland so you can see for miles ahead (useful with stray sheep about).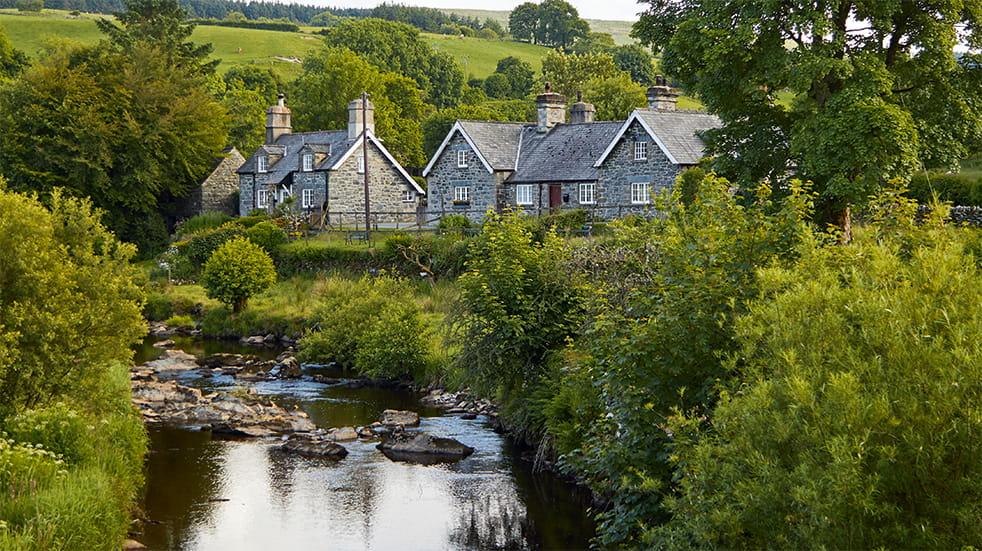 The Snowdonia roads around Betws-y-Coed and Ysbyty Ifan pass through glorious scenery.
Trampolines and lobster pots
You could drive up and down the Bala road all day long, or head south along the spine of Snowdonia on the lovely A470, but at some point you should head back to Blaenau Ffestiniog, where yet another Zip World escapade awaits.
For this one you'll head deep underground, into the Slate Caverns at the Llechwedd Quarry created by over 150 years of mining. In its Victorian heyday it produced 24,000 tonnes of slate every year, and when it eventually closed in the 1970s (modern roof tiles pretty much killed off the slate industry around here) it left behind over 24 miles of tunnels and around 250 voids, some the size of cathedrals.
It's in one of these where you'll find Bounce Below, a subterranean web of nets, walkways and slides split over several levels. The springy nets are strung right across the caves and illuminated by an ever-changing lightshow of spooky greens and purples, accompanied by a constant salvo of pop music. Imagine a bouncy castle crossed with a trampoline inside an enormous lobster pot and you'll have some idea of what it feels like. You even feel the odd drip of water from the cool, damp cave walls.
There are six enclosed nets in total, one of which is full of huge pink balls designed to be thrown at other people, provided they don't mind. It's either the ultimate family fun, or cheap family therapy. To get between levels you can clamber up spiral nets or whizz down central slides, each the height of two double-decker buses. But all that boinging around is surprisingly hard work, and after a while some people feel a bit seasick, so it's with some relief that you re-emerge into daylight in search of the café.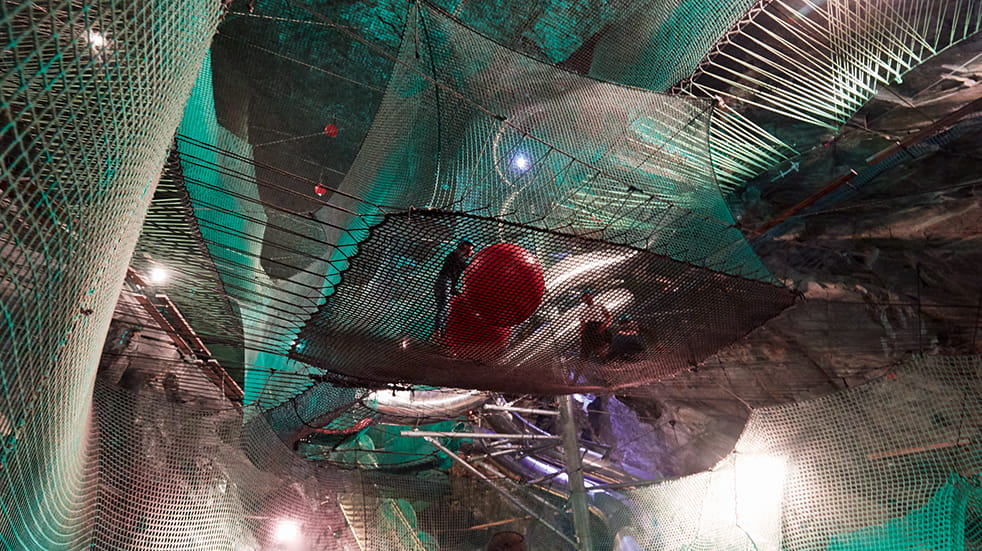 Bounce Below takes you deep underground for loud music and trampolining.
The ultimate adrenaline experience?
When you've reacclimatised there's much more to do, and you won't have to go far. On the same site is the Titan zip line, which isn't as fast as Velocity 2, but at least you're seated for the high-altitude ride. Then there's the neighbouring Deep Mine Tour, which descends 150m on the UK's steepest cable railway. You can even tie the knot down there – apparently it's also the lowest wedding venue in Britain. Some brides have even followed their ceremony with a ride on the zip wire, tossing their bouquet in mid-air. Could this be the ultimate day out? It's certainly up there with the best of them.
The adventure hotspots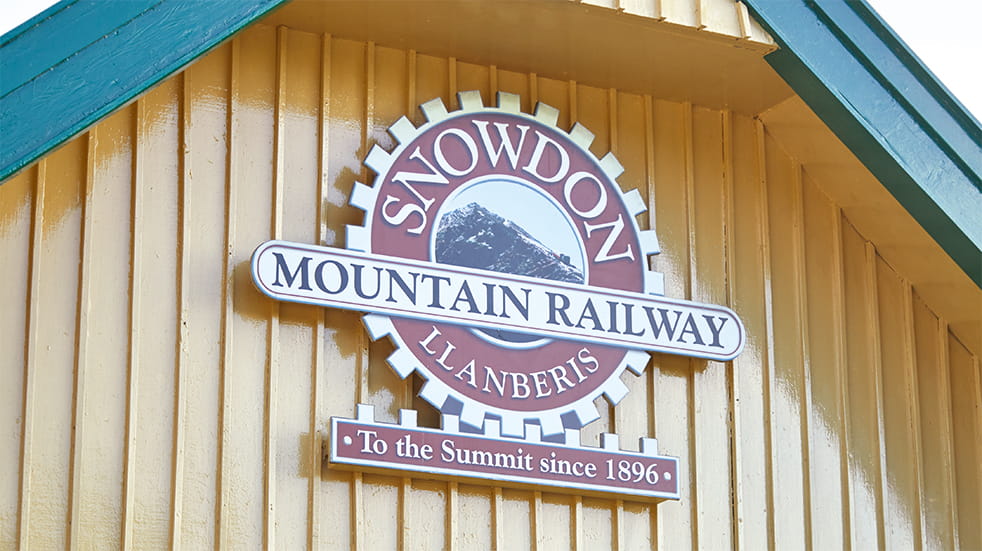 Ride the Snowdon Mountain Railway from Llanberis, a narrow gauge rack and pinion railway for nearly five miles.
Getting around by road
Imagine for a moment that north Snowdonia is a spider's web, with Blaenau Ffestiniog at its centre. From there the roads shoot out in all directions while others spiral around it. For the best experience, pick a quiet weekday when the best B roads are almost deserted.
Getting around by rail
Arrive if you can via the beautiful Conwy Valley Line. Once there you could then take the scenic steam-powered Ffestiniog and Welsh Highland Railway out to Porthmadog, or ride to the top of Snowdon on the Mountain Railway from Llanberis.
Getting around by bus
National Express and other operators run coaches into the heart of Snowdonia, where plenty of local lines service the countless hikers and other car-less visitors enjoying the area. These include the Snowdon Sherpa, which sometimes runs open-top buses.
Where to stay in Betws-y-Coed
You can't walk more than ten yards in Betws-y-Coed – known as the Gateway to Snowdonia – without bumping into a hotel, B&B or bunkhouse. We booked two reasonably priced rooms in the Glen Aber Hotel at short notice in high season.
Where to stay in Blaenau Festiniog
If you have a head for heights, check out the glamping lodges at the Llechwedd Slate Caverns. Perched right on the edge of the quarry overlooking the old mines, they're just a stone's throw (literally) from the Titan zip lines and cost from just £120 per night.
Where to stay in Llanberis
At the top of the Llanberis Pass, with Snowdon's walking trails on its doorstep (not to mention the spectacular road), the recently refurbished YHA Snowdon Pen-y-Pas has both dorms and private rooms. Perfect for hikers, climbers and drivers alike.
Where to eat in Betws-y-Coed
On colder days enjoy a hearty meal and a pint at the cosy Ty Gwyn Hotel. In the summer, grab a table outside at the Stables Bar – you might even get live music.
Where to eat in Blaenau Festiniog
The excellently named Trish and Chips (01766 832095) offers two types of curry sauce! Or try the Quarryman's Tavern (01766 830346), a traditional Welsh pub in the heart of the slate mines.
Where to eat in Llanberis
A full English at Pete's Eats will prepare anyone for a trek up the mountain, though you may prefer a more upmarket experience at the Peak Restaurant, which serves up all sorts of locally sourced ingredients.
Start your next adventure with products from leading brands and great in-store service at Snow+Rock, with a Boundless discount.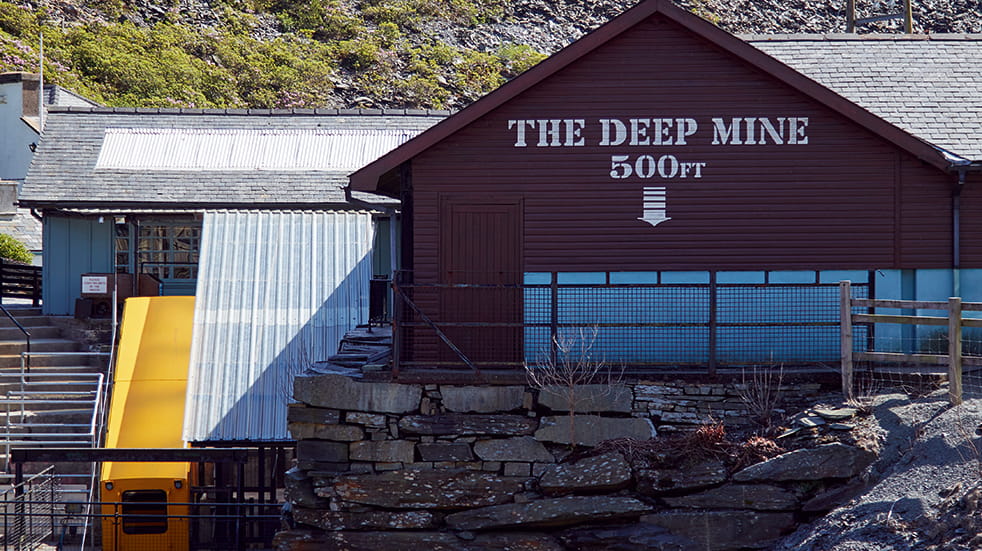 The Deep Mine Tour, next to the Velocity 2 zip line ride, is the UK's steepest cable railway.