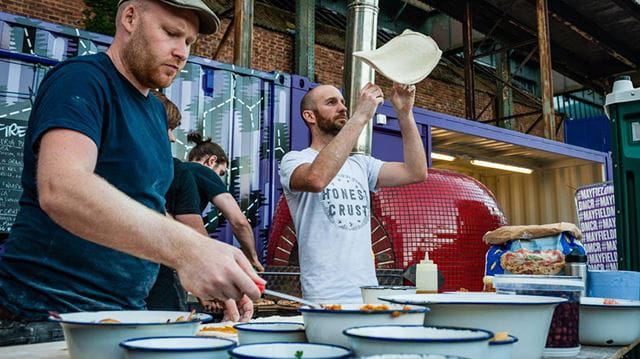 Make the most of the British summer with the best street food around the UK, including vegan and vegetarian menus and family-friendly experiences.
If you've herded children around London, you'll know the relief of finding a place to dine and how often a pot of crayons wins over a decent meal. But this Shoreditch market welcomes children (and dogs). Choose from Up In My Grill's Argentinian steak, Yum Bun's sticky cloud-like buns or pick 'n' mix Pocho's sliders and tacos. And relaaax!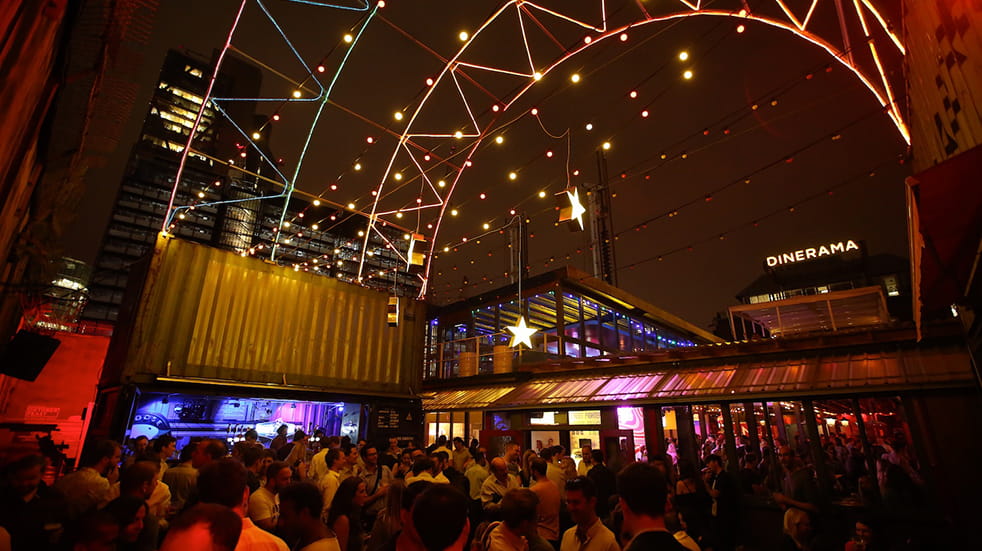 ---
You'll find this food market in Georgian arcades, while bigger events spill into the street outside. Monday to Saturday, you can snaffle Eatchu's loaded gyoza, Brozen's velvety ice cream or pause at Source Café for seasonal fare. On Mondays, there's a vegan market in the square, and look out for family-friendly night markets with shopping, music and the pick of local street food vans.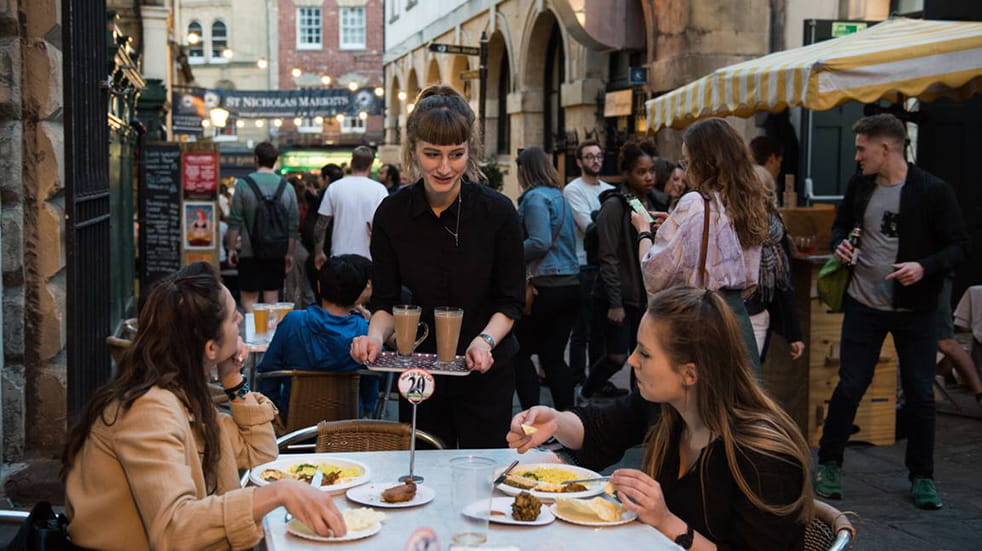 ---
A forgotten railway station became a street food hub last summer and now it's back, bigger than before. Inspired by Budapest DIY bars, it dishes out live music, craft ale and food from shipping containers and stalls. Look out for Ottomen mezze, What's Your Beef's ethically sourced burgers and Yes Doughnut's oozing treats. #PlantPoweredSunday brings vegan food to the fore.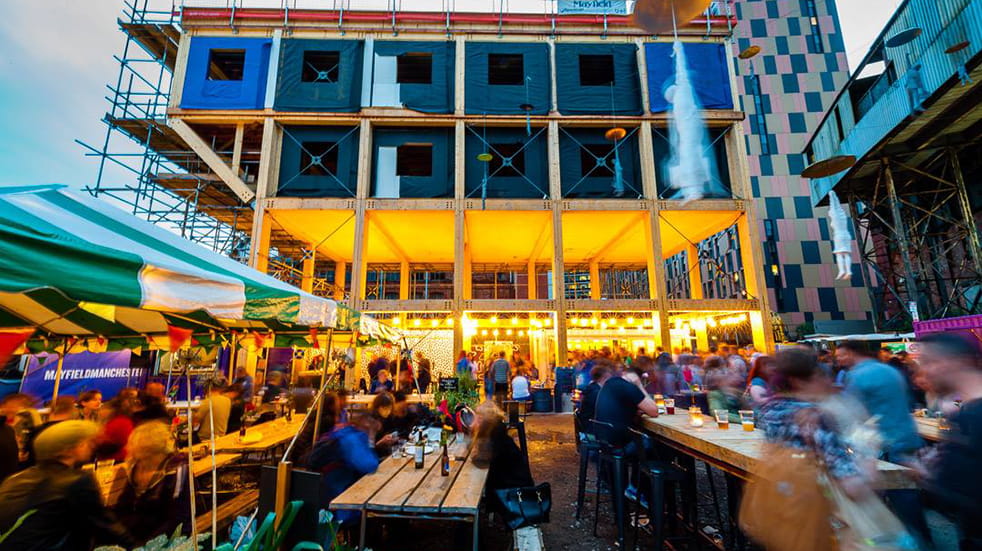 ---
Streetfood Warehouse's vans cruise the South West putting on street food festivals along the coast. In August they'll be putting on the brakes in Devon, where you can tuck into sensational Greek food from The 3 Little Pigs, Steel Smoking's brisket buns, and quite possibly the best churros outside of Spain courtesy of Choccy Churros. Later in August, they're co-hosting a battle of the vans: the Welsh Street Food Awards. There, you can eat, drink and vote for your favourites alongside Michelin-starred chefs.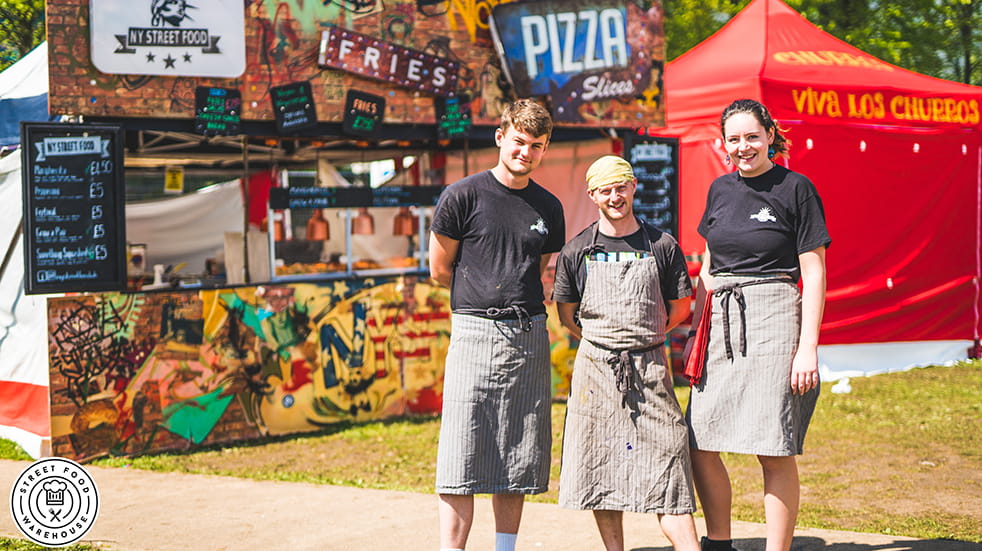 ---
The Proclaimers and Irvine Welsh put Leith on the cultural map and now it's home to microbreweries, contemporary art and this Saturday street food market in an industrial yard. The food is properly exciting. Highlights include Pitt Steak's steak on chip with gremolata, Pitt Noodle's fragrant Vietnamese pho and Barnacles and Bones' short rib or crab of the day. Accompany them with cocktails, craft ales and live music.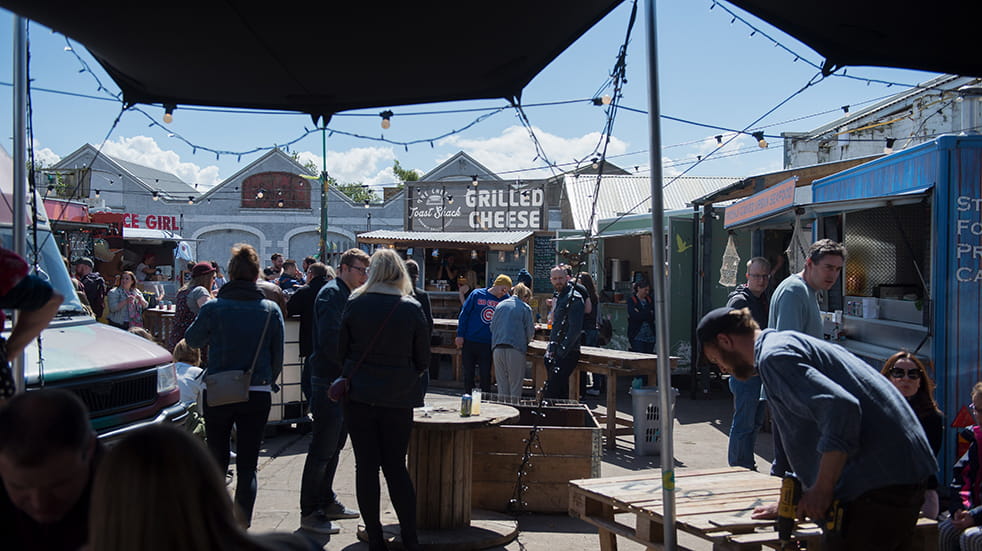 ---
Off the beaten track, this street food market nestles beneath Bankside's railway arches. It's a short walk from the Thames tourist trail and a world away from shrink-wrapped sarnies. Try Bittenclub's loaded bahn mi, Mother Clucker's posh fried chicken or slurp Tatami's vegan ramen. The sunny square hosts sport screenings, live music and a weekend flea market.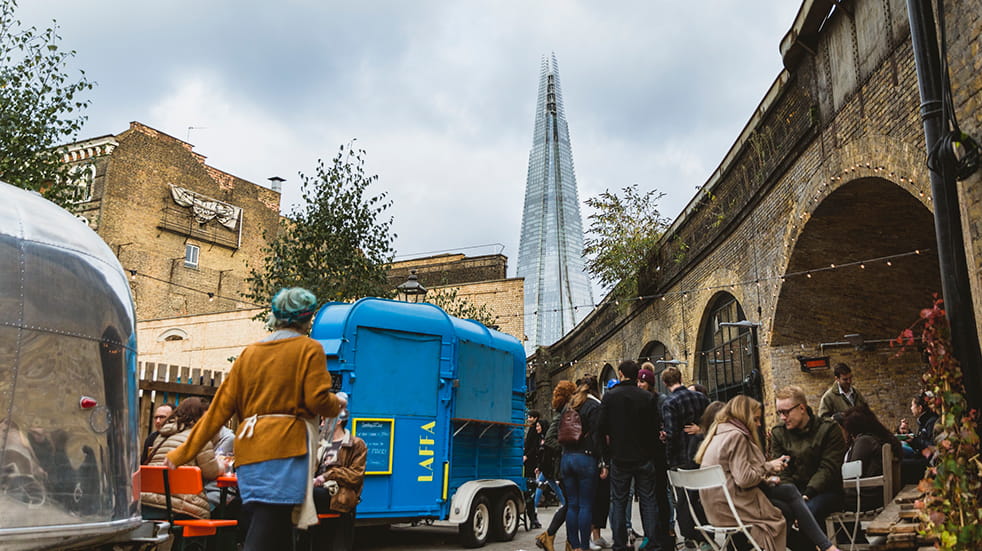 ---
Recently voted best street food venue by The Scotsman, this huge warehouse is a hub for Glasgow's best street food. The vendors vary from event to event, but regular offerings include halloumi or hummus-enhanced delicacies from Chick and Pea, authentic Czech street food from The Prague Shack and delicious meaty combos from Firedog. The Big Feed will also take part in the Merchant City Festival in August.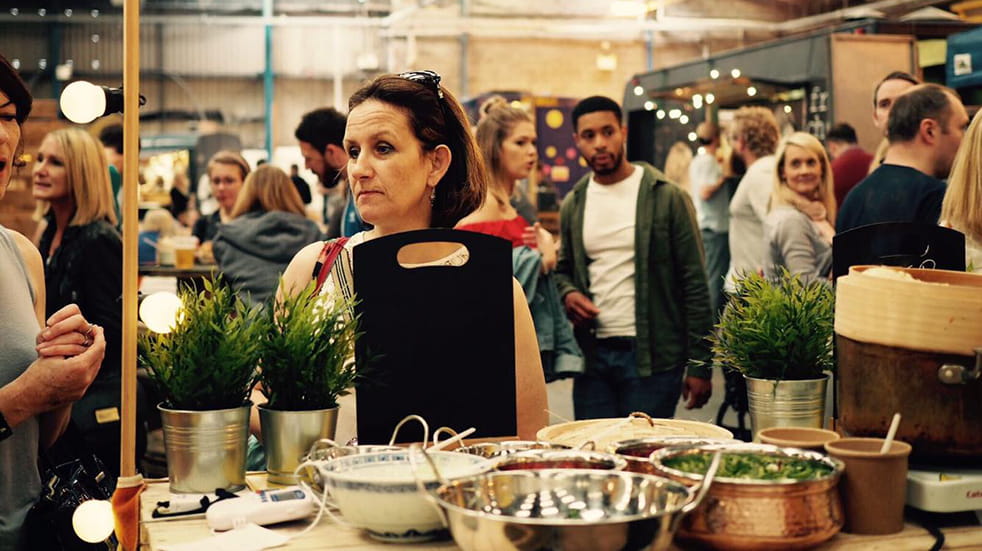 ---
The best street food sites make feel like you've stumbled upon a secret. And so it is with Hatch – a festooned square beneath a busy A-road on the edge of Manchester city centre. Feast on Yadda Yadda's flatbread kebabs, Firebird and Hope's fried chicken or vegan sandwiches or Well Hung's Cheshire-sourced steaks. The bar even has a nano brewery tucked away in the corner.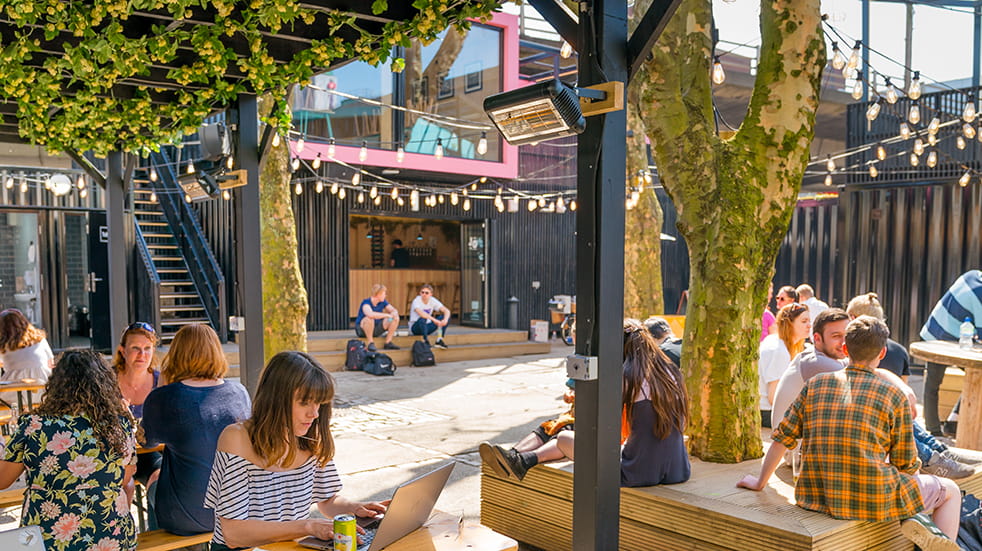 ---
This monthly market hosts the Midlands heat of the British Street Food Awards, so high-calibre traders are the norm. Among them are Manzoku, turning out delicious ramen, bao buns and katsu, Koh-Samui-born chef Tikk who serves up delicious dishes from his Thai Kitchen and Yo Dough, creating unspeakably delicious treats. And make sure you hit the bar, too. Lonely Planet describes Derby as "the best place to drink real ale in the world."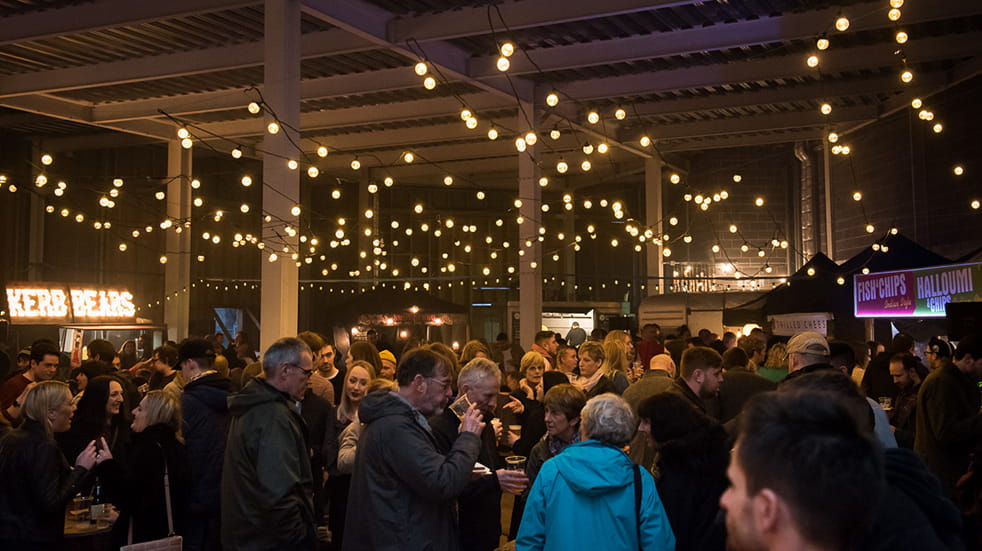 ---
When is a street food van not on the street? When it's been airlifted to the first floor of a shopping mall. This food court in Trinity Mall rotates six new vendors every eight weeks, alongside seven permanent eateries. After you shop til you drop, you can dine til you pop on this summer's culinary experiences, which include Chaat Cart's home-style south Indian dishes, Thai Khrim's Thai ice cream tacos and Wanderer Junk Food's vegan cauffalo 'wings'.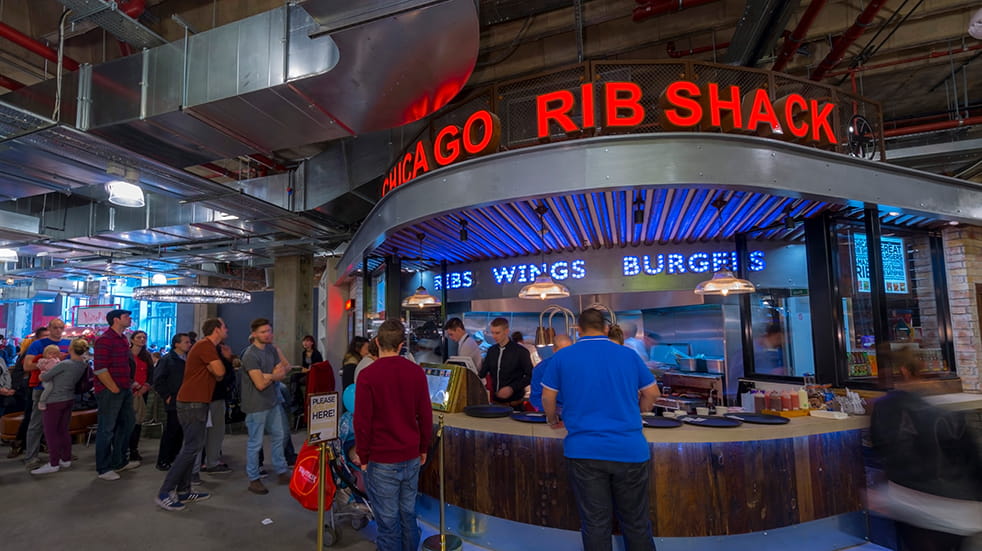 ---
When you're exploring the UK this summer, don't miss our essential guides to making the most of your days out: