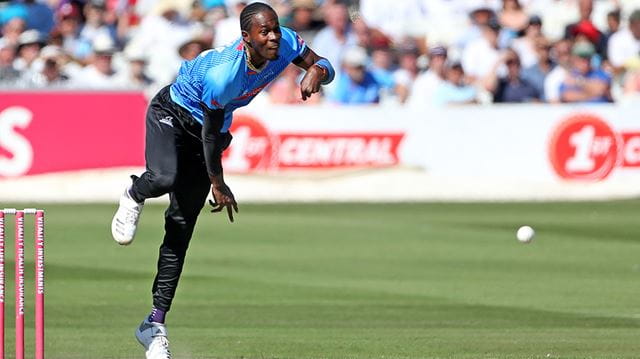 Cricketing hero Jofra Archer has a Sussex Sharks shirt in the MCC Museum – now he's dreaming of an England one to place alongside it.
It would be a dream for all-rounder Archer to lift the T20 trophy, just two years after making his first team debut. But the 23-year-old, who was born in Barbados, has some pretty ambitious long-term goals too. And that includes playing for England…
Jofra, it's a pretty big deal to have your shirt hanging in the MCC Museum. What does it mean to you?
"Oh, it means a lot and it was something extra special because my family came over from Barbados to see it.
"To have your shirt in the MCC Museum at Lord's – it's not something that happens every day! I didn't even know it was a thing, so it was a big surprise and a very happy one."
Did you ever imagine, growing up in Bridgetown, Barbados, that you would one day be staring up at your shirt at the MCC?
"No, no. That's something I never even dreamt of as a boy. It's something that makes you very proud."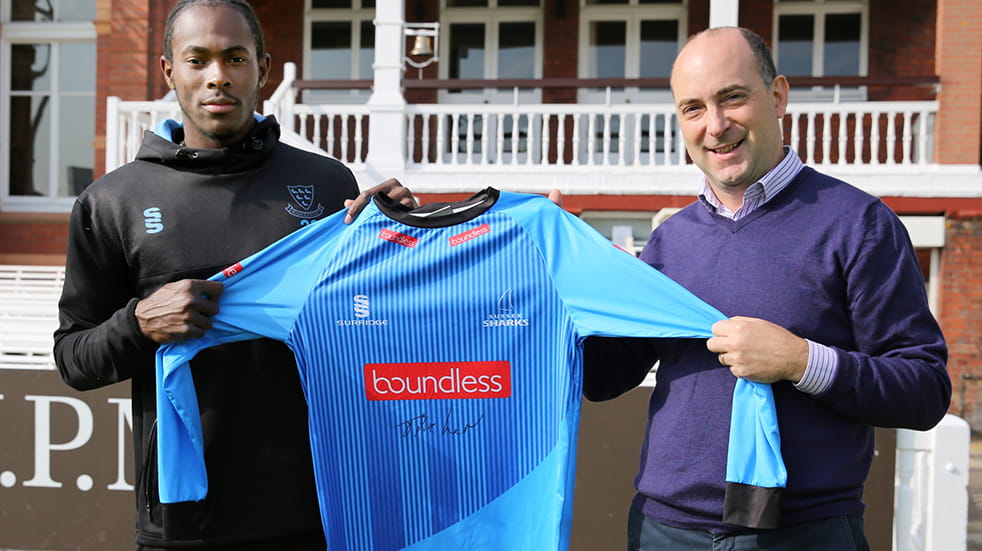 Jofra with MCC Curator of Collections Adam Chadwick.
What's your first memory of picking up a cricket ball and bowling for the first time? Was growing up in Barbados a big influence because the West Indies are famous for fast bowling, of course?
"I have to be honest and say I can't remember the first time I ever picked up a cricket ball. I was just playing cricket all the time as a boy, so it would have been very young.
"I particularly remember playing for my Primary School and Secondary School, that's when it really started getting serious for me.
"But it's been a long journey because actually I didn't start off as a fast bowler. That didn't happen until four or five years ago."
That's a surprise considering the heritage of West Indies cricket! What happened?
"Well, at first I was a wicket keeper and spinner, I tried leg-spin and off-spin but I wasn't making progress. So, then I went back to pace and suddenly everything clicked."
It just goes to show that not all cricketing careers are as smooth and simple as they look?
"No, exactly. It's been a long journey. I was also injured for almost two years, so it hasn't happened easily or overnight. It's taken a long time."
What's your advice to young players, boys and girls, taking up the game now and dreaming of making it big too?
"I'd say my advice to young players out there is to keep on dreaming and keep on going. It could happen for you any time. It could be tomorrow, it could be in two days' time. It could be any time, you never know when it will be.
"Looking back, the way it has happened for me has been amazing – and to see your shirt in the MCC Museum at Lord's brings it home. So, the message is never give up."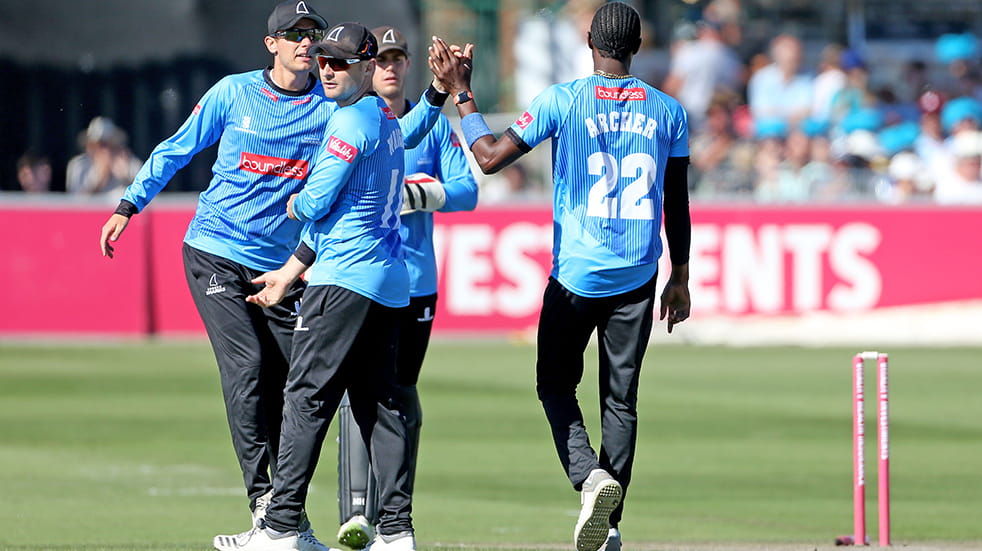 Is there anyone you would like to dedicate this latest honour to? Anybody who has made a big impact on your career, perhaps?
"Having my family at Lord's reminds me how much they have done for me and if I had to dedicate it to one person it would be my grandpa Eric, who passed away a couple of years ago. He really looked after me when I was injured – and I owe him a lot. So, it's for him."
Already at the age of 23 you've played in the IPL in India with Rajasthan Royals and with the Hobart Hurricanes in Australia's Big Bash – and of course in the Vitality Blast with the Sharks as well. What's next on your career wish list?
"My one big dream now is to get those three lions on my shirt. That's my goal. And if one day I can take a hat-trick at Lord's in an England shirt then that will be just about every box ticked!
"An England shirt next to the Sussex Sharks one in the MCC Museum would be pretty amazing!"
A lot of people are asking when you will play for England. You have an English father, a British passport and yet the cricketing rules say you have to live in England for seven years before you can be selected. Will we really have to wait another four years?
"I honestly don't know. There's talk of them changing the laws and that maybe it could happen sooner, but I haven't heard anything. So, let's see. But I certainly hope that one day I'll have those three lions on my shirt."
What about your ambitions with Sussex? It's looking like an exciting season on the south coast?
"Yes, we've got a big season at Sussex, too. There's Finals Day to come obviously and I also want to help us get promoted. So, there's plenty left to achieve. It could be a big, big year."