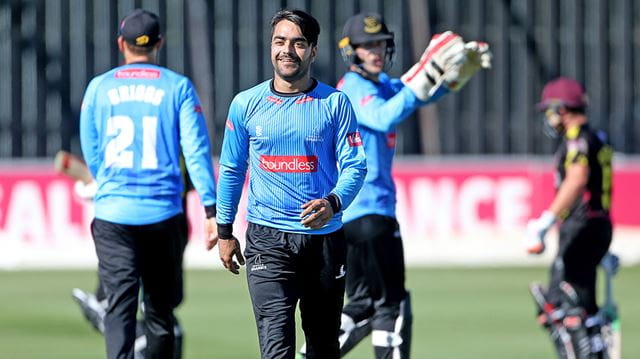 Born in Afghanistan, Rashid is making his T20 Blast semi-finals debut for Sussex Sharks on Saturday 15 September. Meet the leg-spinner in advance of finals day.
The 19-year-old wonder kid is the most exciting leg-spinner to arrive on the scene in years. Now he's quickly becoming a hero on the south coast – with his trademark 'airplane' wicket celebration. Having signed for Sussex Sharks to play in the T20 Blast, he extended his contract to cover all 14 of the club's group stage fixtures.
It's all a bit different to back home in Afghanistan, where Rashid was one of 11 siblings (six brothers and four sisters) as he grew up in Jalalabad. Judging by our chat with the likeable teenager he's feeling very much at home in England too.
As sponsors of the Sussex Sharks T20 shirt that's great news for Boundless – and even better news for Sharks fans as they dream of winning the competition for the first time since 2009.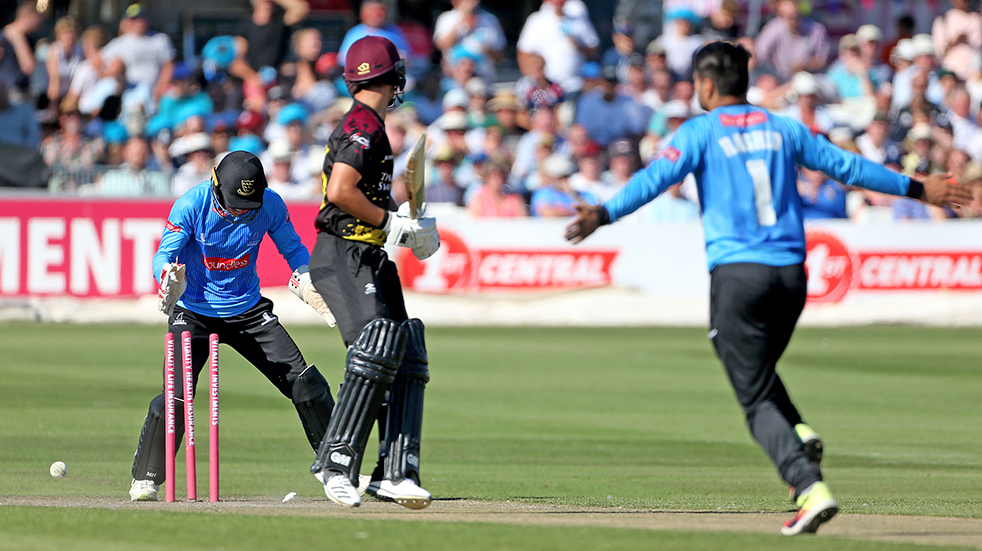 Here's what our new local hero had to say…
Hello Rashid! How are you doing today, and how is the T20 season going so far?
"I'm doing great, thank you. The season is running really well also, I'm really enjoying it!"
That's great to hear. How have you settled into life in Sussex by the sea?
"I'm living in Brighton near to the cricket ground and I like it here a lot! I've only been here since 2nd July so it's all very new, but it's good so far. It's quiet and calm and I like that. It's also great for food. You can find every kind of food here!"
The city's foodie scene is renowned. What kind do you enjoy the most?
"I like kebabs, Lebanese and Indian foods, all of which I can easily track down here."
You're being hailed as the most sought-after leg spinner in the world. What's your secret?
"There is no big secret to success, you just have to keep focusing on your skills and talents and on your game. I just keep believing in my skills and enjoying myself!"
You're only 19 years old. How did you get to this position so quickly?
"It's largely down to having a lot of support throughout my career. I've always been encouraged by those around me, who have told me that I can achieve anything if I work hard for it. I just try my best to work hard and enjoy each game."
Are there any individuals you'd like to single out who have supported you along the way?
"Many of my teammates and my coaches have always supported me. They were always telling me if I work hard and believe in myself I could succeed. It really helped to encourage and inspire me."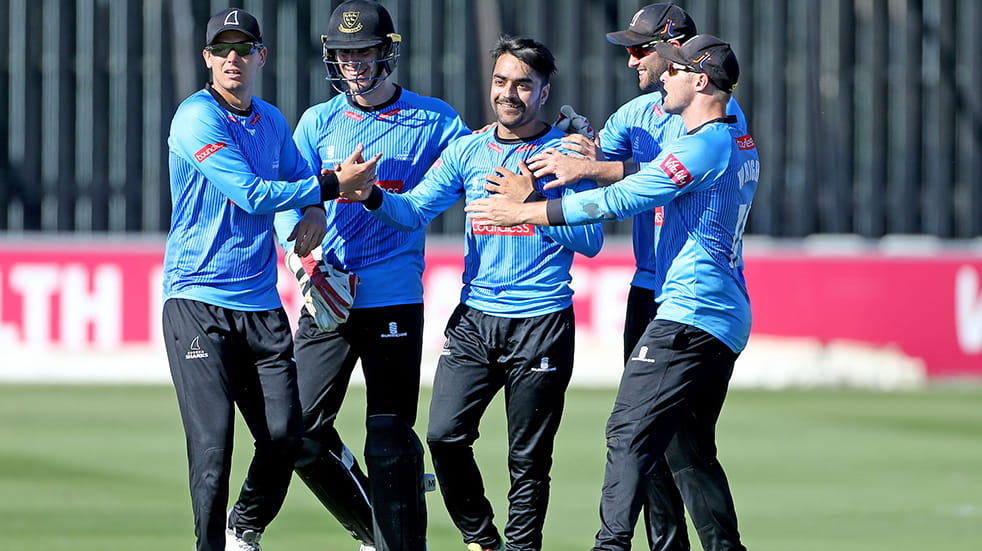 How about when you were younger back home in Afghanistan? Were you always good at cricket?
"Yes, when I used to play with my brothers they would always tell me that I had natural talent. They, along with friends, would often say I should pursue the game in a professional way. My parents were keen for me to study, which I did, but when Afghanistan qualified for the World Cup they saw the potential in cricket as a career and encouraged me to follow this."
Can you talk us through your training regime?
"I go to the gym for about one and a half hours for three days in a row, where I'll mostly focus on strength training and running. In terms of bowling, I'll practice the day before a match by pitching 40-50 balls. On the day of the match, I'll practice bowling about 18-24 balls before we play."
And when you're not training, what do you like to do to unwind?
"In my free time I really enjoy listening to Indian music or watching Indian films. As my family don't live in England, it's also important to me to catch up with them when I get the opportunity, so I'll talk with them often also!"
Are there any lessons people can learn from sport, do you think?
"Yes, sport helps people to learn to focus, as well as allowing them to nurture a talent. However, one of the most important things is that it's enjoyable too!"
Do you have any plans to visit other parts of the UK whilst you are here?
"I would like to visit London when I have some free time. I have been before and would love to revisit some of the attractions I saw previously, such as London Bridge and the London Eye."
And finally, Rashid, what are your hopes for the future?
"I would just like to try my best to improve my talent. That, and to hone my skills!"
Find out more about the Vitality T20 Blast and the Sussex Sharks.