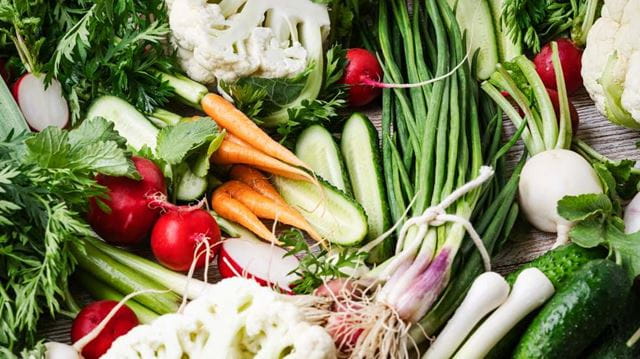 After months of long winter nights accompanied by warming bowls of root vegetable soups and stews, at last spring is on the horizon. And with its arrival comes a whole smorgasbord of seasonal produce, grown in the UK, perfect for making for some truly delicious recipes.
Alongside bunches of daffodils and rows of Easter eggs, this time of year marks the arrival of seasonal ingredients grown in the UK to our shelves. And there's a surprising number from which to choose, with asparagus, broad beans, radishes, spring onions, courgettes, rhubarb, and cauliflower all coming into season over the next month (to name just a few).
With so much tasty local produce to choose from, there's never been a better time to broaden your recipe repertoire with some seasonal delicacies sourced from the BBC Good Food cookbook. Read on for our favourite (accidentally vegetarian) dishes to try out this spring…
---
1 Asparagus risotto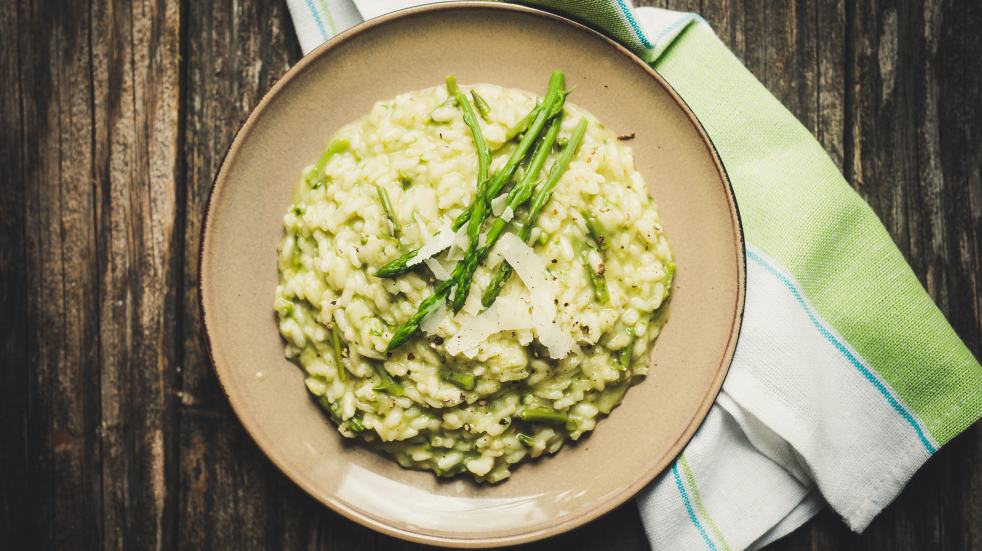 Easy to prepare in just 10 minutes (and cooked within 25), this satisfying asparagus risotto makes for a lovely midweek meal. Incorporating just a couple of simple ingredients (onions, vegetable stock, butter, rice and parmesan or a veggie alternative) this dish is a great way to highlight the nuanced flavours of locally grown asparagus without overpowering it.
---
2 Pea and broad bean shakshuka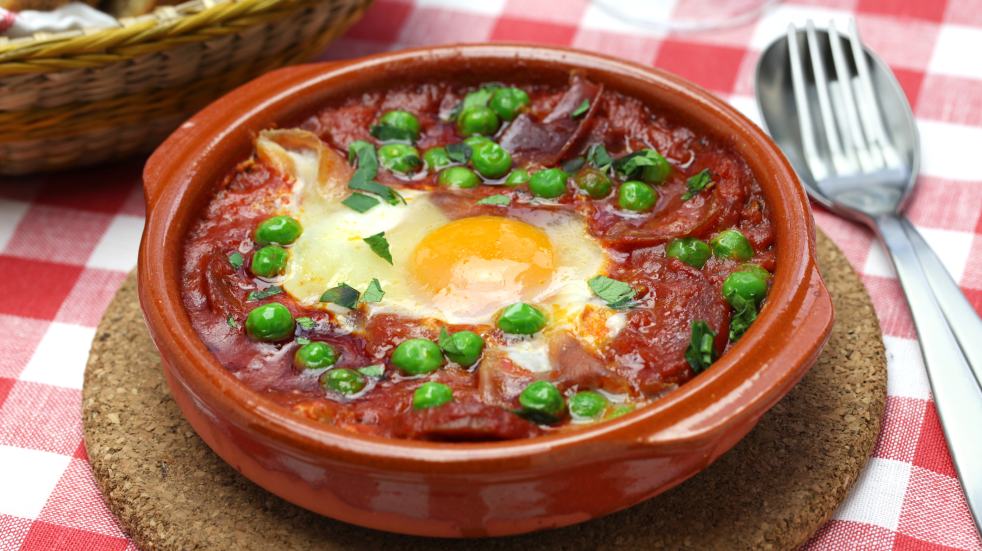 Commonly found on trendy brunch menus, shakshuka is a North African dish that's easy to make and is flexible enough to incorporate a variety of different seasonal produce depending on the time of year. This lunchtime main course version is ideal for sharing and makes the most of several veggies that have just come into season including asparagus, broccoli, spring onions and (of course) peas and broad beans.
---
3 Spiced kale crisps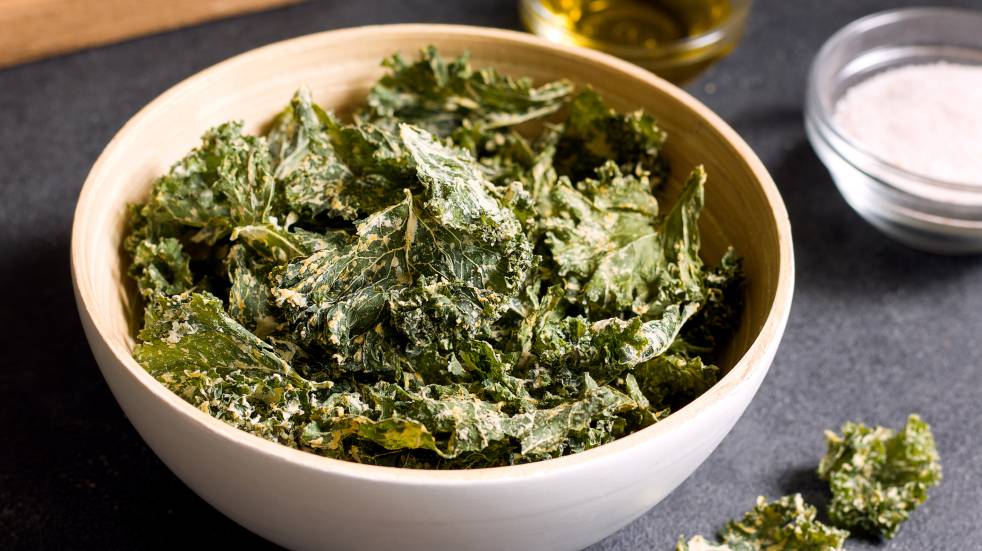 While kale might not sound like a serviceable alternative when the craving for crisps strikes, believe us when we tell you that this spiced kale recipe comes reasonably close to replicating their moreish flavour (without the excess calories). Fiendishly simple, the recipe requires just three ingredients; kale, olive oil and ras el hanout (or sea salt if you're keen make it even more straightforward) and it's ready within just 20 minutes.
---
4 Roast new potatoes and radishes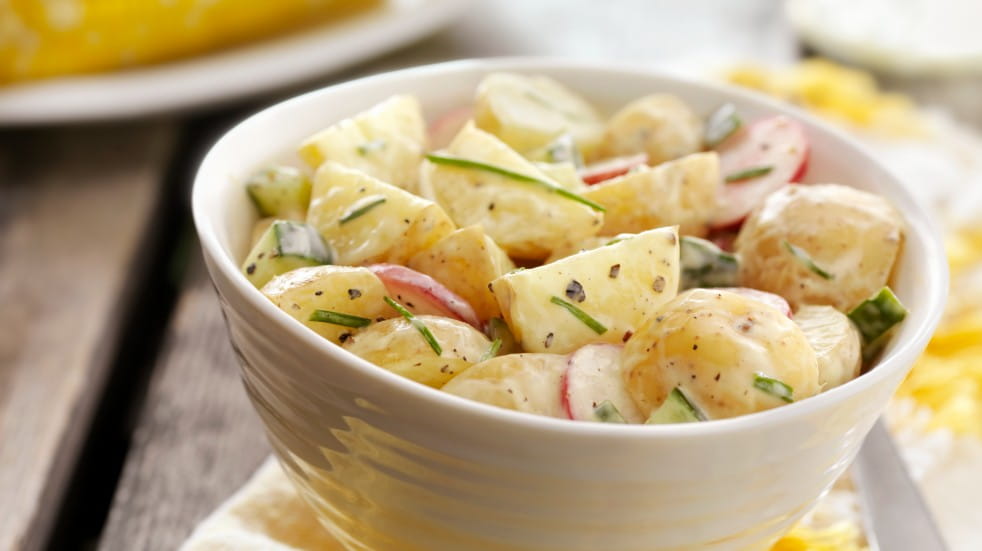 Colourful and celebratory, this spring side-dish includes several of the tastiest UK-grown vegetables you can find at this time of year. A great accompaniment to your first BBQ of the year, this healthy roast new potatoes and radishes recipe is made with mustard seeds, Greek yoghurt, pumpkin seeds and spring onions, creating a punchy and crunchy sensation that will no doubt have you reaching for seconds.
---
5 Green bean mac and cheese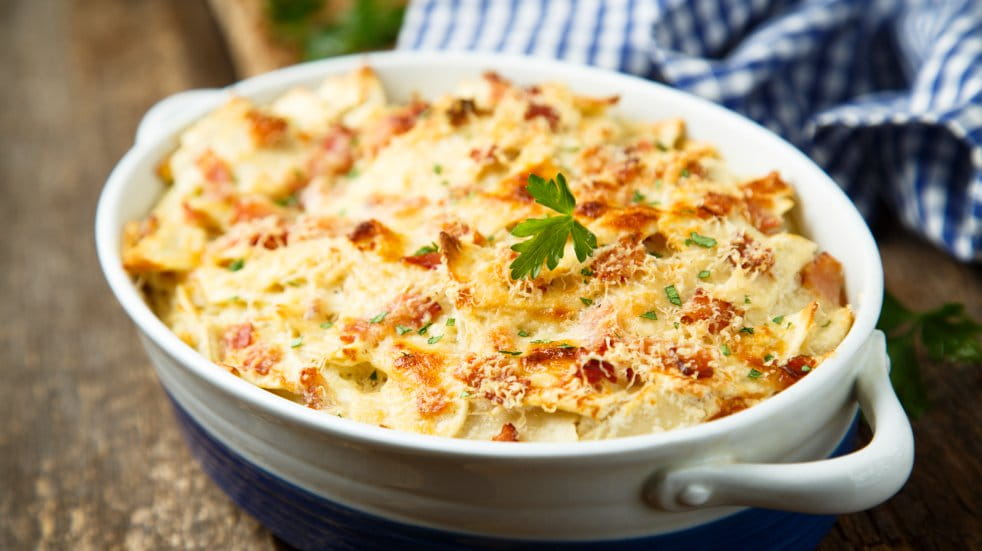 Coming into season within a matter of weeks in the UK, the humble green bean is often overlooked thanks to its ubiquity as a side dish, but not so with this excellent green bean mac and cheese recipe! Uncomplicated to make, this dish takes a family favourite comfort food and adds the unexpected flavours and textures of green beans and pumpkin seeds.
---
6 Spring onion and courgette gnocchi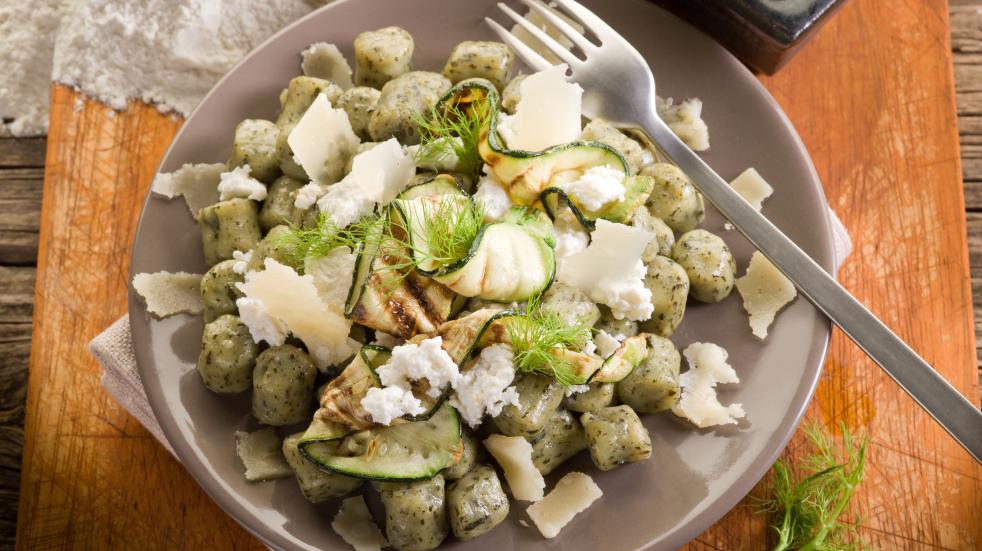 Another delicious meal with a seasonal green twist, this gnocchi recipe includes spring onions, courgettes and mascarpone offering a pleasant mid-week alternative to pasta. Accompanied by a dressed mixed salad, this Italian delight offers a mouth-watering blend of warming gnocchi with the light and fresh flavours of courgette and spring onion. Ideal for both summer lunches and evening meals.
---
7 Broccoli and stilton soup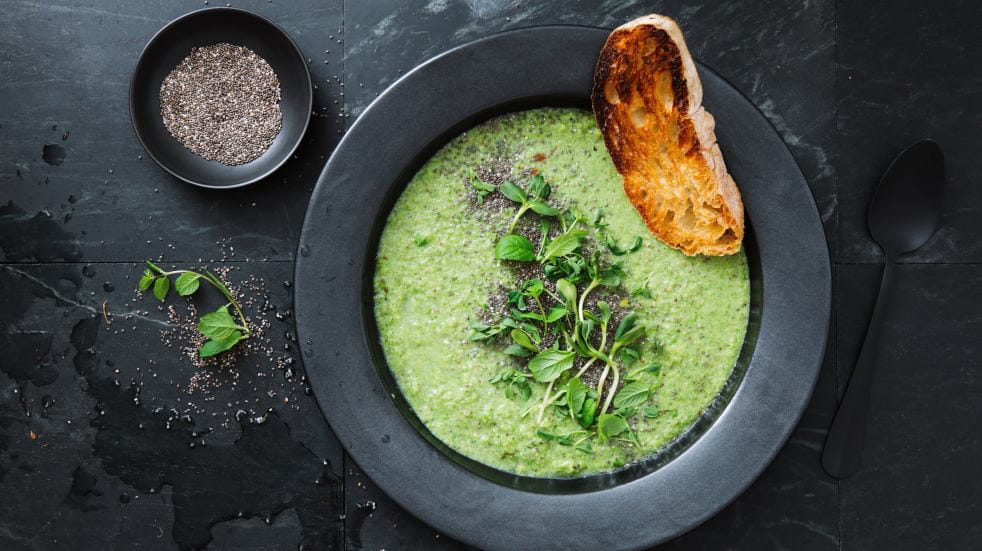 Great as both a starter for a more elaborate feast or as a meal on its own, this broccoli and stilton soup is a seasonal crowd pleaser that packs a flavourful punch. And with peak broccoli season coming to a close at the end of April (though it is in season all year round), now is a good time to try it out. Comprising blended onion, celery, leek, potato, broccoli and blue cheese, this soup more than accounts for your daily intake of vegetables without compromising on taste.
---
8 Artichoke and pecorino bruschetta
Another simple recipe that offers an unexpected take on a foodie favourite, this pecorino bruschetta recipe is a must-try for anyone looking to make the most of the first spring artichokes. Perfect for impressing your guests (while expending minimal effort), this dish incorporates crusty bread, chilli flakes, mint, lemon, garlic, pecorino and artichoke for a savoury and seasonal Italian meal.
---
9 Cauliflower crust pizza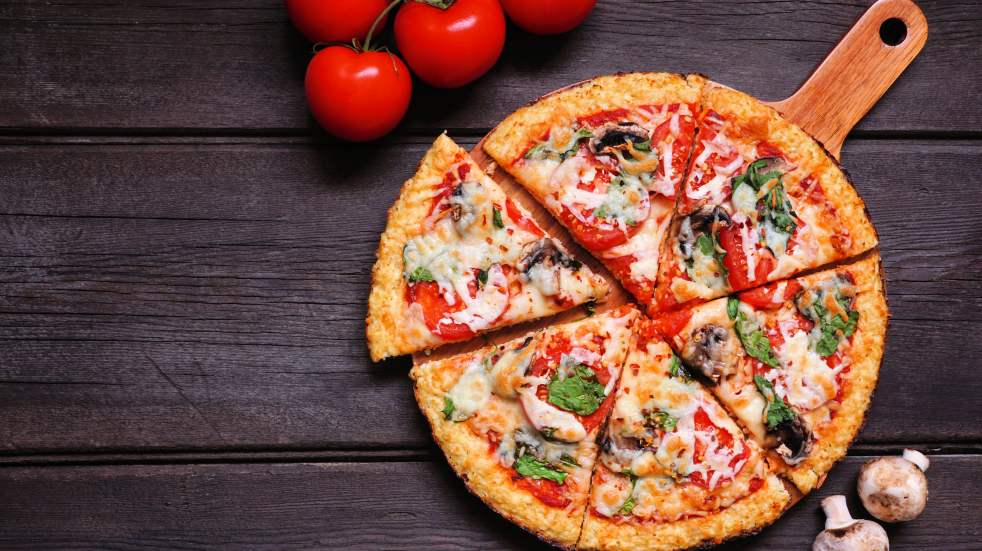 If you're a fan of homemade pizza, this cauliflower crust alternative is dependably yummy and gluten free. Made using cauliflower, ground almonds, eggs and oregano, this recipe is deceptively close to the real thing without the additional carbs. It's also a flexible, while this version of the recipe suggests tomato, mozzarella and aubergine, the possibilities for adapting the toppings are limited only by your imagination.
---
10 Rhubarb fool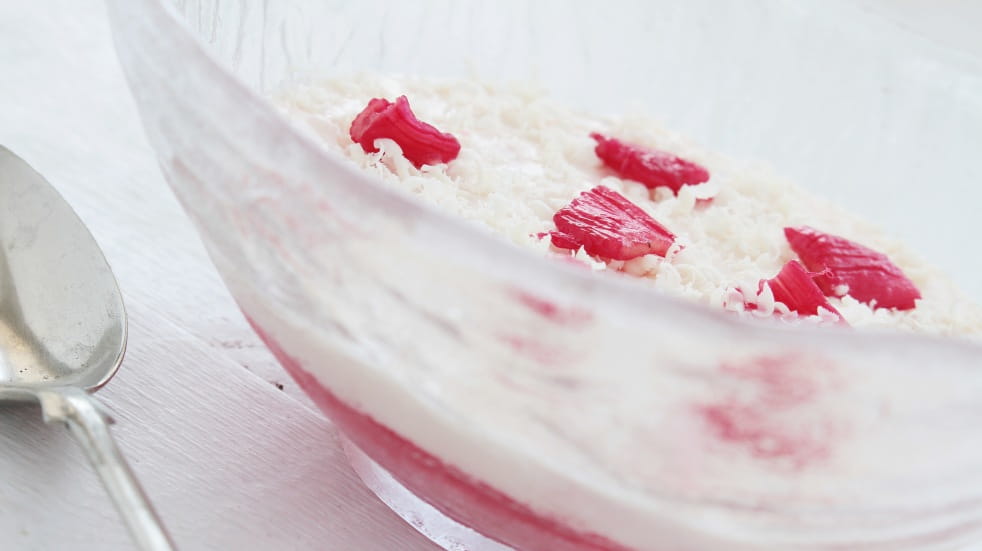 With rhubarb season beginning at the end of April, now is an ideal time to plan some tasty recipes that utilise this tangy, flame-hued fruit (although technically speaking it is a vegetable). And there's no better way to begin than with this delectable rhubarb fool recipe. A classic English dessert, this light mousse is made with rhubarb, condensed milk, cream, lemon, grapefruit and ginger, topped with pistachios for added crunch.
---
Save money with Boundless
Boundless members can get amazing discounts on a range of products, from motoring services and insurance to holidays and outdoor gear – and all for just £ per year. To sign up, visit our membership page.