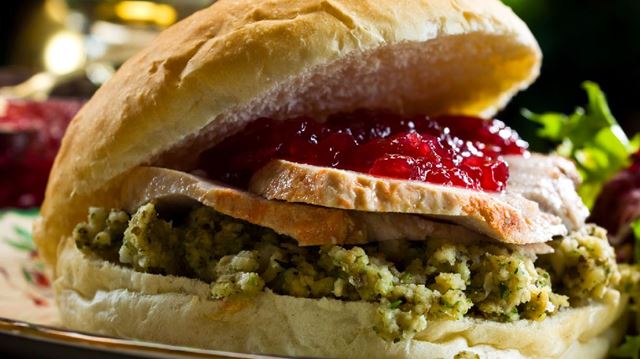 Gone are the days of a lone, paltry (or poultry) turkey and stuffing sandwich, in 2021, you can enjoy a veritable smorgasbord of flavour when it comes to the big supermarket's Christmas sandwich offerings. And this year, we've tried them all, so you know which are worth giving a try.
From the big supermarkets like Tesco and Sainsbury's to department retailers and high street coffee shops, we've covered the main vendors worth knowing about this year. So, whatever your taste, (or dietary requirements) read on for our reviews of the best festive sandwiches in 2021.
---
Pret a Manger: Vegan Christmas Nut Roast – £3.99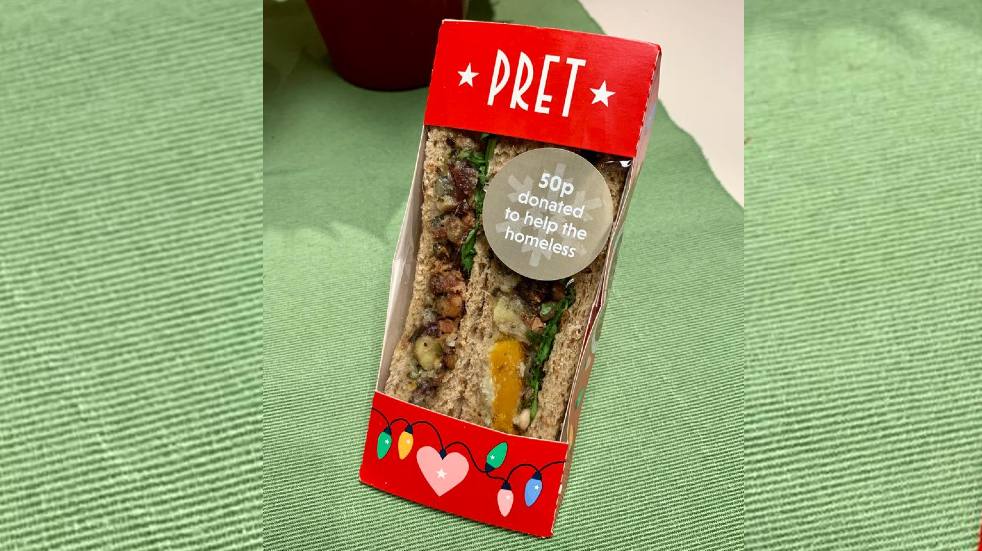 A vegan Christmas lunch in a sandwich – it could have gone horribly wrong, but this is a flavoursome treat. Crunchy caramelised pecans are combined with a tasty pesto, sage mayo, hefty slices of roast butternut squash and a sprinkling of rocket. I'd buy this again.
Marks out of ten
Appearance: 9
Taste: 9
Texture: 7
Aroma: 7
---
M&S: No turkey feast sandwich – £3.50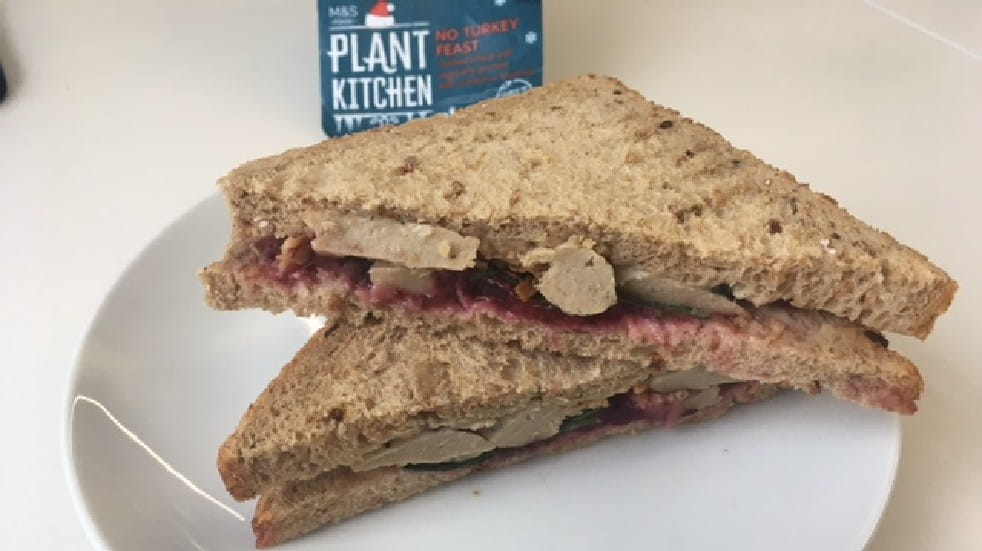 As turkey substitutes go, this one is good, and it's perfectly enhanced by the tangy cranberry chutney. There's plenty of it, too – this is a sandwich designed to satiate. Ideal for those vegetarians or vegans who miss eating meat and hanker after a traditional Christmas combination.
Marks out of ten
Appearance: 7
Taste: 8
Texture: 7
Aroma: 5
---
M&S: The Ultimate Turkey Feast – £3.30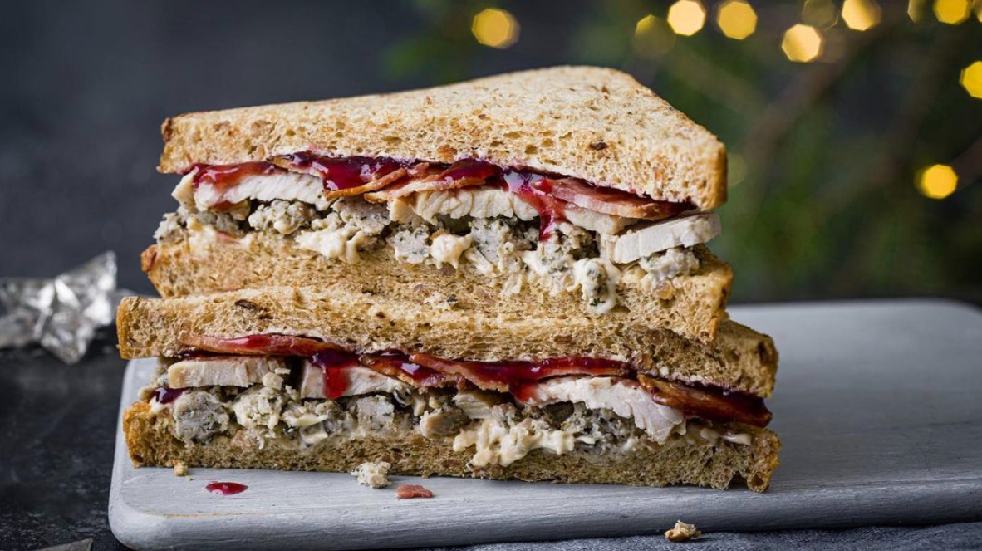 Image courtesy of M&S Instagram
The sandwich itself is quite bland looking, with only the turkey and bacon visible, (the colourful cranberry chutney was hiding behind). Overall, the taste was good. The bland appearance of this M&S offering belied the depth of flavour on offer. The combination of turkey/bacon/stuffing/cranberry sauce is classically festive, and all worked well together. The texture is nice and moist, (though lacking the crunch of some seasonal vegetables to add contrast).
Marks out of ten
Appearance: 5
Taste: 9
Texture: 7
Aroma: 8
---
M&S: Roast chicken and Christmas slaw – £3.30
This sandwich comes in lovely festive packaging, with the sandwich itself looking very appetising, thanks to the vibrant orange and purple slaw. Most importantly, the sandwich was yummy! Probably the best Christmas sandwich we've tried – ever. The best description we could give is that it's like a decadent Boxing Day leftovers feast, with all the scraps from the day before brought together, tasting even better thanks to another day of the flavours developing.
Marks out of ten
Appearance: 8
Taste: 9
Texture: 8
Aroma: 9
---
Sainsbury's: Pigs under blankets – £2.50
The sausages dominate the eating experience of this sandwich, which takes away from it tasting like a special 'festive' sandwich – it felt like something you could have any time of year. The texture was exactly what you'd expect from a cold sausage sandwich. It could have done with more chutney/mayo to make it feel more luxurious and to add a bit more depth to its flavour.
Marks out of ten
Appearance: 5
Taste: 6
Texture: 6
Aroma: 4
---
Sainsbury's: Rudolph's Christmas Feast Sandwich – £3.00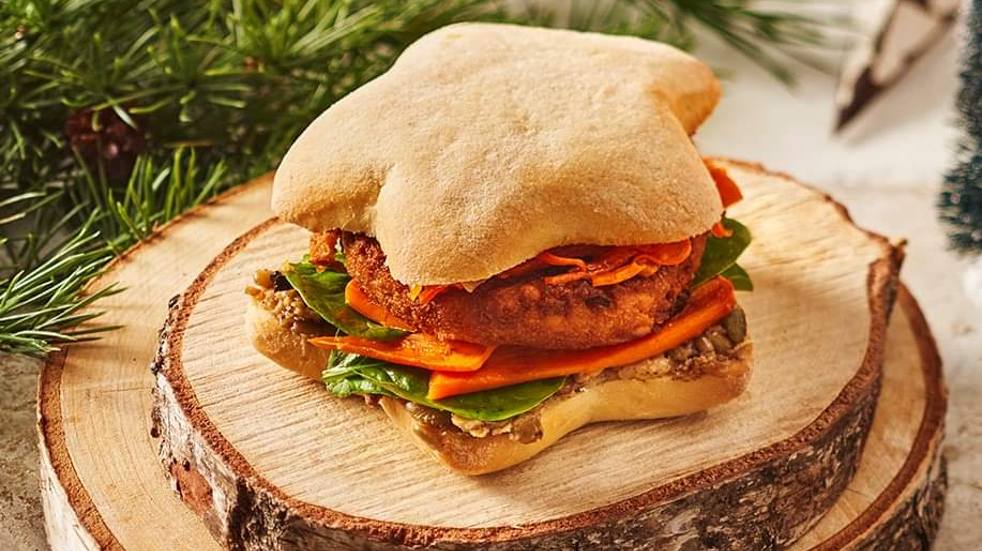 Image courtesy of Sainsbury's Facebook
This pleasingly star shaped roll was a real treat from start to finish. Not only was the unusually shaped roll tasty, but it was packed with delicious root vegetables and umami flavour. With carrot ribbons and spiced candy seeds adding an extra dimension to the texture of this sandwich, it still retains a uniquely Chritsmassy flavour with hints of sage an onion.
Marks out of ten
Appearance: 10
Taste: 8
Texture: 8
Aroma: 6
---
Caffè Nero – Vegan Festive Feast Panini – £4.50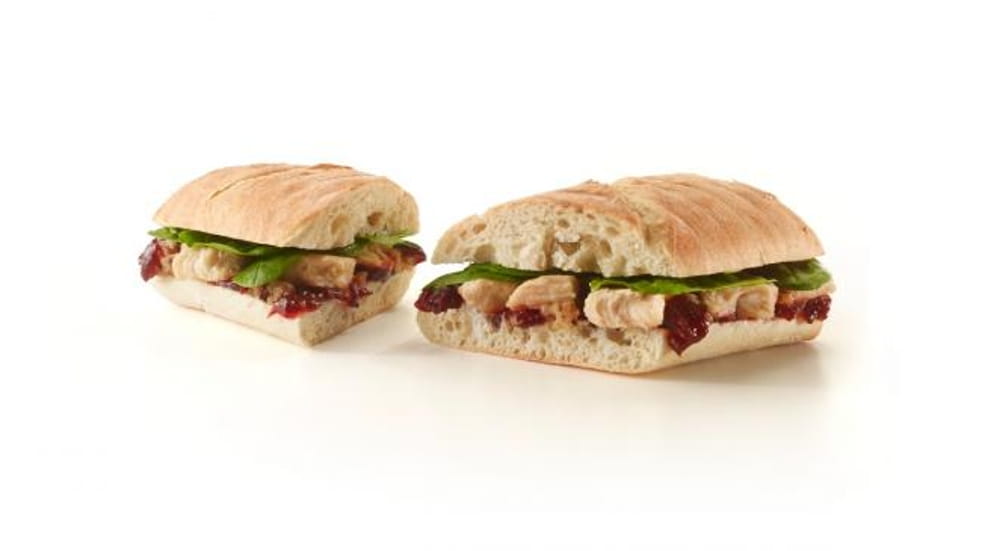 Image courtesy of Caffé Nero/THIS™
A nice hot alternative to this otherwise-chilled list of sandwiches, Caffè Nero's Vegan Festive Feast Panini is not quite backed by enough flavour to justify its higher price tag. While the vegan turkey is well seasoned, the pieces have a uniquely synthetic flavour to them that many vegetarians will be all-too familiar with. Unfortunately, the panini also doesn't contain enough of the sweet apricots to mask this unfortunate taste. Its saving grace is the toasted ciabatta which is reliably crispy on the outside and soft on the inside.
Marks out of ten
Appearance: 7
Taste: 5
Texture: 6
Aroma: 7
---
Pret a Manger: Christmas lunch sandwich – £3.99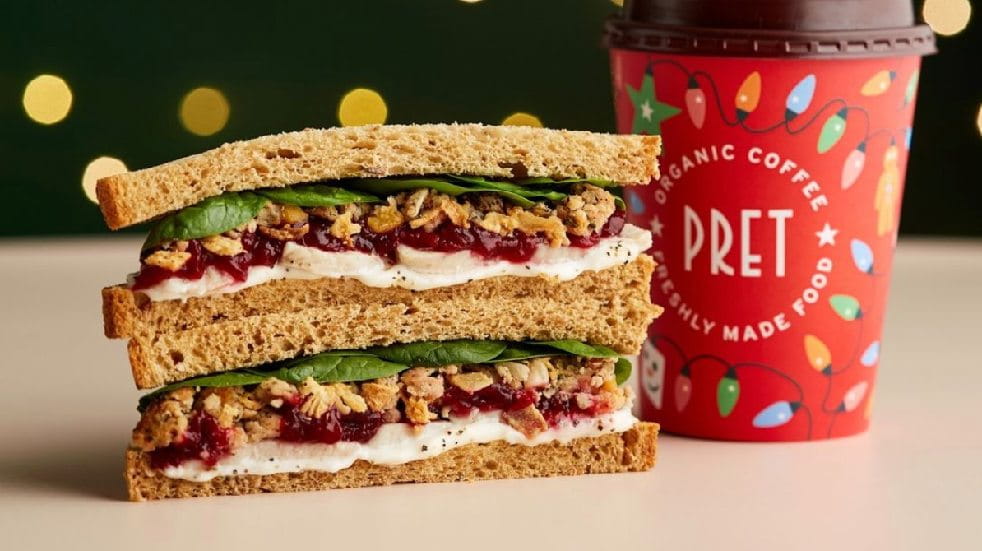 Image courtesy of @Pret Instagram
A very colourful looking classic, filled with moist Chicken, crispy onions, herby stuffing, baby spinach leaves for extra crunch. The sandwich also includes a port and orange cranberry sauce (which gives it the feeling and taste of being a little bit more special). There's a lot to love about this sandwich, while it is a little more expensive, something this delicious is worth the price tag.
Marks out of ten
Appearance: 9
Taste: 10
Texture: 9
Aroma: 9
---
Tesco: Smoked Ham & Wensleydale – £2.50
Not the most festive of combinations, this sandwich is still a step up from your average Ham & Cheese lunchtime sarnie. There was a lovely smokiness to the ham, but it did overpower the Wensleydale and whilst there was a nice sweetness cutting through (with the addition of the Pear and Fig chutney) they could have been far more generous. Overall, not bad but slightly underwhelming and lacked that real 'Christmas' feel.
Marks out of ten
Appearance: 6
Taste: 7
Texture: 7
Aroma: 6
---
Waitrose: Pigs Under Blankets – £3.00
The pigs are more sat on the blanket rather than in it, but this sandwich still contains a generous amount of smoky sausage with a sweet, delicious cranberry and redcurrant sauce (which works well with the bacon). The only downside here is, there was far too much mayonnaise, and we can't help but feel that once you remove the cranberry and redcurrant sauce you're essentially just left with an ordinary sausage and bacon sarnie.
Marks out of ten
Appearance: 7
Taste: 8
Texture: 7
Aroma: 8
---
Sainsbury's: Boxing Days Smoked Turkey with bubble and squeak – £3.00
This had all the promise, who doesn't love the boxing day leftovers? But what a disappointment. There was a distinct lack of any real taste, and there was a negligible amount of turkey on offer. The sprouts and carrots did bring an interesting texture and the onion bread was quite delicious. Overall, however, the experience was bland and very underwhelming.
Marks out of ten
Appearance: 6
Taste: 4
Texture: 8
Aroma:6
---
Our top picks: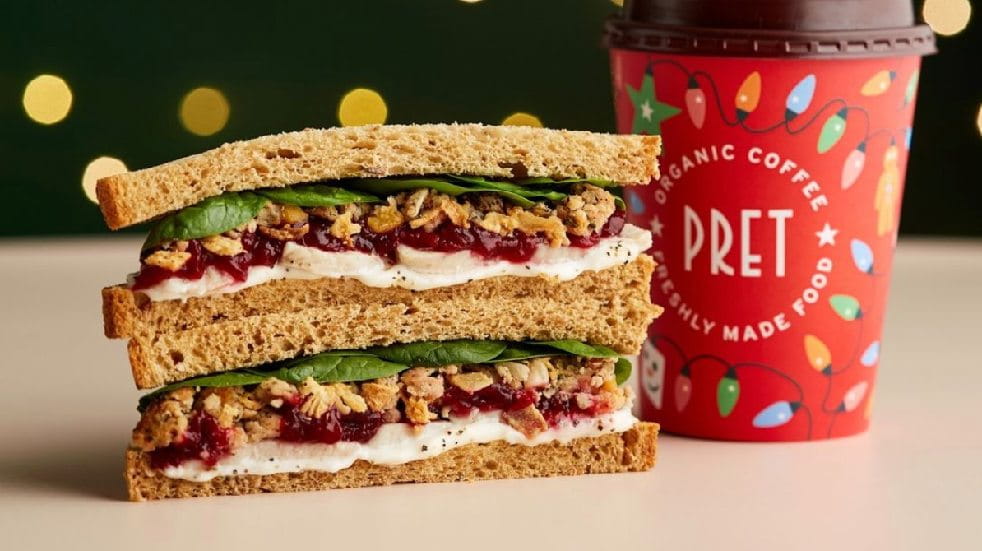 Our contenders for this year's best Christmas Sandwich are; the Pret a Manger Christmas lunch sandwich and the M&S Roast chicken and Christmas slaw (bonus pick for best vegan Christmas sandwich goes to the Pret Vegan Christmas Nut Roast for its depth of flavour). Each so good that it was impossible to decide between them, our tasters agreed that the M&S and Pret a Manger offerings were the most flavoursome and memorable. So when you're next in search of a quick lunchtime bite consider these two sandwiches for a treat that's only available for a few more weeks.
---
Do more with Boundless
To benefit from amazing Christmas offers, along with dozens of other deals on holidays, motoring services, experiences, shopping and more, join Boundless today. To find out how, visit our dedicated membership page.