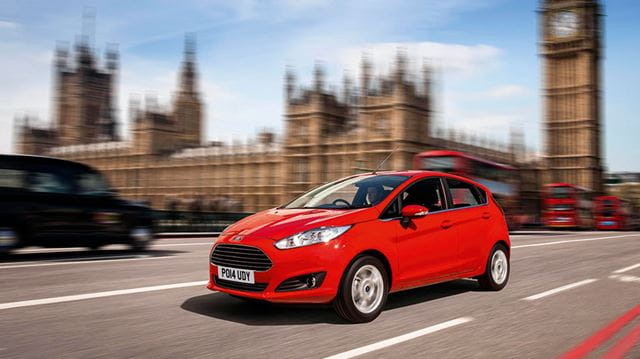 Whether you want to buy a hatchback, a supermini or an electric vehicle, you can pick up a very smart set of wheels at a price that won't break the bank.
1. Supermini: Ford Fiesta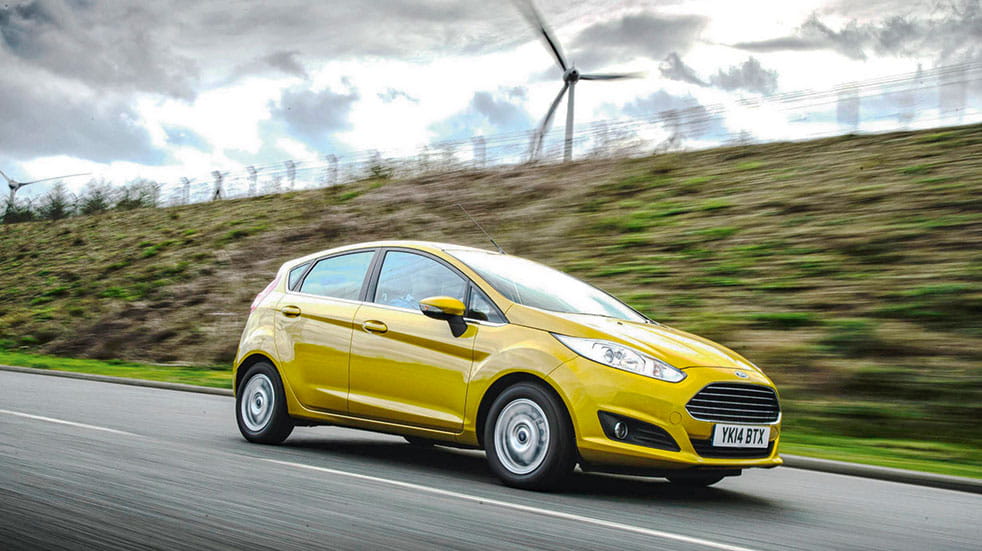 Secondhand buyers want to save money, so they're drawn to whatever costs the least to maintain, insure and fuel. As a result, superminis are in demand, which buoys up their prices. But the Fiesta rides the price-elasticity curve nicely. New, it's consistently Britain's bestselling car. This 2012–2016 one shows why, as it's stylish and great to drive. Although very capable on long journeys, it's smaller than most new superminis. This makes it sublimely manoeuvrable in cities, if cramped in the back seat.
This generation wasn't great on infotainment, so you'll need to invest in a bracket to use your phone as a satnav. Accept nothing less than the turbo 1.0-litre engine. The Fiesta's very ubiquity gives you stupendously wide secondhand choice, and you'll always find someone to service it.
The spec: 2014 Ecoboost
Model: 2012–2016
Price: £7,000/40,000 miles (approx)
Engine: 999cc 3cyl petrol, FWD, five-speed manual
Power & torque: 100hp, 170Nm
0–62mph: 11.2 seconds
Top speed: 112mph
Fuel economy: 65.7mpg (NEDC)
CO₂: 99g/km (NEDC)
2. Electric: Renault Zoe ZE40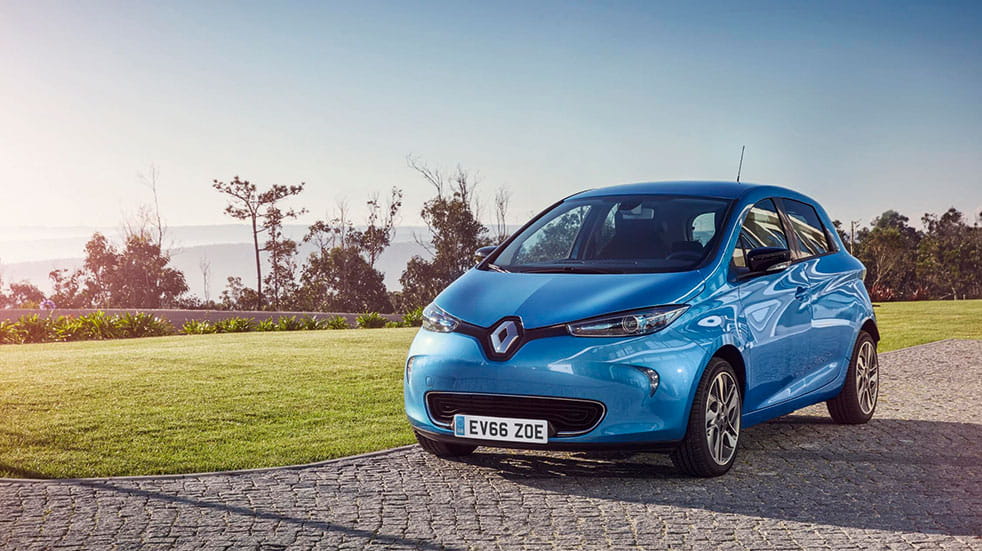 This Zoe had double the battery capacity of the original, becoming the first affordable electric car with enough range for a proper journey – 174 miles. That said, its rapid-recharging ability depends on the rather rare 43kW AC points (most EVs rapid-charge on DC). In suburban jostling and minor rural roads, it's a perkier car than the bald acceleration figures suggest, with sharp responses to the accelerator and quick-witted cornering. Stay away from the outside lane of motorways, mind, as it takes a while to accrue high speedo numbers and the range soon collapses if you do.
Watch for the cheap ones – they usually have the battery-rental contract, so you have to factor in that extra monthly cost. Higher up the price scale, you're buying the battery too.
The spec: 2017 R90 Dynamique Nav
Model: 2014–2020
Price: £17,000/20,000 miles (approx)
Engine: electric motor, FWD, single-speed
Power & torque: 92hp, 221Nm
0–62mph: 13.2 seconds
Top speed: 84mph
Range: 186 miles
CO₂: 0g/km
3. Family crossover: Honda CR-V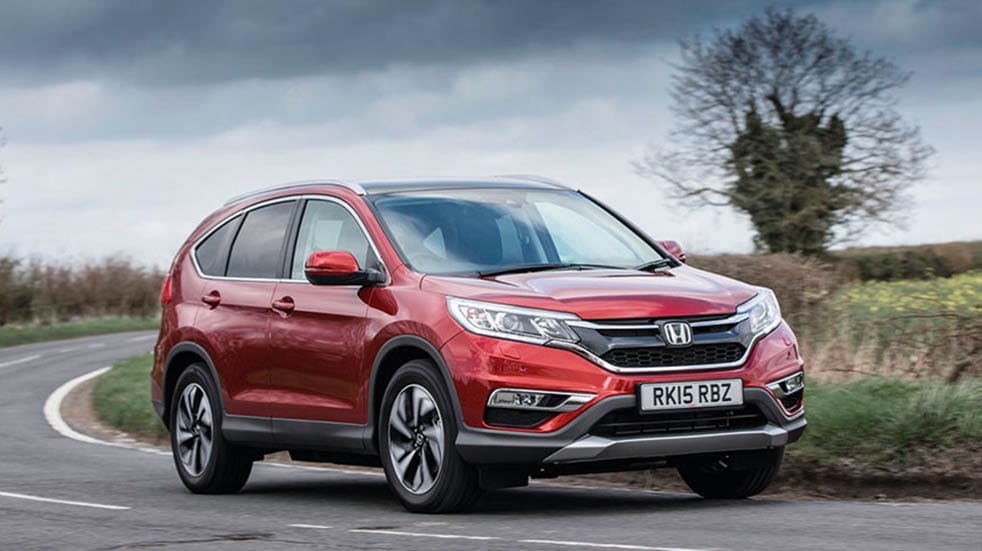 Families love their CR-Vs. Why? They're super-spacious, not just for people but cargo too. The adaptable interior has loads of handy places to keep stuff to hand. They're quiet and comfortable, and most cars in the range had lots of crash-avoiding technology as well as a strong NCAP impact safety rating. Not so great for the driver, though: soggy around corners and the multimedia is frustratingly hard to fathom.
Need a four-wheel-drive one for the winter? That was a popular option when new so there are plenty to be found secondhand. It's since been replaced, but this one is still in demand because most were sold with an economical but clean diesel engine, while the new ones are all petrol. That said, the post-2018 car offers a seven-seat option...
The spec: 2016 160HP 4WD auto
Model: 2015–2018
Price: £15,000/40,000 miles (approx)
Engine: 1597cc 4cyl diesel, 4WD, nine-speed auto
Power & torque: 160hp, 350Nm
0–62mph: 10 seconds
Top speed: 134mph
Fuel economy: 53.3mpg (NEDC)
CO₂: 139g/km (NEDC)
4. Hatchback: Seat Leon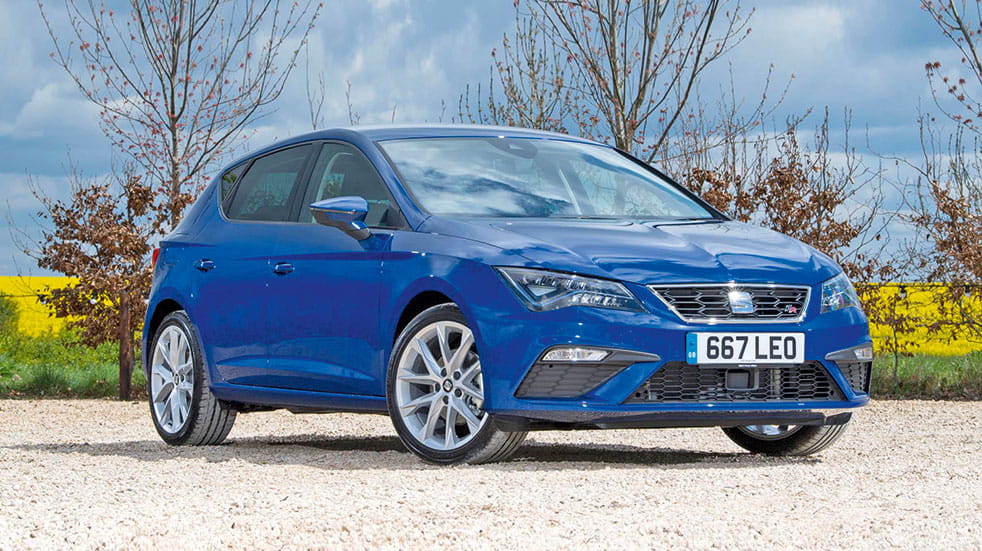 There are bargains among secondhand mid-sized hatchbacks because they've slightly faded from fashion. Yet hatches are still great cars.
The obvious used one is a VW Golf: smart, timeless, tough. The Leon is made by another branch of the same company. Despite being largely identical underneath, it costs significantly less secondhand for matching engine and similar equipment. It's got plenty of space, rides and handles really nicely, and you've got a good choice of engines and transmissions – the diesel comes from after the VW cheating era. A five-year-old Leon can seem modern because Seat was among the first to routinely fit modern satnav and LED headlamps to this class of car.
The spec: 2017 1.4 Eco TSi
Model: 2013–2020
Price: £11,000/30,000 miles (approx)
Engine: 1395cc 4cyl petrol, FWD, six-speed manual
Power & torque: 150hp, 250Nm
0–62mph: 7.7 seconds
Top speed: 134mph
Fuel economy: 57.0mpg (NEDC)
CO₂: 114g/km (NEDC)
5. Sports: Mazda MX-5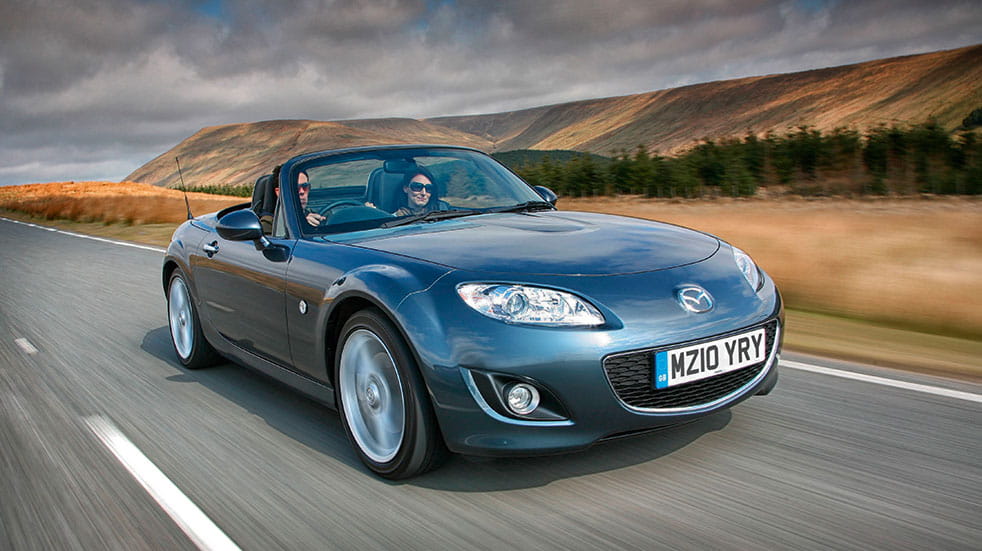 Forget the idea that sports cars are heavy or difficult to drive or expensive to look after or unreliable. The MX-5 is as easy to own as a supermini. Yet the fun of driving it is on another planet. You put it on like sportswear and it turns and brakes and accelerates like it's reading your mind. With the roof down, the joyous sensations of summer – or even of a crisp winter day if you've dressed warmly – envelop all your senses.
There's a huge choice of MX-5s, ranging across four main generations. We've chosen the third, because it comes in two versions. One's soft-top – good if you intend to use it mainly in the summer; the other's the Roadster-Coupe, with a clever folding hardtop for year-round warmth and security.
The spec: 2010 Roadster-Coupe 2.0
Model: 2005–2015
Price: £7,000/40,000 miles (approx)
Engine: 1999cc 4cyl petrol, RWD, six-speed manual
Power & torque: 160hp, 188Nm
0–62mph: 7.9 seconds
Top speed: 121mph
Fuel economy: 37.2mpg (NEDC)
CO₂: 181g/km (NEDC)
6. Large saloon/estate: Mercedes-Benz E-class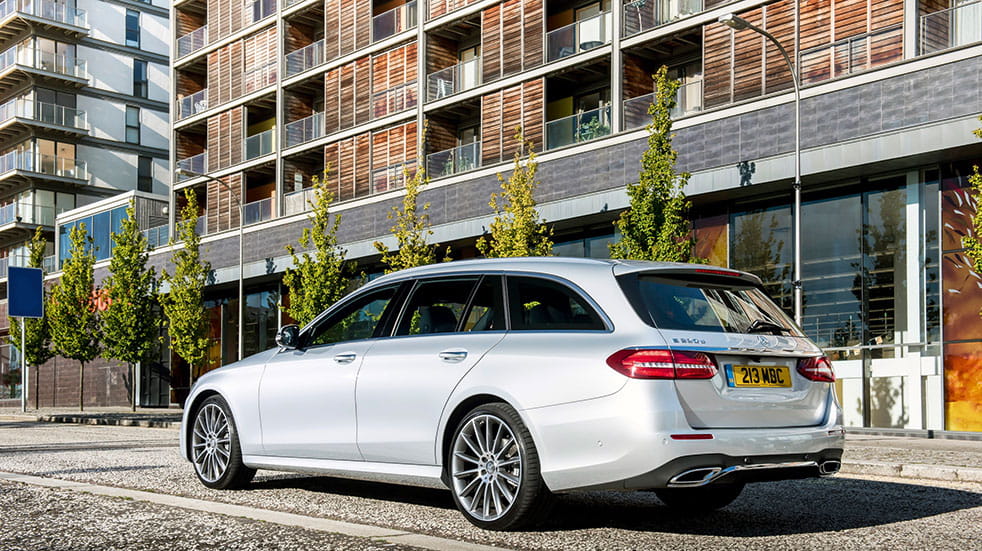 Big cars, even big Mercedes, depreciate fast – so you can get a wonderfully solid and modern car for a good price. Buy from a main dealer and you get an equally solid guarantee. The E-class is almost magically comfortable and refined, a superb car for long distances thanks to its express-train motorway stability. We're recommending a diesel because this generation got a brand-new one that runs very cleanly and avoids current city environmental penalties. It's also powerful and economical.
The only cars with more room are full-size limousines. So a silver or black E-class rather makes you look like an exec minicab driver. To avoid that, seek out a cheerier colour or better still go for the colossally accommodating estate.
The spec: 2017 E220d estate
Model: 2016–present
Price: £21,000/40,000 miles (approx)
Engine: 1950cc 4cyl diesel, RWD, nine-speed auto
Power & torque: 194hp, 400Nm
0–62mph: 7.7 seconds
Top speed: 146mph
Fuel economy: 58.9mpg (NEDC)
CO₂: 114g/km (NEDC)
Prefer a new car? Save money with Griffin
If you're looking for a brand-new vehicle, don't forget you can save money with Boundless partner Griffin. Have a look at the latest deals and discounts.