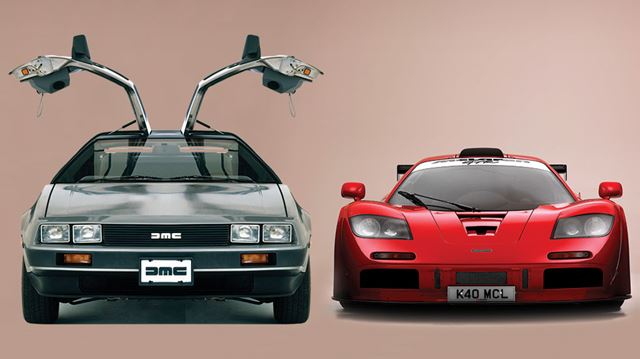 Here's our concise countdown of the 100 most iconic cars ever made, but which has taken the top slot? And has your favourite made the list?
What makes a car an icon? Is it as simple as creating mythical prowess for the silver screen (think the DeLorean, the Batmobile, or even Chitty Chitty Bang Bang), or is it the real-world winning combination of stellar design and engineering, united to create the ultimate driving machine? We asked five motoring experts to help us answer that question by compiling a list of their vehicular heroes across nine categories; we then asked Boundless members to vote on their favourites, as well as nominate any we'd missed for the final category.
The categories of our 100 most iconic cars
Movie cars: Star cars of the silver screen
TV cars: Cultural icons from the tellybox, young and old
Race and rally cars: From Le Mans to Formula 1 and everything in between
Supercars: Lottery-win fantasies and heroes of exotic engineering
Sports cars: Something for the weekend, from any era
Pioneering cars: From land speed record setters to breakthrough hybrids
People's cars: Transport for the masses, spanning over a century
4x4 cars: For adventure when the road runs out, or just when it's wet…
Budget/everyday cars: The daily drivers we couldn't live without
Member-nominated cars: The 'wildcard' nominations from Boundless members
Our expert judging panel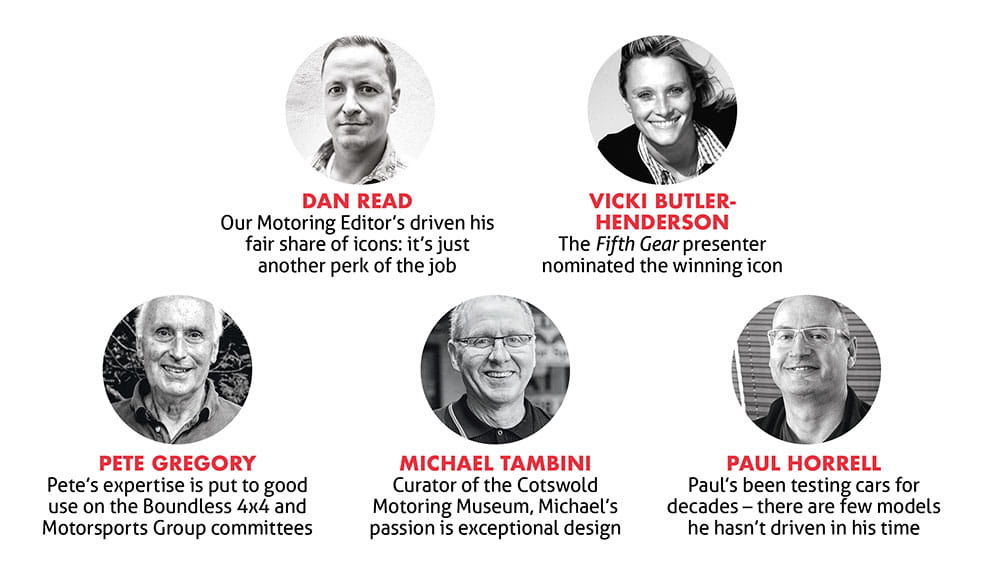 ---
Discover more of our expert motoring content
The best car shows in the UK in 2020
The 50 greatest British drives
Should you choose an electric, petrol or diesel car
---
The results are in…
100. Ecto-1 from Ghostbusters, movie cars
For all that it's at the bottom of our list, the 1954 Cadillac Miller-Meteor ambulance conversion that became Ghostbusters' Ecto-1 was an icon of the 1980s. In fact, during the film's promotional tour, sightings of it allegedly caused traffic collisions in New York City.
99. Renault Avantime (2001-2003), people's cars
When Renault saw posh 4x4s booming, it proposed a radical alternative for people wanting high-seated luxury: a coupe-MPV, with angular two-tone style. The Avantime's five chairs were super-plush, and strange bi-folding doors added to the sense of benign madness. A showroom flop, though.
98. Lotus Cortina (1963-70), member-nominated cars
Ford has always shone in motorsport, so it was natural that Colin Chapman of Lotus should team up with the company to modify the Cortina into a race winner with a new engine, lightened body and modified suspension. The Mk2 version was more civilised and durable for the road.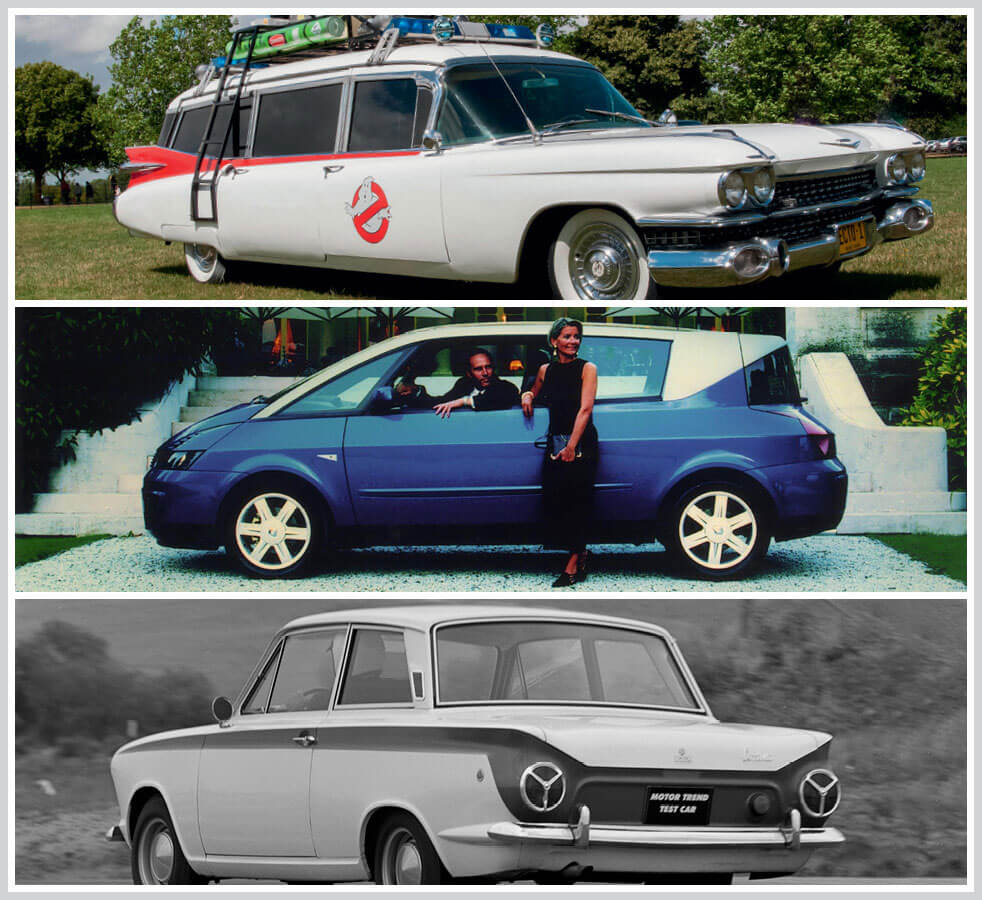 97. AC Cobra (1962-69), member-nominated cars
American racer Carroll Shelby put a powerful Ford V8 into UK manufacturer AC's relatively mild Ace roadster, transforming it into one of the fastest-accelerating cars on the planet – though it took some years for the suspension engineering to catch up with the power. A multiple race winner.
96. Lamborghini Countach (1974-1990), member-nominated cars
One of the most original pieces of car styling ever, and not just for its scissor doors. Underneath, it's dominated by a colossal V12 engine and vast tyres. Wedged in as an afterthought is the driver, slowly roasting, barely able to see out. An intimidating but awesome drive.
95. Fiat Multipla (1998-2010), people's cars
Its, er, distinctive proportions stem partly from the Multipla's really cool trick: it seated a family of six, not in the antisocial three rows of two but the friendlier two rows of three. Astoundingly versatile too. More form-follows-function: mounting the headlamps high meant their beams threw further.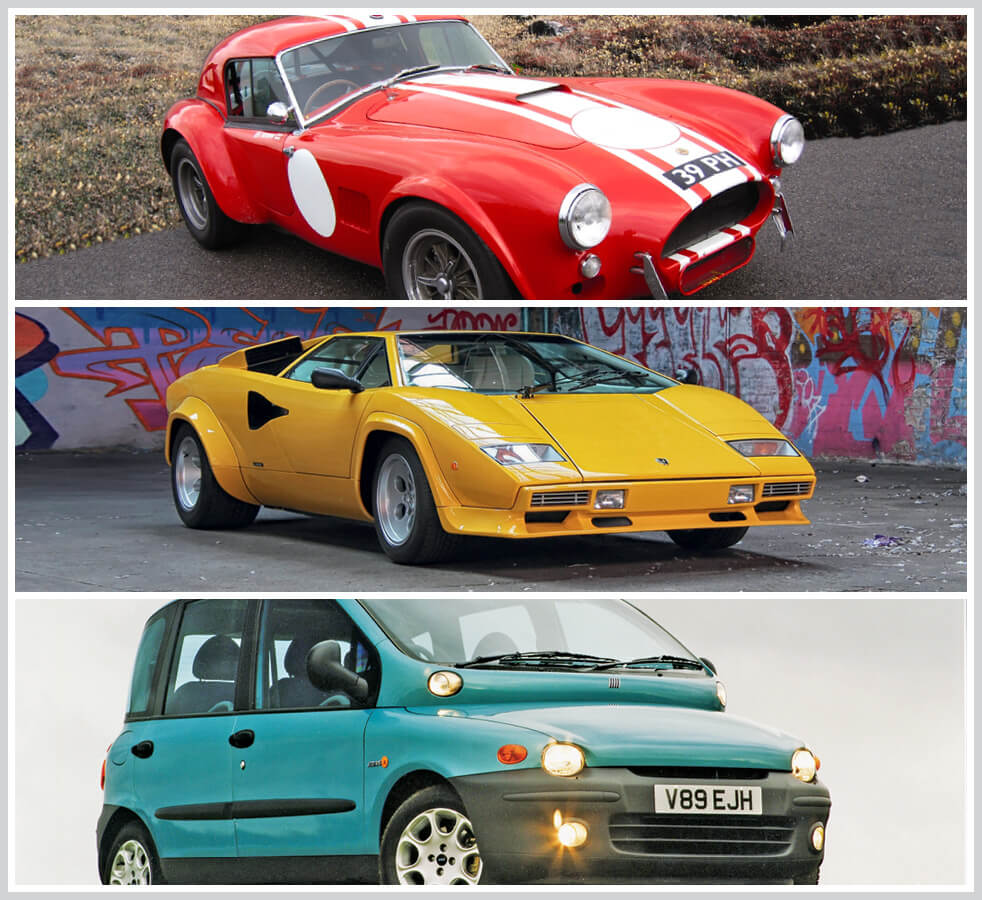 94. Lotus Esprit (1976-2004), member-nominated cars
Made a splash metaphorically with its extreme wedge styling and brilliant roadholding, and literally as the amphibious Bond car. Began with a four-cylinder, later with turbo – or turbo V8 – for electrifying performance at a surprisingly low price. The 1987-on cars look more rounded. Never replaced, much missed.
93. Triumph Stag (1970-78), member-nominated cars
It mated Italian styling with British sports-car sensibilities. The Stag was a GT car with room for kids in the back and a useable soft top. But its newly designed V8 engine gave so much trouble that many people called it the Triumph Snag. Much loved to this day by loyal owners, though.
92. Lotus Elan (1962-75), member-nominated cars
Coming from a racing company, this little roadster really was the nearest thing to driving a single-seater on the road. Light weight and a sophisticated engine gave it both dazzling cornering agility and the acceleration of much bigger sports cars. All clothed in a beautiful little body.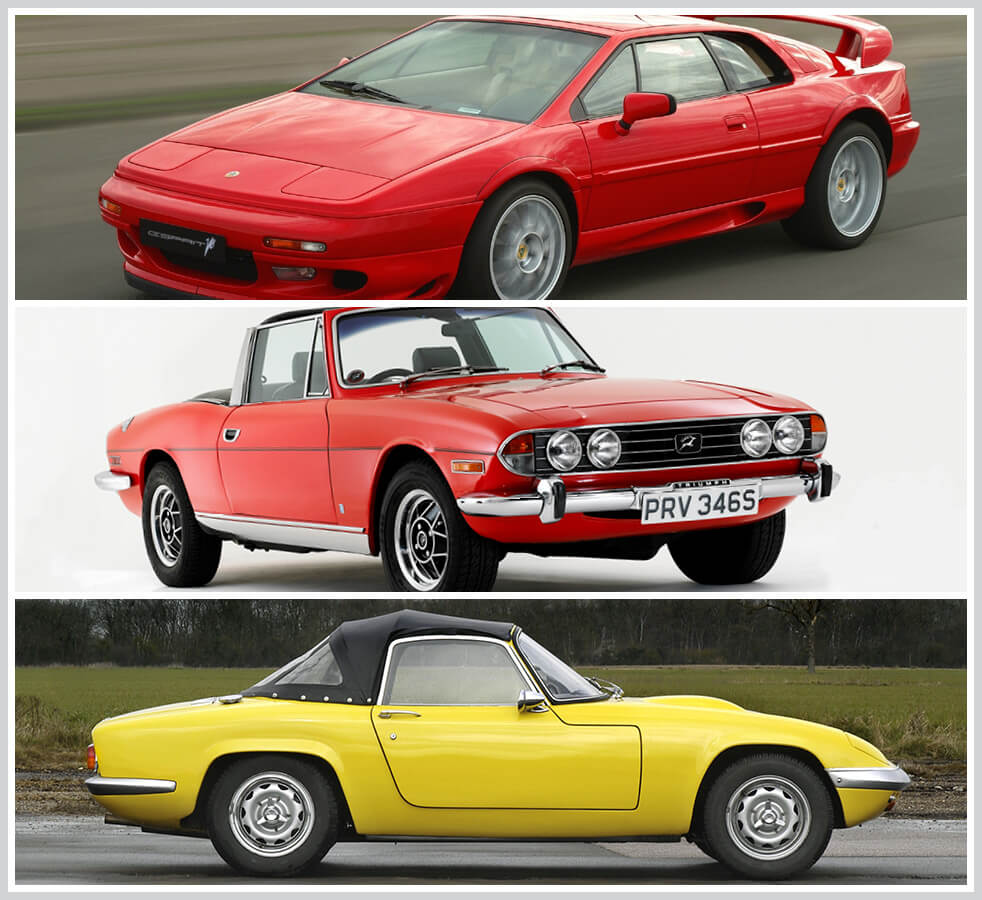 91. 2006 Subaru WRX STI from Baby Driver, movie cars
Ansel Elgort, who plays the titular character in the 2017 film Baby Driver, reportedly hounded the movie's producers for months, calling them and asking if he could keep the legendary Subaru WRX as he loved it so much. Eventually, director Edgar Wright gifted him the 2006 model for his birthday.
90. 1966 Ford Thunderbird from Thelma & Louise, movie cars
One of many classics to meet their demise at the hands of a director. Ridley Scott sent not one but three Thunderbirds over the edge of a cliff for the conclusion of 1991's Thelma & Louise. Scott reportedly had just 45 minutes to film that famous final scene.
89. Nissan 350Z (2002-2009), sports cars
A striking retro-modern body evoked the original Nissan 240Z, and the driving experience did the same. It was all about the hearty six-cylinder engine and easygoing rear-drive handling. Its reliability was a strong point and practicality not bad. This friendly car was made to be enjoyed.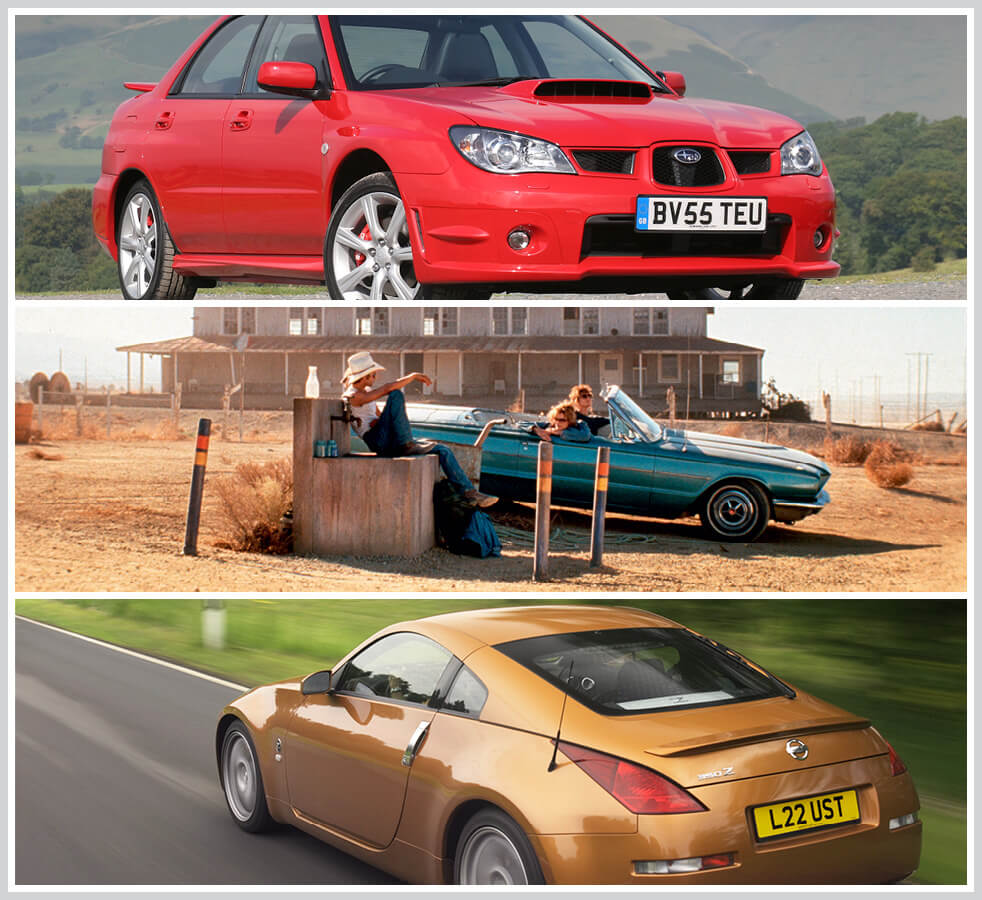 88. Brum, TV cars
Brum sped around solving crimes in the children's TV programme of the same name that ran between 1991 and 2002. After five adventure-packed series, the diminutive Austin 7 Chummy convertible retired to the Cotswold Motoring Museum in Bourton-on-the-Water, where it can still be found today.
87. Morgan four-wheeler (1936-present), member-nominated cars
It didn't look that modern when it was new in 1936. So let's call it timeless, with exhilarating raw appeal thanks to lively performance from a huge variety of engines. Morgan is just selling the final edition, and it's being replaced by an end-to-end new car... albeit one that looks almost exactly the same.
86. Pagani Zonda (1999-2017), supercars
An extraordinary-looking thing, bristling inside and out with flamboyant and beautifully crafted touches. But it's more than superficial: superb handling, a carbon fibre chassis and howling AMG-Mercedes V12 meant this little startup manufacturer challenged the world's best.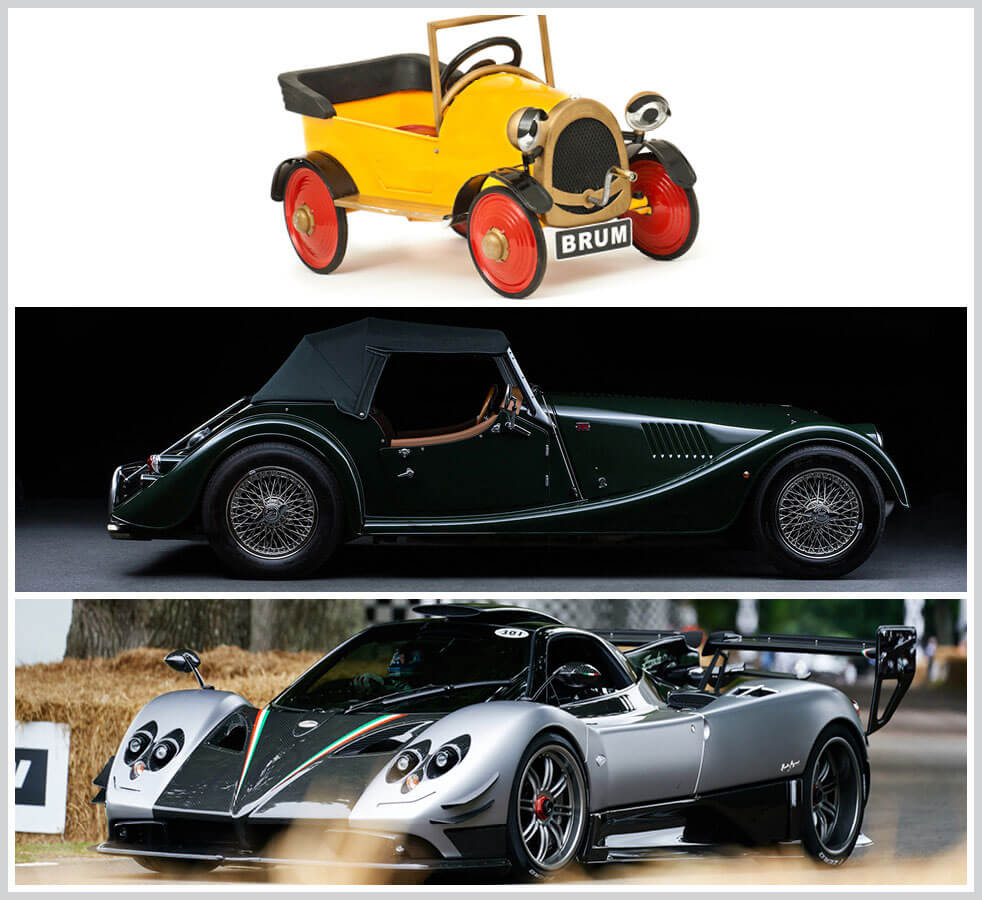 85. 1961 Ferrari 250 GT California Spyder from Ferris Bueller's Day Off, movie cars
Today, an authentic California Spyder would be worth upwards of $12 million, which – spoiler alert – makes its crash landing at the end of 1986's cult classic Ferris Bueller's Day Off even more galling to watch. Thankfully, the car they destroyed in the film was a replica, and although the market value of the Spyder at the time was $350,000, director John Hughes decided it was too expensive to trash.
84. Chevrolet Corvette (1953-present), sports cars
America's own two-seat sports car was always powerful and striking to look at. Easy to use daily, though. All were powerful, some very. The Apollo astronauts drove them, and never was product placement more apt. The Corvette keeps progressing – this year's model is mid-engined.
83. Alfa Romeo Spider 1600 Duetto from The Graduate, movie cars
As is often the case in Hollywood, it's who you know, not what you know, and it was through sheer nepotism that the Duetto ended up in The Graduate (1967). Dustin Hoffman's uncle was an Alfa importer and is responsible for one of the shrewdest pieces of product placement in cinematic history.
82. Ford Escort Mk1 (1968-1975), member-nominated cars
Ford in Britain and Germany had been separate, with different cars. The Escort Mk1 was their first joined-up effort: a car for Europe. It sold in vast numbers, especially in the UK, and came in a huge range, from 1100cc family runabouts (£635 plus £8 for seatbelts) to world-class rally winners.
81. Fiat 127 (1971-1983), pioneering cars
This set the template for the modern supermini – a small hatchback driven by a transverse front-drive powertrain. The 127 was roomy and more fun to drive than older small cars. Fun fact: it wasn't actually a hatchback at the beginning of its life, but had a fixed rear window.
80. Fiat 500 (2007-present), people's cars
Like the new Mini, the Fiat 500 is a modern interpretation of a hugely popular classic. Completely different underneath to the old one, mind, having its engine in front not at the back. It's a good-value, nicely furnished machine cleverly marketed as a fashion item with seasonal editions. All of which might go to explain why, three years after its redesign in 2007, it became the first Italian car to sell more units abroad than at home.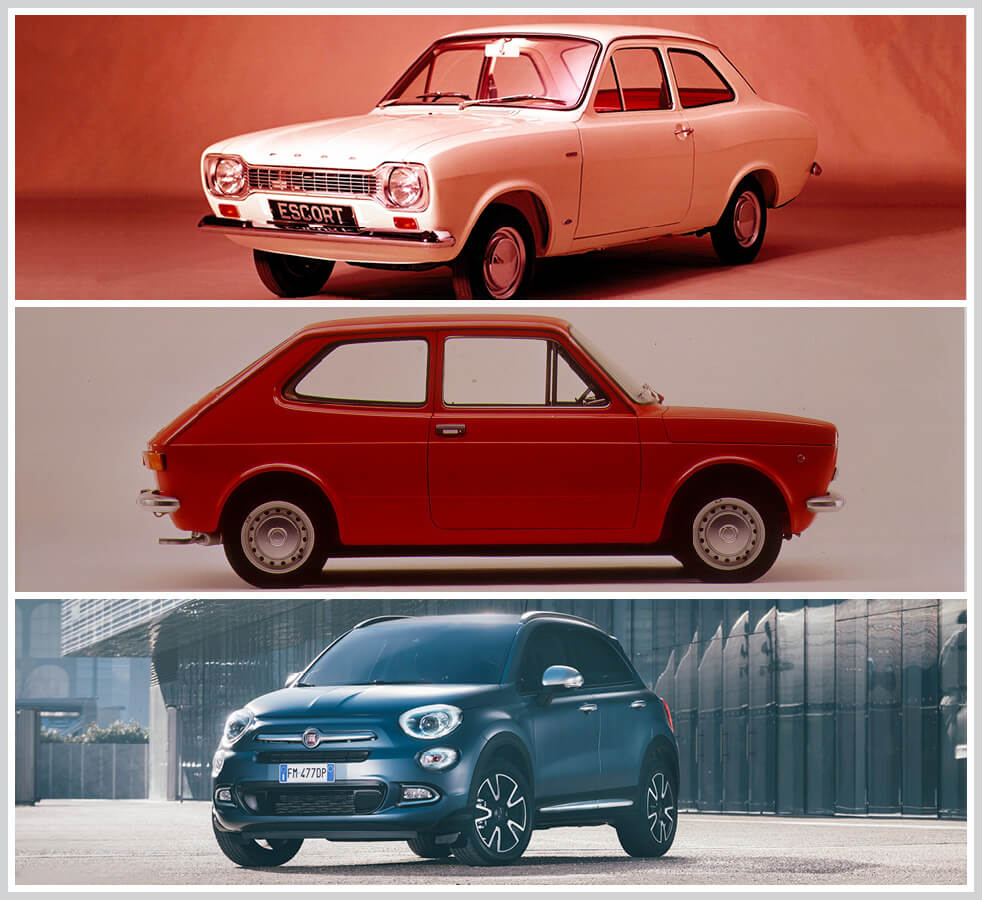 79. Ford Capri (1969-1987), member-nominated cars
The long bonnet made it look powerful, but few Capris actually were. Ford was making dreamboat styling accessible. Underneath this was mostly a Cortina, which made it cheap to buy and run, and practical. But to maintain its cred there were some high-power and race versions, plus a whole host of limited editions. Later versions didn't match the huge popularity of the Mk1, but there's no denying the Capri's legacy.
78. Ferrari F2002 (2002), race and rally cars
Zenith of the extraordinary Ferrari-Michael Schumacher era. It won 15 out of the 17 races in 2002 with Schumi and Rubens Barrichello. But this wasn't only about the car or the driver. The whole team, from engineers to strategists to mechanics to cooks, was a perfectly oiled machine.
77. Nissan Leaf (2011-present), budget/everyday cars
The Leaf was the first usable and affordable family electric car. It remains competitive, since updated versions gained longer range via more battery capacity. Smooth, easy to use and reliable – despite common early fears of longevity, even the oldest ones keep humming along.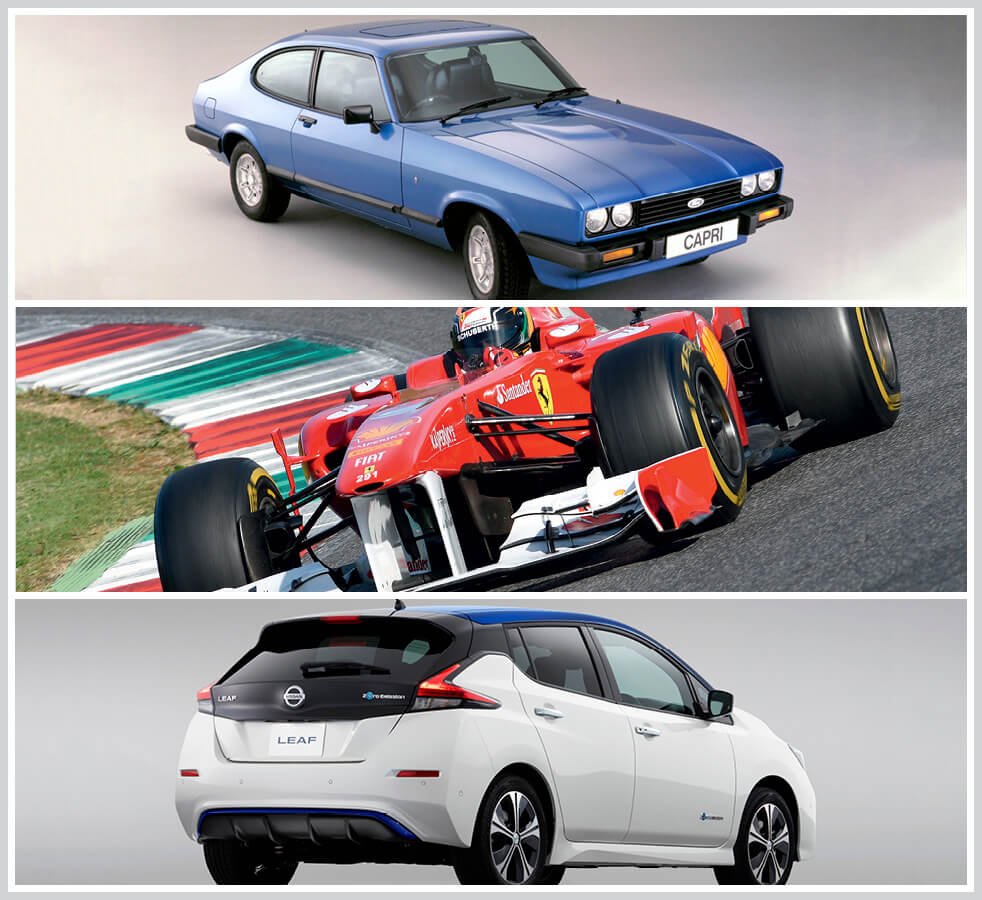 76. Pontiac Trans Am from Smokey and the Bandit, movie cars
Director Hal Needham spotted the Trans Am in a magazine and decided it was the only car for 1977's Smokey and the Bandit. It was a great coup for Pontiac – Trans Am sales went up by 25,000 after the film's release and then again the following year.
75. Renault Scenic (1996-present), budget/everyday cars
This is the car that established the idea of a compact family MPV: egg-shaped for maximum space inside, with super-versatile seating and endless clever storage solutions. It was a brilliant family car, but went out of fashion as people swung towards (less useful) crossovers.
74. Duesenberg Model SJ (1932-37), supercars
The Model J was America's fastest and most expensive car in the early '30s. Then Duesenberg added a supercharger to the straight-eight engine to make the SJ. The car of Hollywood royalty and, in Europe, actual royalty. Notable for the four external exhaust pipes, like chromed anacondas.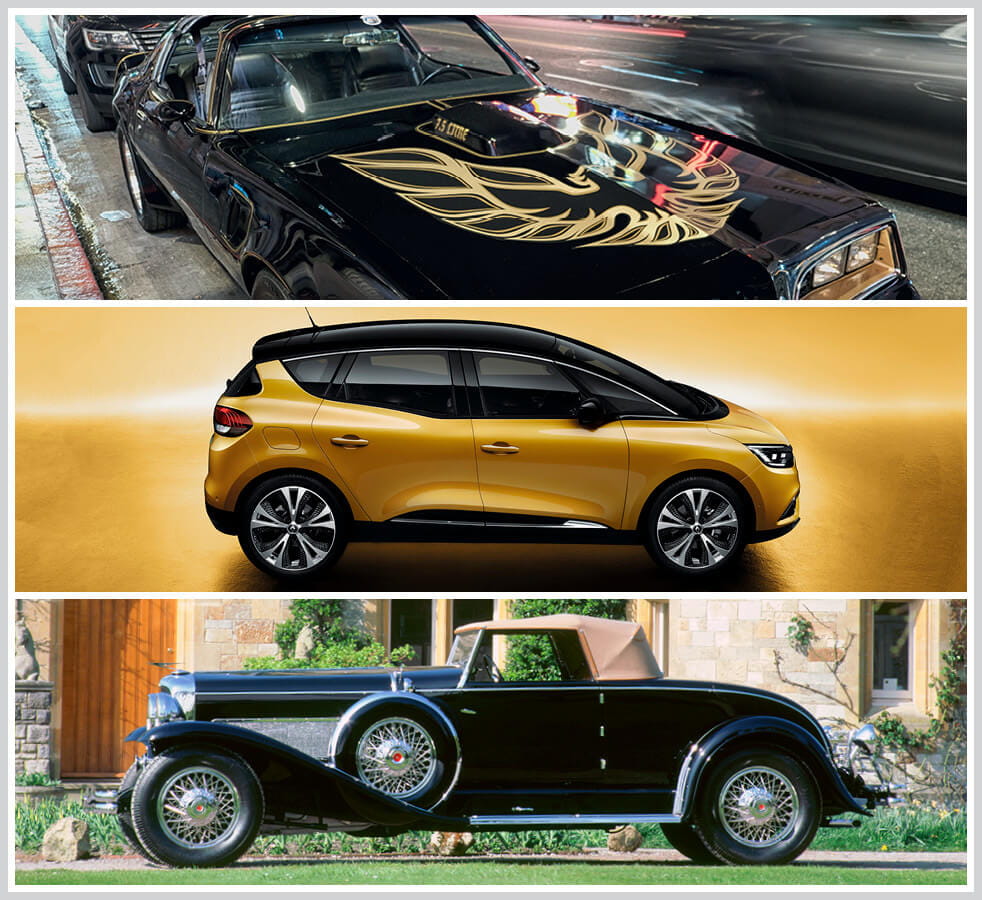 73. Rolls Royce Silver Ghost (1906-26), member-nominated cars
The apex of Rolls-Royce's range was designed with one noble aim: to be 'the best car in the world'. It succeeded, with silence and power, but also with its fantastic reliability even on the track-like roads of its era. The military version came to Lawrence of Arabia's aid in 1918.
72. Morris Minor 1000 (1948-72), member-nominated cars
Remembered now for its curvy style, the Minor was actually very advanced for its time – the independent front suspension and monocoque body made it roomy and faithful-handling. There were convertibles and pickups too. For decades the Minor, designed by Sir Alec Issigonis, was the embodiment of Britishness: the Traveller was the 'half-timbered car' – and the first British car to achieve a million off the production line.
71. Dacia Sandero (2008-present), budget/everyday cars
A proper family car with the price tag of something two classes smaller. It achieves this not just by using low-cost factories or outdated parts, but by ruthless attention to what's needed – and what's not. It's actually rather refreshing for its absence of frivolity.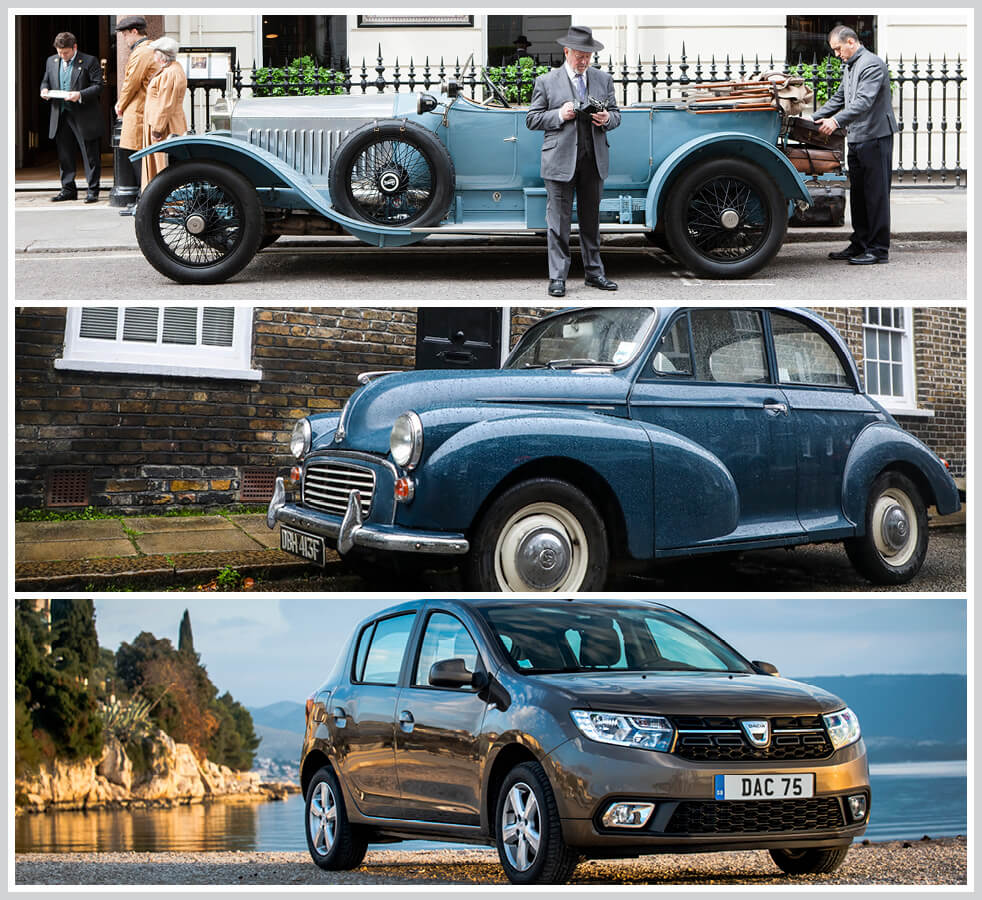 70. Mercedes G-wagen (1979-present), 4x4 cars
Designed for military and civilians, it had very capable off-road hardware. Gradually became a cult object as Mercedes added luxury and absurd V8 power. The new one abandons its utility roots altogether and is different in every nut and bolt, yet its boxy looks are a facsimile of the original.
69. Jeep Cherokee (1984-2007), 4x4 cars
Simply because of its size, the Cherokee was a major trendsetter, being more compact and less cumbersome than a traditional full-sized 4x4. So it caught on big-style in suburbia worldwide. Still fully capable of rock-climbing and mud-wrestling, mind – it was after all a Jeep.
68. Hyundai i10 (2007-13), budget/everyday cars
In the 2009 recession, the Government announced its scrappage incentive – £2,000 – to stimulate demand and get polluting old cars off the road. The i10 sold in its thousands immediately. It was a good little car and helped cement Hyundai's reputation in Britain as a mainstream car maker.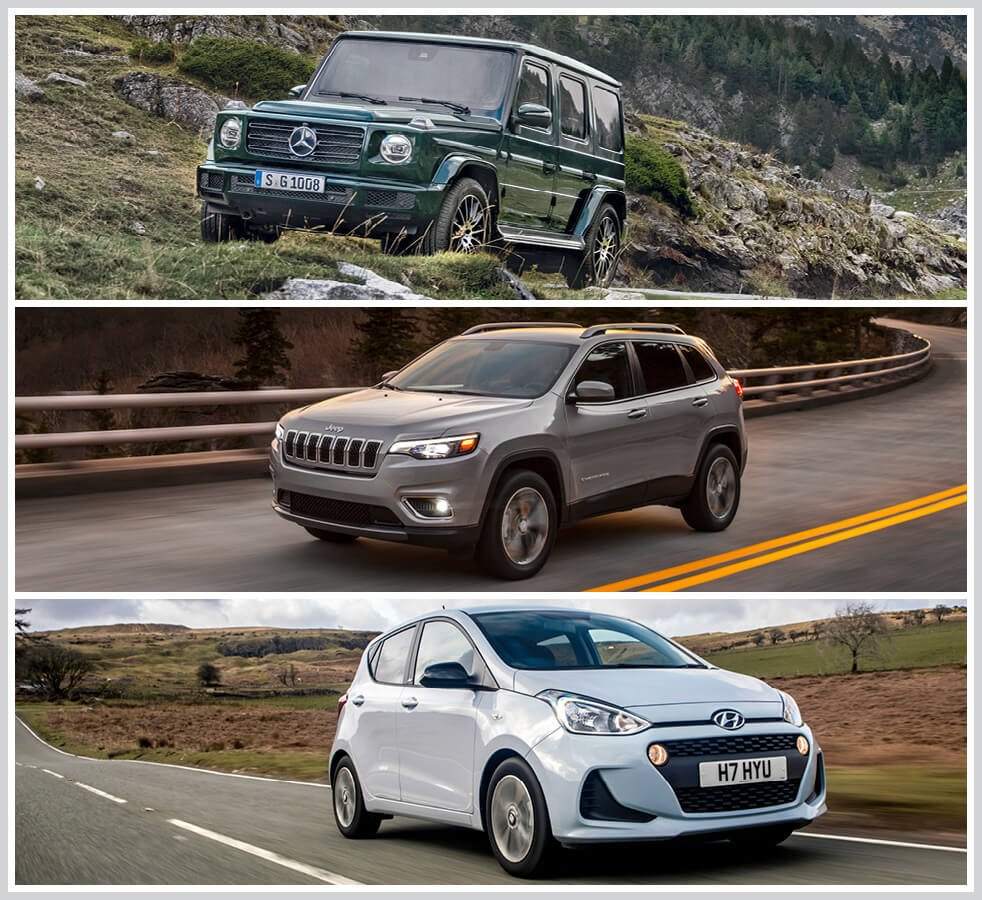 67. Toyota Corolla (1966-present), people's cars
Twelve generations and nearly 50 million units of Corolla have provided stalwart family transport. Early Corollas were drab compared with European counterparts but for one shining innovation: reliability. They're now more interesting, and hybrid.
66. Maserati 250F (1954-1960), race and rally cars
This was the last hurrah of the front-engined grand prix era, and what a way to go out. Said by Sir Stirling Moss to be one of the nicest Formula One cars to drive – he won Monaco in one. It gave Juan Manuel Fangio his greatest – maybe history's greatest – win, in the 1957 German Grand Prix at the old Nürburgring.
65. Alfa Romeo 8C 2900 (1935-38), supercars
During the 1930s, in various bodyshells, this won many GPs, the 1000-mile Mille Miglia road race and led at Le Mans. Yet it also sold as a luxury road supercar. They're now among the most valuable cars – one sold for around £14m last year. See why so many people want Alfa to succeed again today?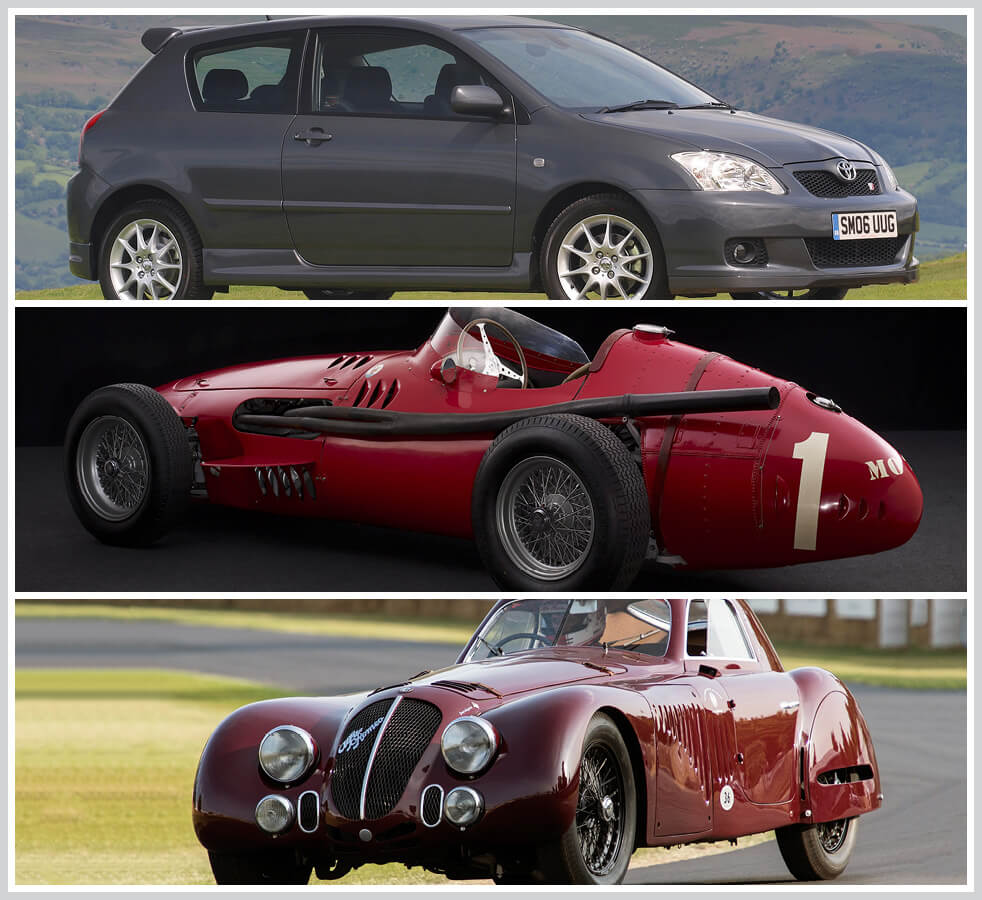 64. Fiat Panda 4x4 (1983-present), 4x4 cars
A goat, sparsely muscled, light on its feet and yet astonishingly mobile. Pared back to the essentials while executed with a certain style. You'll find one of these – either a rusty and dusty first-generation or the more civilised later ones – at the top of every mountain track in Italy.
63. Nissan Qashqai (2007-present), budget/everyday cars
Designed and built in Britain, this blazed the trail in today's biggest car trend: the crossover. Hints at the rugged looks of a 4x4, but this is not so lumpy to drive. After all it's just a hatchback underneath, but a bit of extra height and space make it a tearaway family-car success.
62. Mitsubishi Shogun (1982-present), 4x4 cars
Known in most countries as the Pajero, the early Shogun combined ruggedness and reliability with elements of sophistication lacking in even the Range Rover of its day, though it's fallen behind since. Short canvas-toppers to long-wheelbase wagons kept a range of buyers happy.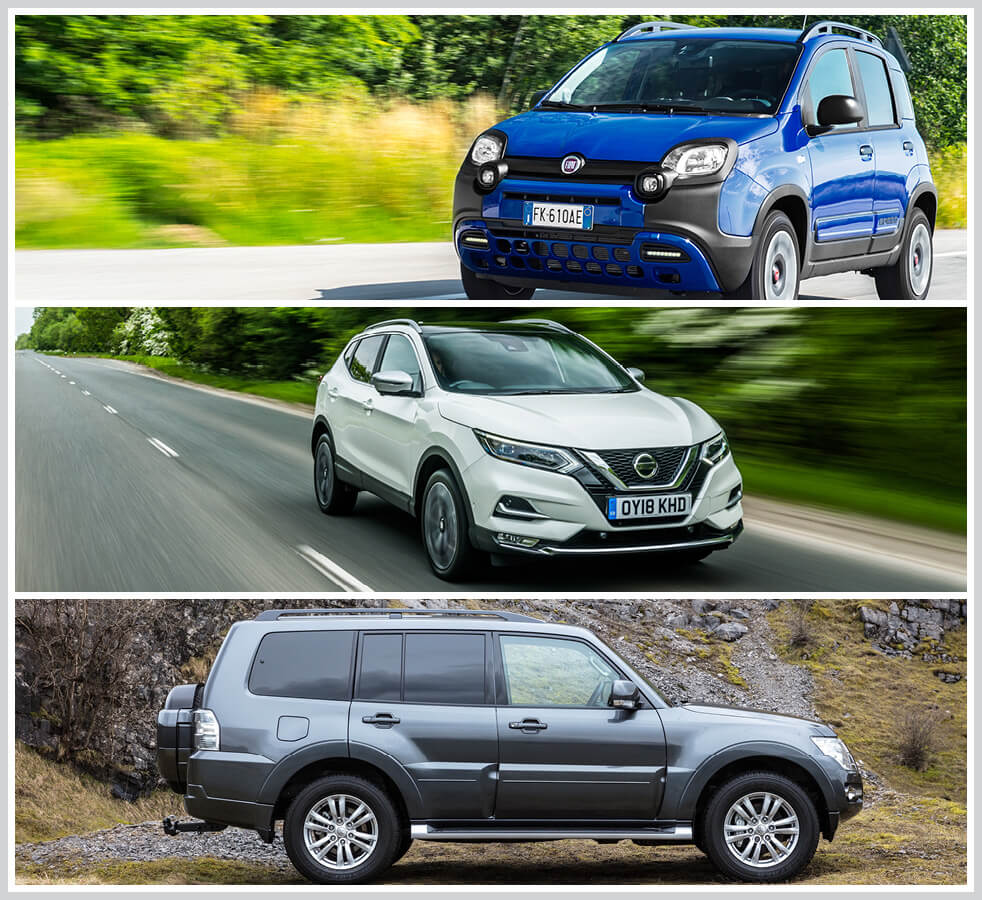 61. Formula E race car (2014-present), pioneering cars
Like it or not, powerful thirsty racing cars look increasingly out of place. Formula E's all-electric racing provides a forward-looking alternative. Progress in the cars' range and performance is rapid, and more than any other kind of sport, it's providing knowledge for the road cars of tomorrow.
60. Mercedes 190SL (1955-63), sports cars
Mercedes built a true race-bred supercar in the 1950s: the Gullwing 300SL. This isn't it, but it wears largely the same styling and shares a lot of that excellent engineering too, making it a proper luxury sports car. Designed for touring, it's propelled by a more realistic four-cylinder engine.
59. Pontiac Firebird from Knight Rider, TV cars
Knight Rider's KITT outshone even The Hoff: the 1982 Pontiac Firebird Trans Am inspired a generation to dream of having their own talking car. At the time, Pontiac received a deluge of orders for black Firebird Trans Ams – without the William Daniels voiceover, of course.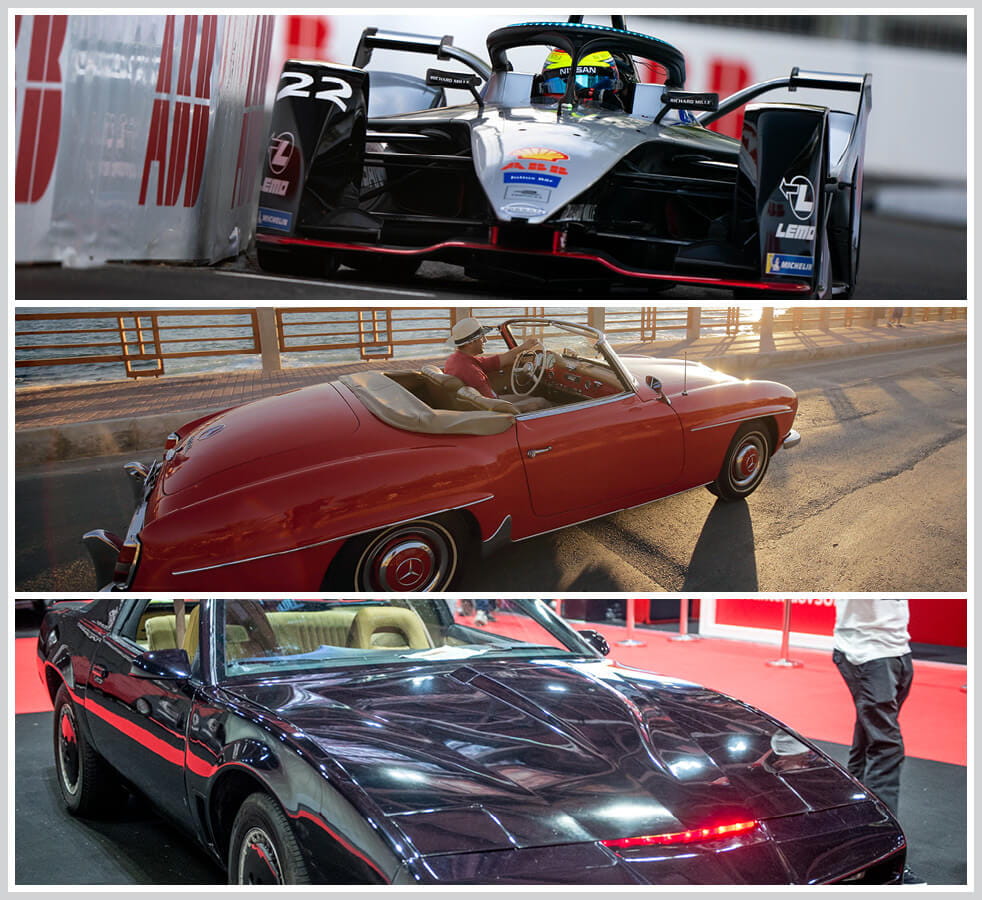 58. Chitty Chitty Bang Bang, movie cars
The world's best-loved flying car, six different Chitties in various states of repair were built for filming Chitty Chitty Bang Bang. The road-going Chitty is owned by Hobbit director Peter Jackson, who bought it at auction in 2011 for just under £500,000 – a decent whack for a car Dick Van Dyke described as having "the turning radius of a battleship".
57. The Batmobile from Batman, TV cars
Through countless Batman films and the long-running TV series, the Batmobile has taken on various guises over the decades. On the small screen, it was a 1955 Lincoln Futura Concept car; leap forward to 2017's Justice League, and you've got the fabricated hybrid electric Knightcrawler... What new toys will 2021's The Batman bring?
56. Porsche 917 (1969-73), race and rally cars
A ruthless piece of work, the 917 took the sports car racing rules to their limit. Once its handling teething troubles were overcome, the 917 dominated LeMans-type racing – including giving Porsche its first Le Mans overall win. Steve McQueen drove one in Le Mans, his 1971 film. The flat-12 engine was turbocharged for America's CanAm series – its qualifying trim 1580bhp made it the most powerful race car ever.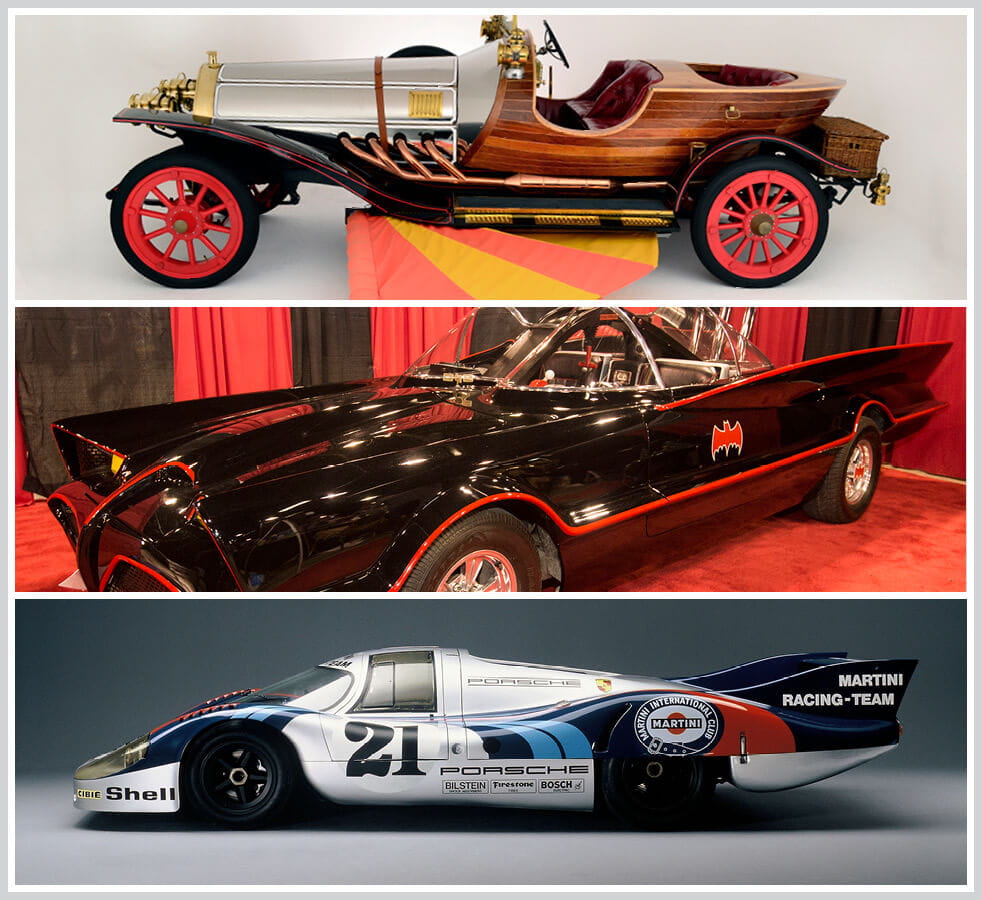 55. Lotus Elise (1996-present), sports cars
This mid-engined roadster employs cleverness ahead of expense – early versions had the engine from an ordinary Rover hatchback – and epitomises everything there is to love about Lotus. It's quick because it's super-light, and the steering, handling and brakes seem like an extension of your nerve endings. The sparse cockpit is surprisingly comfy.
54. Metro 6R4 (1985-86), race and rally cars
OK it wasn't actually vastly successful, but the 6R4 stands as some kind of icon of an extreme motorsport makeover. With a highly strung V6 in the middle, four-wheel drive and lightweight composite panels, this mutant contains barely a trace of the 1980s driving-school staple.
53. Ferrari 308 GTS from Magnum, P.I., TV cars
Tom Selleck and an endless array of Hawaiian shirts may have brought Magnum, P.I. to life, but it was the super-sleek Ferrari 308 GTS that made him cool. Every car used for filming was modified to accommodate Selleck's 6ft 4in frame. Notice he never drives with the top up…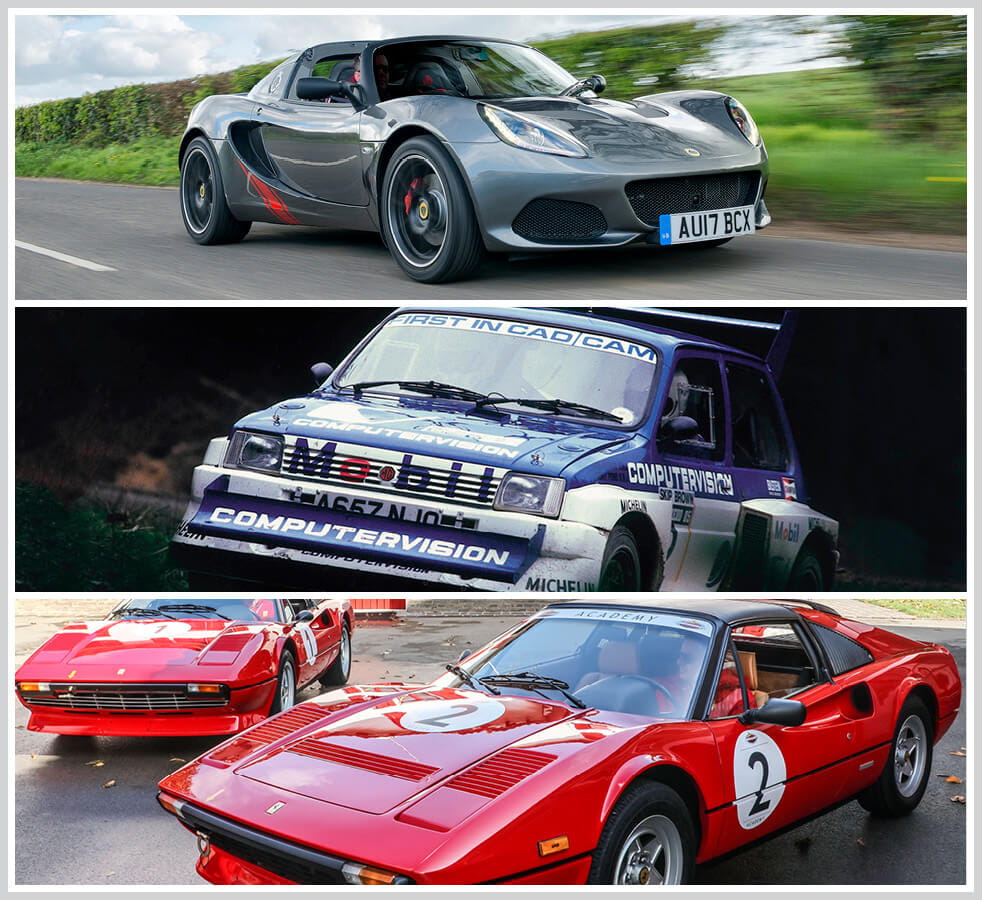 52. Ford Gran Torino from Starsky and Hutch, TV cars
Not everyone was a fan of Starsky and Hutch's vibrant Gran Torino, with its glossy red paint and white vector stripes. Paul Michael Glaser, who played Detective Starsky, hated the car from the offset because of the implausibility that undercover police would drive something so ostentatious. He may have had a point.
51. BMW 3-series estate (1987-present), budget/everyday cars
An estate is useful, obviously. This is also a BMW, and really is the best car to drive of its kind. But the 3-series is also surprisingly economical to own, well-furnished and full of satisfying details. In so many ways, it's all the car you could reasonably want.
50. Ford Model T (1908-1927), people's cars
Amazing that the 'Tin Lizzie' stayed in production so long while the car industry was rapidly maturing. By pioneering mass production, Henry Ford was able to offer a car people on ordinary salaries could buy, and it put America on wheels. From 1911 it was built in Britain – at Trafford Park – too.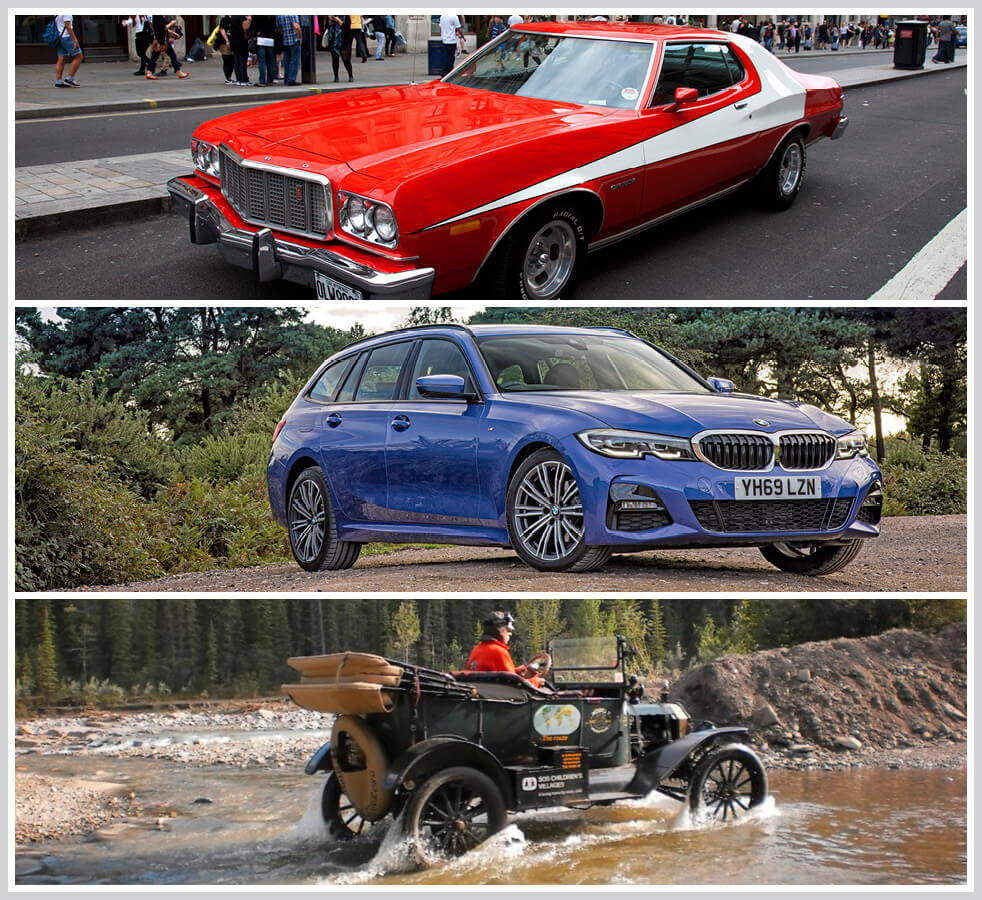 49. Mazda MX-5 (1989-present), sports cars
The inheritor of the MG B's legacy – cheap roadster fun and style. But the MX-5 doesn't just borrow saloon parts under the skin, and its bespoke engineering makes it delightfully precise to drive. It's all about the carefree sensations, not the all-out speed. Literally a breath of fresh air.
48. Vauxhall Corsa (1993-present), budget/everyday cars
From the great-looking early car – the supermodel ad campaign captured the mood of the time – to today's all-electric option, the Corsa has stayed relevant. The warm feeling of tearing up our L-plates must have helped, too. The result has been a career of 2.1 million UK sales.
47. Citroen 2CV (1948-1990), people's cars
'Carry a basket of eggs across a ploughed field'. It really was part of the design brief, and explains the 2CV's laidback loping comfort. Almost every part of the 2CV displayed original thinking in pursuit of low costs. Tin-can body, deck-chair seats; wonderfully charming, if painfully slow.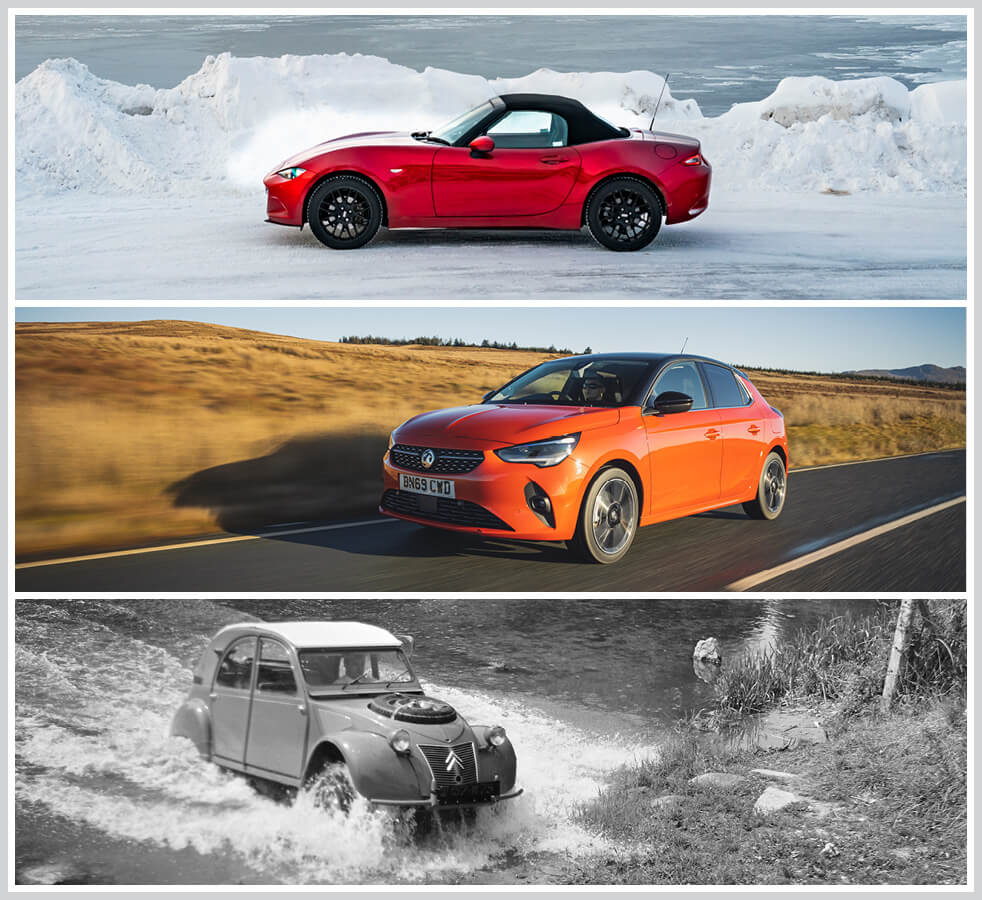 46. Bugatti Type 35 (1924-31), race and rally cars
Ettore Bugatti was a perfectionist; an extravagant, maverick genius. His Type 35 was the most successful race car of its era, taking the Grand Prix world championship in 1926. Lithe and little though it was, it won the brutal Targa Florio round-Sicily race for five consecutive years.
45. General Lee (Dodge Charger) from The Dukes of Hazzard, TV cars
Arguably the true star of The Dukes of Hazzard, the General Lee actually consisted of multiple '68 and '69 Chargers – it's said that one or two cars were scrapped during the filming of every episode – but inconsistencies between the cars enraged eagle-eyed 'Lee' aficionados. In 1983, Warner Brothers brought production in house but the show was cancelled in 1985.
44. Ford Mustang (1965-present), sports cars
Putting the Ford into affordable, the Mustang launched with a small engine but huge kerb appeal and sales. Ignore its mid-life crisis and think of the pre-'70 and post-'05 high-power options, but still at value prices. Except for Steve McQueen's Bullitt model, which just sold for $3.7m (£2.84m).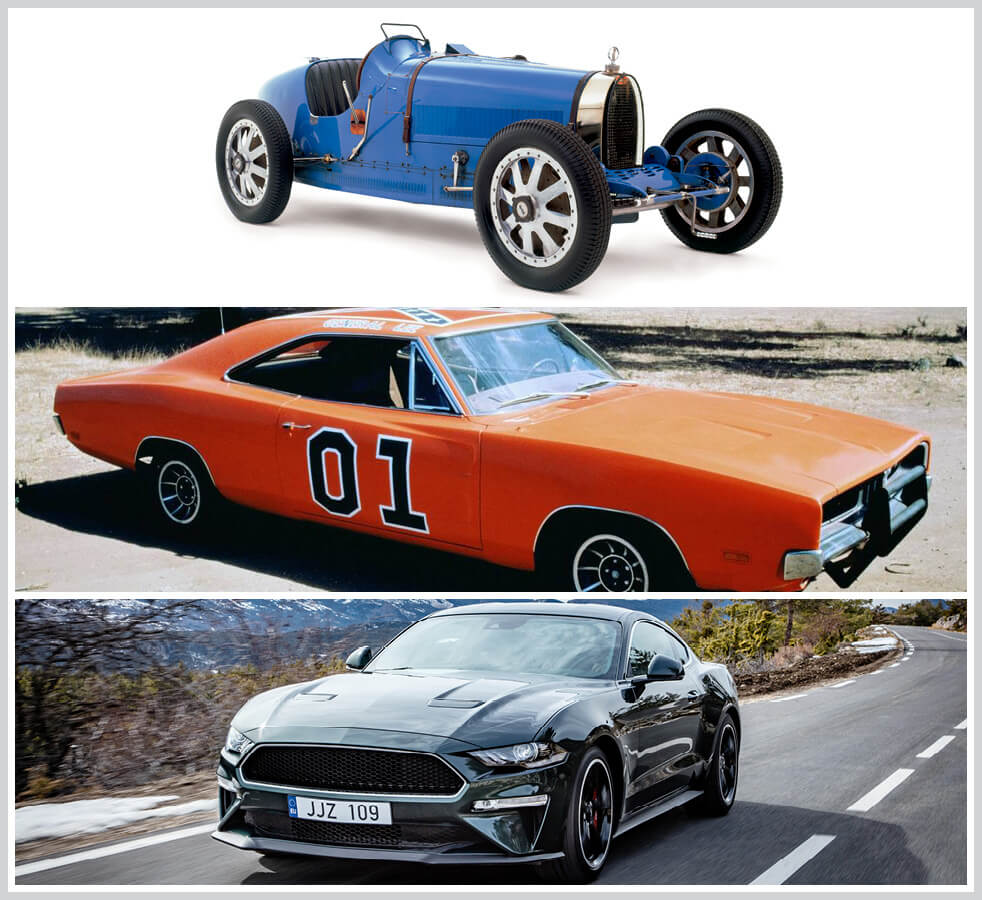 43. DeLorean from Back to the Future, movie cars
Generally perceived to be one of the worst cars ever made, the gull-winged DMC DeLorean rose to fame after starring as Doc Brown's plutonium-powered time machine in Robert Zemeckis' popular Back to the Future trilogy. By 1985 DMC had gone bust, but reproduction DeLoreans are still made today in Texas – each of which comes with its own flux capacitor.
42. Lamborghini Miura (1966-73), pioneering cars
This wasn't quite the first road car with the engine in the middle of the body, but it was the first supercar with one. And what an engine! Lamborghini's awesome V12. What a body! A thing of beauty, jaw-dropping proportion and delightful detail. The Italian job.
41. Willys-Overland Jeep (1940-45), 4x4 cars
Some 650,000 were made during World War II, and its contribution was indispensable. It could move soldiers, tow and carry, almost regardless of the terrain. Small wonder peacetime civilians wanted something similar.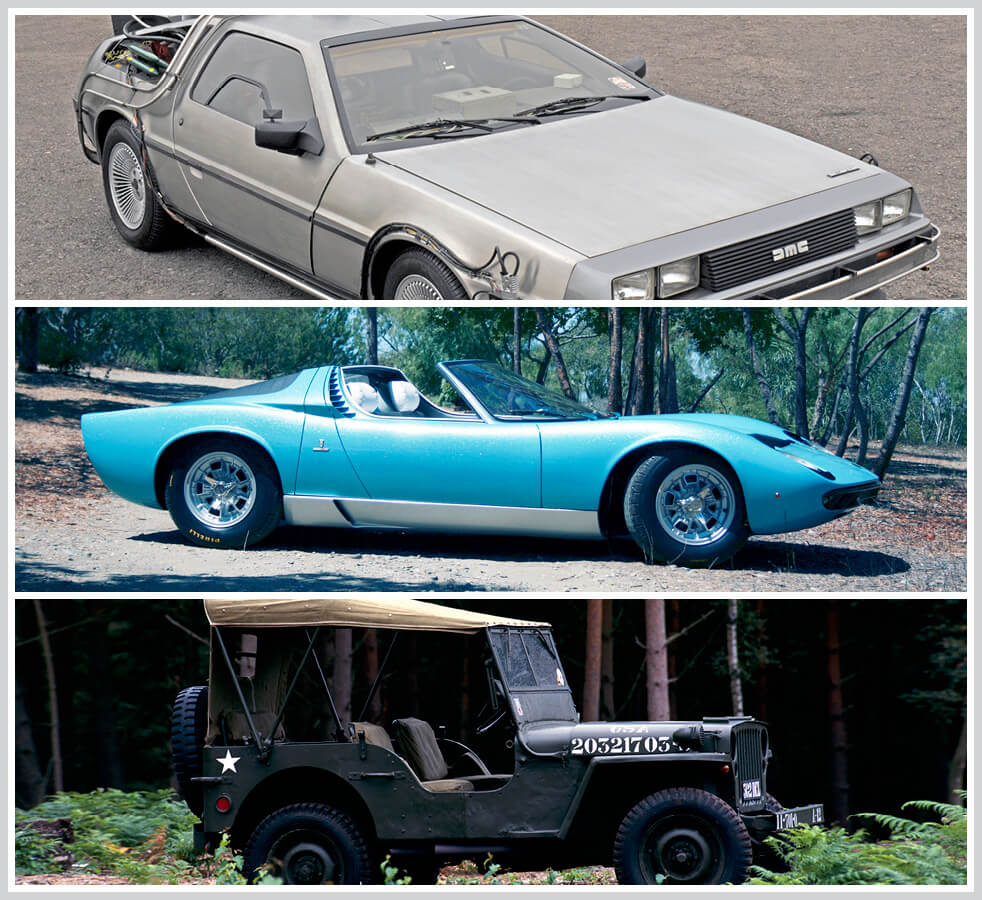 40. Lotus 72 (1970-74), race and rally cars
It gave championships to Jochen Rindt (posthumously, tragically) and Emerson Fittipaldi. One of many innovative Lotuses, this had a wedge-shaped body and side pod radiators to cut drag, inboard brakes for handling, and a distinctive overhead intake to force-feed the engine.
39. Mercedes-Benz S-Class (1972-present), pioneering cars
Think of any innovation in safety or comfort and it likely started right here. The S-class has always been a byword in luxury cars, the default transport of leaders. Sooner or later, whatever it introduces will trickle down to the cars the rest of us drive. That's why the S-Class matters.
38. Ferrari F40 (1987-92), supercars
The F40 was technically advanced, with its Kevlar bodywork, obvious aerodynamic amendments and a turbocharged engine. But we remember it for emotional reasons: brutal speed, exhilarating steering and the fact it was the last car approved by Enzo himself before his death. A true collector's item.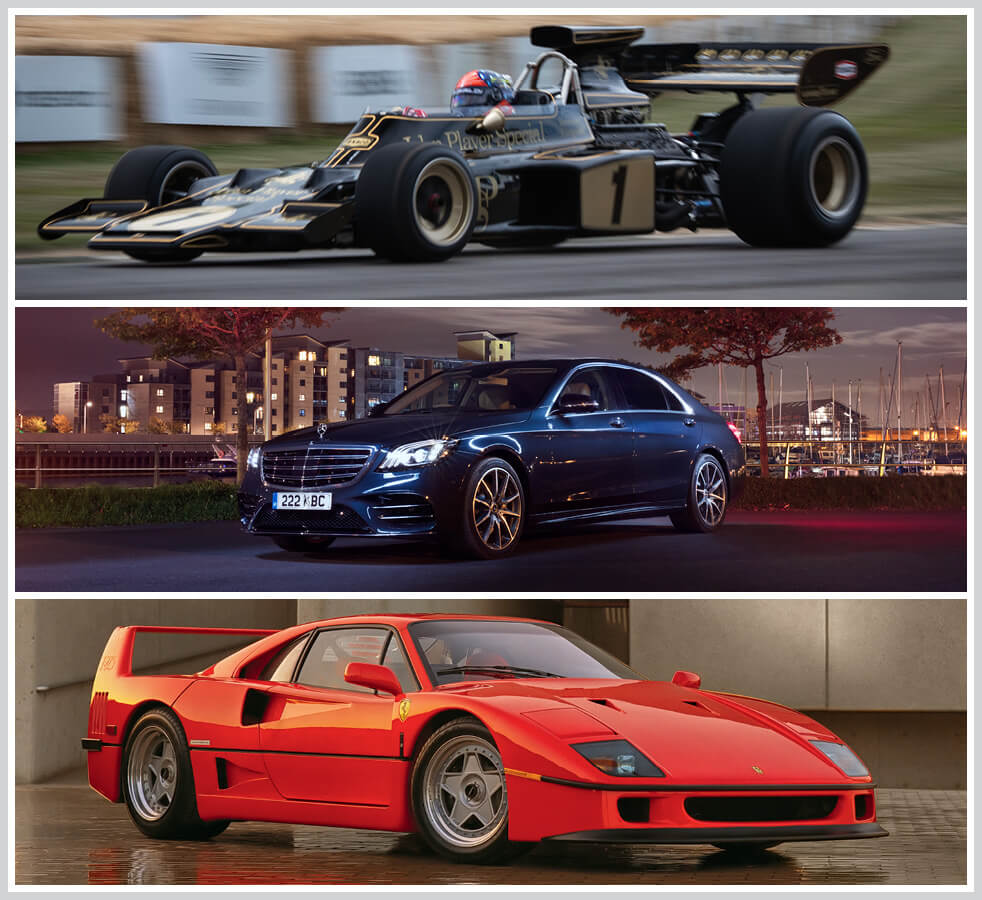 37. Skoda Yeti (2009-2017), budget/everyday cars
The Yeti looked pretty unconventional, but not in a bad way, and it undertook its conventional role – family crossover – imaginatively. Individual folding removable rear seats rendered it uncommonly versatile. It drove well too, being a nicely chosen amalgam of the VW Group's under-skin parts.
36. Austin Seven [1922-39], people's cars
It might have been tiny, but it was actually a real car, not just one of the 'cyclecars' foisted on the cost-conscious beforehand. Hugely popular in Britain and beyond, wearing a variety of body styles. Versions of the Seven gave both BMW and Nissan their start in car-making.
35. Steed's Bentley from The Avengers, TV cars
The Avengers' fictional secret agent John Steed (Patrick MacNee) had an array of British classics at his disposal, but is perhaps best known for his Bentleys. During series four, five and six, Steed drove no less than five different Bentleys, while MacNee himself was a reluctant driver, claiming that driving on the show "frightened him to death".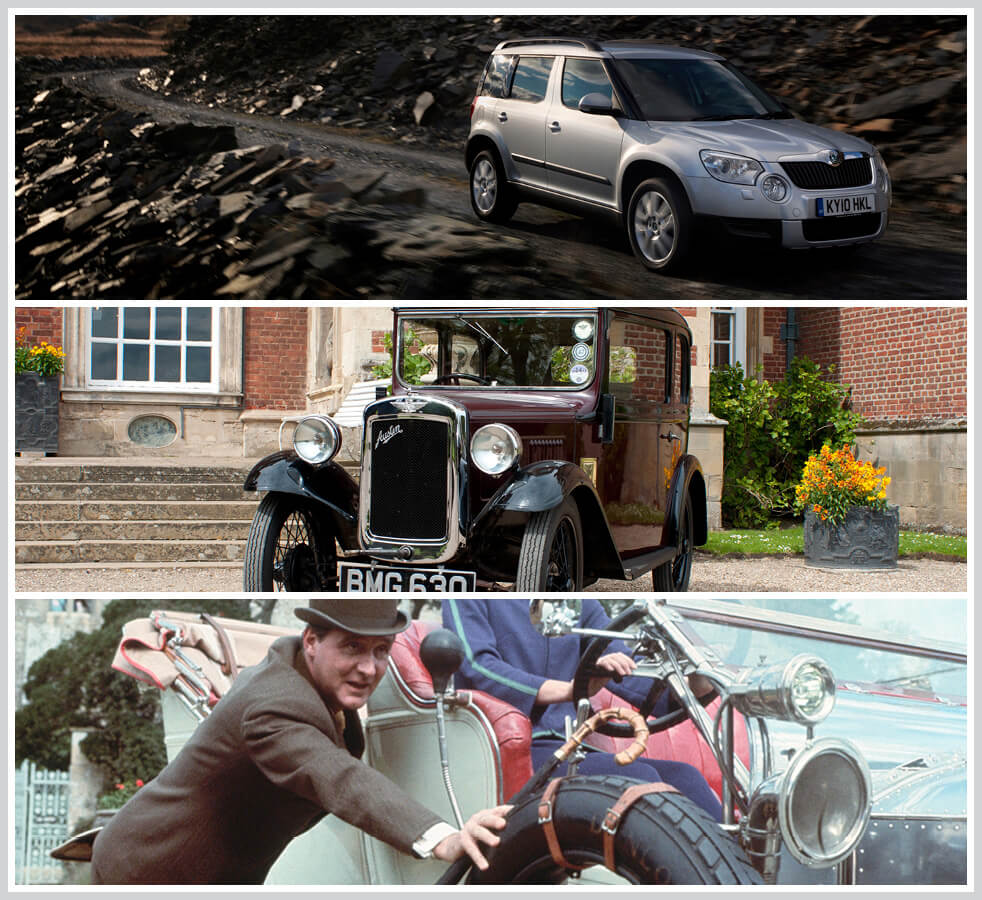 34. Land Rover (1949-2016), 4x4 cars
Its makers took inspiration from the World War Two Jeep, but it was very much its own thing. Designed for farmers first, but the military soon took an interest, along with coastguards, utility companies, explorers and anyone with a sense of adventure. It's a global symbol of British pluck.
33. Porsche 918 Spyder (2013-2015), pioneering cars
People thought hybrids were just for minicabs… Then Porsche mated plug-in battery motors for front and rear to an awesome V8 in the middle for a total of 874hp. It could sneak along silently, or it could fire up and burn around tracks as fast as almost any other production car.
32. MG B (1962-1980), sports cars
A global smash back in its day, and the archetype classic car now. Came as a convertible or an ahead-of-its-time GT hatchback. Its simple mechanical design meant comparatively unsophisticated driving manners – but now as then, it's nice looking, cheap to own, easy to mend and good simple fun.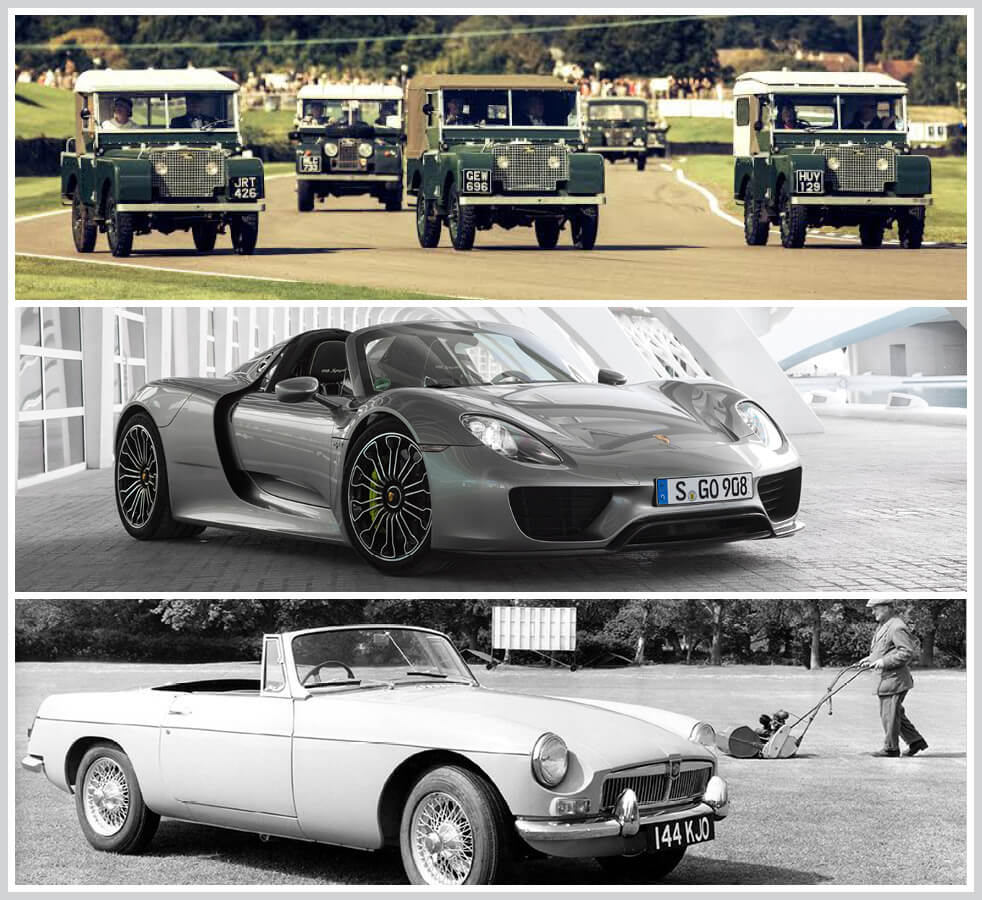 31. Porsche 911 (1963-present), sports cars
The 911 covers so many bases. It's brilliantly rewarding to drive, and yet practical to own and use daily. German engineering imparts a feeling of precision to all its controls. Has had a huge range of power outputs, but always the charisma of flat-six engines. Ever evolving but ever the same, more than a million cars later.
30. Porsche Carrera GT (2003-06), supercars
Porsche has a reputation for high-tech supercars, and this one certainly obeys that in its materials and mechanisms. But like the McLaren F1, Porsche kept it analogue, with a manual transmission, no hybrid assistance, and a screaming un-turbocharged engine. It's a switchblade-sharp, open-roof, sensory barrage.
29. Lamborghini Diablo GT (1999), supercars
Lamborghinis are the politically incorrect supercars, awesome yet hard to drive (and see out of). The GT had even more aggressive bodywork than a 'normal' Diablo, plus madder power from the V12, and two-wheel-drive instead of four to keep you on your toes. Diablo, of course, means devil in Spanish – it's about right.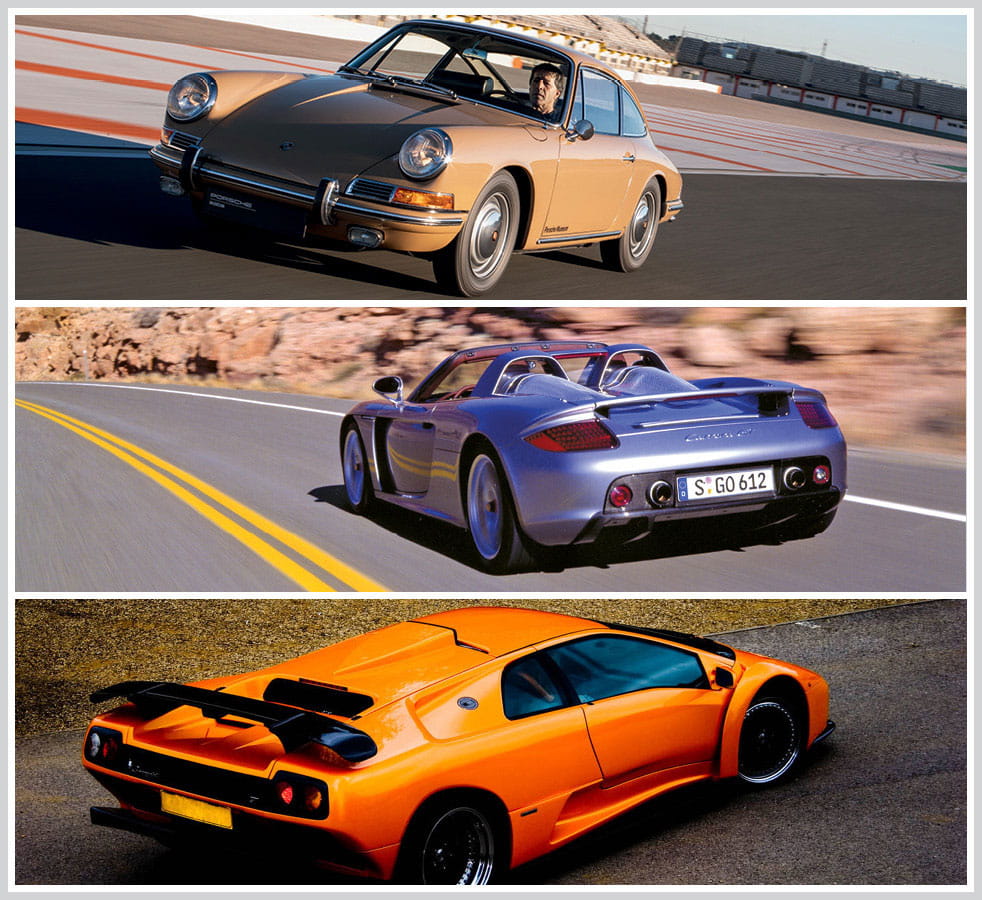 28. Cooper 500 (1946-1959), pioneering cars
This flyweight racer used a motorbike engine. For ease of running its chain drive, Cooper stuck the engine behind the driver. It performed way above expectations and Stirling Moss drove one in the first-ever race at Silverstone. Then Cooper adopted mid-engines for grands prix and the Indy 500, and soon every other entrant followed.
27. Toyota Prius (1997-present), pioneering cars
The first successful hybrid, and since then Prius is almost a generic term. This complicated system looked like a reliability nightmare, but after two decades and millions sold, often into brutal taxi usage, they've been utterly dependable. Frugal and soothing in urban and suburban driving.
26. Volvo P1800 from The Saint, TV cars
Celebrating its 60th birthday this June, the P1800 came to prominence in the early 1960s when it was driven by gentleman-cum-spy Simon Templar (played by Roger Moore), in The Saint. Moore loved the rather suave P1800 so much that he drove one off-screen as well as on.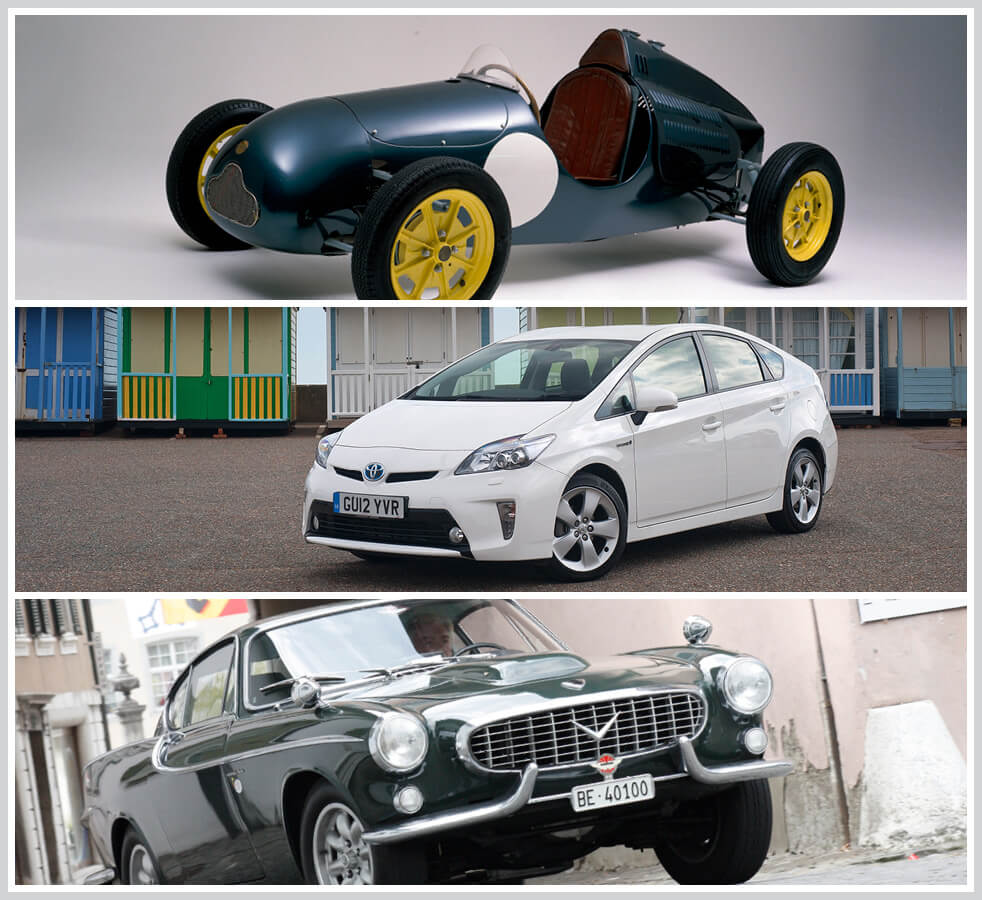 25. Toyota Land Cruiser 40 series (1960-1986), 4x4 cars
Toyota's first 4x4 venture was to build Jeeps for the US army's Korean war effort. It then developed its own machine, the 40 series, and it earned a fiercely loyal following for its ruggedness and reliability – the choice of people going to places where you really didn't want to break down.
24. Ford RS200 Group B rally car (1984-86), race and rally cars
Other rally cars here were derivatives of road cars, but Ford decided that for the brutally powerful Group B rally era it needed a purpose-designed machine. The engineers chose 4WD and a mid engine. The RS200 was said to have brilliant cornering, but ironically not enough power.
23. Audi Quattro (1980-91), 4x4 cars
Four-wheel drive isn't just for off-road adventuring. The Quattro showed it makes life far more secure with a powerful – in this case turbocharged – engine on wet or wintry roads. Which made this a new kind of sports car. Razor-edged styling with blistered arches bestow effortless '80s cool.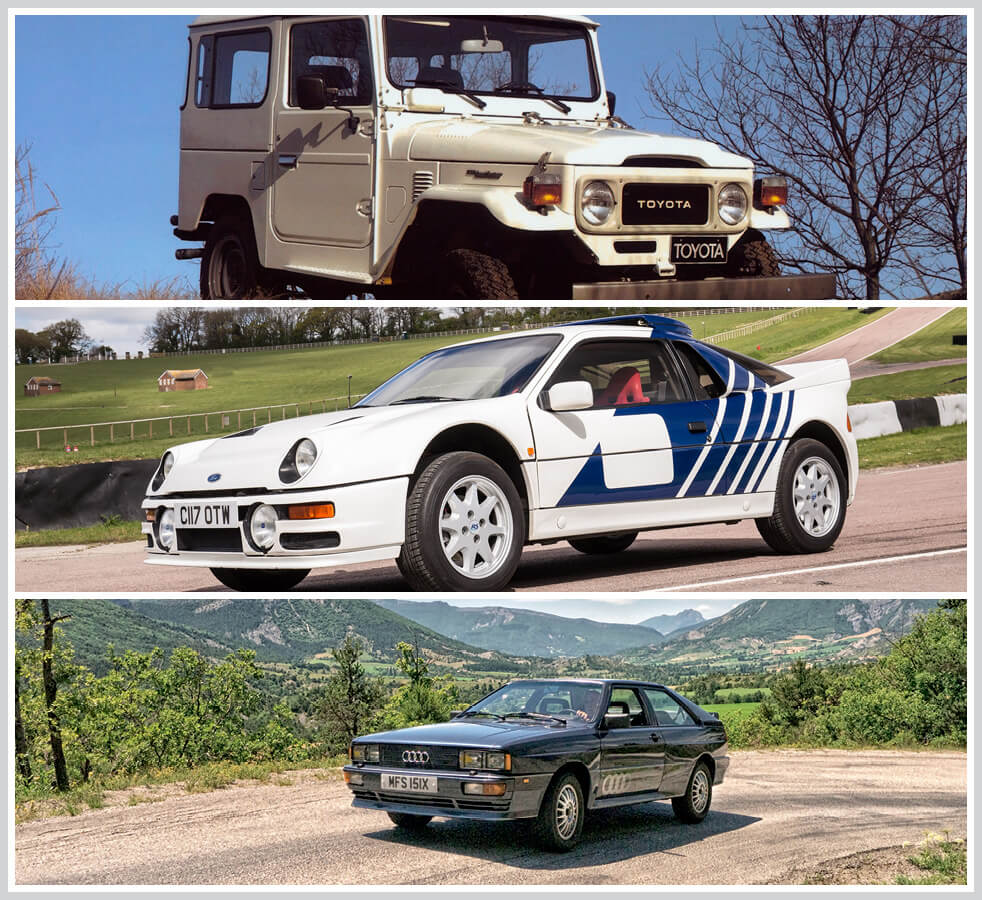 22. McLaren MP4/4 F1 car (1988), race and rally cars
In the 1988 Formula One season there were really only two drivers, Ayrton Senna and Alain Prost. And there was really only one car – the McLaren MP4/4. With those two racing legends at the wheel, it dominated utterly, winning all the 16 races except one. Honda's tremendously efficient, reliable turbo V6 helped.
21. Thrust SSC (1997), pioneering cars
This broke the sound barrier in Nevada's Black Rock Desert and became the world's fastest car. The record (763 mph) stands 22 years on, although many of the Thrust team and driver Andy Green are now having a stab at hitting 1000mph. At top speed, Thrust SSC's two jet engines made 100,000hp combined, guzzling at 0.006mpg.
20. Austin Healey 3000 (1959-67), sports cars
A classic British roadster, this was a successful part of the postwar-era export drive. Its oval grille and simple, swoopy styling are unmistakable. The simple chassis and brawny six-cylinder engine of this Big Healey iteration make it a reliable choice for long-distance tours and rallies.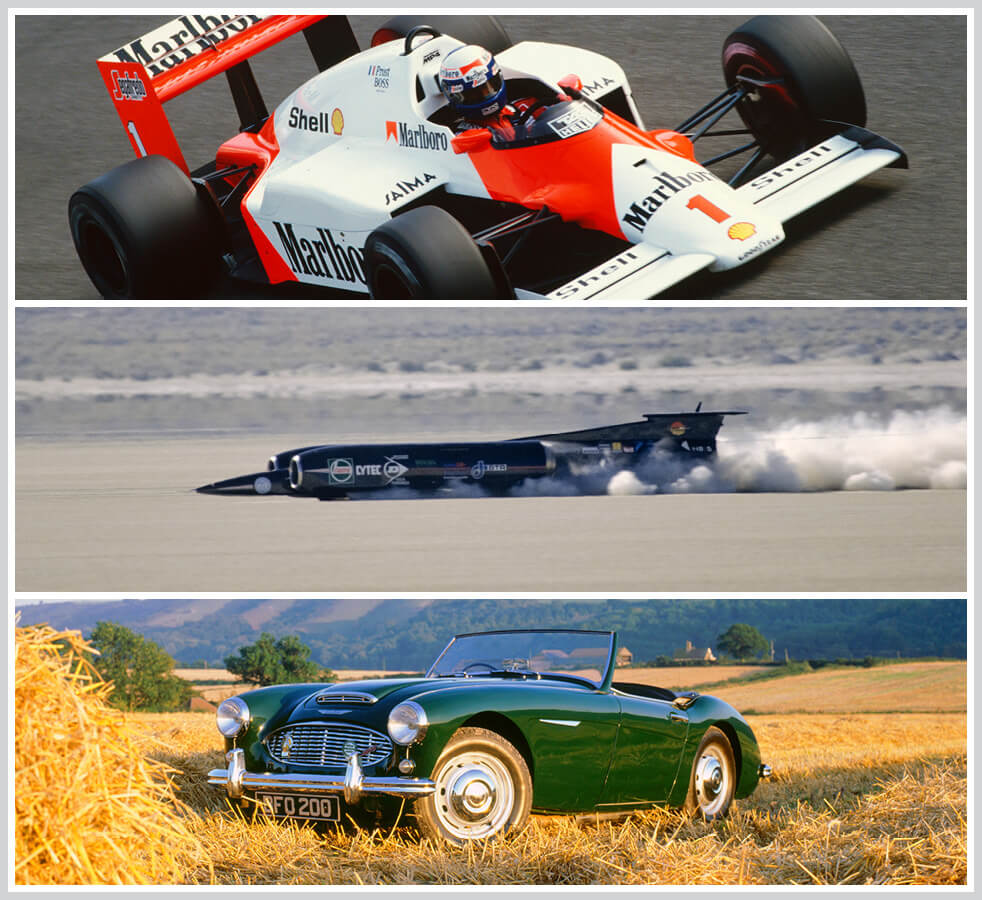 19. 1995 Subaru Impreza 555 (1993-1999), race and rally cars
In the mid 1990s the Japanese ruled rallying and it spun into road-car culture, a vivid rivalry between the Mitsubishi Evo and Subaru Impreza. With British drivers in Colin McRae and Richard Burns, musical flat-four engines plus a beautiful blue-and-gold regalia, the Subarus won our hearts. And several world championships.
18. Bentley Blower (1929-31), supercars
Fastidious engineer WO Bentley didn't want his car supercharged, but racer Tim Birkin did, and persuaded the boss to do so. It nearly doubled the power, at the cost of reliability in long events. The sight of that dustbin-sized blower hanging over the front axle certainly cleared the traffic.
17. Ford Cortina Mk1 (1962-1966), people's cars
The Cortina wasn't technically sophisticated. It was simply an opulent-looking and biggish car for a low price. It didn't drive very well, but the Cortina gave people what they wanted and was a smash hit. Everyone of a certain age remembers those 'radioactivity symbol' tail lamps.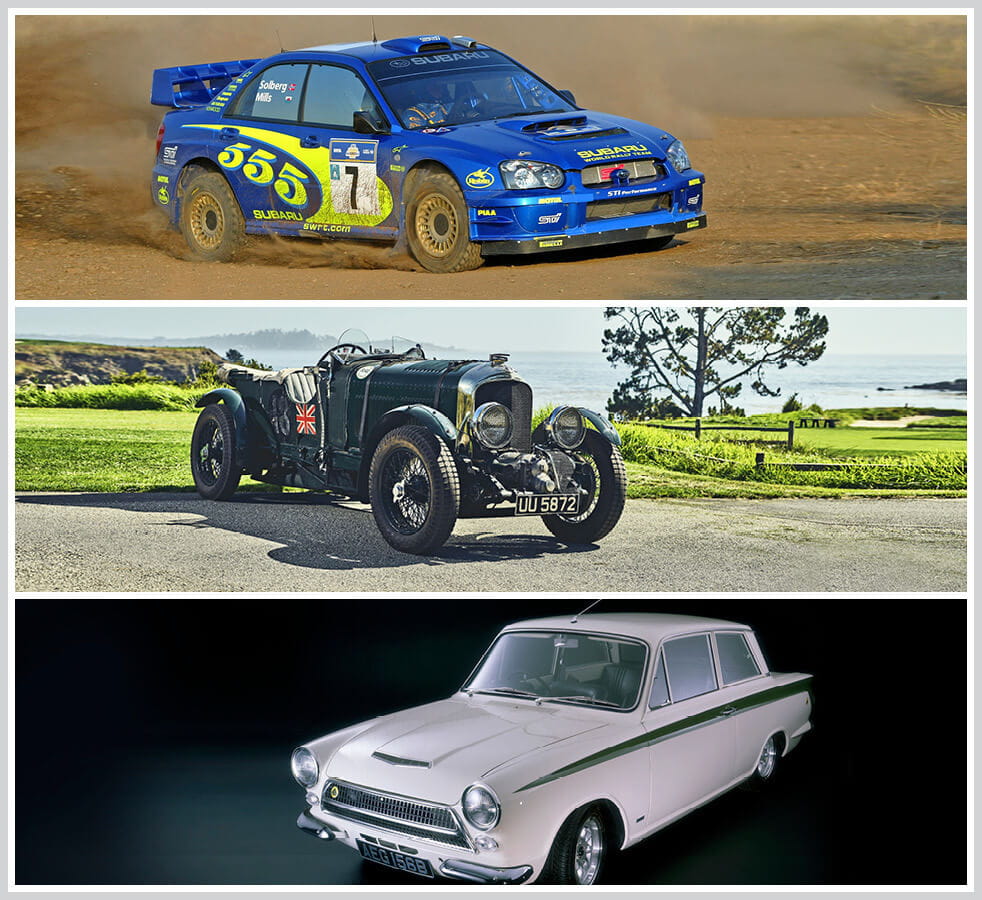 16. Ford GT40 (1964-66), supercars
Recently lionised in cinemas, this was the car Ford in Detroit commissioned to break Ferrari's early-'60s domination of Le Mans. Developed by an English workshop, it looked space-age and took a famous 1-2-3 in 1966. The road version was ridiculously similar to the racer.
15. Bugatti Veyron (2005-2015), supercars
A money-no-object reincarnation of the great old Bugatti name, now owned by the VW Group. The numbers were unprecedented: 1001 horsepower, 250mph (both rose later in its life), 16 cylinders, four turbos. And yet it's a pussycat to use, at least until you floor the right-hand pedal.
14. McLaren F1 (1992–98), supercars
Engineer Gordon Murray's obsessions: brilliant central driving position, ultra-responsive V12 engine, minimal weight, clever aerodynamics, jewel-like detailing to its core and unmatched purity in its controls. He nailed it completely, and nothing faster was made for over a decade. They're worth seven figures now, not only because they're regarded by many as the greatest supercar of all time, but they're incredibly rare – only 106 were built.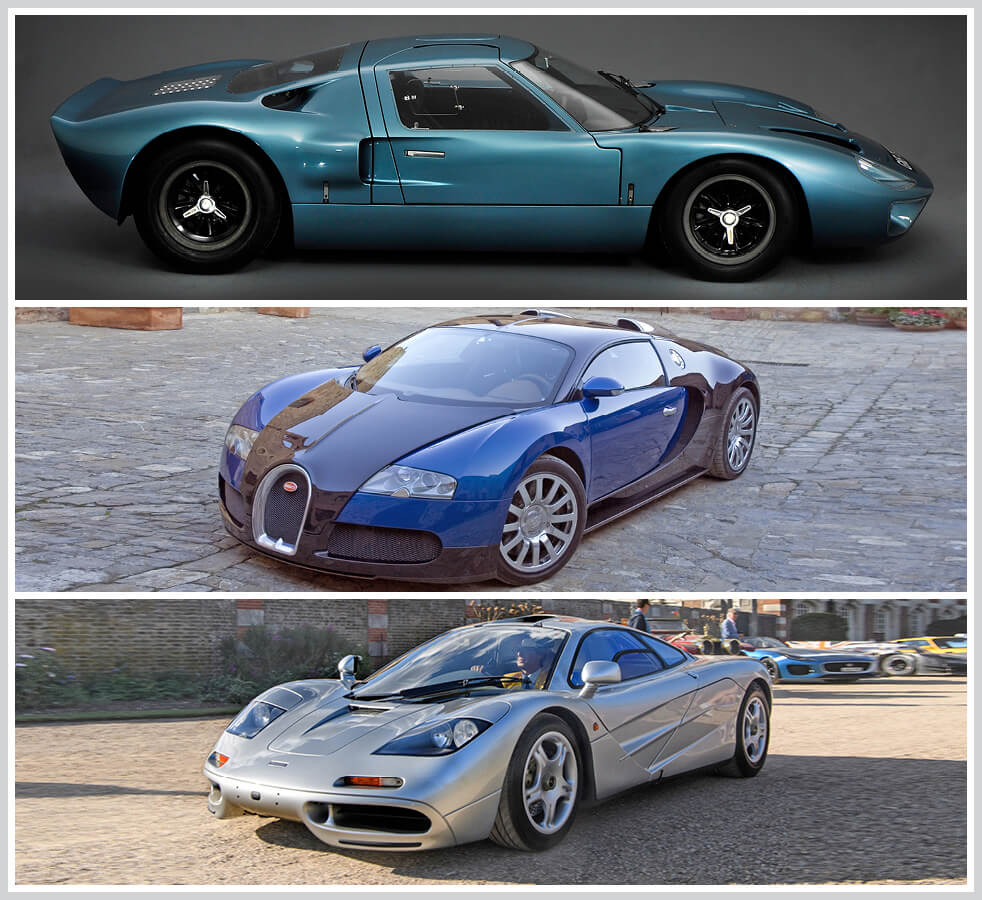 13. Reliant Regal Van from Only Fools and Horses, TV cars
The 1967 Reliant Regal Supervan III might have taken itself seriously were it not for being cast as Del Boy Trotter's main mode of transport in Only Fools and Horses. As it was, the battered three-wheeler, emblazoned with 'Trotter's Independent Traders', was a source of near-constant ire, not least when packed with exploding sex dolls.
12. Tesla Model S (2012-present), pioneering cars
The car that proved battery-electric drive wasn't just for short-range town use. It's been modified, but not that much, since launch, yet after all these years it remains the world's longest-range electric car and one of the fastest-accelerating of any kind. Closest, too, to self-driving.
11. VW Beetle (1938-2003), people's cars
The bug's designer, Ferdinand Porsche, was aiming for durability, economy, simplicity and roominess. Its charismatic shape and distinctive happy engine noise built an emotional connection too – many of these have been cherished. The record of 21.5 million built without substantial modification will likely never be beaten.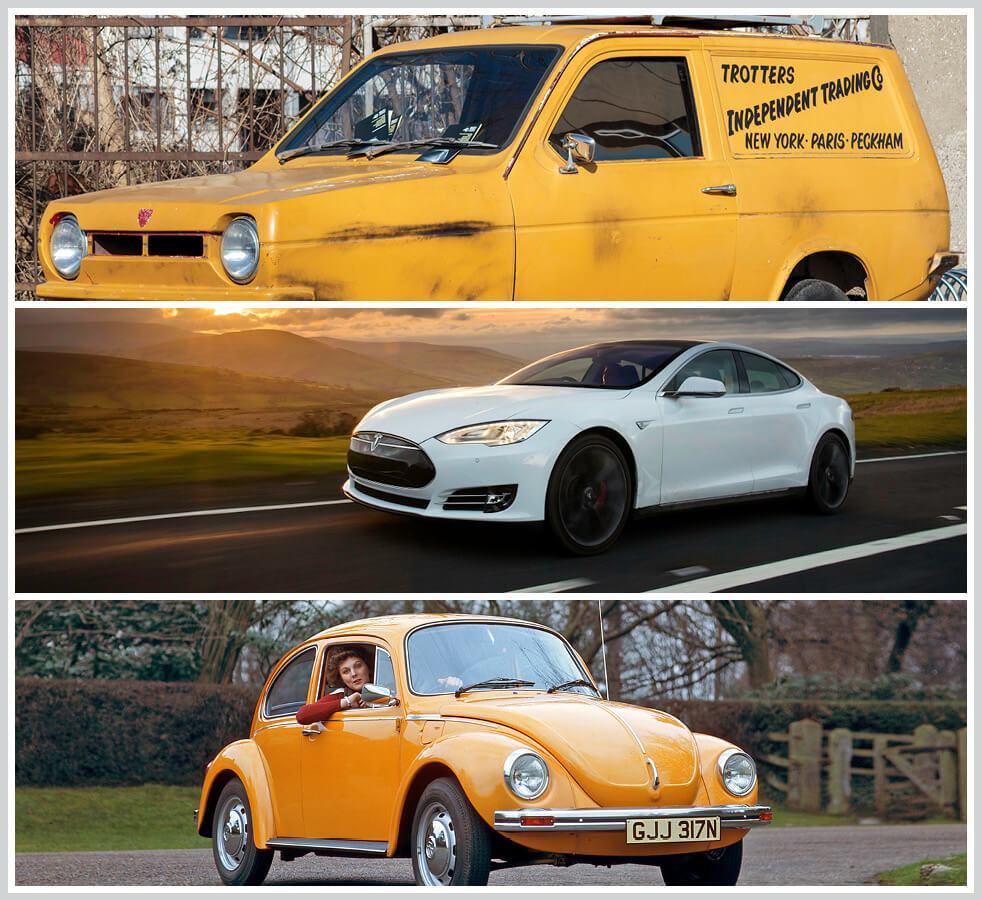 10. Citroen DS (1955-75), pioneering cars
Was there ever a car so far ahead of its time? Under that gorgeous, space-age aerodynamic bodyshell there was levitating hydraulic suspension, and the high-pressure hydraulics also assisted the steering, clutch and brakes. Fabulously comfortable, it sold like crazy right from launch. FYI, déesse translates to goddess.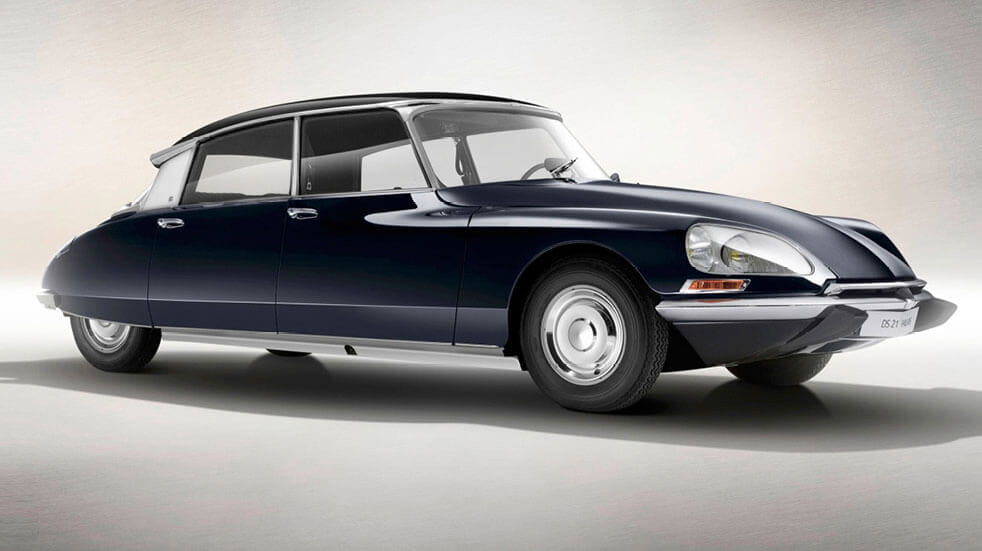 9. Audi Quattro (1981-86), race and rally cars
The first rally car with four-wheel drive, it revolutionised the sport. The turbocharged five-cylinder, its charismatic sound echoing through the stages, was the first rally engine to go above 300bhp. Another thing: it was this car in which driver Michele Mouton was the first woman to win a world championship rally.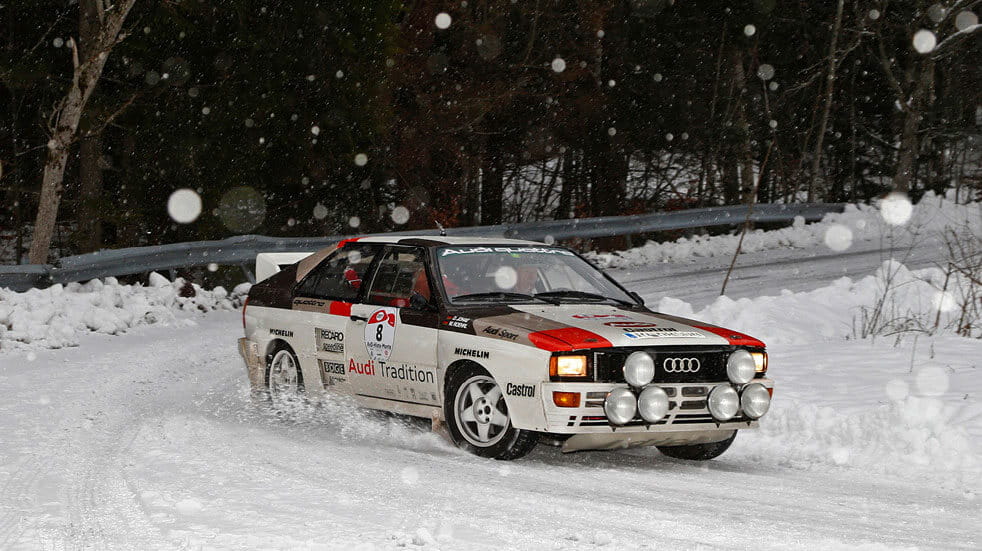 8. Ford Fiesta (1976-present), budget/everyday cars
The first Fiesta launched in the wake of the 1973 fuel crisis, but it showed that an economy car needn't be a drudge. It looked bright and modern and won Britain's hearts. It moved with the times, and today the Fiesta is the best small car to drive. Also, the bestselling for the past decade.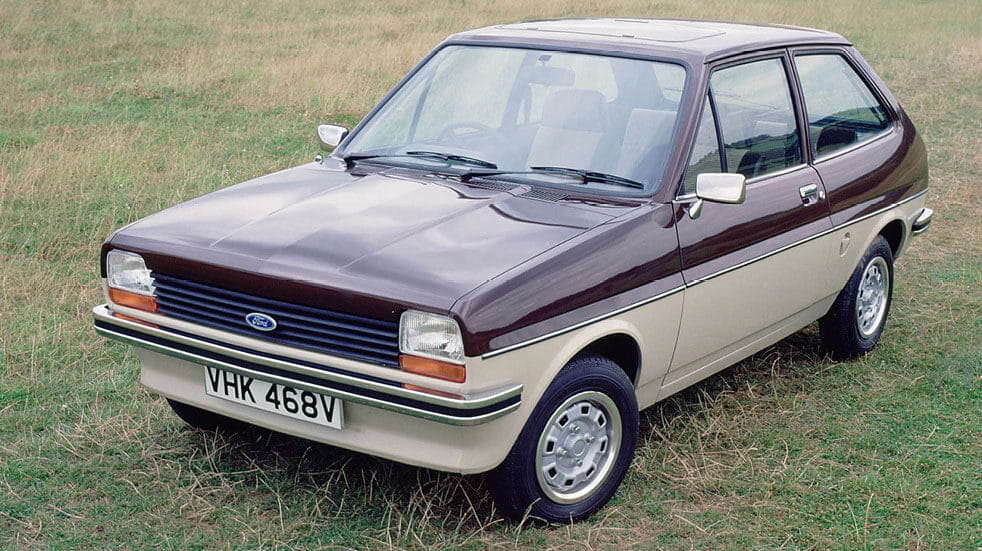 7. Volkswagen Golf (1974-present), budget/everyday cars
The mid-size hatchback is a ubiquitous formula, but only VW does it so flawlessly – creating Europe's bestselling car for donkey's years in the process. Throughout eight generations, the economy Golfs have made you feel like you've invested rather than purchased, while the GTIs have made you feel glad to be alive.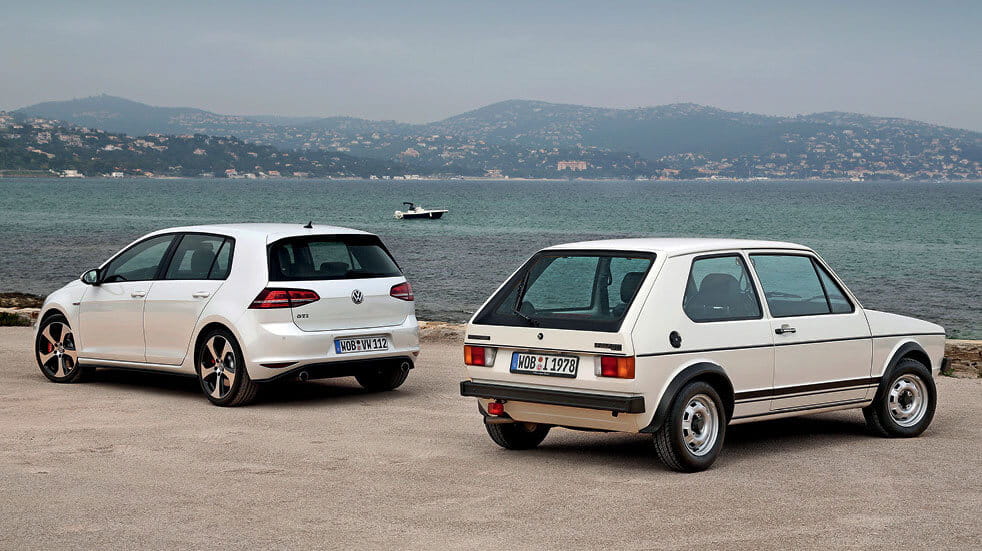 6. Mark II Jaguar from Inspector Morse, TV cars
If you're going to interrogate lofty Oxford dons, you may as well do it in style, and the titular Inspector Morse (John Thaw) did exactly that in his burgundy Jag. In the Colin Dexter novels Morse drove a Lancia, but when it came to the TV series, Thaw felt strongly that the detective would drive a British car and that, as they say, was that.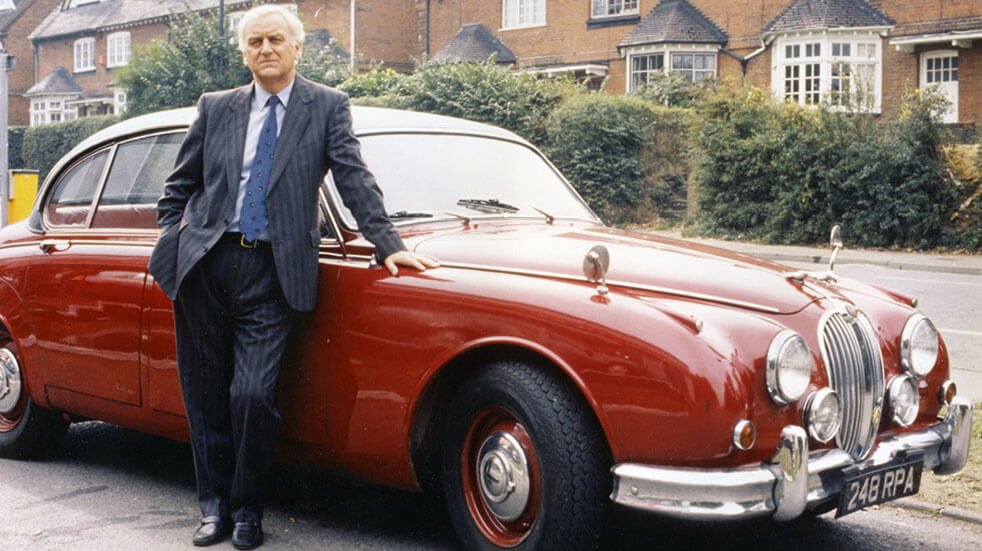 5. Mini Cooper from The Italian Job, movie cars
Imagine how different The Italian Job (1969) might've been if director Peter Collinson had accepted the Fiat 500s offered to him in place of the Mini Coopers the BMC (British Motor Corp) refused to loan. Collinson, however, insisted that he needed British cars for his British film and, in doing so, made history.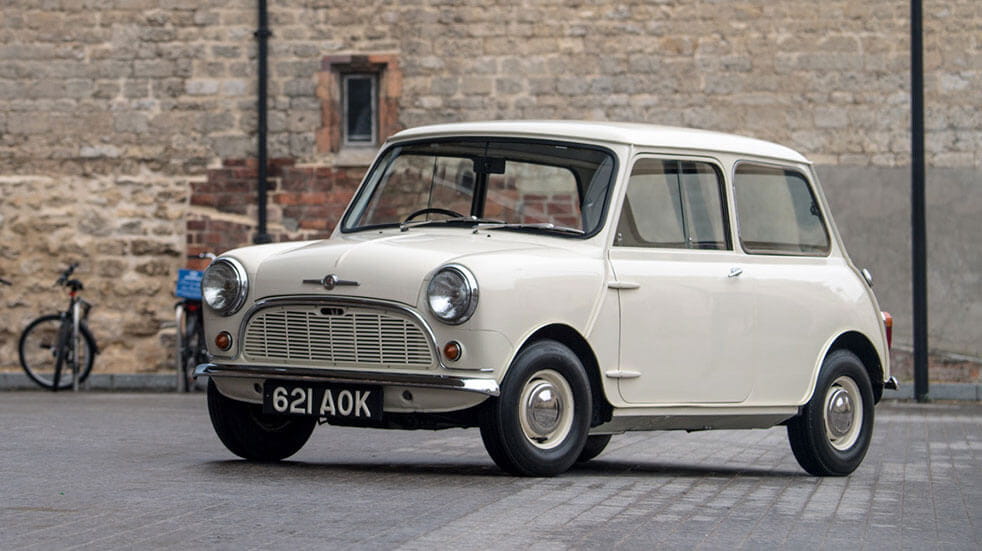 4. Mini (2000-present), people's cars
This is a small luxury sports car, not a competitor for other 'superminis'. It's about style, huge driving fun and the sort of high-tech options usually reserved for bigger BMWs – Mini is now owned by that firm. Part of the appeal is the visual resemblance to the original 1959 Mini.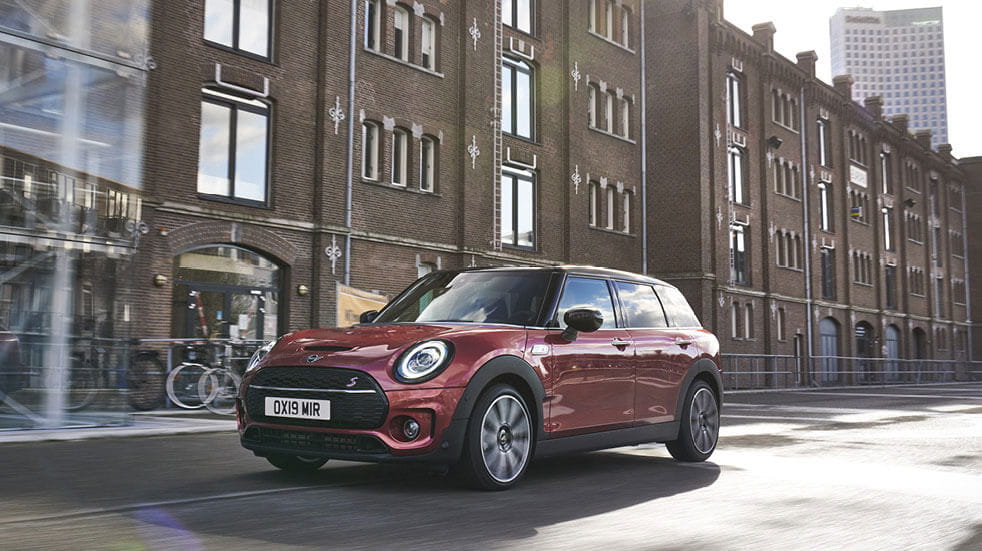 3. Jaguar E-Type (1961-75), sports cars
Gorgeous enough to make you weep, the slinky outline is '60s British glamour made metal. It isn't making empty promises either, for beneath the endless proboscis is an eager, growling engine. Sophisticated suspension kept things tidy in the corners too; it won significant races.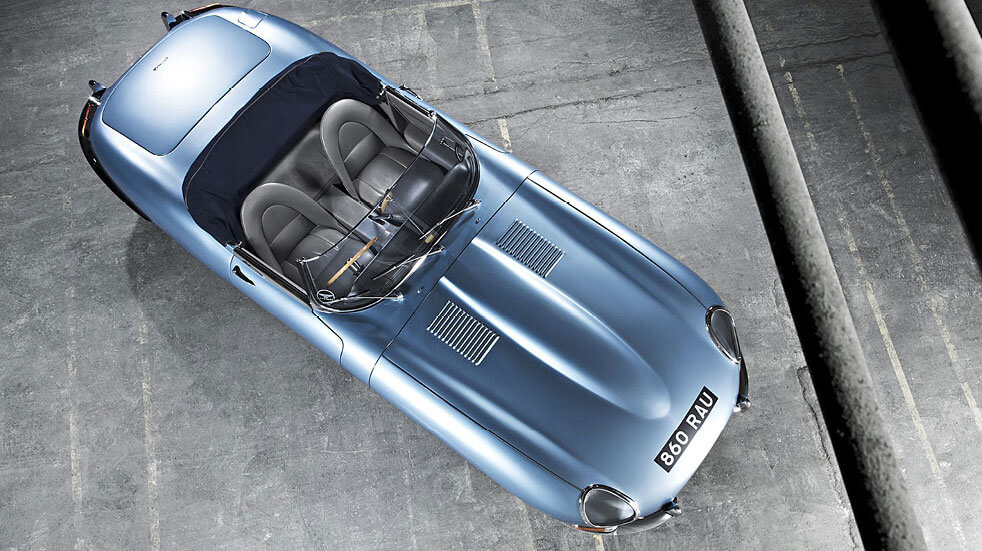 2. Aston Martin DB5 from James Bond's Goldfinger, movie cars
Despite Ian Fleming writing Bond behind the wheel of a DB Mark III, special effects expert John Steers persuaded the production company of 1964's Goldfinger to opt for a modified DB5 instead, inadvertently making it 'the most famous car in the world'. Last year, its celebrity status still prevailing, the same car – all 13 special effect modifications restored, according to Sothebys – sold for nearly £5 million in Monterey, California.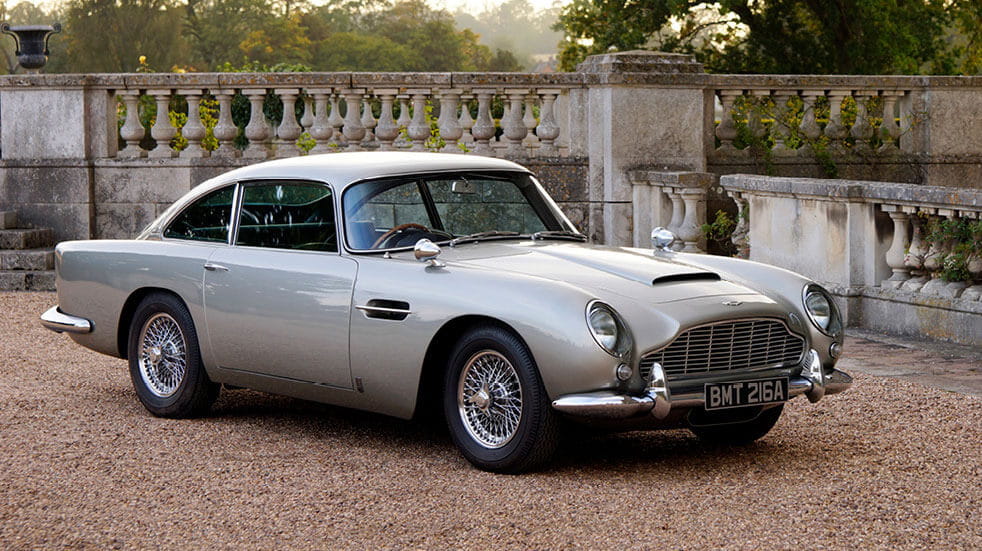 1. Range Rover [1970-present), 4X4 cars
The car that could do it all. Ever since the word go, the Range Rover has had remarkable off-road ability. But it's also been as quick, refined and smooth-riding as luxury cars, thanks to V8 power and soft suspension – latterly enhanced with clever air spring and anti-roll systems.

Perhaps its makers didn't realise what a genius product they'd created. So the customers told them: it began with PVC seats and rubber floor covering but every time a plusher trim was launched, it instantly became the bestselling version. The stylists' spare lines and taut surfaces managed to bring real elegance to a bulky vehicle.

The Range Rover became an urban status symbol as well as a rural one, where it takes the wealthy to horse trials and ski lodges. Many of its buyers have several cars, but this the one they use most. The Range Rover showed that utility doesn't contradict luxury, but enhances it.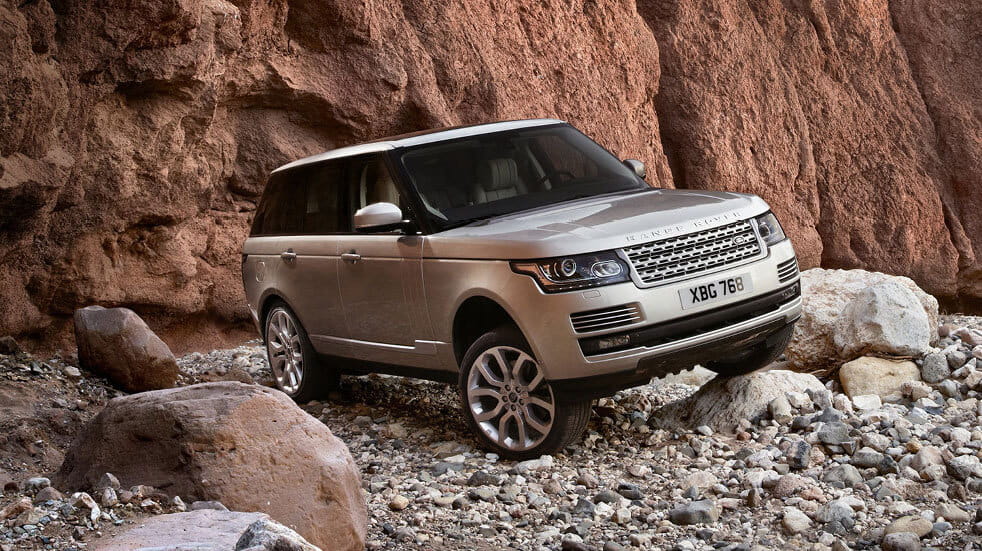 ---
Spend an evening with motoring icons
Boundless is hosting an exclusive member event at the British Motor Museum in Warwick on 17 September. The evening will include a private museum viewing, a drinks reception and three-course dinner with wine and live music, plus a Q&A with industry experts, all for £99 per person.