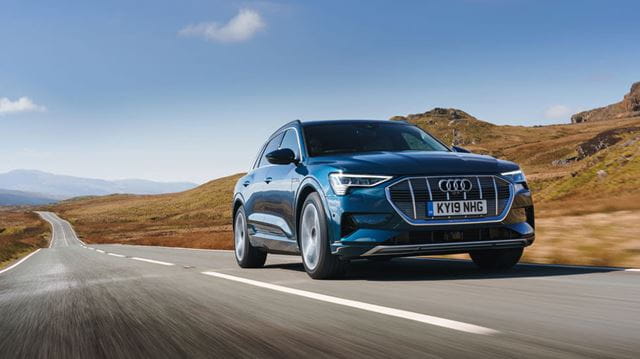 From a new version of the popular Nissan Leaf to MG's reasonably priced offering, here's a clutch of EVs that cover all car types to suit your needs and pocket.
SUV: Audi E-Tron
This is typical Audi: slightly aggressive-looking, heavy and solid, four-wheel-drive and crammed with high tech. Its weight eats into efficiency, so I struggled to get far beyond 210 miles despite its large battery capacity. The steering isn't very engaging. Instead you're borne along in splendid isolation and quiet.
The biggish and expensive-looking interior is decked out with high-res screens – on the test car these included displays by the air vents showing images from optional small rearward cameras that will set you back £1,250. These replace door mirrors to cut wind drag for a couple more miles' range, but deprive you of binocular depth perception. It's not the only example in the E-Tron where 'helpful' technology gets in the way.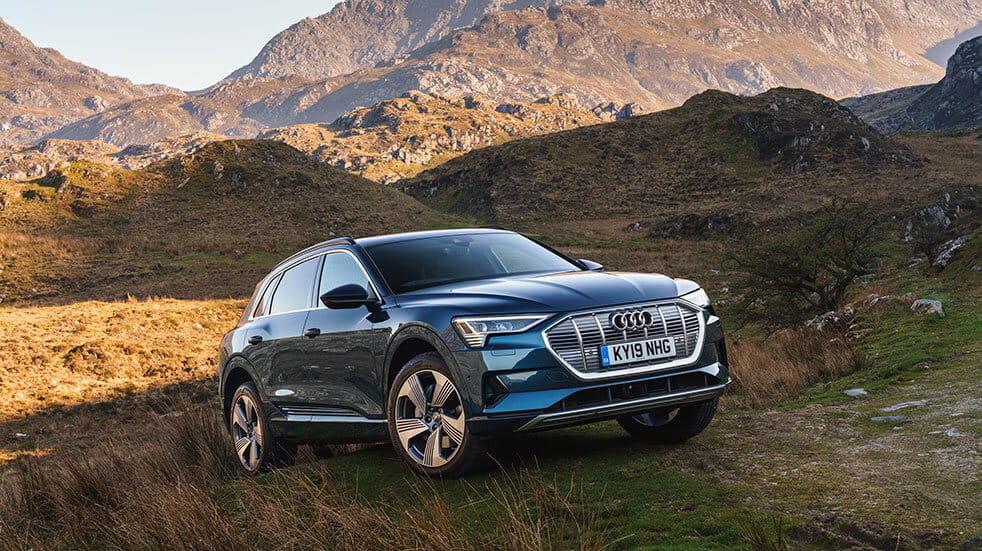 The spec: Audi E-Tron 55 Quattro Launch Edition
Engine: Two electric motors, 4WD, single-speed
Power & torque: 402hp, 664Nm
0-62mph: 5.7 seconds
Top speed: 124mph
Range: 241 miles (WLTP)
Battery capacity: 95kWh
Price: £78,810 (range starts from £68,060)*
Supermini: Peugeot e-208
The brand-new Peugeot 208 will also be available as electric, and I drove a close-to-finished prototype. Comfort and interior space match the petrol version, which means good and average-plus respectively, among the supermini class. The dash design and material quality are very strong, helped by a speedo readout that's magically suspended in front of the other dials.
Few small cars are bought to pound motorways, so the battery capacity is aimed more at a week's commuting.
The prototype's brakes were slightly unprogressive – they're working on it. Otherwise, it's a good drive. Performance is perky for a supermini, the ride smooth and the cornering keen. It doesn't actually mind motorways and charges quickly at the right service station posts.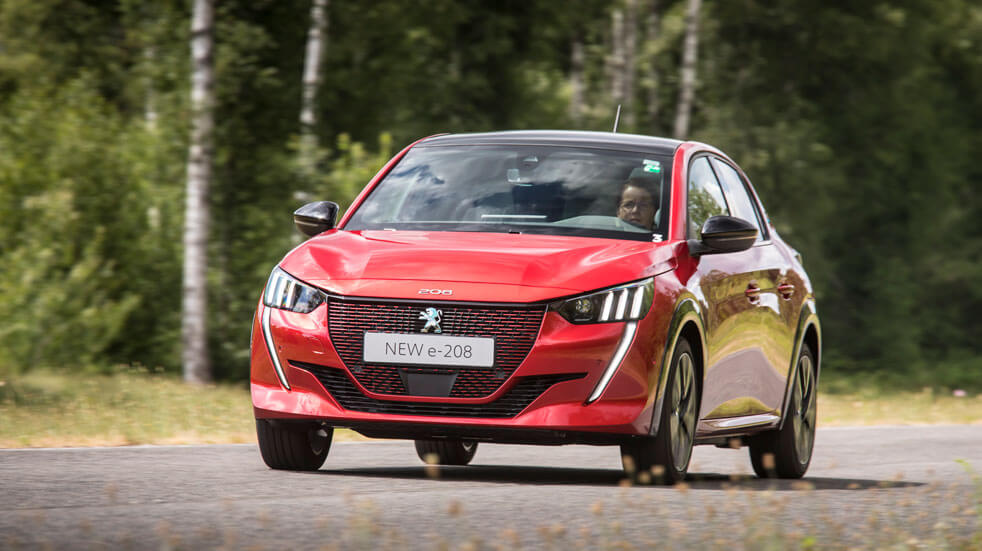 The spec: Peugeot e-208 GT-Line
Engine: Electric motor, FWD, single-speed
Power & torque: 136hp, 270Nm
0-62mph: 8.2 seconds
Top speed: 99mph
Range: 212 miles (WLTP)
Battery capacity: 50kWh
Price: £28,100 (range starts from £25,050)*
---
Read more of our expert car reviews
---
Crossover: Kia e-Niro
The e-Niro (yes, they got Robert D-ditto to do an ad for it) looks pretty straightforward. But under the skin, its clever tech and optimisations mean that it's not at all hard to match or beat the excellent WLTP range figure. And because it's efficient enough to do this on a modest 64kwh battery, recharge times aren't too long.
This is a roomy family machine that would slot right into daily life. It's stable, with well-calibrated steering and pedals, so it's easy to drive smoothly. Active safety features work well too. For range, space, spec and tech, this car is seriously good value. If this model just looks too normal for you to be sold on it, the same electric system will soon come in the funkier shape of the electric Kia Soul.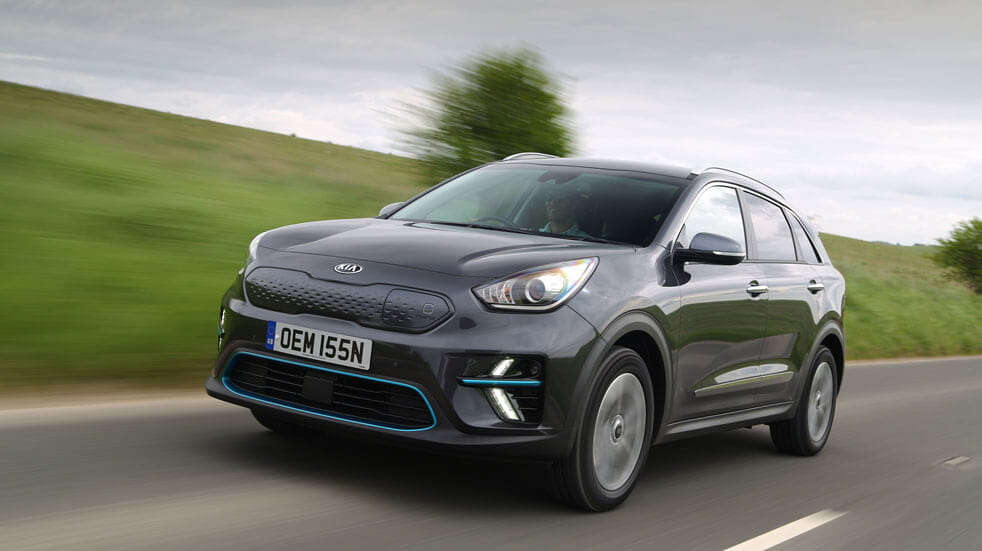 The spec: Kia e-Niro First Edition
Engine: Electric motor, FWD, single-speed
Power & torque: 204hp, 395Nm
0-62mph: 7.5 seconds
Top speed: 104mph
Range: 282 miles (WLTP)
Battery capacity: 64kWh
Price: £32,995*
Hatchback: Nissan Leaf e+
The Leaf is the electric stalwart, with 400,000 sold and many still reliably beetling around after nearly a decade. The e+ is a new, additional version of the second-generation Leaf, with more battery capacity and motor power. You can go further, or drive with more vim – not both, because fast driving depletes any EV's range. The battery is air-cooled, not as effective as the liquid-cooling many other EVs use, so the maximum charging rate is limited: adding 150 miles' worth takes 75 minutes.
On the go, it's easy and rather fun to drive, and has advanced driver assistance for motorways and parking. But this long-range version approaches the cheapest Tesla Model 3's price. As a result, maybe the standard Leaf's 168 miles will be enough for you, at £5k less.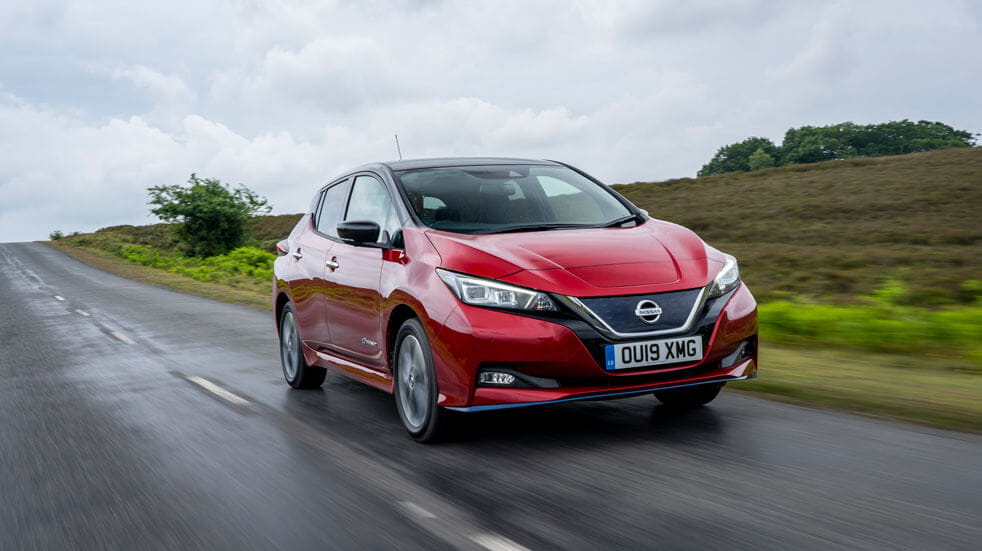 The spec: Nissan Leaf e+ Tekna
Engine: Electric motor, FWD, single-speed
Power & torque: 217hp, 340Nm
0-62mph: 6.9 seconds
Top speed: 98mph
Range: 239 miles (WLTP)
Battery capacity: 62kWh
Price: £35,895*
Crossover: MG ZS EV
Forget what you thought you knew about MG. The name is now owned by a vast Chinese conglomerate, SAIC, which also boasts major joint ventures with VW and GM. UK sales are small, but they're growing fast.
The ZS began life as the company's petrol-powered smallish family crossover – this is a successful electric version. Acceleration is more than adequate, enough to chirrup the front tyres. It's straightforward to drive, and very closely approaches the official 163-mile (WLTP) range.
The interior is well-organised and equipped, if a bit drab. Despite the modest outside size, you've got good family space inside and in the boot, too. Best of all is the price; it wouldn't be bad if it had a petrol engine, but as an electric model it's a bit of a steal.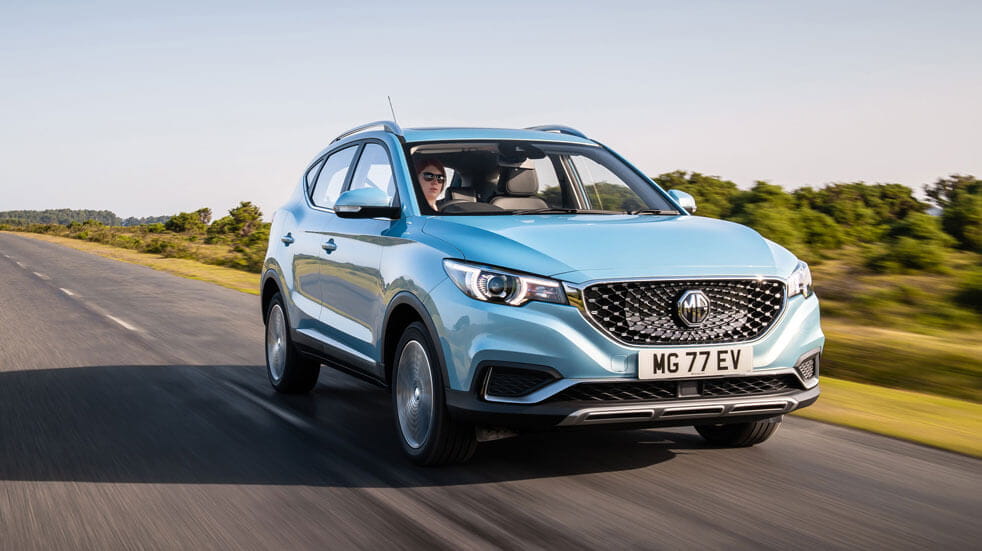 The spec: MG ZS EV Exclusive
Engine: Electric motor, FWD, single-speed
Power & torque: 143hp, 353Nm
0-62mph: 8.5 seconds
Top speed: 87mph
Range: 163 miles (WLTP)
Battery capacity: 44.5kWh
Price: £26,995 (range starts from £24,995)*
Hatchback: BMW i3
EVs keep improving. While looking the same, the i3 has had three generations of battery in five years and this latest one will go nearly 200 miles. This is still not the best range for the price, but the i3 has other qualities.
Some people (not me) find the body design a bit attention-seeking or even virtue-signalling, and its 'clap-hands' doors (rear-hinged back doors) mean that rear passengers have to close theirs first. But once inside, everyone loves the observation-lounge feel as the outside world passes its huge windows. The cabin materials and design evoke a smart café more than a car, and vegans can choose recycled non-leather seats. It rocks you about on really bumpy roads but, hey, it's a hoot to drive, manoeuvrable, sharp-steering and precisely responsive.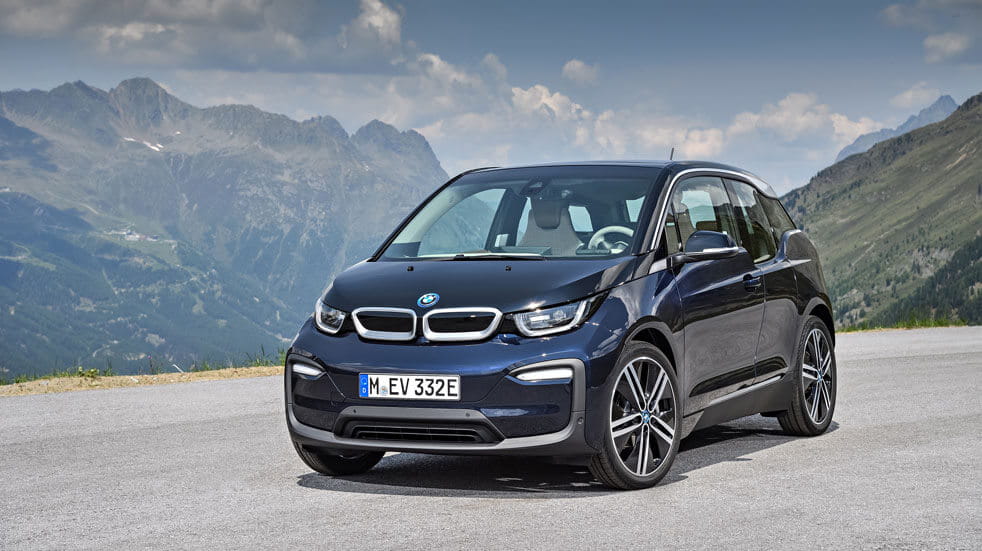 The spec: BMW i3 120Ah
Engine: Electric motor, RWD, single-speed
Power & torque: 170hp, 250Nm
0-62mph: 7.3 seconds
Top speed: 93mph
Range: 192 miles (WLTP)
Battery capacity: 42.2kWh
Price: £31,850*
*After Government Grant, Subject To Approval