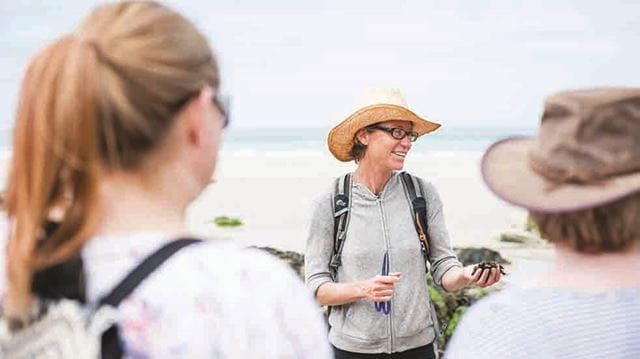 Foraging is defined in the Collins English Dictionary as the 'act of searching for food and provisions'. To our ancestors, of course, it was the equivalent of today's weekly online shop.
But with food campaigner and 'back-to-basics' champion Hugh Fearnley-Whittingstall spearheading a foraging renaissance, the joys of scouring our environment for nature's bounty are being rediscovered.
Caroline Davey, the owner of Fat Hen, a wild food cookery school set in the rolling Cornish countryside in St Buryan, just outside Penzance, is a passionate foraging advocate. She believes that we have lost our natural intuition for living off the land, and with 75 per cent of the world's food provided by just 12 plants and five animal species, that it's vital we look for ways to get back to our roots.
We're joining the Forage, Cook & Feast Day on a brilliant sunny day in July, and a quick round of introductions in our 10-strong group reveals a wonderfully diverse gang. There are Gill and Ellie, smart young urbanites who swap WhatsApp pictures of their growing accomplishments back in their city pads, and local artist Glynn and his partner, who rave about their home-made elderflower champagne.
My lack of knowledge about all things foraging is highlighted when Caroline says that, as part of today's activities, we'll be picking Fat Hen to cook as part of the three-course feast that we'll help chef Andy Hoyle and his team prepare. Turns out that it's an edible kind of plant, not a plump farmyard bird. Though overlooked now, Fat Hen was eaten as a vegetable from Neolithic times to the 16th century. It was a staple in the UK, and it's still a popular choice in India today.
It's the first of many fascinating facts that Caroline shares, and she certainly knows her (wild) onions. She worked as an ecological consultant for 11 years, and knows the area like the back of her hand after supplying foraged goodies to renowned local pub The Gurnard's Head. This part of the UK offers rich pickings for the novice, too, with spring and autumn the prime seasons to find edible treasures.
An optional part of the day's programme is to 'prepare' a freshly killed rabbit. With over 50 million of the creatures in the UK, they're a truly sustainable meat source. There's the option of making gnocchi for those who can't face it but, as an occasional carnivore, it feels an important part of the experience.
Then, accompanied by Caroline's super-friendly collie dog Molly, and armed with trugs to load up with our haul, we head to nearby Sennen Cove. A popular spot with surfers and holidaymakers, this sandy crescent is also awash with seaweed (there are more than 600 kinds in the UK), and we'll be eating some for lunch, though thankfully not Gutweed. This slimy sea plant is as unappetising as it sounds!
The golden rule for seaweed is to make sure it's 'alive' – ie, thriving on a rock – so don't pick up the dead stuff littering the beach. However, it's certainly not one of nature's fast foods: you may have to wash it up to 10 times to get rid of pesky sand grains. There's also still a bit of uncertainty about seaweed's heavy-metal content (we're not talking Black Sabbath: arsenic is commonly found in the stuff picked around Cornish shores).
And speaking of poison, Caroline points out one of nature's deadliest plants. It's found near streams and to the untrained eye looks like common cow parsley. But when we look closely, we see it's Hemlock Water Dropwort (there's an absence of the hairs found on the leaves and stems of its lookalike cousin). This member of the parsley family can kill.
Then it's back to the school barn to cook our feast. On our meander back up the cliff, I realise that a big part of the pleasure of foraging is the fact that it's gently meditative. Our appetites are soon assuaged by nature's bounty (turns out Fat Hen has a spinach-like quality and Caroline's rose and elderflower ice cream is heavenly) and, somewhat unexpectedly, our souls are nourished, too.
For more foraging day details, visit fathen.org or call 01736 810156