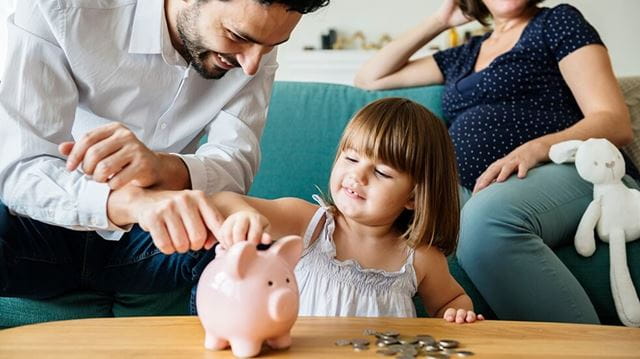 The last thing you need in January is a heavy debt hangover from Christmas. Start now and you can spend and save clever and win at both Christmas and New Year.
1. Work out a budget
Key to not overspending in the run-up to the festive season is to work out a budget – and stick to it. After all, there's no point in starting off the New Year in debt just for the sake of one day. According to MoneySavingExpert.com, by the time you tot up the cost of presents, food, travel and decorations, the average Christmas spend per household is about £500.
Once you've worked out how much you're going to spend, it'll be much easier to resist buying items on impulse that you don't really need. Work out how much food you need to buy with Love Food Hate Waste's calculator for the right portion sizes.
We've gathered together great ways you can save on your Christmas food and drink with your Boundless shopping discounts. And how to make savings on your Christmas tree, decorations and cards, and Christmas days out at the theatre and cinema.
---
Read more money-saving advice from the experts:
---
2. Use points and cashback
Christmas is a great time to use any of the points you have collected through the year. Boots Advantage points can be used to spend on the 'buy two get one free' offers they have around this time of year. With Tesco Clubcard points you can get three times their value in discounts on bicycles, jewellery, train tickets and more.
The best value supermarket card is the Iceland Bonus Card (a prepaid card you use in store) where Iceland adds on £1 for every £20 you upload to the card.
---
3. Borrow wisely
Do everything you possibly can to not borrow for Christmas, including getting as much as you can for nothing (check out MoneyMagpie's advice on how to do Christmas for free). But if you have to borrow, do it as cheaply as possible.
The ideal is to go for a credit card that offers 0% on purchases. If your credit rating is good enough, there are amazing deals around with 0% periods of up to 27 months, which would enable you to pay off the debt bit by bit without paying extra in interest.
If your credit rating isn't so hot, join your local credit union for reasonable and flexible loans. Generally, it will want to see you saving first, so join now in order to qualify for a small loan. Find your nearest credit union using Find Your Credit Union.
---
4. Switch accounts
Want to make some instant money for Christmas? Simply move your current account to one that rewards you for switching. This has been made much easier and quicker by the Current Account Switching Service, which guarantees all your standing orders and direct debits when you switch. It's also all supposed to be done within seven days of your application, so you can still do it in time for the festive season.
Banks offering incentives include HSBC (£175 cash) and M&S Bank (offering £180 in vouchers).
---
5. Find hidden Amazon savings
Amazon is the easy one-stop shop for your Christmas shopping, from DIY to DVDs, handbags to hardbacks. But did you know it has discount pages in which you can potentially make huge savings?
Keep an eye on Amazon's Today's Deals page, and make use of Money Saving Expert's Amazon discount finder, which enables you to input various parameters (what you'd like to buy, price range etc). It will then create a custom Amazon search results page for you. It's also worth using Camelcamelcamel's Amazon price tracker, which alerts you when prices drop.
---
6. Sell for Christmas
Now is a great time to declutter and make money online for Christmas by selling all the things hanging around your home. According to Gumtree, the average household has £2,589-worth of household items sitting around unused and unwanted. So raid your cupboards.
Swiping the barcode with the app at get instant cash on books, CDs, DVDs and games from Ziffit and sell clothes and gadgets on eBay. Find out about more ways to sell unusual or bulky items with the help of Money Magpie's Clear Your Clutter Day Campaign.
---
7. Get baking
If you're handy in the kitchen you can also make money for the festive season by making Christmas cakes and sweets and selling them at car boot sales and markets. There are a number of other ways you can make money for Christmas too, which you can find in the free Make Money for Christmas ebook from Money Magpie.
---
8. Cut postage costs
To avoid having to send your Christmas cards first class, make sure you post them before the last Christmas posting date for second-class letters – this year it's Wednesday 18 December (go to the Post Office for the full list of Christmas last posting dates for Royal Mail and Parcelforce).
For larger items, if they weigh more than 2kg, you can make significant savings by using a courier instead of Royal Mail (many of which will collect items from your home). To get started, go to Inter Parcel, which books delivery slots with a wide range of couriers and then sells them on to the public. Input the details of your parcel and where it's being delivered to on the website, and you'll be presented with a wide range of delivery options to choose from.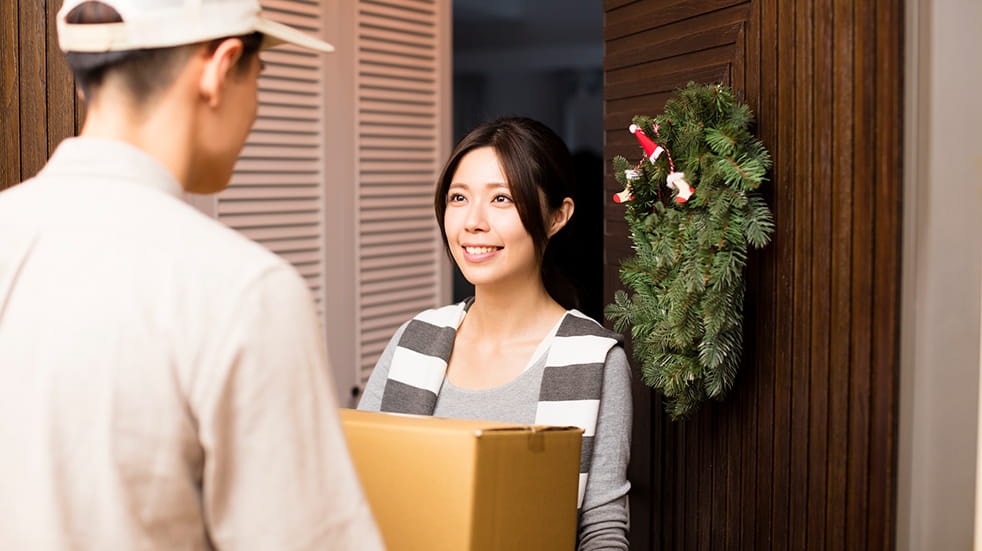 Cut the costs of delivering your Christmas parcels.
---
9. United you stand
The best way of all to save money in the run-up to Christmas is to get together with friends and family and agree how much you won't spend on each other this year. Maybe agree with the adults that you won't buy presents for each other, just the kids. Or make a plan to go out for dinner together as your 'present' to each other. Try a Secret Santa with work colleagues or even family members, where you each just buy one good present for one person rather than lots of small gifts.
If you can persuade them, get the family to agree to having a 'Christmas Day + 2' where you don't actually have Christmas until the day after Boxing Day (or maybe even later), once everything is on sale.
---
Just because a turkey isn't from a higher-end retailer doesn't mean it won't taste as good. So shop around before buying a bird. A free-range turkey from Waitrose that serves eight costs around £54 but cheaper birds from stores such as Aldi, Iceland, Lidl and Morrisons have scored highly in Good Housekeeping's turkey taste tests. Christmas puddings from Aldi and Lidl have also done well in taste tests, sometimes outdoing more expensive brands.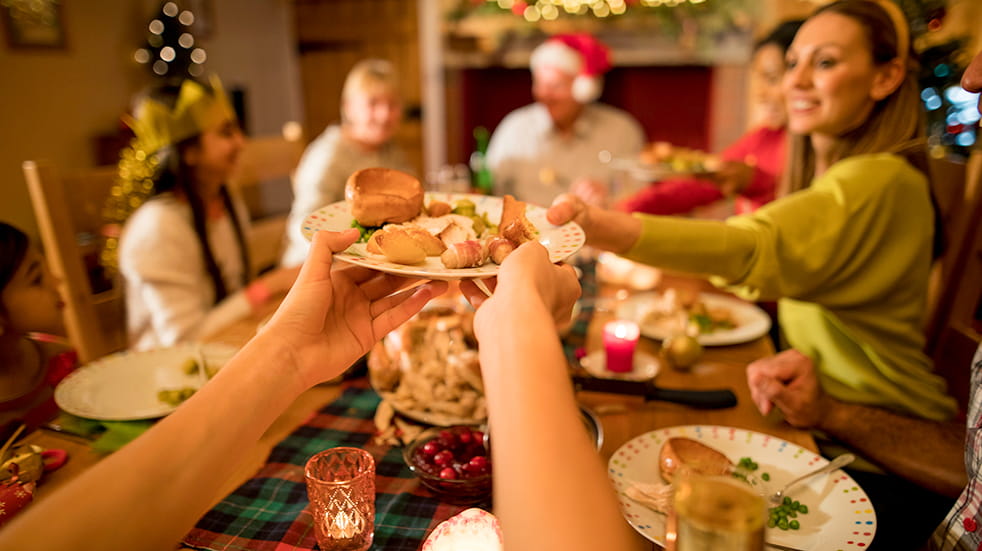 From turkey to pudding, you can save money on your Christmas dinner this year.
We've selected five of the essential elements of your traditional Christmas dinner and seen what's on offer at Morrisons, Marks & Spencer, Sainsbury's, Waitrose and Tesco. Whether you're after gluten-free mince pies, Christmas tipples, or a three-bird roast for the Christmas dinner table, here's some inspiration for your festive feast.

With your Boundless discount shopping vouchers you can currently save 3% on your shopping at Morrisons and Sainsbury's and 4% at M&S and Tesco. It's simple to order your vouchers and you can spend them on anything in store.
How to save on your Christmas drinks
This Irish cream is a classic Christmas drink. Serve with ice or treat yourself to a snifter in your coffee.
Add some fizz to Christmas dinner with this a magnum of this lively Italian wine, which has fresh floral aromas and zingy lemon, pear and apple flavours.
Save yourself the effort of making your own mulled wine with this pre-mixed Winter Warmer version. It can be gently heated to bring out the flavours of cinnamon, clove spices and citrus fruits.
Mix with lemonade or soda to create a snowball – the sort of indulgent cocktail the festive season is made for.
As a Boundless member you can take advantage of special offers from Virgin Wines, including £50 off your first case of 12 bottles when you join Virgin Wines' WineBank.

Remember to drink responsibly.
How to save on the best mince pies
These gluten-free mince pies are packed with raisins, sultanas, currants and mixed peel, with a touch of warming winter spice.
Puff pastry mince pies: £2.50 for 6, at Marks & Spencer
If you're not a fan of shortcrust pastry, give these M&S puff pastry pies a whirl. They're filled with fruity mincemeat that's bursting with sultanas, raisins and currants. (Not available online.)
Satisfy your sweet tooth with this tempting take on mince pies, which combines a light pastry case with a fondant icing topping.
A different take on the puff pastry and mince combination, with these easy to eat treats.
How to save money when you buy your turkey (or other main event)
This British turkey has a buttery baste for moist and tender meat. And it's sizeable enough that you'll have plenty left over for lunch on Boxing Day.
For a variation on straightforward roast bird, try this three-game roast, complete with a pork, apple and calvados stuffing, wrapped in bacon.
This hand-trimmed prime cut of beef fillet is served with garlic and chive butter. Chateaubriand is traditionally served roasted rare as an indulgent sharing dish.
A succulent cut from the Sainsbury's Taste The Difference range, it's deboned and strung, making perfect cooking and carving a doddle.
How to save on the best vegetarian Christmas dinner alternatives
For a meat-free turkey alternative, this excellent tasty roast is finished with a Red Wine and Shallot Glaze. It's also high in protein and fibre.
This festive roast comes with sausoyges for an extra indulgent Christmas lunch, adding to the cranberry-stuffed loaf.
Pecans, pistachios and walnuts are combined with mushrooms, pulses, vegetables, seeds, soya protein and grains. This nut roast is full of flavour and goes well with cranberry sauce.
Puff pastry parcels encasing a creamy mushroom and spinach filling. Both looks and taste befit the season.
How to save on your Christmas dessert
With whipped cream and gooey chocolate sauce, a thick chocolate meringue is topped with even more chocolate to really hit the spot for chocoholics.
A twist on festive favourite, these rich, matured puddings contain dates, fudge, rum and pecans, all covered in a moreish toffee sauce.
A richly fruited bread from Dresden, this Stollen is the meeting point between a hot cross bun and Christmas cake, dusted with icing sugar. Its marzipan centre is coated in rum syrup.
And if you still have some room after all that, finish off with a slice of brandy and cognac-infused fruit cake covered with marzipan and icing. Now, about that New Year diet…

You can also find a handy BBC Good Food portion calculator, to help you judge the correct amount to cook and avoid food waste.
---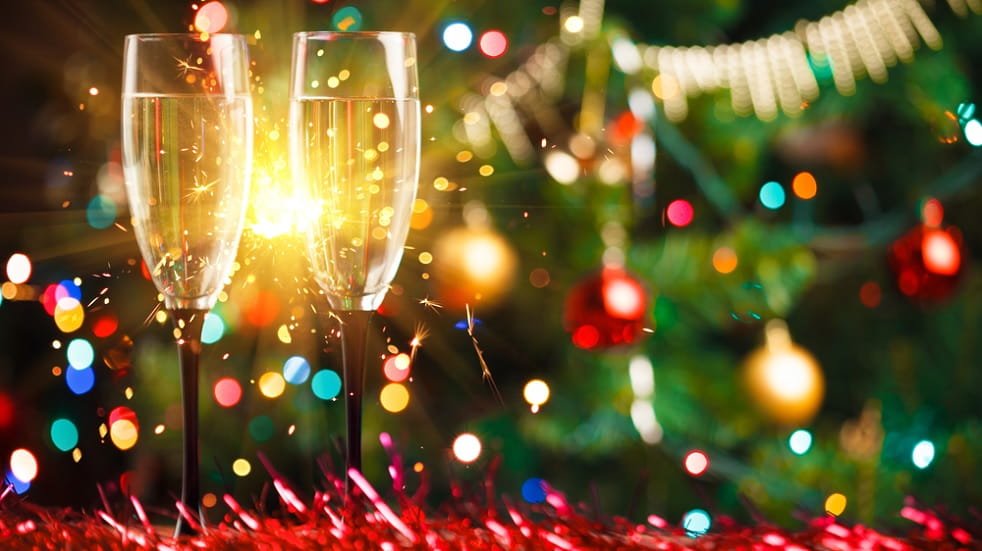 Support Christmas Jumper Day for less
Friday 13 December is Christmas Jumper Day 2019, when Save the Children want you to wear your most sparkly, glitzy and festive knitwear and donate £2 to help kids in need around the world. If you register for Christmas Jumper Day online you'll receive a free fundraising pack with posters, Gift Aid forms, free knitting patterns and baking recipes, plus instructions on making pompoms to decorate your woollies.
You can also find instructions on how to embroide festive decorations onto your own jumper at the Wool and the Gang blog or sewing instructions and a template from Love Your Clothes.
If you don't have time to customise your own Christmas jumper, you can save money with your Boundless discount shopping vouchers including 7% off at Gap and Superdry, 6% off at New Look and a 3% discount at Primark.
Save money on a Christmas Eve box
It's becoming popular to give the kids in your family a special early gift on Christmas Eve, which may have derived from the tradition in Germany and some Scandinavian countries of opening presents on 24 December. You could include a new book, a DVD of a Christmas film such as Elf or The Grinch, some hot chocolate, and new pyjamas or slippers.
To save money on buying these treats, don't forget about your discount shopping cards through your Boundless membership. You can save 7% at Debenhams and 4% at M&S.
Get discounts on your Christmas cards and wrapping paper
Buy your wrapping for less with your discount vouchers at department stores including M&S and Debenhams. Or if you're feeling crafty, why not wrap your gifts in recyclable brown paper and string? Brown paper is less slippery than gift wrapping paper so doesn't need tape to hold it in place; instead you could tie your gifts with reusable ribbon. Or try the Japanese-inspired art of wrapping presents in fabric?
Avoid greetings cards and wrapping paper with glitter or plastic decorations, and foil-based wrapping paper, as these can't be recycled from most household collections. Brown paper can often be recycled with cardboard.
With your Boundless membership you can save 4% at B&Q, 3% at Wickes and 2% at Argos. B&Q sell both real and artificial trees, with cut and potted real trees, and artificial trees including pre-lit and coloured options. Both Wickes and B&Q have real trees available for click-and-collect from your nearest store. And you can make savings on your tinsel, baubles and fairy lights too.
Buy discount tickets to a Christmas show
Through Boundless Tickets you can save an extra 10% on theatre tickets, on top of the existing discounts of up to 50%, so you can go and see Matilda, Wicked, Mama Mia and Dolly Parton: 9-5 amongst others.

And don't forget you can save up to 40% on cinema tickets with the Cinema Society to catch December's newest films, including Frozen 2, Cats, Jumanji: The Next Level and Star Wars: The Rise Of Skywalker.
---