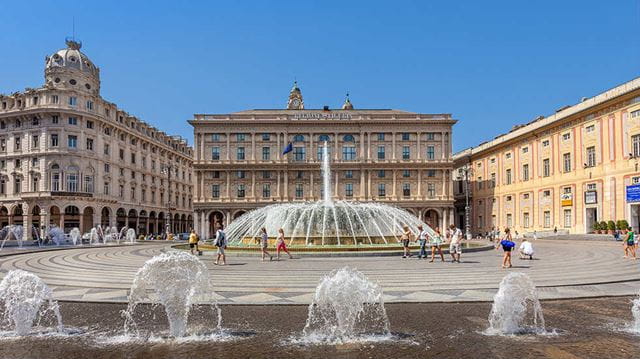 Genoa has a wealth of hidden treasures waiting to be discovered; follow our guide to where to go and what to see.
Genoa is the capital of the Italian region of Liguria, and Italy's sixth largest city. Clinging to the Mediterranean coast, it's a city built on the hills, boasting a beautifully preserved medieval centre and a lively revamped port. But step behind the noble Renaissance palaces and you'll discover a world rich in art.
Genoa has never been one for chasing tourists, but with flights from London and Edinburgh as well as Bristol, Luton and Manchester, it's never been easier to discover a city bursting with culture and history.
---
Discover more amazing weekend break destinations
What to see and do on a weekend in Prague
Expert travel advice for a short break to Bologna
10 things to do on a holiday in Florence
---
Day 1: What to do
Start in the Centro Storico (the old town), where getting lost within its narrow lanes – called carruggi – is part of the fun. You won't generally find huge piazzas, but the exception is the stately Piazza de Ferrari, part of a chain that links the Teatro Carlo Felice opera house to the striking black and white San Lorenzo cathedral. Pop into the Palazzo Ducale museum to see its latest temporary art exhibitions. For some of the city's best views, take the gorgeous Art Nouveau lift at Piazza del Portello up to Spianata di Castelletto.
Day 1: Where to eat
For lunch, land meets the sea harmoniously in cosy La Forchetta Curiosa in Piazza Negri, where the lunchtime menu changes regularly but can include squid-ink risotto or ravioli with pesto – which originated in Liguria. Dishes are a bargain at €6 – €9.
At dinner time, you can start from 6pm onwards with an aperitivo in one of the bars along Via San Donato, Via San Bernardo or Piazza delle Erbe. The free snack buffet during aperitivo time (usually 5.30 – 8pm) is all part of the deal, but make sure you save room for the seafood at Trattoria dell'Acciughetta, which includes an imaginative starter of anchovies prepared five ways.
Where to stay in Genoa
For a budget option, try La Meridiana. Built on the ruins of a Franciscan friary near Via Garibaldi, it has simple rooms and wonderful views from its garden. From €80.
A mid-range option is the NH Collection Genova Marina, a luxurious, nautical-themed hotel that's in the thick of the marina action. Stop for cocktails on the terrace overlooking the port. From €145.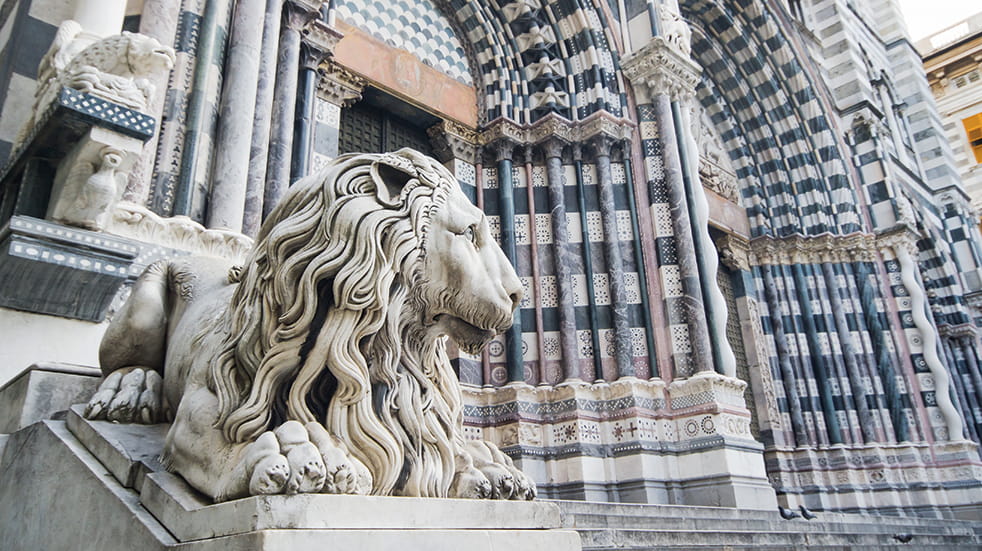 The iconic Cattedrale di San Lorenzo in Piazza San Lorenzo.
Day 2: What to do
Head to the Porto Antico and discover how this industrial port has been revitalised and turned into one of Genoa's buzziest areas. Although pricey, the Genoa Aquarium has a jaw-dropping collection of sharks, dolphins and countless other marine creatures. Back in the Centro Storico, stroll along Via Garibaldi past the Palazzi dei Rolli, a UNESCO-listed, wonderfully ornate collection of 16th-century palaces. At Palazzo Rosso, you can see works by Veronese, Ferrari and Van Dyck.
Day 2: Where to eat
For a change from the usual Italian breakfast of cakes, try a breakfast of gorgeous focaccia – another Ligurian speciality – at Panificio Grissineria Claretta at Via Posta della Vecchia 12. Nibble on this classic street food as you explore the carruggi.
At lunch, enjoy traditional Ligurian pasta and seafood in Il Cadraio's vaulted dining room at Vico Dietro il Coro della Maddalena 25 in the old town. Expect dishes such as spicy ravioli with asparagus and octopus.
Day 2: Where to go
Treat yourself: hop on the No 15 bus and head four miles east of Porto Antico to the small but perfectly formed beach at Boccadasse. Although it's pebbly, it's a popular spot with locals hoping to cool off in the summer months. Just bring your swimming shoes and wade in.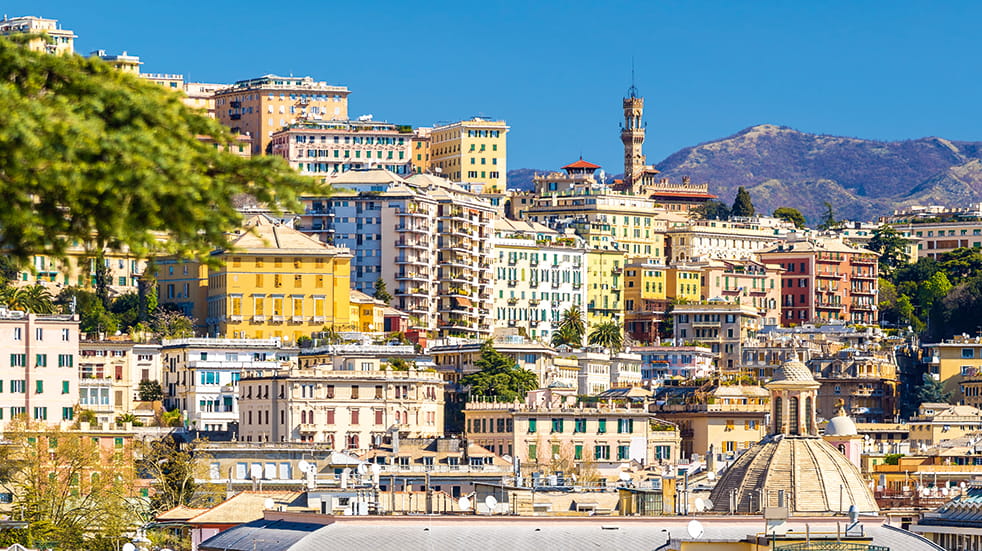 Genoa has a wealth of hidden treasures waiting to be discovered.
What to see in Genoa: a tip from a local
"It's cheaper to buy a Genova Pass for €4.50. It gives you unlimited travel on public transport, and the lifts that connect the city, for 24 hours."
Cristina Gelvi, Genoa
Do more in Genoa with Boundless
Save up to 10% on a five-star holiday in Genoa with Barrhead Travel
With your Boundless discount you can save on a trip to Genoa, with your flights and hotel booked through the experts at Barrhead Travel; they'll find you the perfect city break.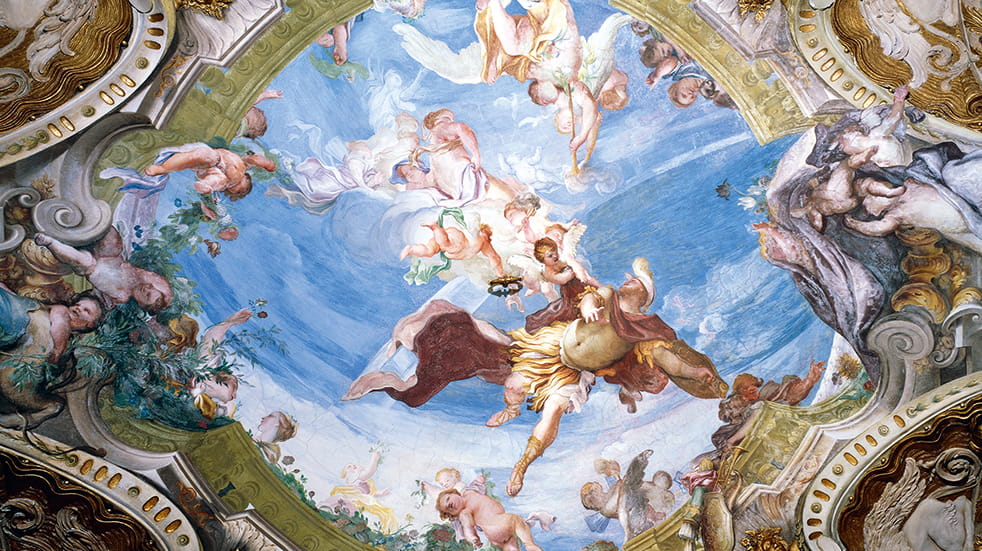 A 17th-century fresco by Ligurian artist Gregorio De Ferrari at Palazzo Rosso. Image © Getty Images.