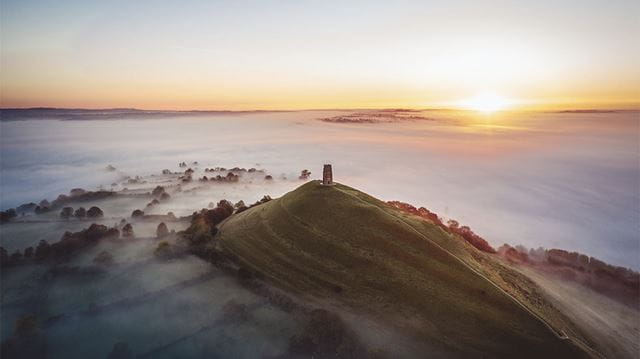 There it is again. As I pedal harder, the familiar hill rises up sharply from the endlessly level landscape like a brilliant green beacon. No matter which turn I take, it is always ahead of me: drawing me onwards with a strange, magnetic attraction. Well, don't they say that all roads lead back home?

Glastonbury Tor was the backdrop to my childhood. This mysterious, elliptical mound, steeped in superstition and story, was a constant companion on every bike ride into town, at the fringes of our school playing fields – even on the front of my rugby jersey.
So omnipresent was the Tor, in fact, that I took it for granted. Now, the older I get, the more I find myself compelled to return to the area that lies in its shadow. But then, Glastonbury has always been a place of pilgrimage.
This was once the Isle of Avalon (although other places also lay claim to the name), and it still is to some folk – an isolated land surrounded by swampy marsh that's immortalised in Arthurian legend. It's said that King Arthur was brought here by boat after being fatally wounded at the Battle of Camlann, and his body buried in the grounds of Glastonbury Abbey.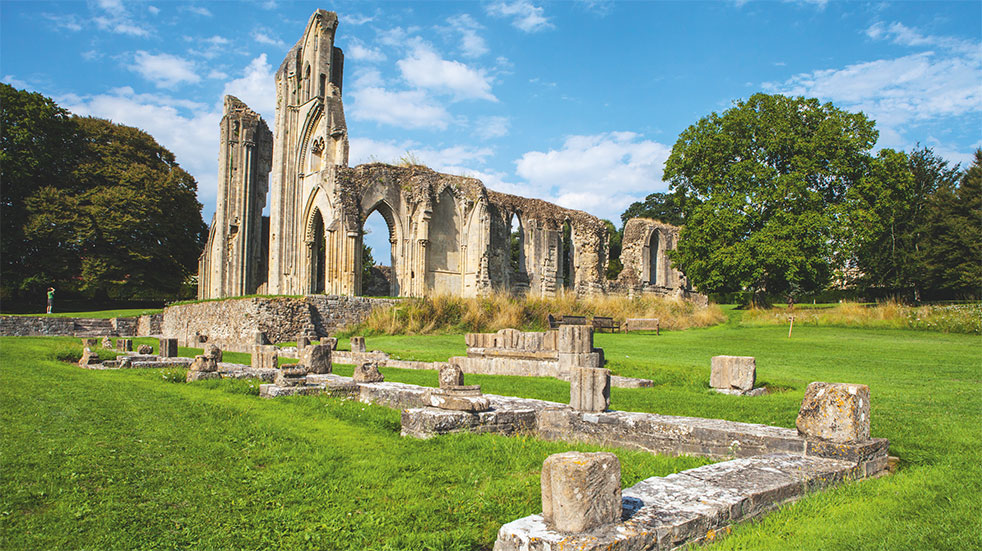 The Abbey is said to be the final resting place of King Arthur (Credit: Getty Images)
Founded in the seventh century, this ancient monastery is one of the UK's oldest Christian sites. It was a successful one, too. By the midpoint of the Middle Ages, the abbey had grown into an ecclesiastical powerhouse second in size only to Westminster, and owned land across the county. Glastonbury's monks were the first to drain the Somerset wetlands, turning fruitless fen into profitable pasture.
But in 1184, a devastating fire left the church cash-strapped and it's thought that the discovery, just seven years later, of Arthur's remains was nothing more than a medieval PR stunt designed to glean much-needed money from gullible travellers.
Whether that's true or not, there's no denying that it worked: people have been coming here to see the apocryphal resting place of the king and the monastery's Romanesque ruins for centuries, and it still makes for an intriguing stop-off today.
• Read our pick of the best UK rail travel experiences
The Chalice Well attracts thousands of visitors every year (Credit: Joby Sessions)
Perhaps the most celebrated pilgrim to have come ashore at Avalon is Joseph of Arimathea. One of Christ's disciples (possibly even a relative), he is said to have visited the area soon after the crucifixion. Upon arrival, the apostle is alleged to have planted his staff on Wearyall Hill (now a short walk from the centre of town), where it grew into a tree – the Glastonbury Thorn. The original tree became a point of pilgrimage for Christians until it was chopped down during the English Civil War. Propagated successors survive, though, and when they come into flower with unseasonal timing every Christmas, a sprig of blossom is cut from one of these specimens and sent to the Queen.
Joseph of Arimathea is also believed by some to have brought the Holy Grail to Glastonbury. After washing the sacred cup in a spring at the foot of the Tor, the stream reputedly ran blood-red. And it still does, thanks to its high iron-oxide content.

People come to this site – the Chalice Well – to drink the rust-coloured water for its apparent healing properties. Set within a peaceful garden, the site has long been a place of divine inspiration or simply a corner for quiet contemplation for its visitors.
• Read our pick of the best European breaks
Shopping in Glastonbury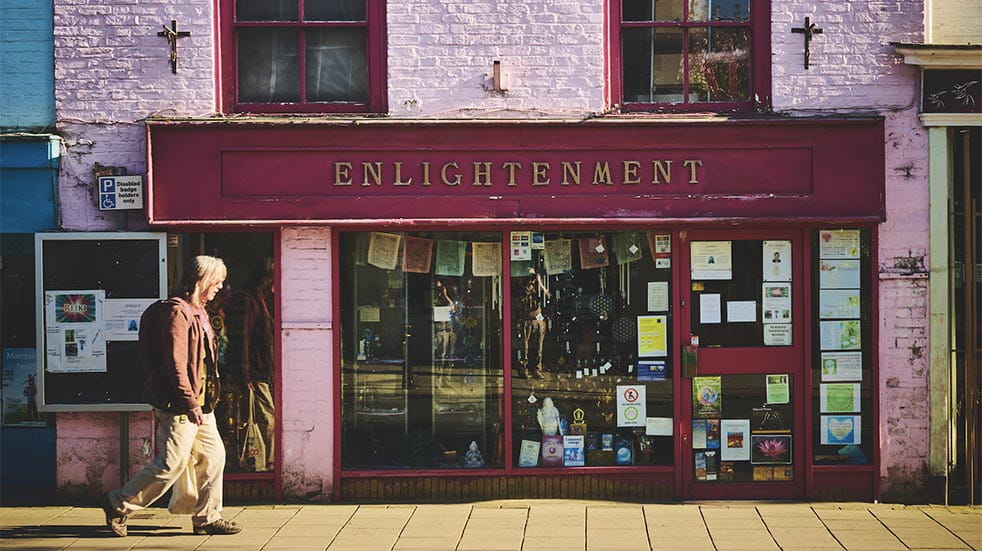 Glastonbury high street is home to numerous hidden treasures (Credit: Joby Sessions)
Nowhere is Glastonbury's vivid sense of spirituality more evident than in its wonderfully way-out high street, where followers of all faiths – from druids and pagans to witches and Wiccans – are catered for.
Whatever your beliefs, an eye-opening afternoon spent exploring the eclectic selection of stores here is a must. Highlights include incense specialist Star Child, the Glastonbury Goddess Temple (hidden away in a courtyard off the main thoroughfare) and the ethical taxidermy shop on Church Lane. It's not unreasonable to say that eccentricity is the norm here and, alongside the intriguing shops, you'll meet some of the town's equally colourful characters.
On my last visit, I listened to a busker with a rainbow-coloured beard play the didgeridoo. But that's nothing – for the full effect, visit on May Day (Beltane), when the annual celebration of spring attracts hippies and hipsters alike. "Come any time of the year and there will be something going on, whether it's a festival, parade, workshop or a gig," says Glastonbury tour guide Tor Webster (yes, that's his real name). "Or you can just sit in the George and Pilgrim Hotel bar and, within minutes, someone will be having a life-changing philosophical discussion with you."
Locals may joke that there's nowhere in town to buy trousers (you'll have to go to the Clarks Village outlet shopping complex in neighbouring Street for those) but, at a time when so many high streets are in depressing decline, it's the alternative lifestylers that are keeping this one alive.
• Read our guide to planning your first motorhome holiday
Things to do around Glastonbury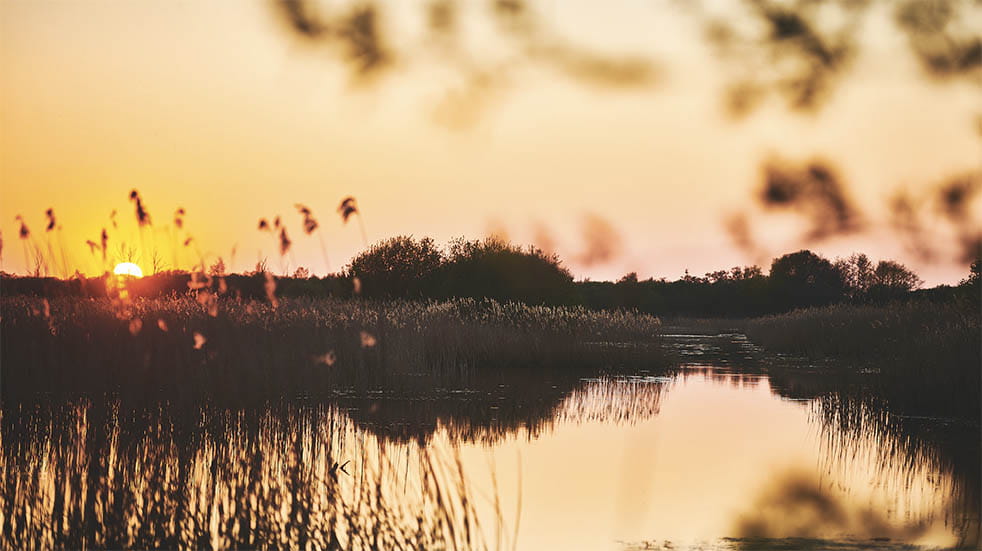 The Somerset Levels are a mecca for birdwatching (Credit: Joby Sessions)
I find my own spiritual inspiration out of town, in the surrounding Somerset Levels: the vast, low-lying area that lies between Glastonbury and where I now call home. As I cycle the final few miles, the track bed of the old Somerset and Dorset Railway bisects the Avalon Marshes.
Mostly made up of three almost contiguous nature reserves, this region has been restored from industrial peatland to its former glory – a mosaic of wet meadows, reedbed and ferny woodland. As you might expect, it's a Mecca for birdwatching: cuckoos call in early summer, nightingales sing and rare bitterns are booming.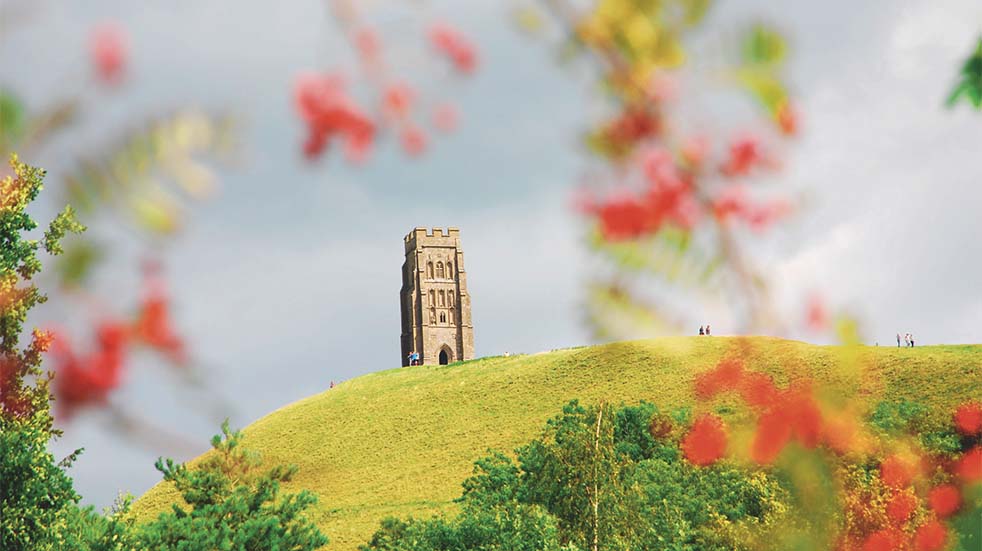 According to legend, Glastonbury Tor is home to a Celtic fairy king (Credit: Joby Sessions)
My bike ride ends at Glastonbury Tor. There are various paths to the top – long and gradual or a short, steep climb – for views that are well worth the effort. From the shelter of St Michael's Tower (be warned: it gets windy up here), the Levels are spread out 500 feet below me in 360° splendour. In winter, the moors are sometimes shrouded in mist and the fields are often flooded. It's easy, then, to picture this place as an island as it was in Arthur's time.
The Tor encompasses the essence of Glastonbury: it's a meeting point for ley lines, home to a Celtic fairy king and where the Abbey's last abbot was executed. For many people, and for miles around, it's a visible symbol of the enduring allure of Avalon.
Spirituality and healing in Glastonbury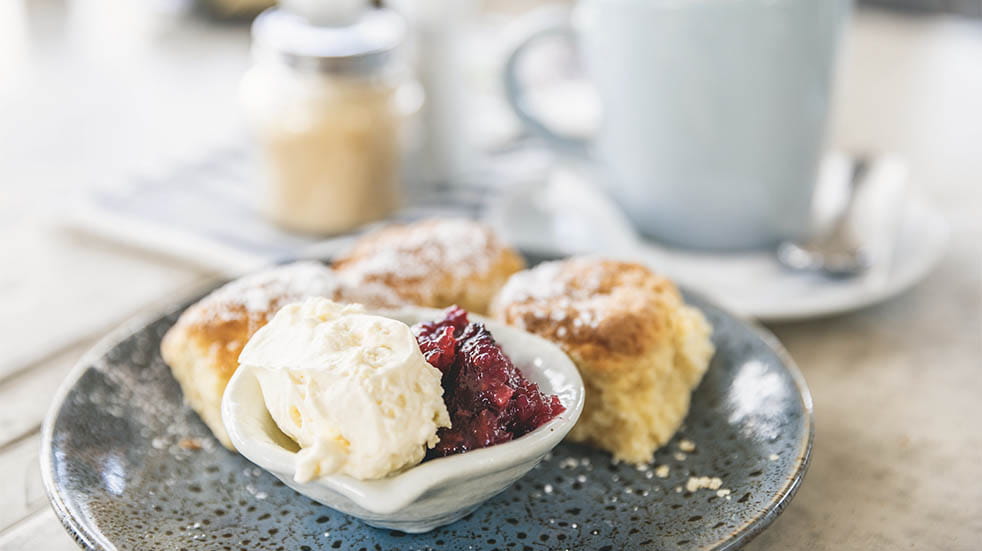 No trip to Somerset is complete without a traditional cream tea (Credit: Getty Images)
"People come to Glastonbury because it has a naturally transformational effect on them," says tour guide Tor Webster. "Many see their visit as a spiritual or healing experience, others as a grounding and learning experience, but most see it as a life-changing experience."
"Glastonbury has always had such an effect, even since the time of Druids, goddesses and the early Christians," he continues. "They have all highly revered Avalon – the spiritual name for Glastonbury given by the Saxons. It translates as 'land of the apples' – the apple tree was sacred to early Christians and they brought apple seeds from the east.
"People also come because everyone feels accepted here. We have more than 75 practising faiths and traditions, which is surprising for a small town. Glastonbury's motto is 'unity through diversity' and there's a common thread that holds this unity: love and respect."
The Glastonbury Festival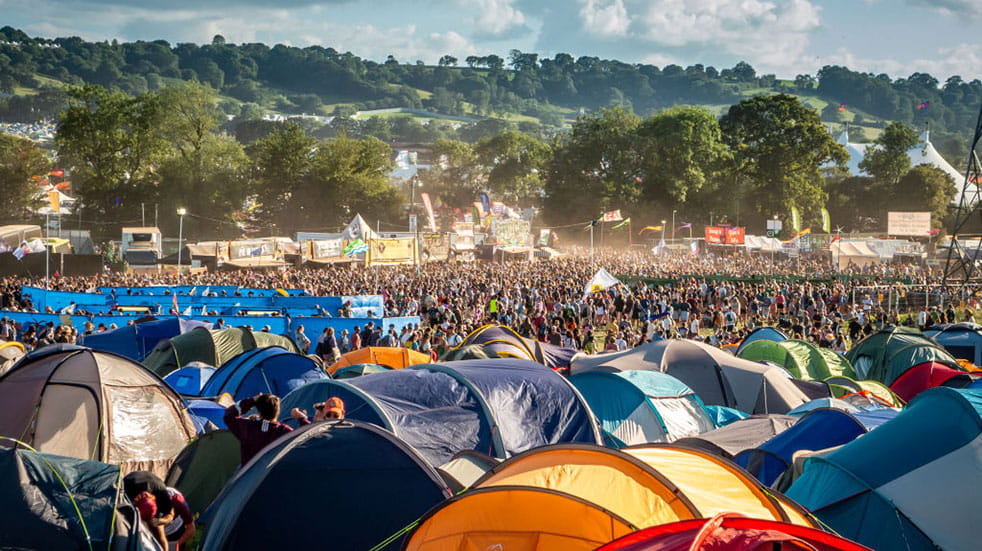 The festival has been cancelled this year but there's still plenty to see online and on the BBC (Credit: Getty Images)
You can't talk about Glastonbury without mentioning its eponymous festival. The first event, held in September 1970, cost just a pound to enter and that included a bottle of milk from Michael Eavis's dairy farm. No one knew then that the inaugural 'Pilton Pop, Folk and Blues Festival' would grow into the global phenomenon that it is today.
Glastonbury Festival has become a must on the festival calendar. In 2019, more than 200,000 revellers descended upon Worthy Farm's fields for five days of music, magic, mayhem and, of course, mud. Due to the coronavirus, this year's 50th anniversary event has been cancelled, but you can still enjoy a wide range of virtual content over the next week or so – including past performances, specially curated playlists and meditation sessions – both on the BBC and the Glasto website.
You can also read about the event's fascinating history in Glastonbury 50: The Official Story of Glastonbury Festival, a new book written by Michael Eavis and his daughter, Emily, available through the website.
Do more With Boundless
Get money off your next Warner hotel break
Save £10pp with Warner Leisure Hotels at the luxury Cricket St Thomas hotel, set in splendid Somerset parkland. Flexible booking for 2020/21 at no extra cost. Click here to find out more.
Enjoy a 25% discount on a year's English Heritage membership
Explore England's history with over 400 English Heritage sites across the country. Save on membership and receive a free handbook worth £10.95. Click here to find out more.