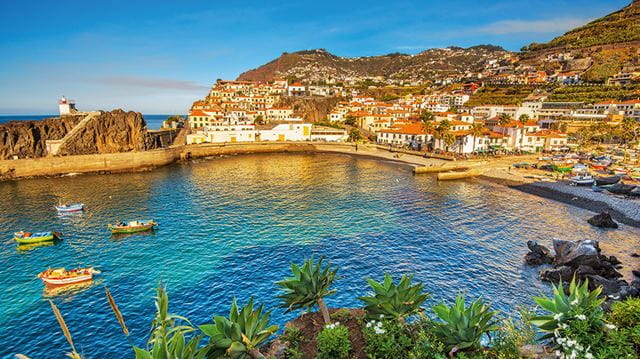 Explore an island in bloom: Madeira is a region of Portugal with four islands, and is a nature-lover's dream.
My head is spinning as I listen to descriptions of the unusually flavoured chocolates displayed in the colourful vitrines before me. "This orange one, pitanga, is a Surinam cherry, and this last red one is filled with tree tomato," says the shop assistant at choctastic UauCacau. It's torture deciding what to buy. There are many lauded chocolate producers around the world – Belgium, Switzerland, Ghana, Mexico, Granada, the Ivory Coast… But, Madeira? It's not a destination you associate with luxe produce of any kind really. But this small Atlantic archipelago, less than 400 miles off the coast of Morocco, is filled with exotic flavours in every sense.
It's all to do with the location and geological formations of the main island, Madeira, and its little neighbour to the north-east, Porto Santo. The former packs a large number of microclimates into its 286 square miles, with beaches rising up to a mountainous interior and rich volcanic soil that ensures the island is abundant in a wide variety of produce, attractions and activities.
---
Read more of our expert travel guides
Where to see the UK's best nature and wildlife
48 hours in Genoa: what to see and do

Eco-tourism: book a sustainable holiday for your next break
---
At sea level, the landscape and climate are subtropical. Banana plantations are interspersed with fields of sugar cane, used to make everything from bolo de mel – the island's delicious honey cake - to fiery hooch. Front gardens are dotted with papaya, guava and passion fruit trees and vines, while municipal planting boasts trees with bright foliage and birds of paradise peeking out of borders. As the elevation increases, forests of laurel trees fill national parks across the interior. No wonder that the island is best known for its flora and fauna, much of it in gardens and parks.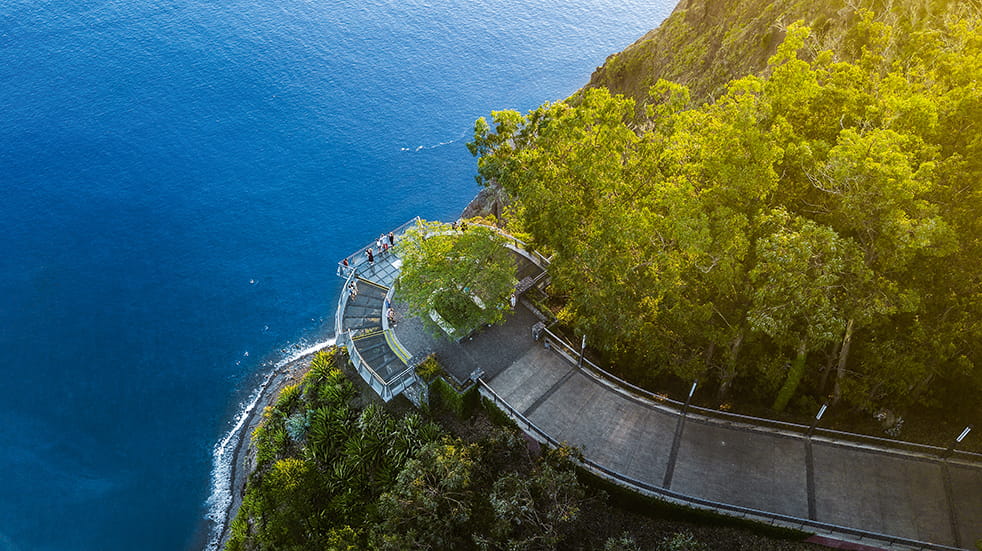 Explore the cliff edge at Cabo Girao with a glass-floored walkway.
One of the best is the iconic Belmond Reid's Palace hotel. You can explore the subtropical gardens on a twice-weekly tour. I wonder whether Scotsman William Reid envisaged that, more than 130 years after importing tons of soil to create the sumptuous grounds of his luxury hotel in 1887, the mature gardens would be such a star attraction.
Madeira's garden paradise
Plenty of other natural attractions combine to give Madeira its nickname of the Garden Isle, with something botanical to enjoy year-round. In late spring, when the jacarandas gladden hearts with their dense blueish/purple flowers, the island celebrates its bounty, with the streets of Funchal covered in blooms during the Flower Festival. The flower exhibition at Praça do Povo offers a fabulous focus to the event, while elsewhere, tarmac gives way to intricate flower carpets, flower-filled floats parade around the capital and living flower sculptures delight.
At other times of the year the Palheiro Gardens, 500m above sea level a little way east, and the Madeira Botanical Gardens, with its 2500 exotic plants and exotic bird park, amaze fans of flora and fauna. Also unmissable is Monte Palace Tropical Garden, with one of the largest collection of cycads in the world, set amid tumbling waterfalls, pretty lakes and fountains.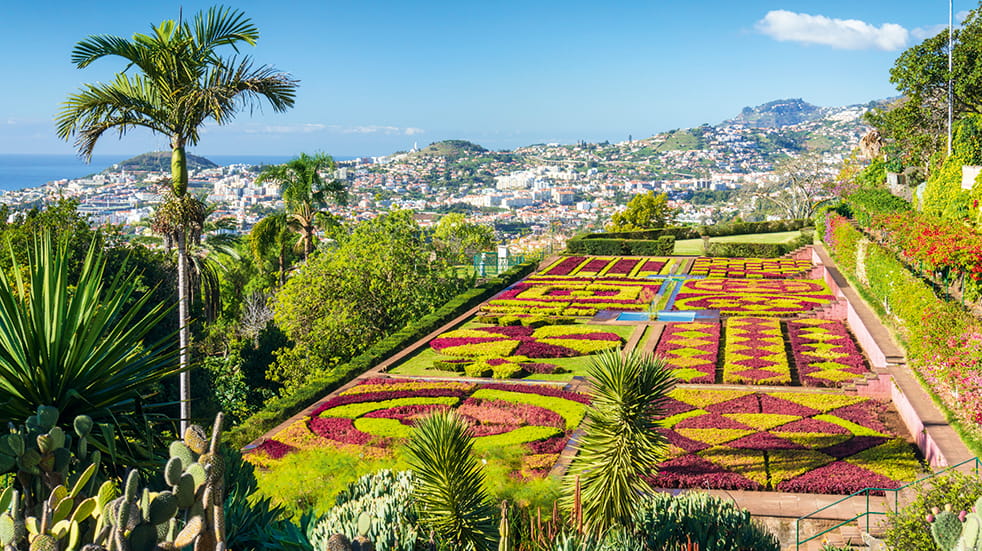 Madeira's Botanical Gardens. Image © Getty.
Beyond its gardens and pretty white village houses, Monte reflects a less well-known aspect of Madeira, offering something for thrill seekers. The journey up to it begins in a dizzying cable-car ride from eastern Funchal's old town, rising almost 600m to offer spectacular views of the whole southern half of the island. And the return journey? Skidding down smooth-as-ice hills at up to 23mph in a wicker-basket toboggan is as mad – and exhilarating – as it sounds. Two carreiros (drivers) in special tyre-soled shoes manoeuvring the sledge from behind to whizz the basket – with you in it holding on for dear life – round the hairpin bends of the narrow streets, depositing you safely at Livramento, just under two miles south of your starting point.
The ride, dating back to the 19th century, isn't the only fearless activity Madeirans enjoy. On the south coast to the west of Funchal, the cliffs of Cabo Girao offer a vertigo-inducing experience as a glass-floored platform sits over a drop of 500m to the sea. Further west, at the Fajã dos Padres restaurant, abseilers jump from the top of a rusty old lift that connects the cliffs with the beach below. You can drop more sedately to the same beach via a cable car and watch them from your beachside table as you enjoy the fruits of the surrounding sea and land.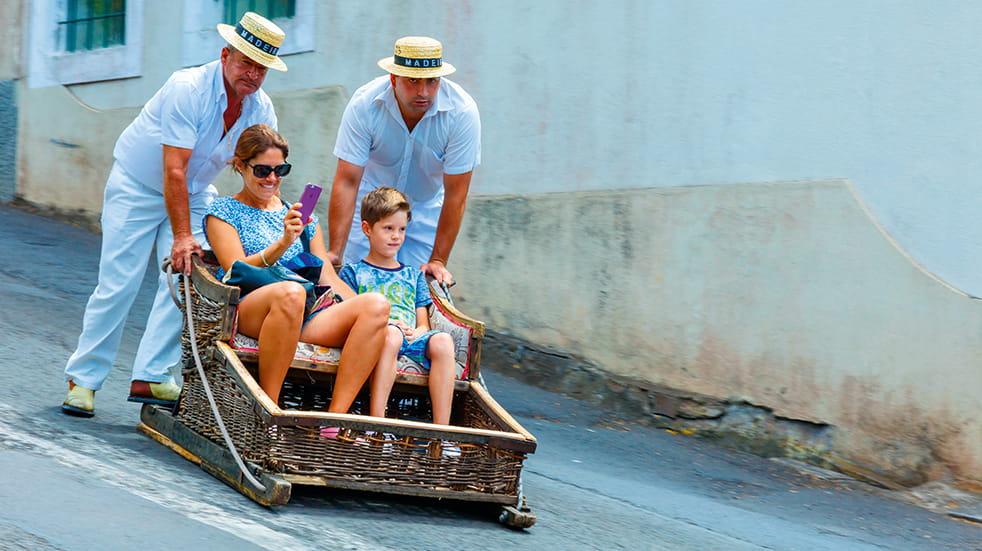 The hair-raising ride down the hillside in a wicker toboggan! Image © Getty.
The heavenly spot has been enjoyed since the 16th century, when Jesuit priests were given the land and began making wine from the Malvasia grapes. It's still made today and forms part of the famous fortified Madeira wine heritage – even though the locals prefer a glass of poncha. Made everywhere on the island using local cane sugar alcohol, honey and lemon, poncha tastes great – the perfect gift for friends prone to colds and flu!
The south coast of the island offers so much, but is only half the picture – one that's easily completed with some fascinating day trips from Funchal, or a couple of days based on the northern half of the island. From Funchal, it's a memorable journey via a 30-mile road that twists and winds its way through the island's interior via Ribeiro Frio, where a short walk leads to the Vereda dos Balcões. Looking out over the Laurissilva laurel forest, this is one of Madeira's best lookout points, where tame Madeiran chaffinches feed from your hand.
The Levada do Rei and the Levada do Caldeirão Verde are just two of the hundreds of levada walks that criss-cross the interior. These man-made water channels offer great ways to explore the traditions and customs of ancient little-changed villages. Smiling old ladies sell their home-grown bananas to you along the way and, on the Caldeirão Verde walk, a beautiful lake formed by a 100m cascade of water runs from the river of the same name.
A Madeira coast road trip
Travelling west along the north coast brings you to São Vicente and, in the far north-west corner, Porto Moniz. Both offer even more highlights, including the Chapel of São Vicente at the mouth of the eponymous river and the beautiful Lime Route, leading to two quarries filled with five-million-year-old fossils and volcanic pools.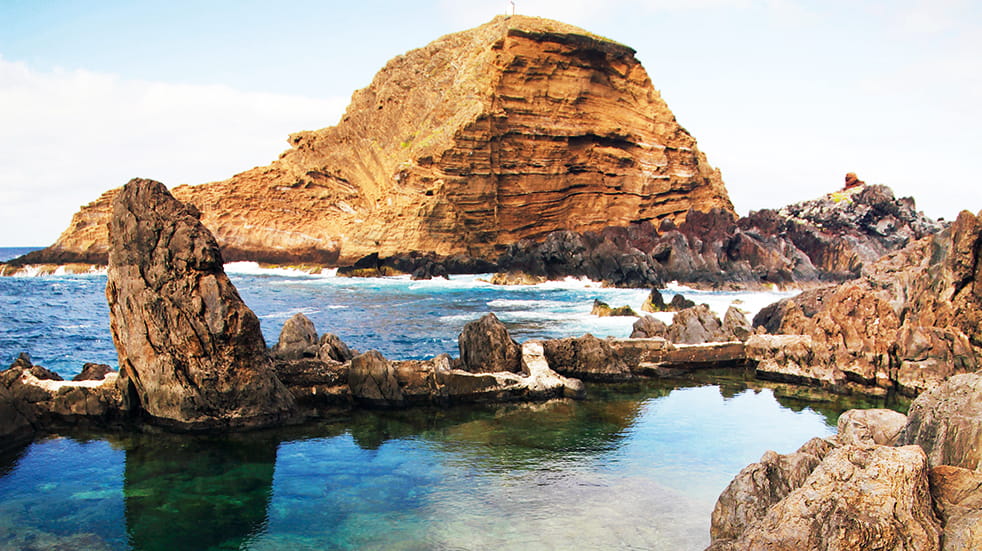 Rock formations at Porto Moniz. Image © Getty.
Continue along this road and turn south to the epic cliffs of Calheta, Ponta do Sol and Ribeira Brava. The twists and turns of the road fill your head with alternating views of mountains and far-reaching seas. Go east along the north coast and you'll arrive at the more manicured Machico, famed as the spot where João Gonçalves Zarco and Tristão Vaz Teixeira disembarked in around 1418 to discover Madeira. Centuries later, the golden sands of Banda d'Além beach adorn the bay, imported from Morocco to create one of the island's few sandy beaches.
Look out to sea from this north-easterly tip on a clear day to see Porto Santo, 35 miles away. The tiny island offers miles of golden sands, some manageable peaks – chief peak being the Pico do Facho, at 516m – for stunning ocean views and, on the north coast, the bay of Zimbralinho's underwater pillow lava volcanic formations. To get to them all you'll need to return to Funchal, where your head and palate will be filled with so many tempting pleasures that you'll probably never quite make it on to the two-hour ferry. But that's ok, because, by now, you'll almost certainly have decided you want to return to this garden of paradise.
What to do in Funchal
In the beating heart of Madeira, storyteller Sofia Maul's food-and-drink tour takes in must-sees like the Lavradores market, where black scabbardfish look like monsters of the deep, and the Fábrica Santo António biscuit shop (fabricastoantonio.com) – great for souvenirs. Wandering along the cobbled lanes of the old town is delightful, as is a sunny day at the Lido out past the CR7 museum, named after local footballing hero Cristiano Ronaldo ('7' is his favourite number and CR7 his brand). If you're not a fan, head for the Frederico de Freitas House Museum, a bright-pink town house containing a fine collection of applied arts. The mug room is mind-boggling, but it's the collection of glazed tiles in the Casa dos Azulejos annexe that will stay with you.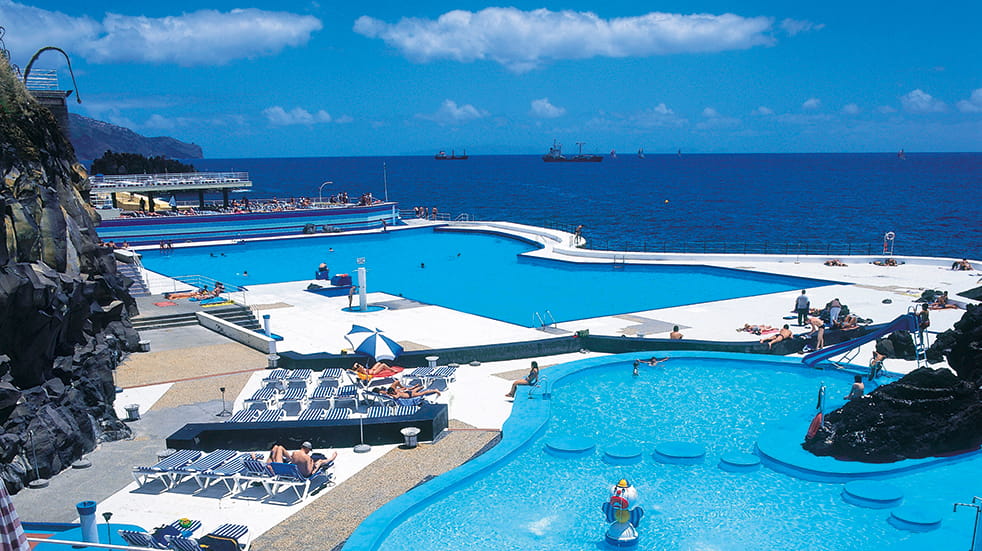 Enjoy breathtaking views over the sea from Funchal. Image © Alamy.
Madeira food and drink
Storyteller and food and wine tour guide Sofia Maul shares her favourite Madeiran places to eat and drink
UauCacau
These chcolatiers make the most of local produce, like poncha, mel de cana (sugar cane treacle), goiaba (guava) and Surinam cherry.
Bar Number 2
There are many good places to drink poncha, but this seafront spot in the fishing village of Câmara de Lobos serves the best.
Restaurante Faísca, Ribeiro Frio
Stop at this inland spot close to the Balcões lookout for the best prego (steak sandwich in flat bolo do caco bread) with garlic butter.
Pereira d'Oliveira
This listed building is the place to find not only the island's best traditional bolo de mel treacle honey cake, but also a wide selection of aged Madeira wines made by this family company.
Miminho
A little bakery and pastry shop that's a perfect stop if you're visiting the 15th-century church of São Bento. Try the broas de mel (honey biscuits).
Pukiki Tiki Bar
For something unlike anything else you'll experience on Madeira, make a day of it on the southwest coast and have a sundowner over the ocean at this fun bar. (pukikibar.com)
Cristalina Chique Bar
The black scabbardfish sandwich in bolo do caco here is top quality. You can just have the bolo do caco on its own - the round flattish bread (the bolo) is baked on a preheated stone (the caco) and usually eaten hot with garlic butter. Insanely good!
Visit the beautiful island of Madeira from only £395pp with Barrhead
There's so much to explore and you'll have plenty of time to see the sights on a seven-night Madeira holiday, which includes bed and breakfast and return flights from London Gatwick.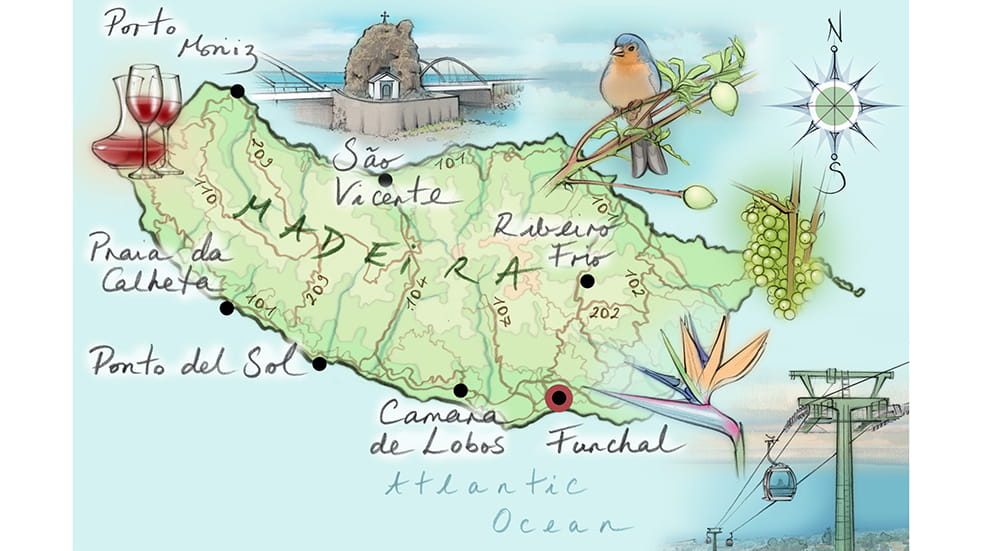 Main image © Getty.