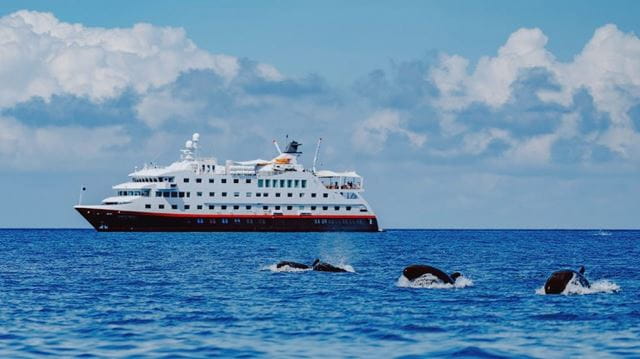 1. Earth's only northern penguins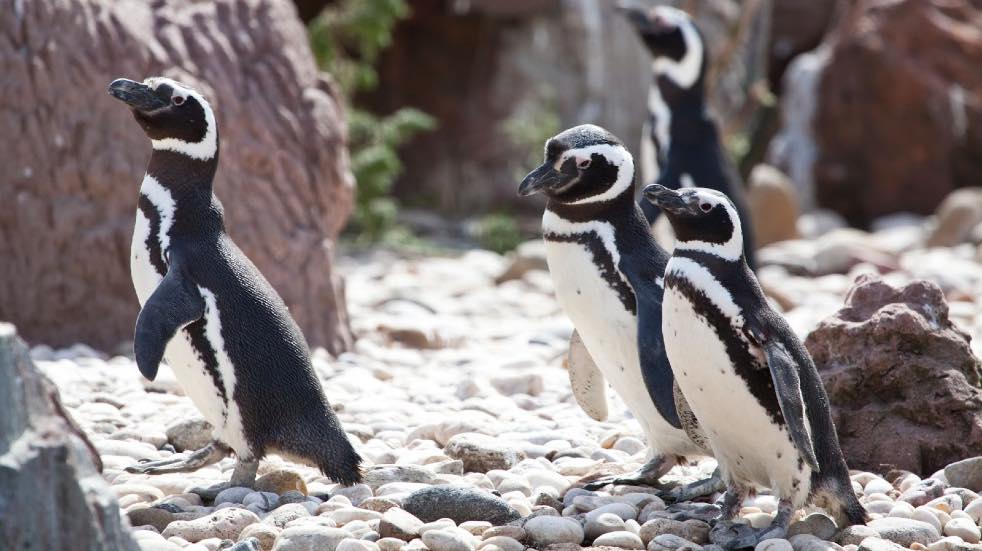 Where else to start but with wildlife? The place where Charles Darwin developed his theory of biological evolution, the Galápagos Islands – 600 miles across the Pacific from Ecuador – are a one-off example of fantastical nature. Just look at their 'Big 15' list of iconic breeds. These include dinky Galápagos penguins – the only penguin species found north of the equator – colour-shifting marine iguanas and, complete with bulging, blood-coloured pouches, male great frigatebirds.
2. The Charles Darwin Research Station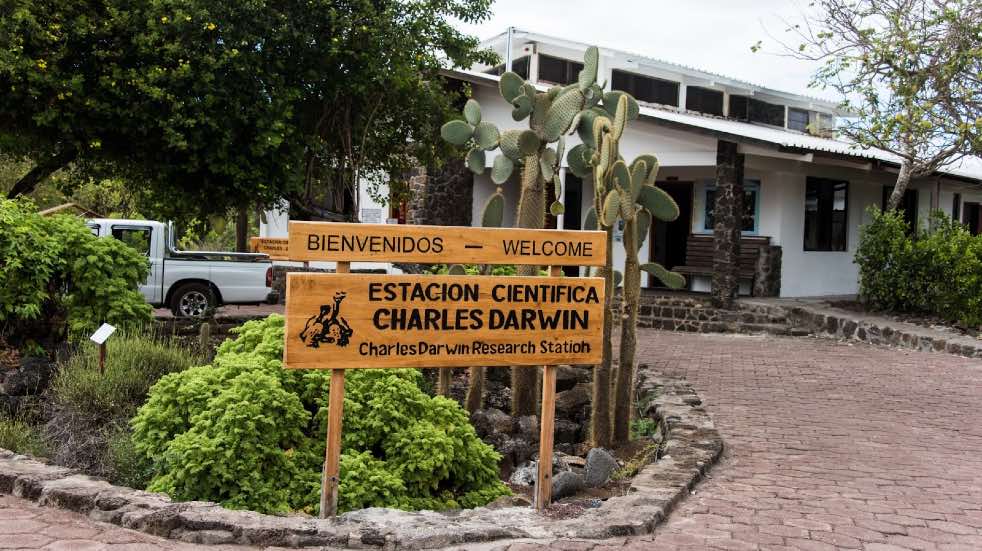 It'll soon become obvious why the Galápagos Islands so inspired Darwin. Often referred to as a living laboratory, this ecology hotspot provides insights into the fundamental processes of life on Earth. That, in turn, explains the presence of the Charles Darwin Research Station, where scientists and volunteers work to conserve the archipelago's fauna. Hurtigruten guests can visit this special place on Santa Cruz Island, and coo at baby tortoises in incubators.
3. Marine and land iguanas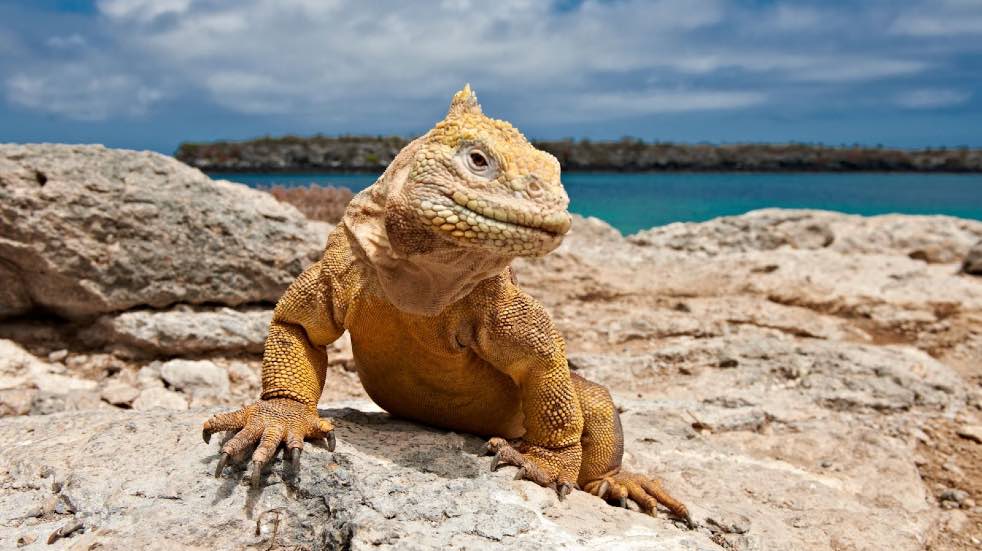 "Hideous-looking." That's how a decidedly un-smitten Darwin first described marine iguanas. But don't let him put you off; together with three endemic species of land iguana – and occasional hybrids, showcasing evolution in action – these lizards are enchanting to behold, especially when you learn how they can deliberately shrink themselves. Made famous by the BBC's Planet Earth II, marine iguanas are most reliably encountered on the islands of South Plaza, Fernandina and Genovesa.
4. Freaky cacti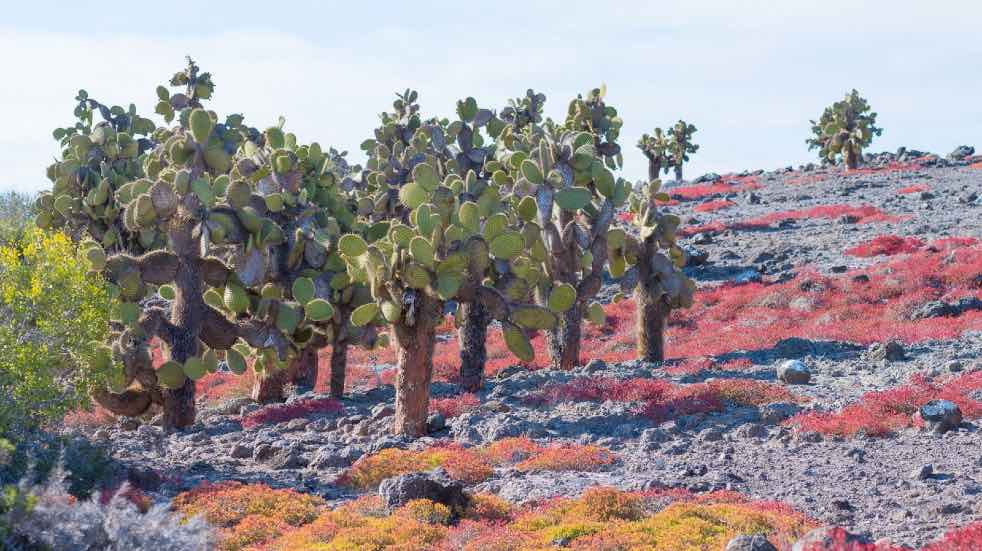 Also endemic to these islands, opuntia galapageia is a giant, tree-sized prickly-pear cactus with satellite dish-like pads. Prolific on Santa Fe – usually in the company of land iguanas, who gobble the plant's flowers – it's just one example of the captivating flora that cruisers routinely come across. Giant daisy trees – an unlikely relation to our dainty garden plants – are common, while, only found on Bartolomé, the lava cactus grows in stumps reminiscent of gloved fingers.
5. Mail from strangers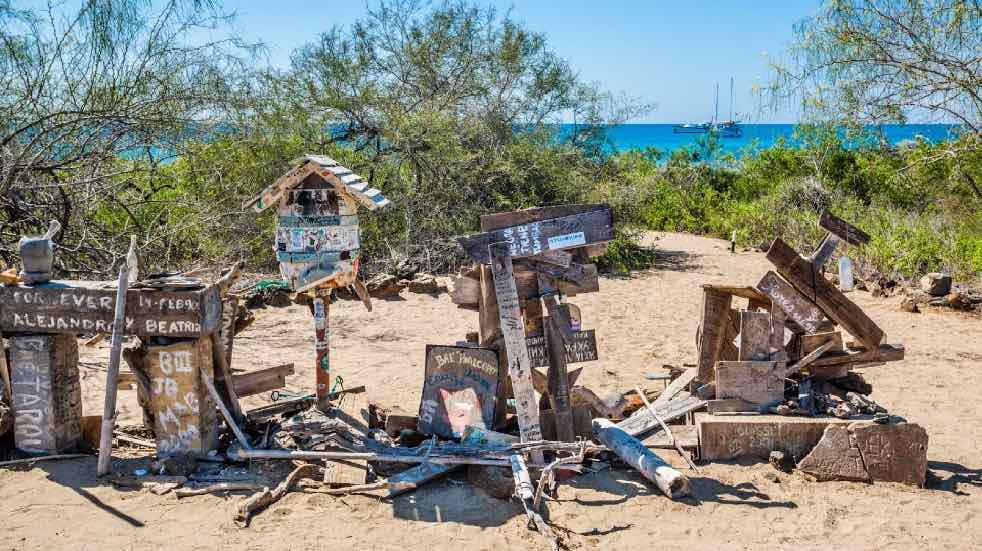 When your Hurtigruten cruise lands at Post Office Bay on the island of Floreana, your eyes will be drawn to a historic box among graffiti-covered driftwood on the sandy beach. No one is quite sure how, but a system sprang up here in the 18th century whereby passing whalers or sailors might leave a letter directed to loved ones in this vessel; other ships would then collect the mail relevant to ports they were subsequently calling at. And it still works this way, only with tourists now leaving postcards or notes for other visitors to take onwards.
6. A bevy of boobies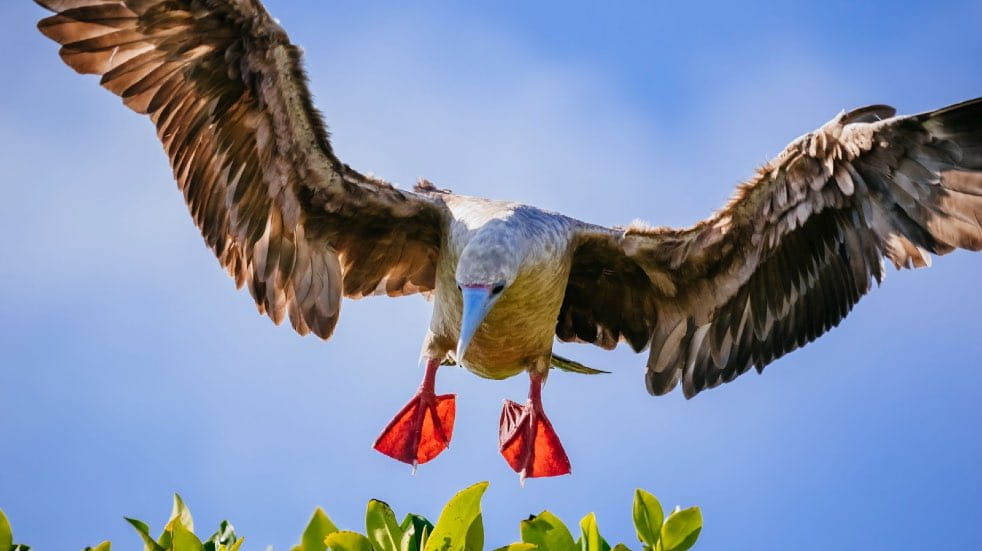 Ornithologists love the Galápagos Islands, and especially Genovesa. After a steep but puffy 90-foot climb up steps, you'll reach this island's flat, rocky plateau… and see its full extent of avian locals. Large colonies of nazca and red-footed boobies are found here, along with storm petrels, herons and pretty swallow-tailed gulls. Those bizarre great frigatebirds may appear, too, but a surer bet is over on North Seymour: from March to June, males are very visible; then, in July and August, juveniles appear. None of these birds have any anxiety around humans, so observing or photographing them is a joyous experience.
7. The world's largest tortoises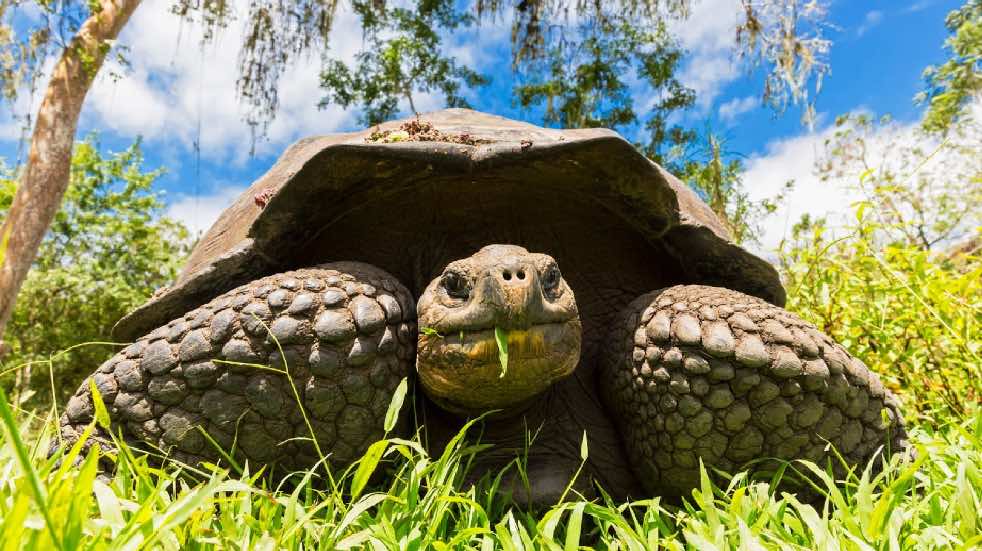 If the Galápagos Islands have a poster child, it'll be their various subspecies of giant tortoise. There are lots of places for Hurtigruten guests to encounter them, including a designated reserve amid Santa Cruz's highlands, and the large forest breeding centre on easterly San Cristóbal, where they're easily spotted. You obviously shouldn't approach them, but good luck to anyone who ever tries to pick up an adult – males can weigh upwards of 500 pounds. They generally live for 100 years and, via Spanish explorers, gave the islands their name: galápago is Spanish for 'tortoise'.
8. Somersaulting sea lions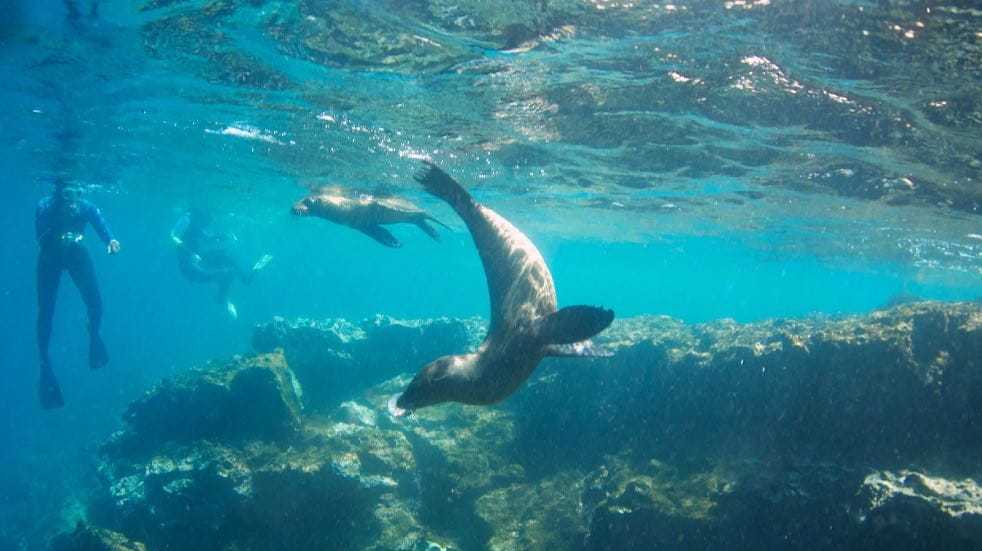 From mountain biking to paddleboarding, Hurtigruten's Galápagos voyages include an array of optional activities, feasible for all levels of fitness. Particularly popular are swimming and snorkelling, both of which can be done around the coral beside San Cristóbal; it's common to see dinky Galápagos sea lions performing acrobatics here. There are chances to kayak off the coast of Eden Islet, a thin volcanic cone where frigatebirds reside, or to look for rays and reef sharks through the bottom of a glass-bottomed boat. On Santa Cruz, a two-kilometre hike will take you across to Playa Brava, a snow-white beach where green turtles nest; on Sante Fé, walkers can join guided nature walks.
9. The Blower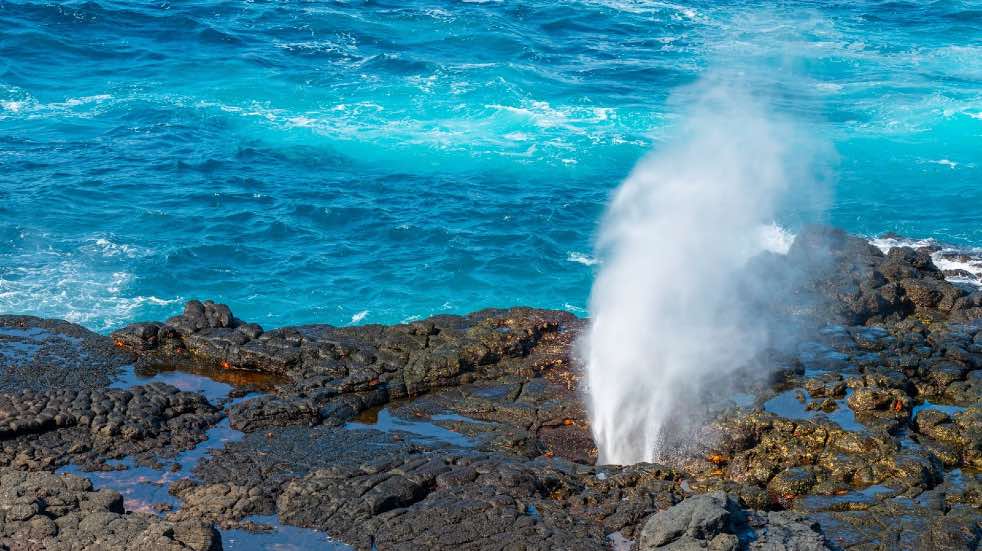 Almost all of Earth's waved albatrosses breed on Española, the archipelago's most southerly island, between March and January. Crimson-coloured lava lizards are another draw – as is Diego, a Hood Island giant tortoise who has almost single-handedly saved his subspecies from extinction by siring an impressive 900 offspring. Most memorable, however, might be El Soplador, or 'The Blower': a natural vent through which water routinely blasts 75ft into the air at high tide.
10. Live research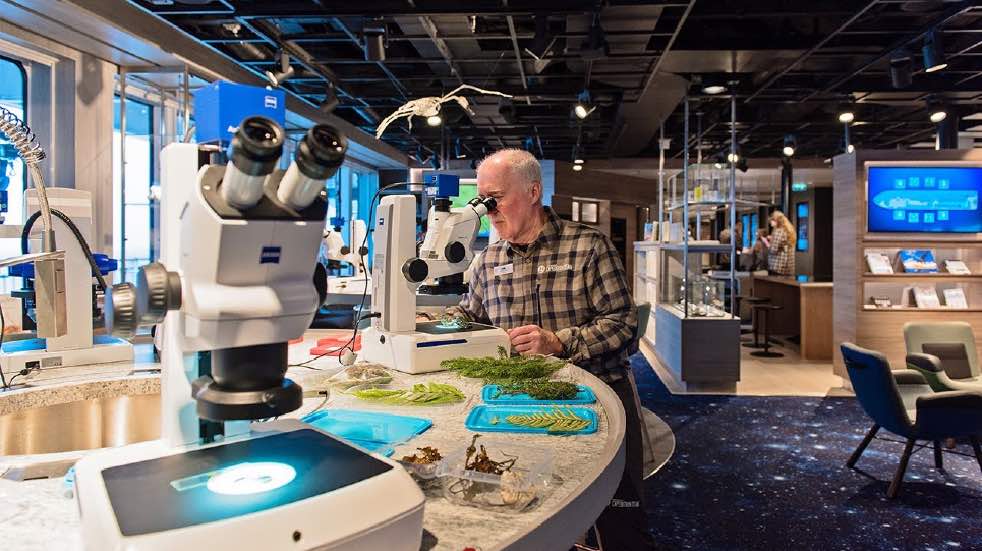 Not content with being one of the few Galápagos vessels to come equipped with a full range of exploration tools – dinghies, panga boats and the like – Hurtigruten's spacious expedition ship MS Santa Cruz II features a Science Centre where you can aid or learn about live research. Local, expert naturalist guides are on hand at all times, while a professional onboard photographer will dispense tips.

What else? Guests can wallow in two hot tubs, or retreat to the fitness room beside a top-floor sun deck – which yields remarkable stargazing after dark. All cuisine is overseen by a Le Cordon Bleu-trained gastronomy director, and there's a large main bar where lectures take place. Sleek, Scandi-inspired decor characterises the 50 cabins.

Throughout the year, Hurtigruten operates eight separate itineraries to the Galápagos Islands, ranging from eight to 13 days in length. Many of the options first visit Machu Picchu in Peru – a true once-in-a-lifetime trip! For more information, visit the Hurtigruten website.
Save 10% on Hurtigruten cruises
To access the discount code please login to your account