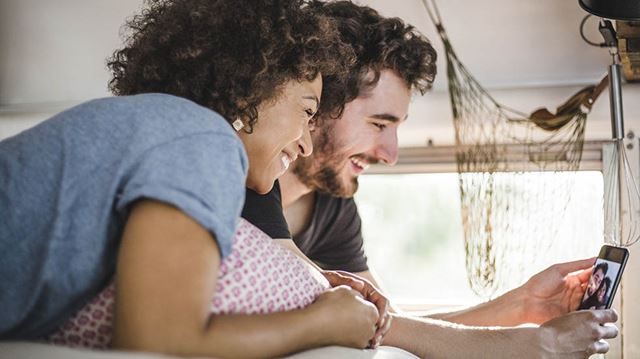 You might not be able to take your caravan or motorhome away on holiday at the moment, but you can still use it in a variety of fun and interesting ways. Just look at what these folk have been doing...
One of the (much less serious) side effects of the government's social distancing measures is that many of us have had to cancel holidays that we'd been looking forward to. But across the UK, owners of caravans and motorhomes who would usually have been setting off on their travels over the Easter break and beyond have been finding brilliant new uses for their mobile holiday accommodation.
Caravanning at home: thinking outside the box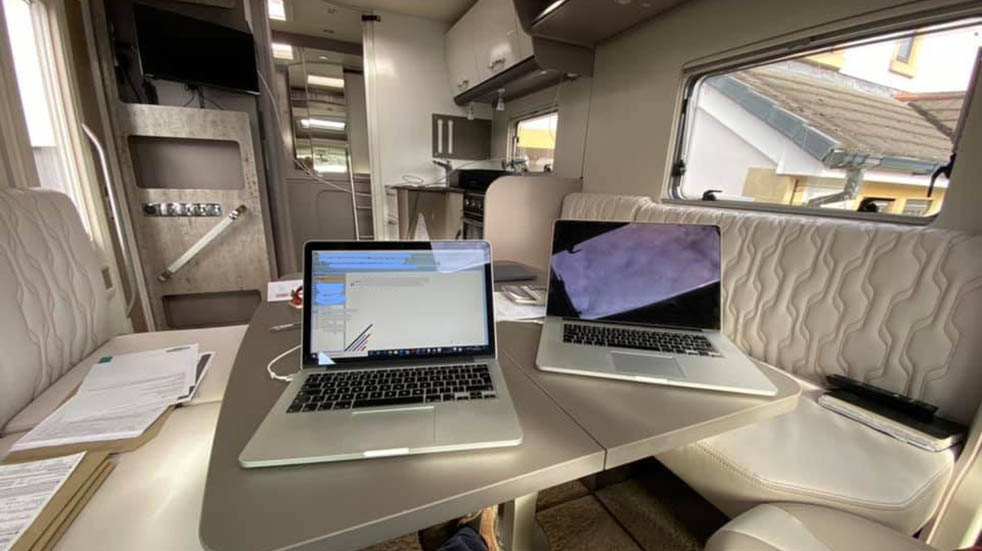 Some caravan owners have turned their pride and joy into a home office.
Insurance provider and Boundless partner Caravan Guard asked its customers to share some of the alternative uses they've found for their caravan or motorhome during this strange time of lockdown.
Some owners have been happy just to have somewhere to escape the family for an hour or two, or a quiet place to make work calls. Others have appropriated their caravan or motorhome for more fun activities, such as a 'drivecation'. After all, just because you can't go anywhere doesn't mean you can't pretend your driveway is seaside-adjacent and make the best of it.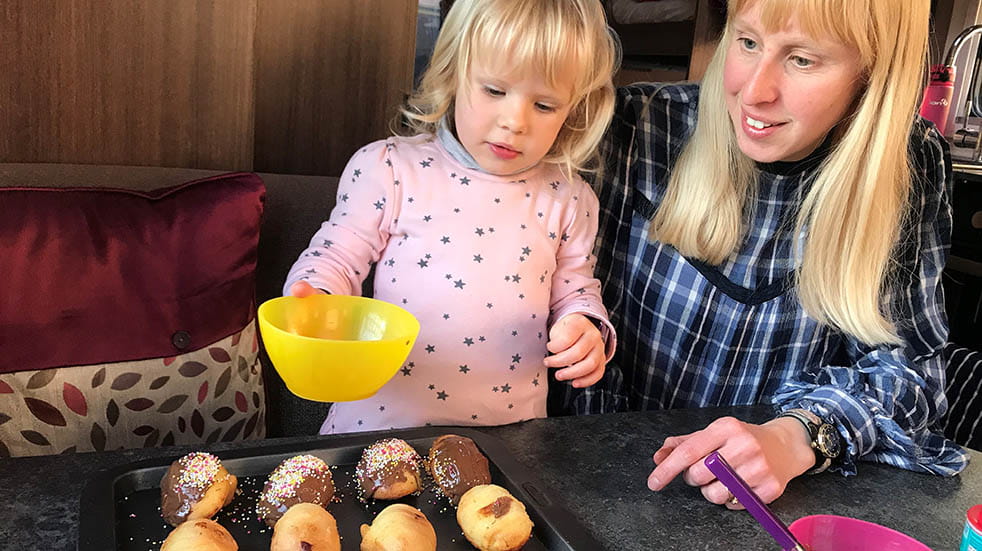 The Butler family have been doing everything from baking to sewing in their caravan.
Instead of heading off on an adventure, Jimmy Butler and his young family from Daventry, Northamptonshire, enjoyed an overnight stay in their caravan while it was parked outside their house. And they've also used it as a space for cooking, baking, sewing and reading.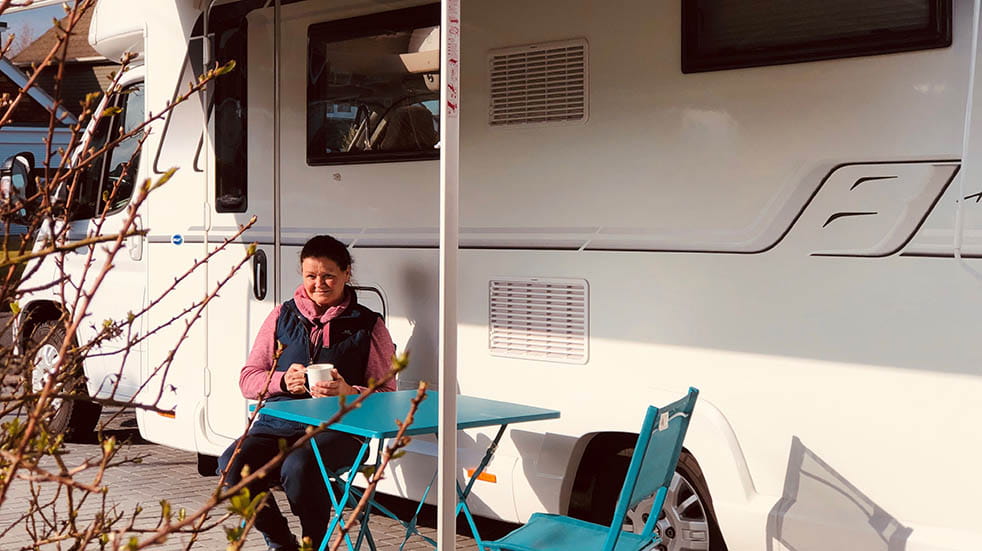 This driveway in Kent is doing a fine impression of the Costa Del Sol while the sun's out.
Then there's the Janaways from Kent. They would normally be touring the UK and Europe at this time of year, but have instead settled for enjoying the sun from their motorhome in "Costa Del Drive"!
Caravanning at home: working from caravan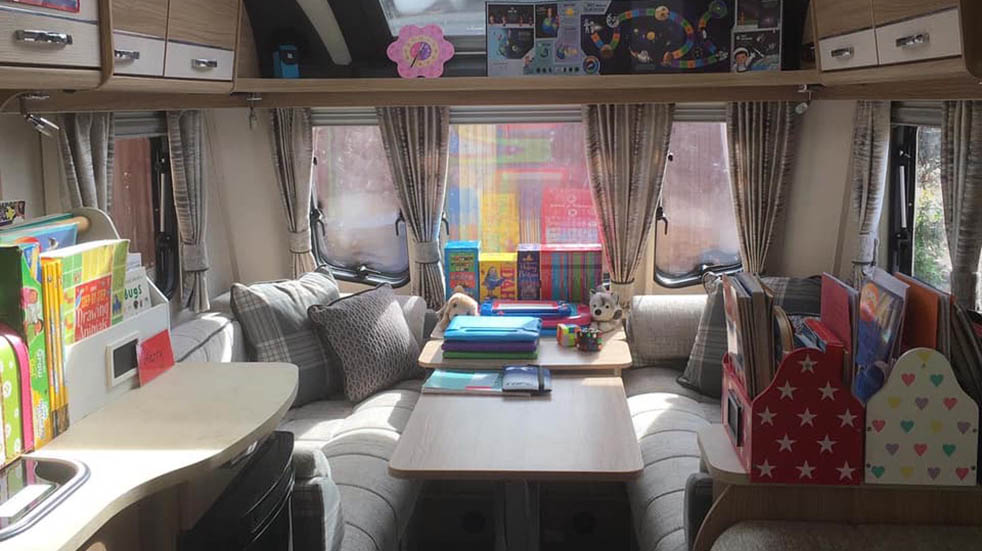 Turning a caravan or motorhome into a makeshift classroom makes homeschooling a little more fun.
Lorisa Talbot, from Chalfont St Giles, Buckinghamshire, has set up her caravan as a temporary classroom for her children while schools are closed, swapping the usual caravan accessories for books, files, games and teaching aids. The two dining tables in her five-berth caravan have been doubling as desks.
Caravanning at home: a celebration with a difference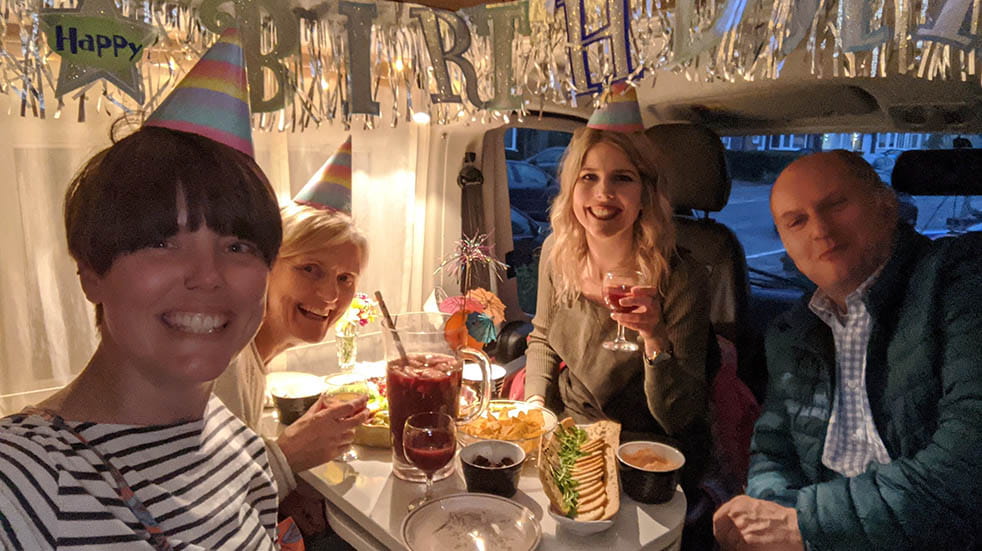 Katy, second right, is unlikely to forget this birthday party in a hurry.
Celebrating your birthday or other special event during a lockdown is rather unfortunate. But people are finding fun ways to mark the occasion without violating social-distancing rules.
Katy, currently in lockdown in Hertfordshire with her mum, her mum's partner and her sister, decided to have a pub crawl around the house – which included a stop-off on the driveway for a cocktail in the campervan.
Read about the Boundless Camping and Caravanning Group by clicking here
"I was disappointed about having my birthday whilst stuck in quarantine, but it forced us to think outside the box," she says. "We obviously couldn't go to any actual bars, so we decided to make our own.
"Naturally, we wanted as many different 'venues' as possible. Each room of the house had a geographical theme, and the campervan was 'Spain', where we had tapas and sangria. It actually became the favourite venue of the night, as it felt like we'd been transported on holiday rather than being stuck in lockdown metres from our house!"
Caravanning at home: a source of essential items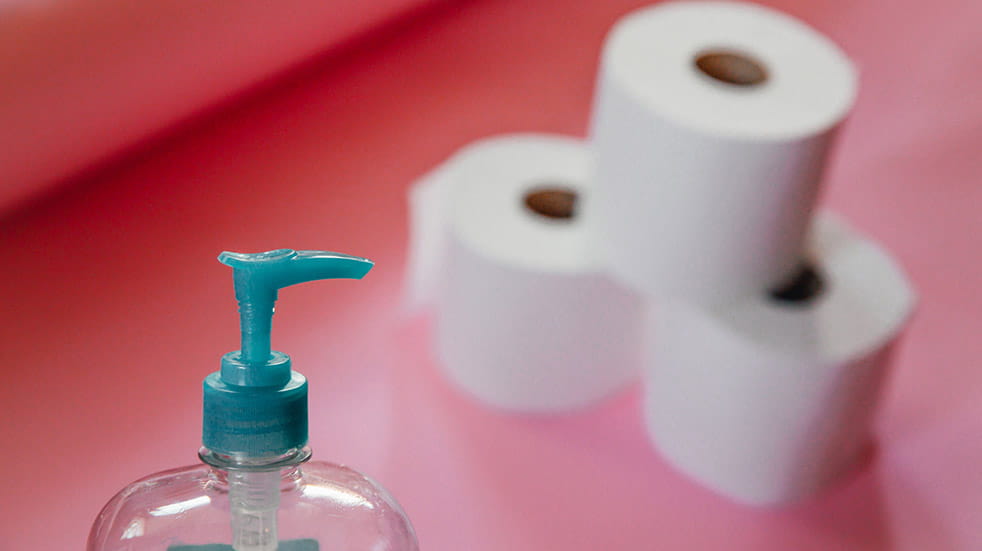 Have a look in the cupboards of your mobile holiday home – you never know what you might find!
Some people have found that their caravan or motorhome has become a useful source of hard-to-find items, from tinned veg to much sought-after toilet roll.
Craig Thompson, a Caravan Guard employee, said he'd been able to empty his seasonal pitch caravan of key essentials just before the lockdown was enforced. "I was lucky the caravan had a full pack of toilet rolls, pasta, and even hand-sanitiser gel and antiseptic wipes," he says.
Send us your stories
Have you done something interesting with your caravan or motorhome during this lockdown period? Let us know by sending us a message on Twitter or Facebook.