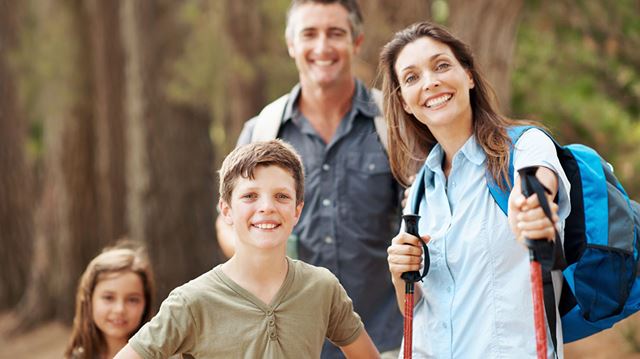 With the UK once again in lockdown, it's so tempting to spend the rest of the winter slumped in front of the TV.
But, while it's OK to do that from time to time, it's important not to neglect your health and fitness during this challenging period. Regular exercise and a healthy diet will not only help to keep you in trim – and potentially reduce your risk of becoming seriously ill with Covid-19 – they'll also do wonders for your mood.
Gyms and sports facilities may be closed at the moment, but that's OK as there are plenty of other ways that you and your family can keep fit and healthy during the lockdown – and many of them are free...
Before embarking on any activity during the lockdown, check the latest rules for your local area – England, Scotland, Wales or Northern Ireland.
1. Take a hike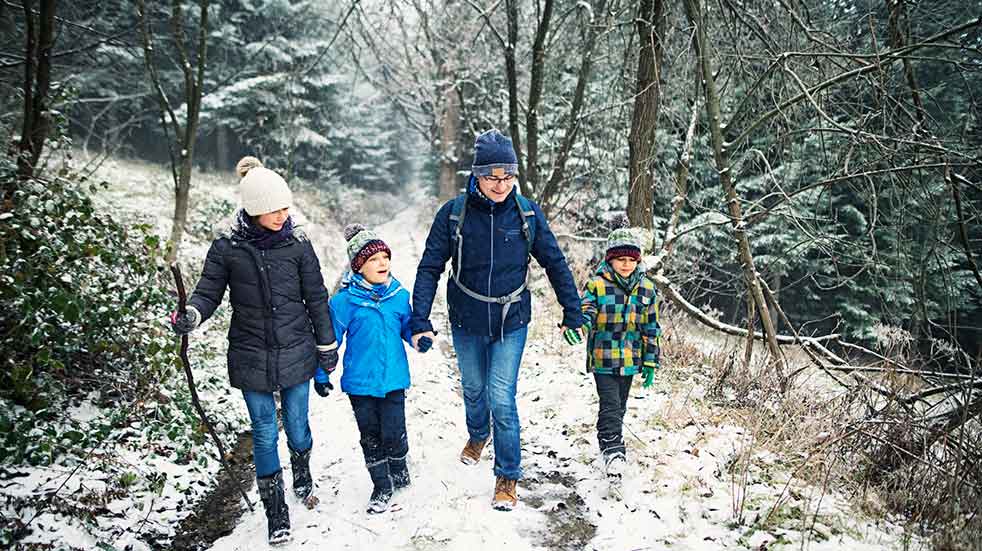 If exercising is allowed in your area, don't pass up the opportunity. Getting some fresh air brings a number of benefits, from helping the digestive system to improving blood circulation. And, of course, you'll burn calories too (it's reckoned that a person weighing 11 stone will shed around 40 calories per 1,000 steps). What's more, going for a walk as a family will enable you to bond for an hour or so – just make sure that everyone leaves their phone at home!

• Five ingenious ways to explore your local area on foot
2. Do some gardening
Getting out into the garden is another good way of enjoying some fresh air. You might think there aren't many jobs to do at this time of year, but you'd be surprised. As this article from BBC Gardeners' World magazine explains, there are plenty of tasks to take on, from planting bare-root plants to pruning fruit trees. And each of them will help you and your green-fingered assistants to burn calories. Not only that, your little ones will also learn some new skills along the way.
3. Enjoy a virtual workout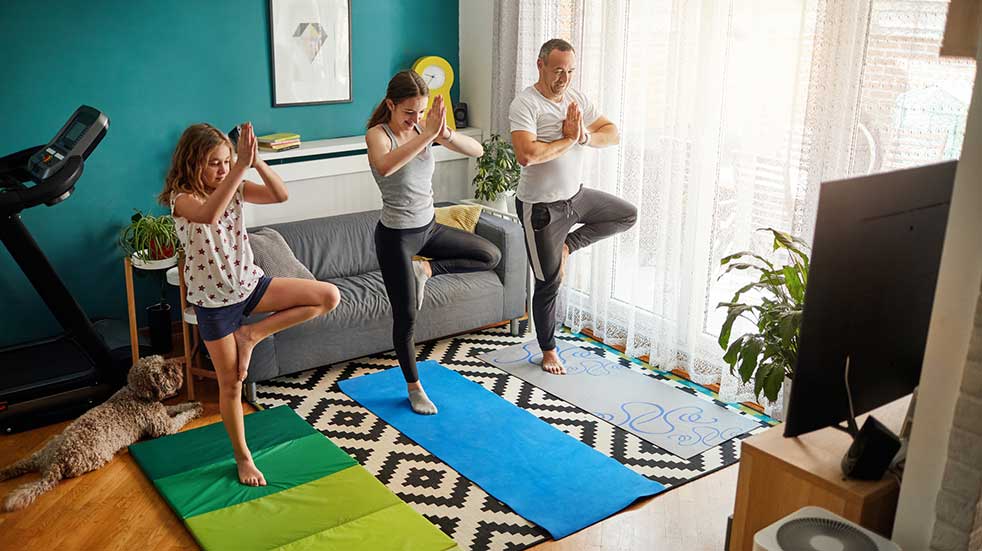 Online fitness classes were a thing long before the pandemic started, but they've become more popular than ever in the past 12 months. And there are hundreds of opportunities for getting fit with your family while having some fun, from karate workouts to kids' discos. Everyone's favourite fitness coach Joe Wicks is back for another series of online P.E. Sessions, starting on Monday 11th January at 9am. And there are lots of fitness titles for the various games consoles, too – to read about some of the best ones, check out this article by TechRadar.
4. Tackle the chores
Doing jobs around the house can help you to lose weight – according to this article by Good Housekeeping, two hours or dusting can burn around 600 calories, while just 20 minutes of vacuuming can burn 86 calories. And if the whole family is chipping in, everyone will reap the benefits while sharing the workload. The kids might groan at the idea initially, but if you award a prize to the person who does the best job during each session, they'll soon start to feel motivated.
5. Eat your five a day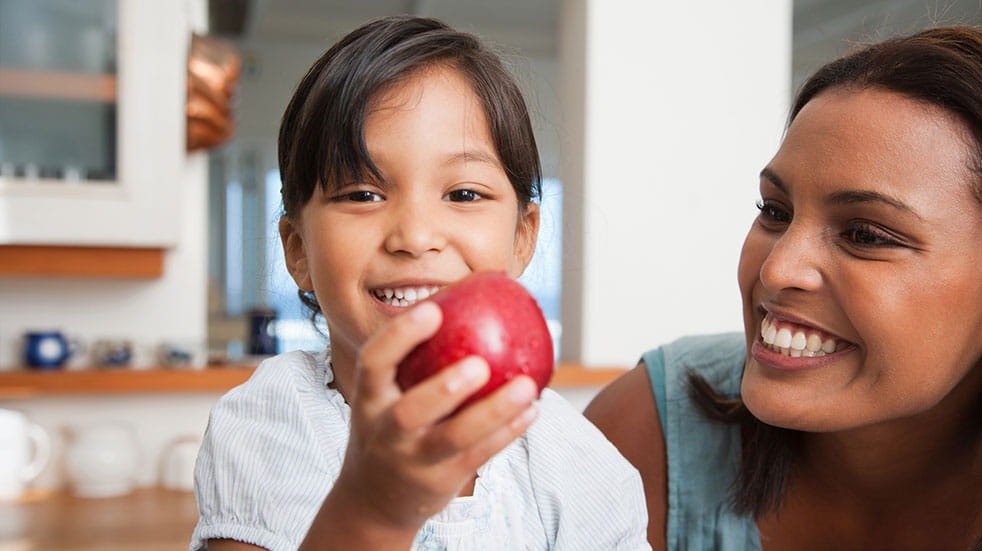 The idea of eating five items of fruit and vegetables a day is drummed into us from an early age – but what exactly are the benefits? As this article on the British Heart Foundation's website explains, fruit and veg contains vitamins, minerals and fibre, which can reduce your risk of having a heart attack or a stroke. The article lists 20 easy ways to get your five a day, from cooking vegetable crisps to making delicious fruity desserts. Doesn't sound so bad, does it!
6. Have a laugh
They say that laughter is the best medicine, and while that might not be clinically true, it could help you to stay in shape. According to research, 10 to 15 minutes of chortling could increase your energy expenditure by up to 40 calories a day – the equivalent of four pounds per year. So put on a sitcom or a funny movie, and share a good giggle – it'll lift your spirits in these difficult times, too.
7. Try Nordic walking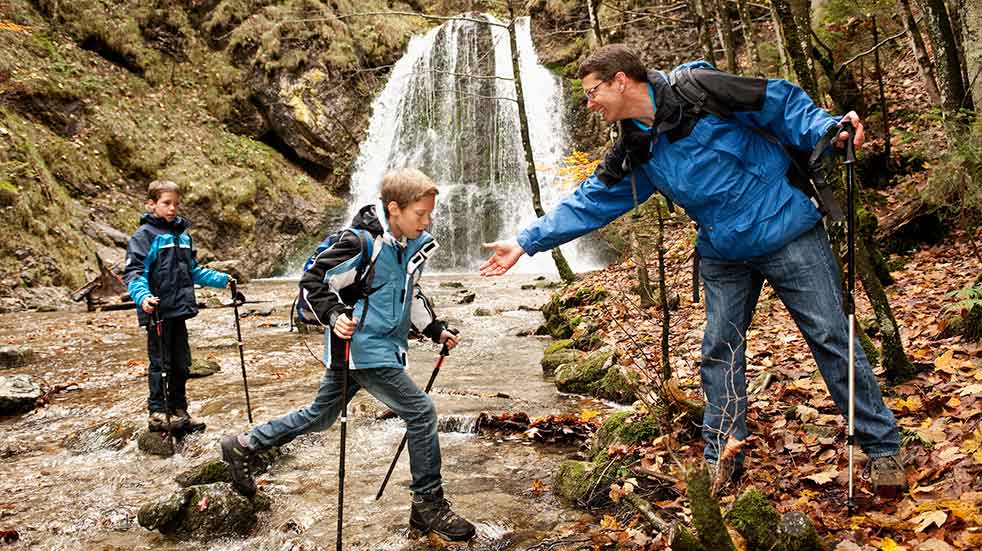 Nordic walking – in which you march cross-country wielding an extendable pole in each hand – is reckoned to be the fastest-growing fitness activity in the world. As well as strengthening bones, reducing neck and shoulder tension, and alleviating symptoms of repetitive strain injury, it can help you combat mental health conditions such as anxiety and depression. You'll need to buy poles for the whole family, but that should still cost less than annual gym memberships for everyone. And once things get back to normal, you could even take part in an organised nordic walking event.
To find out more about this activity, visit British Nordic Walking.
8. Host a healthy cooking contest
If you have older children, why not take inspiration from one of the TV food programmes and organise a cooking competition at home? Over the course of a few evenings, each member of the family could take their turn to conjure up a healthy meal (you'll find loads of nutritious recipes on the BBC Good Food website), with the other people in your household giving them marks out of 10 for flavour, presentation, etc. The person who accumulates the highest score wins. What better way to improve your kids' cooking skills and encourage them to eat more healthily.
9. Play some party games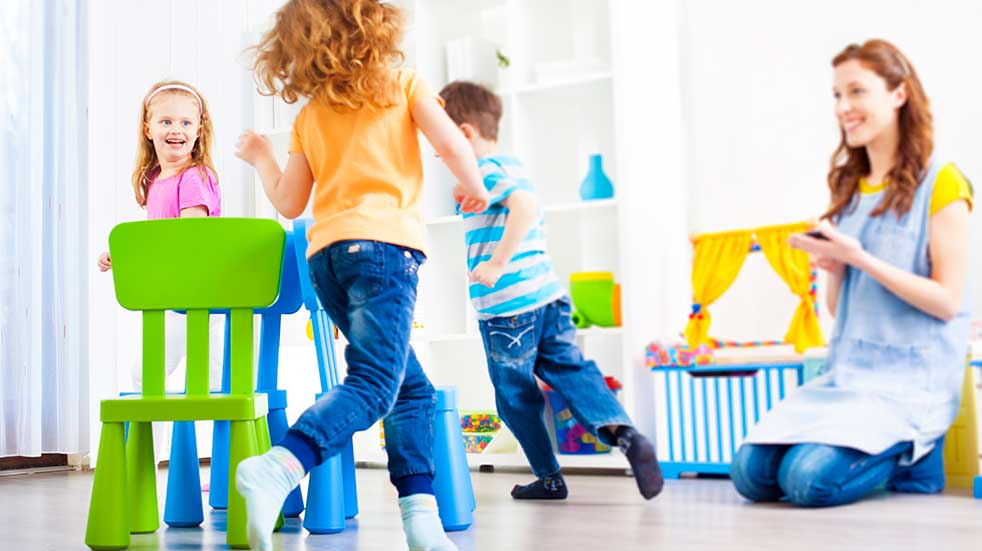 We all need a bit of cheering up at the moment, and nothing raises a smile like a party activity or two. It doesn't have to be a special occasion – set aside an hour or so each evening to put on some tunes and partake in a game of musical chairs, musical statues or pass the parcel. As well as giving you something to look forward to at the end of your working day, these sessions will burn a few calories and create happy memories that you'll all cherish forever.

For a reminder of how to play these party games, click here.
10. Deal some fitness cards
A fun way to get your family working out is to find a pack of standard playing cards and allocate a different form of exercise to each suit – for example, hearts could be press-ups, diamonds could be squat thrusts, etc. The idea is that each member of the family takes a turn to pick a card, and the number and suit they get relates to the activity they have to do. So, a six of hearts would be six press-ups, and so on.
11. Share the dog-walking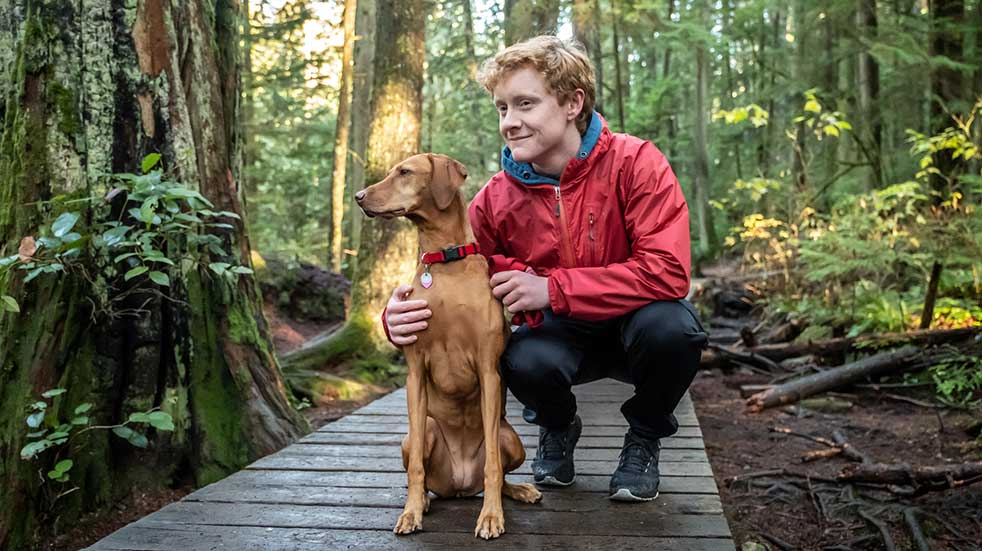 If you live in a family where the same person walks the dog every time, mix it up a bit. According to Bupa, dog walking can provide a wide range of benefits, from lowering cholesterol and reducing the risk of developing diabetes to easing stress and improving sleep – and, of course, if every member of the family gets a turn, you'll all form a better bond with Fido.
12. Plan a treasure hunt
Bored of walking the same old trails as part of your exercise allowance? One way to make your jaunts more fun is to organise a treasure hunt for the kids. Before leaving home, draw up a list of things that one might find in a forest or park – an acorn, a puddle, a tree stump, etc – and then, once you get there, see how many your little explorers can spot. If you don't know what to put on the list, you'll find some ideas here.
13. Experiment with smoothies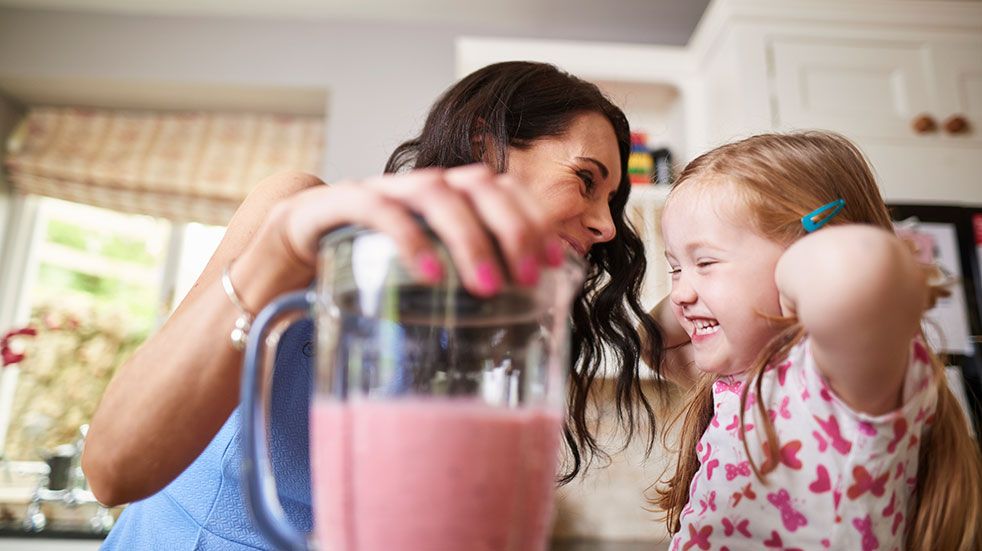 Encourage your children to swap their fizzy drinks for more healthy smoothies by bringing an element of science into it. Buy as many different fruits (and vegetables!) as you can, and allow them to mix whichever ones they like in the blender (you'll need to supervise if you have young kids). They'll love watching the colours change as the nutritious ingredients combine – and, of course, they'll be eager to try out their very own concoction once it's ready.

For some tried and tested smoothie recipes, visit BBC Good Food.
14. Introduce them to what they're eating
Studies have shown that kids are much happier to tuck into a certain food if they know all about it. So if you want to encourage your little ones to eat things like beans, grains and pulses, sit down with them beforehand and do a Google search on where these types of food come from, how they're produced and the benefits they can bring. Giving them this knowledge at a young age could help them to make healthier dietary choices throughout their life.
• Vitamin supplements: do they work?
15. Organise a sports day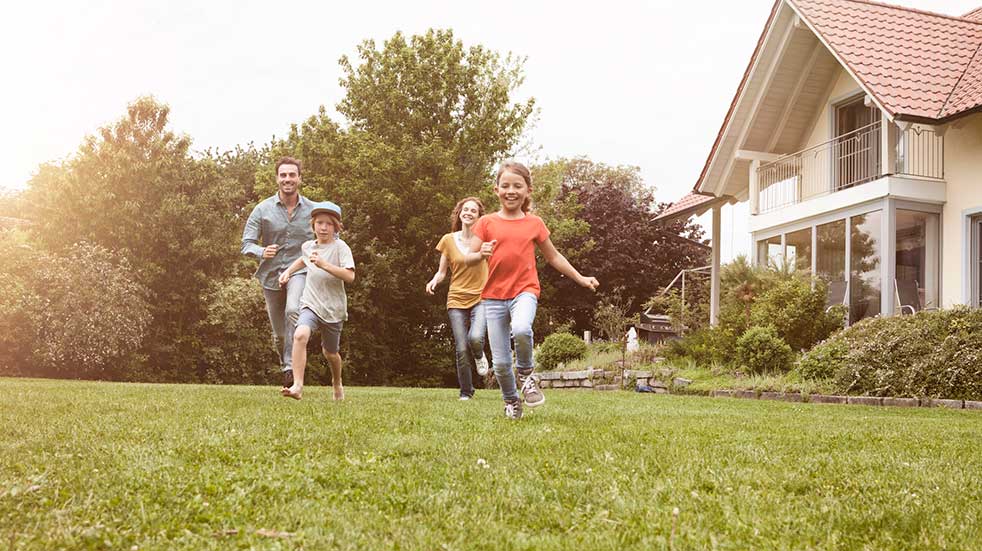 Grass-roots sporting activities are on hold at the moment, but there's nothing stopping you bringing the fun into your own back yard. If the weather's OK, why not organise a 'garden Olympics', complete with sprint races, skipping contests, ball-throwing competitions and the like. If you really wanted to go the whole hog, you could even craft your own medals for the best-performing 'athletes'. Just remember to let the little ones win occasionally!
16. Embark on some interval training
It's inevitable that you're going to watch some telly over the next couple of months – but hey, you can still squeeze in a quick workout while you're catching up on your favourite soap or box set. During each interval, a different family member could call out an exercise that you all have to do at the same time – for example, six star jumps or a couple of tai chi moves. It wouldn't be too punishing, and you'd soon start to notice a difference to your overall fitness.
17. Encourage one another
However you choose to get fit and healthy in 2021, make sure that you support each other every step of the way. At the start of your journey, you'll all have different fitness levels, so be kind to anyone who's struggling or who wants to sit out a particular activity. In these challenging times, positivity is everything.
Save money with Boundless
Boundless members can enjoy discounts on all kinds of health and fitness products, as well as holidays, motoring services, insurance and more – and all for just £28 per year. To sign up, click here.
Photos: Getty Images