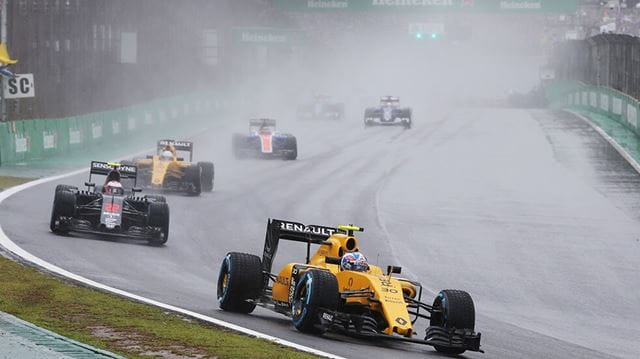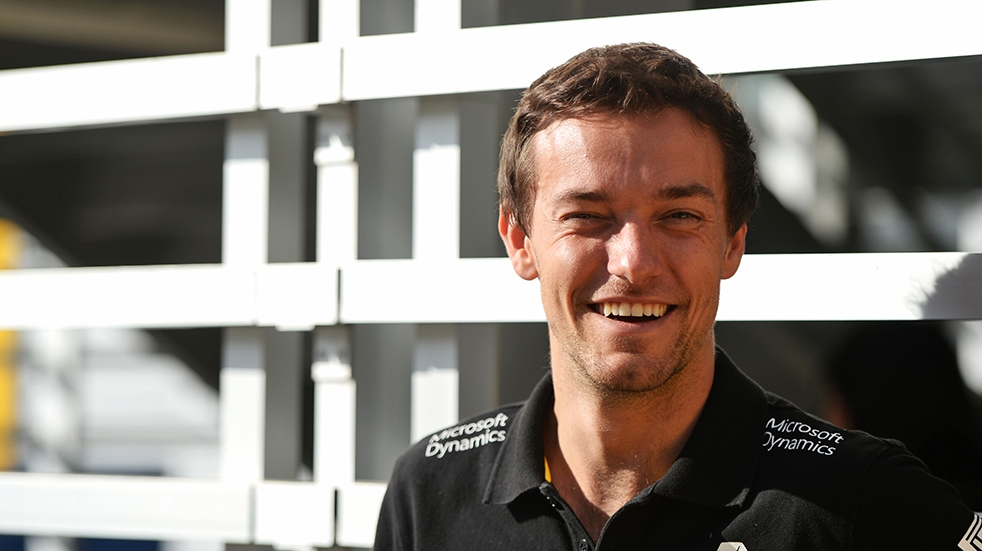 Jolyon Palmer, 25, is a Renault F1 driver [pictured above]. He made his debut this season and scored his first point at the Malaysian Grand Prix in October.
---
Boundless: Has F1 been tougher mentally and physically than you expected it to be?
Jolyon Palmer: Physically, I don't think so. It's tough. We need to be fit and training all the time but that's how I expected it, to be honest. Mentally, it's tougher. I expected everything to be tough. For a start, you have three different compounds of tyre to always be on top of and to understand how they work and to get the most out of them.
Then you've got all the set up variables. Then you've got everything on the steering wheel that we can control ourselves around the lap; with the hybrid engines we need to manage the battery level, the fuel management, the brake management. Race management – the radio ban is in for this year so we are not allowed to be told anything. That's a race where you really get worked overtime so you are driving flat out and are trying to improve the car around the lap in terms of overrun settings and brake mapping. On top of that you are checking what's going on with the energy level and brakes and fuel and everything. So I think it's the most demanding time mentally for a driver.
You were a reserve driver at the 2015 British Grand Prix and drove in free practice. How different was it for you to go back with a full F1 drive this year?
I've always had a really good reception at Silverstone. I was there as GP2 Championship leader a couple of years ago and I had really good support. The fans are very knowledgeable and passionate so that was great. Even last year, as third driver there, was a lot of support but now as race driver it's a different league.
For a start I got to drive all weekend instead of just a Friday morning which was nice. But I feel it's more like trying to do a good job for the fans who supported me. It's not just the British fans or Silverstone, the whole world changes when you are a race driver and not a third driver.
As a third driver, you are technically an F1 driver but the demands and pressures on you are smaller. At the end of the day people mainly watch qualifying and the race and that is what you are judged upon really. Twenty two race drivers - that's the sort of pressure a race driver is under. I've not been under that before last year.
Your father is an ex-F1 driver so what advice does he give you about the sport?
He gives me advice but nothing in terms of the day to day. He understands that he drove in the 1980s and it's so different now so he wouldn't be able to tell me anything in terms of driving or anything with the engineers but he's quite helpful in terms of a mentor. F1 is quite a sort of political animal as well and you are always on show. There's always things going on behind the scenes and that where he can be quite helpful really.
Did he motivate you to get into F1?
No, I was always around watching F1, probably because of him. When I was about two years old I started watching it and I loved it. I watched every GP since about 1994. I only started karting when I was about 13. He never pushed me; I just said I wanted to have a go because it looked fun. It's what I really wanted to do. I think he was probably quite happy and so I did it and it was good straight away. It was just straight on from there.
---
Jonathan Palmer: 'Within 10 months of hanging up my stethoscope, I was testing F1 cars for Lotus...'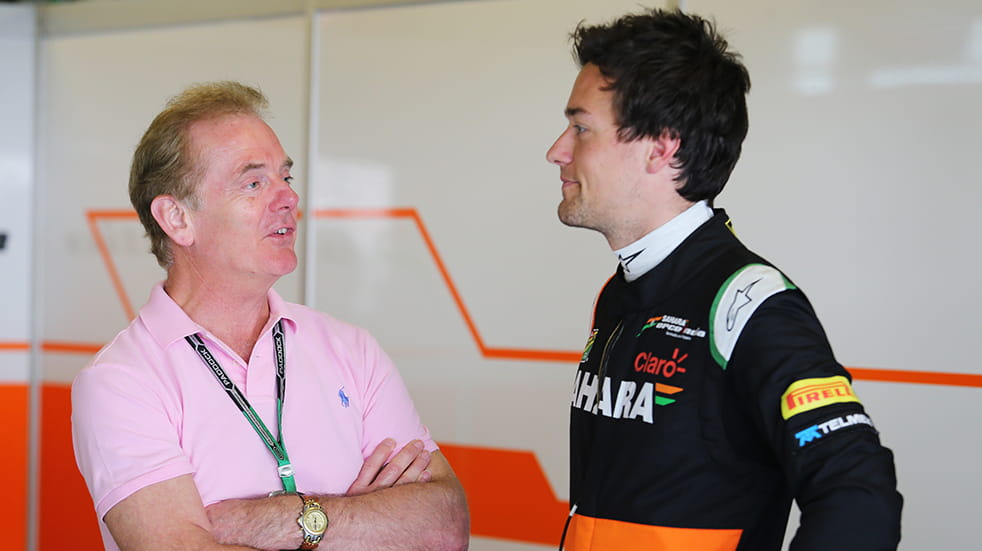 Jonathan Palmer, 60, drove in 83 Grands Prix between 1983 and 1989. After his driving career, he moved into commentary and business: his company, MotorSport Vision, owns Brands Hatch, Oulton Park, Snetterton and Cadwell Park and continues to be linked to a bid to buy Silverstone.
---
Boundless: You worked as a doctor before you became a racing driver. How did that career-change come about?
Jonathan Palmer: Well, it wasn't complicated at all. I had been racing as a hobby when I was a medical student and when I did my first year working as a junior hospital doctor I was doing Formula Ford and doing pretty well. I decided I ought to take a year off from medicine to see how well I could do full time and I did that and won the British F3 Championship.
Within ten months of hanging up my stethoscope, I was testing F1 cars for Lotus, McLaren and Williams. So it was a pretty simple decision to say that I wasn't going to go back to the hospital wards and instead move into motor racing full time. I did that and moved to F2, won the European F2 Championship in the second year, and moved to F1. Things evolved very straightforwardly, really.
Did you find the speed of F1 cars addictive?
You don't really think so much of the speed. One of the misconceptions is that people think it must be great fun driving a F1 car around a race track. It would be if it wasn't for the competition – sometimes it is despite the competition! Generally, the things that give you a good time or a bad time, and how good you feel about it, are what sort of results you had and how competitive you've been.
If you had a good result and done well, then it's great to drive. You can be driving the same car and doing the same lap times but if your team-mate is finishing 17 seconds up the road in front of you then the car feels rubbish and you feel rubbish and it's not enjoyable. So pleasure in motor racing is very much linked to results rather than purely the enjoyment of driving a car.
Do you ever miss not being a F1 driver?
No, I don't miss it at all, in that when I was racing I never saw the driving as being the 'be all and end all' of my career. I was hugely motivated and determined to pursue it as long as I could to get as high as I could and as much success as I could. Which I did but, ultimately in my sixth year of F1, I had to accept the fact this young upstart French driver came along at Tyrrell, Jean Alesi, and he was quicker than me. So, it was time for me to move away from F1.
To be honest, once I moved away from F1, I saw much more excitement and potential and future than just racing touring cars and sports cars so then I moved into the business side and I have enjoyed that thoroughly. I probably enjoyed that more than the racing.
Did you always hope your son would be an F1 driver or did you think he would take a different career path?
Neither, to be honest – whether or not one's son is going to end up being an F1 driver you have really no idea until the year before he becomes an F1 driver. That's the truth of it, really. At a level of karting, junior single seater racing, Jolyon was one of a lot of drivers doing it and he was a pretty good one. But, as with a lot of drivers, unless you happen to get into the best team all the way through, you don't tend to dominate from the first day you sit in a racing car of any sort. You have good years and you have struggling years and 'not so good' years.
So I just supported him to the extent that he wanted and was motivated to go motor racing. Also the results he was getting deserved trying to help him progress up the ladder. For example, I had always said when he was doing GP2 I wouldn't be trying to support him in a big way to make it to F1 until such time as he won the GP2 Championship. He duly did and I duly helped so it's not something that one can say at 16 "right, he's going to be a F1 driver and I am going to support him all the way".
All you can say is that he is a good race driver and he is doing well and let's take him to the next step. Then you keep going to the next step until you are on the brink of F1. If a driver gets that far you obviously work hard to find a way to help them to get there.
In your era if you had the raw talent was it easier to become an F1 driver than it is now?
It is certainly more difficult now, I think, for two reasons. There are a lot more racing drivers. If you treat it as a pyramid with the peak being F1, the base of the pyramid is a lot bigger than it used to be. There are a lot more drivers doing karting, junior single-seater racing and a lot more trying to get there. Second thing, is in my day F1 wasn't as expensive. Drivers tend to have sponsors with them and that's an important part of the mix to make it work. Most drivers in my era, when they got into F1, got there because they brought some sponsorship with them and indeed had to... The difference is the scale of it now which is so much more than it was then.
But the other thing is, that there were more cars on the grid. In my last year of F1 there were 38 cars trying to qualify for 26 places and now we've got 22 cars. When I started, there were only 27/28 cars in 1984 but by 1989 there were 38 cars. So, if you had won a F2 Championship then you had a pretty good chance of getting in somehow because of a combination of people wanting some talent and getting a bit of budget. It was a game of musical chairs and there were a lot more chairs out there then.
What advice have you given Jolyon about F1?
To be honest, very little. F1 has changed a lot since I was doing it and he at the same time has been involved with very sophisticated teams.