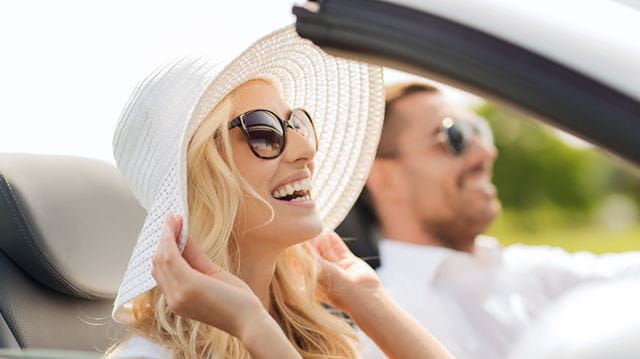 ---

1. Be particularly careful to check your car's coolant levels before a long summer drive, to avoid overheating
In fact, it's worth checking the level of your water (including anti-freeze, as it also works as a summer coolant), windscreen-washer fluid and, er, while you're about it, fuel. And check the condition of all the hoses, especially those carrying hot water to and from the engine.
---
2. It's not just your car that needs plenty of fluids in the summer
Becoming dehydrated when driving is surprisingly easy – and it will seriously affect your concentration. So carry a bottle of water with you and drink plenty of it. Yes, it might mean you need to stop for more comfort breaks, but they're good for your concentration, too.
---
3. Never leave children or animals alone in a parked car, particularly in warm weather
It's not enough to leave the window slightly open or even the air conditioning on. Heatstroke hits its victims very fast and the results can be devastating. It's said that on a hot summer's day, temperatures inside a parked car can become dangerous in as little as 10 minutes.
---
4. Avoid the 'Are we nearly there yet?' fiasco
Make sure to plan plenty of games and entertainments for the journey. It could save your sanity.
---
5. Keep car sickness at bay
It's better not to mention it to the children unless prompted, as it's surprising how often the question "Are you feeling sick?" can become a self-fulfilling prophesy. But do keep a secret stash of travel sickness pills, just in case.
---
6. Plan a picnic
Now, here's a cheerful and genuinely practical idea. Why not plan a picnic to give you a break from the journey, top up your passengers with fluids and fuel, stretch your legs and – you never know – even enjoy some undiscovered beauty spot? It would be better to plan this in advance, in case you find yourself picnicking in the car park of a service station just off the M1, just like you did last year.
---
7. Check your tyres
Worn, damaged or incorrectly inflated tyres are more likely to suffer a puncture – or even a high-speed blow-out. High temperatures and hot roads increase the risk, so make sure to check your tyres even more carefully than usual.
---
8. Keep emergency sunglasses in the car
Among the usual emergency kit you keep in your car, you might want to add a pair of sunglasses and hay-fever pills for the summer months.
---
9. Don't start fires
While it's always a fairly antisocial act to chuck a cigarette end out of the car window, do avoid it in summer, when dry conditions drastically increase the risk of a rural fire. And check that you have an in-date fire extinguisher on board.
---
10. Check the facts before driving abroad
Take care to research the driving rules for every country you'll be entering. This isn't just a case of checking the speed and blood-alcohol limits: common rules in various European countries include carrying a reflective jacket, headlamp converters, a breathalyser, a first aid kit, spare glasses or contact lenses – and that tourists driving abroad must be at least 18 years old. Ignorance is no excuse, so check it out before you leave home.