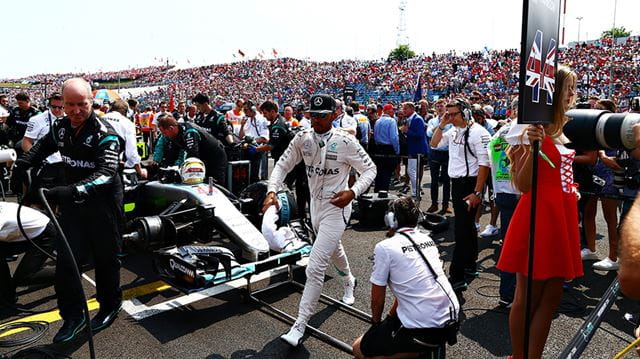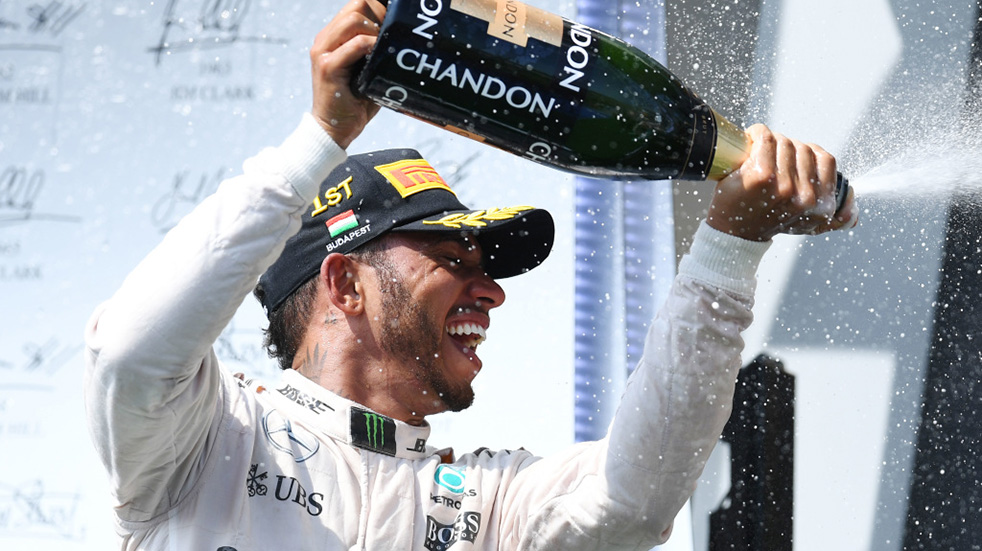 Lewis Hamilton won his fifth Grand Prix in six races at Hungaroring – overtaking team-mate Nico Rosberg on Lap 1 and holding his lead to the finish.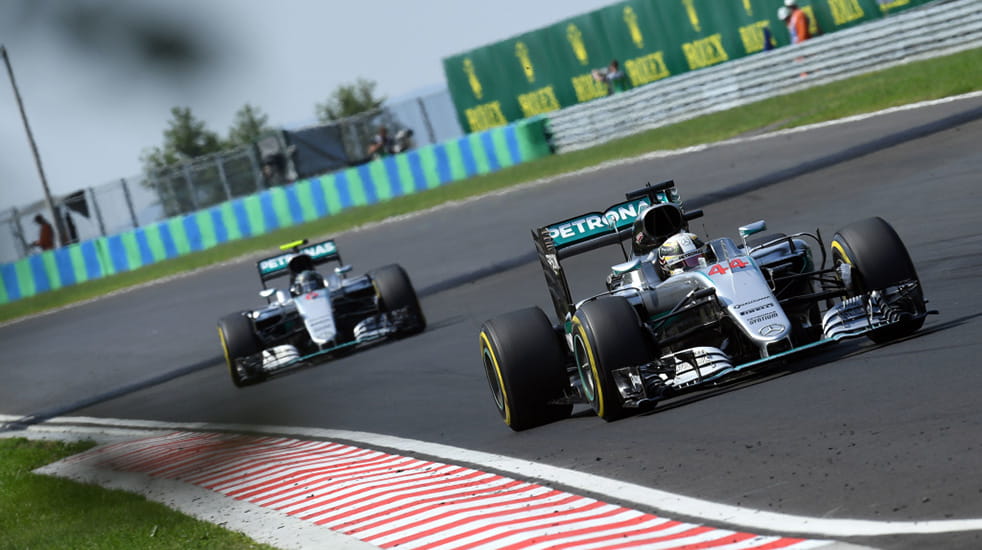 Hamilton leads Rosberg on the track: this was Mercedes' third one-two finish of the year. In 2015, the pair had a record 12 one-two finishes.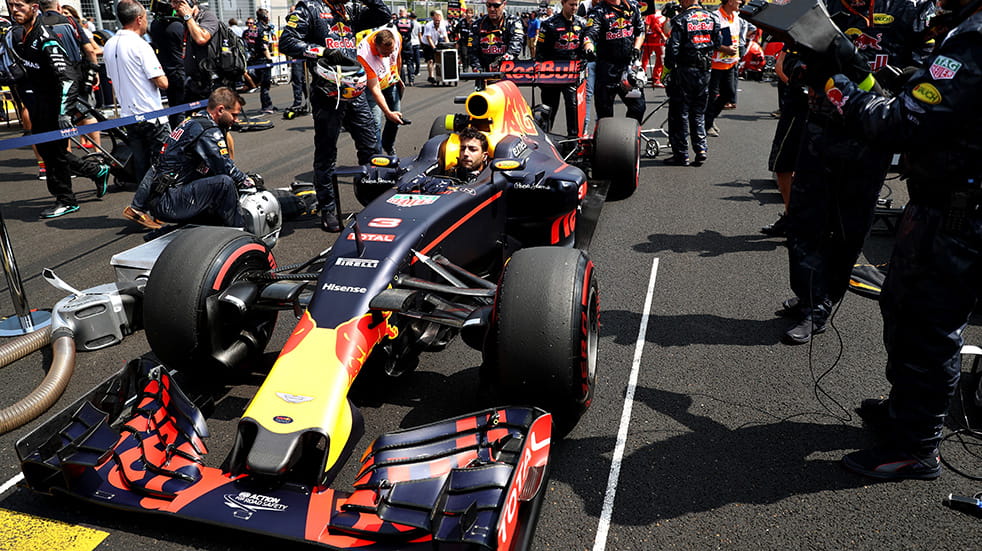 Red Bull's Daniel Ricciardo on the grid ahead of the race. The Australian drove into third place, which also took him into third place in the drivers championship.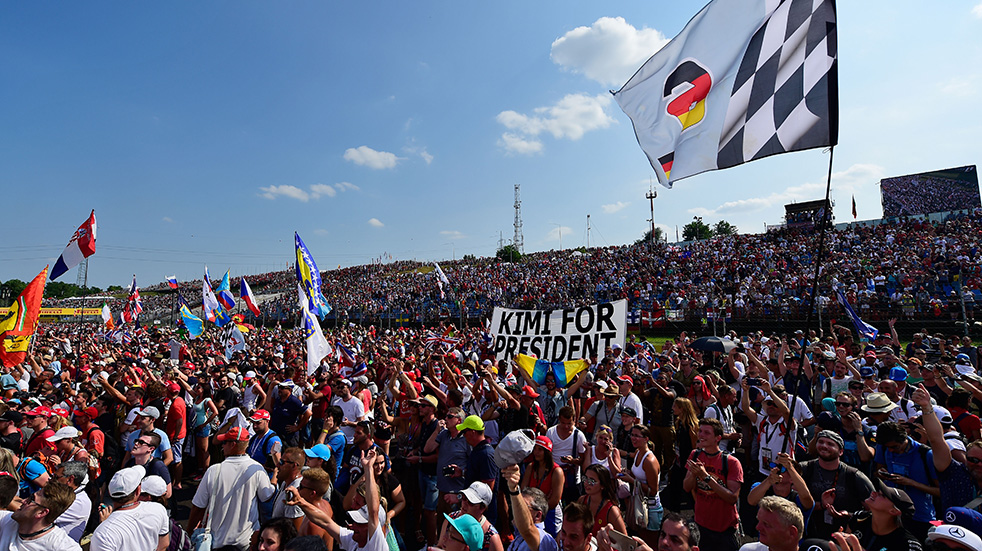 Packed crowds ventured to Hungaroring, 19km outside Budapest and purpose-built ahead of the first Hungarian Grand Prix in 1986. The track fulfilled F1 boss Bernie Ecclestone's dream of staging a Grand Prix behind the Iron Curtain.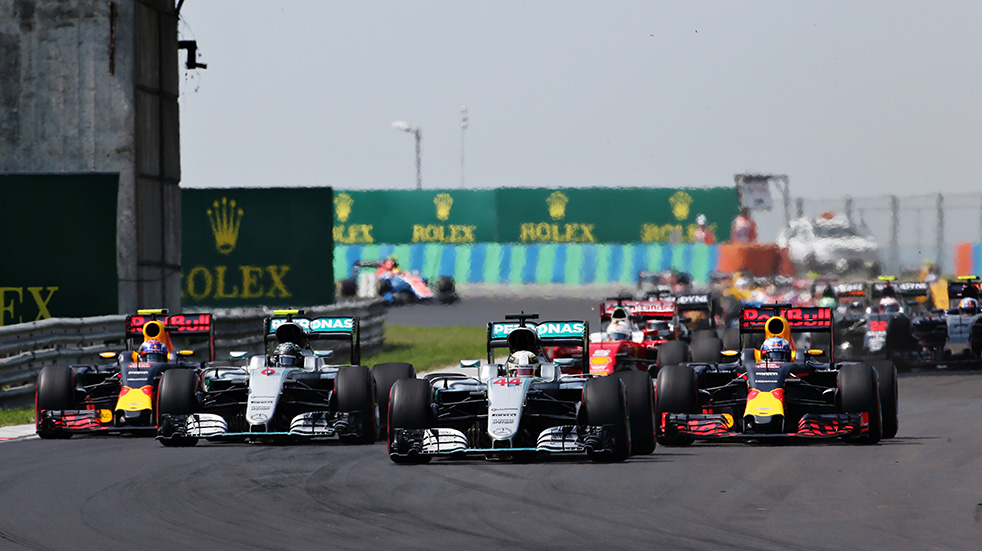 Hamilton leads Ricciardo and Rosberg coming out of the first corner.The long straight down to the first corner saw the most dramatic racing of the whole Grand Prix, with both Hamilton and Ricciardo overtaking Rosberg who had been on pole.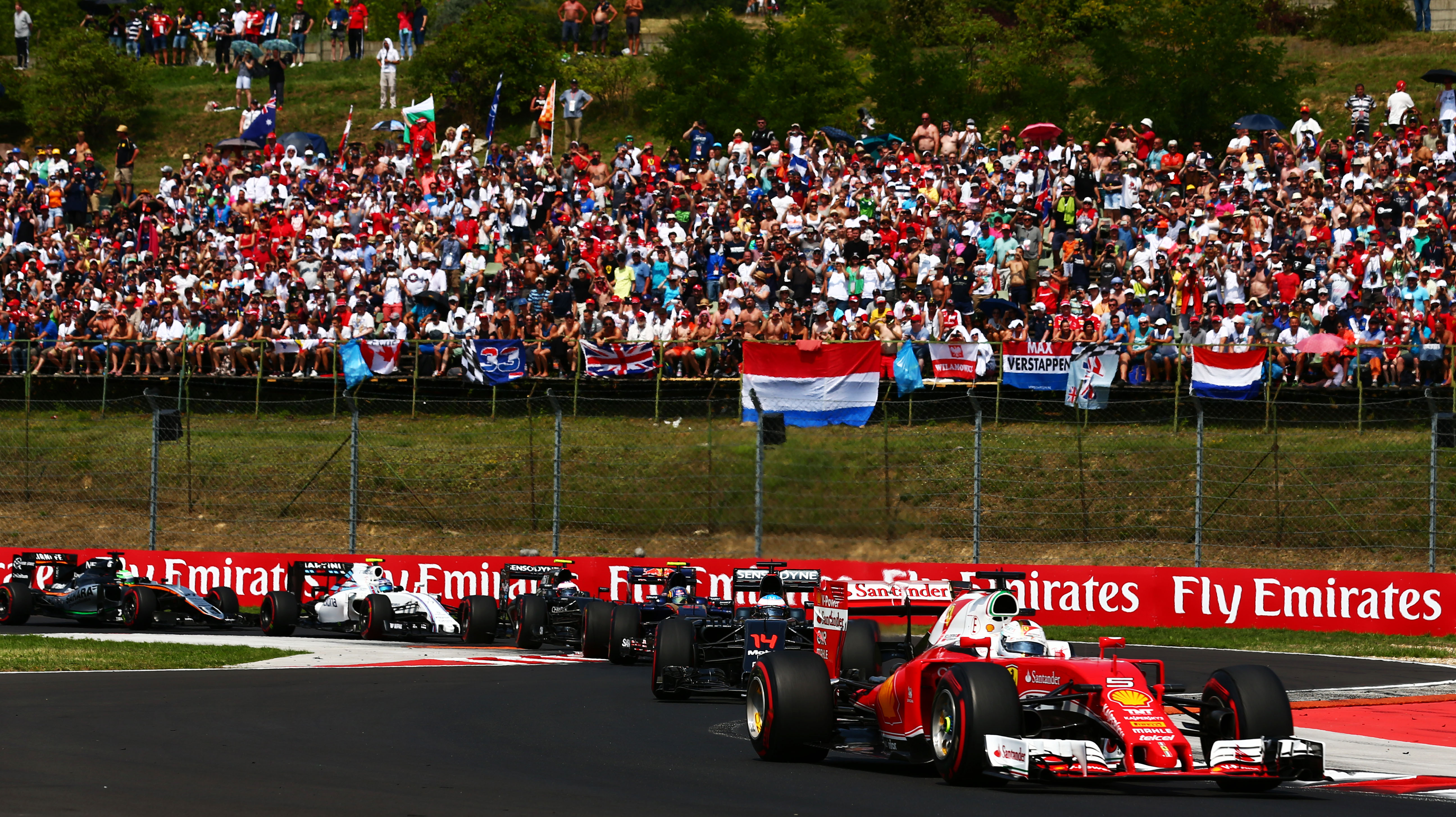 The twisty, turny Hungaroring is the second slowest track on the F1 calendar, after Monaco, making overtaking unusual. Here, Sebastian Vettel, who finished fourth, leads the (forlorn) chase/procession to get into the podium places.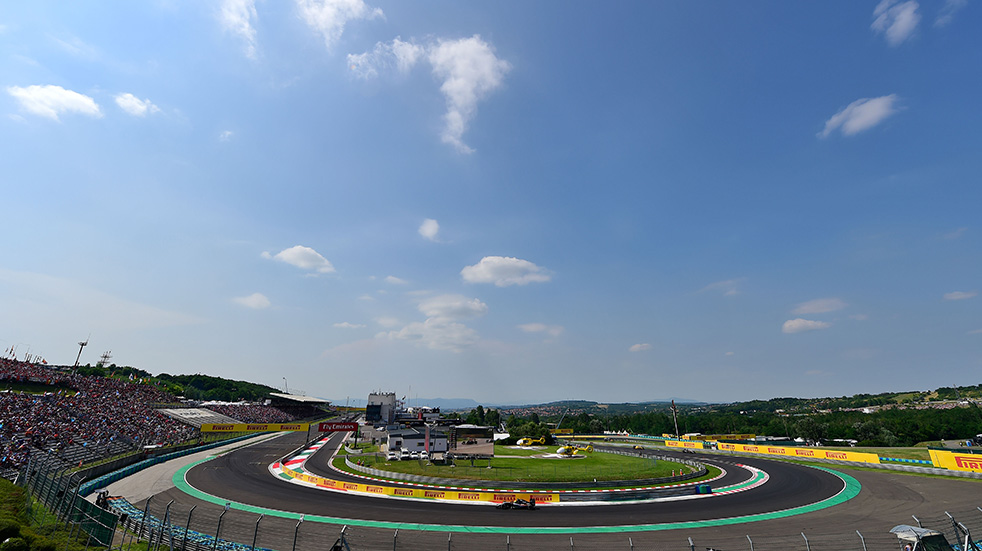 Compact and built in a valley, Hungaroring is great for spectators: from some vantage points, 80 per cent of the circuit is visible. Hamilton's win was his fifth Grand Prix victory at the track: no driver has more.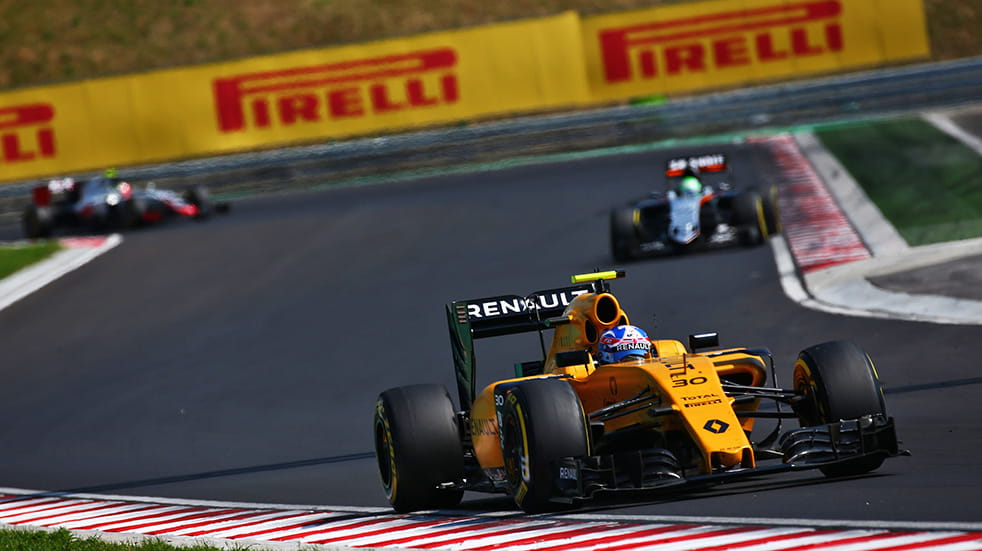 Renault's Joylon Palmer, in his first season, was placed 10th and apparently well set for his first championship points – before spinning off 21 laps from the end and losing two places.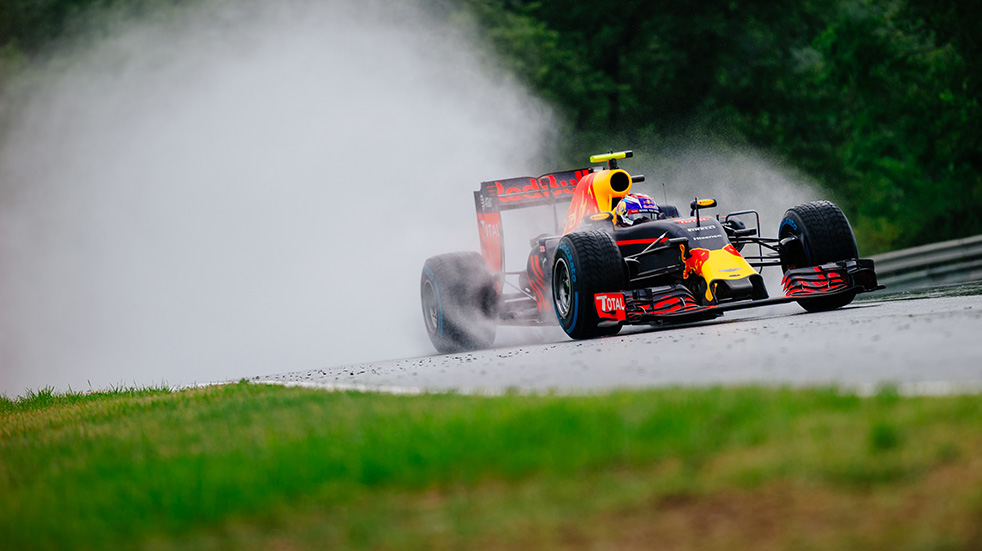 Max Verstappen in qualifying on Saturday: the heavy rain meant Q1 was red-flagged three times. Eleven drivers finished outside the limit of 107 per cent of Nico Rosberg's fastest lap. But, amid some controversy, five of those drivers, including Verstappen, were allowed to go forward to Q2. As conditions improved, Verstappen went on to place fourth on the grid.
Hungary Grand Prix results
1 Lewis Hamilton (Mercedes)
2 Nico Rosberg (Mercedes) + 1.9 seconds
3 Daniel Ricciardo (Red Bull) + 27.5
4 Sebastian Vettel (Ferrari) +28.2
5 Max Verstappen (Red Bull) +48.6
6 Kimi Raikkonen (Ferrari) +49.0
7 Fernando Alonso (McLaren) Lapped
8 Carlos Sainz jr (Toro Rosso) Lapped
9 Valtteri Bottas (Williams) Lapped
10 Nico Hulkenberg (Force India) Lapped
Fastest lap
Raikkonen 1 min 23.086
Drivers championship standings
1 Hamilton 192 points
2 Rosberg 186
3 Ricciardo 115
4 Raikkonen 114
5 Vettel 110
6 Verstappen 100
Constructors championship standings
1 Mercedes 378
2 Ferrari 224
3 Red Bull 223
4 Williams 94
5 Force India 74