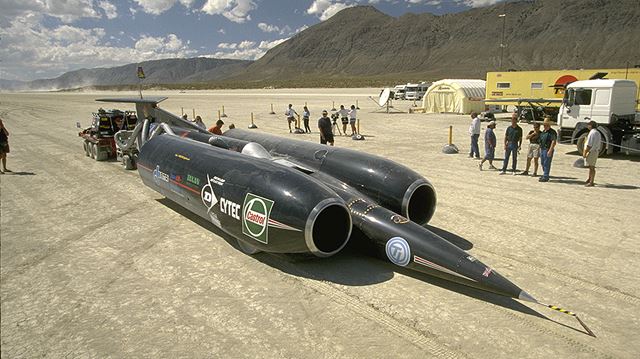 For Britain and For The Hell of It! looks back at the sound-barrier breaking events of October 1997 – we talked to its director Rob Hollocks
Tell us about For Britain and for the Hell of It!
We're telling the story of the ThrustSSC team breaking the land speed record at Black Rock, Nevada, back in 1997. I'm working with producer Dan Pickering who's been involved with the original ThrustSSC team since just after they broke the record, so over the course of the last 20 years he's been compiling interviews. And this culminated in us heading to Gerlach, Nevada, for the 20th anniversary celebrations.
This documentary is going to catalogue not just the actual event, but also how it changed these people's lives, what they're doing now, and how their views of the event have changed.
---
There's also going to be a feature film?
That's right. We're hoping to release it in late 2018 or 2019, just before Richard Noble attempts the next land speed record. It's going to tell the story of the original Mach 1 events and record attempts.
They were in direct competition with a very well-funded American team. These guys had no money – they did the whole thing on a shoestring – and against all the odds they developed this new technology and were able to beat the US team and break the record. It's a great British story. It's a great underdog story.
---
Is that what attracted you to the story?
Yes. This was a chance to tell a neglected great British story about Richard Noble and his team [The Bloodhound Project http://www.bloodhoundssc.com/project] pulling off an amazing feat.
---
The driver, Andy Green, seems completely unflappable!
He's an amazing guy. The team call him the "steely-eyed missile man". He was an RAF pilot and he is exactly as he appears in the documentary – a nice guy but very reserved and always calm and collected. They were going through these incredible traumas where shoots didn't open or the brakes failed – the car took off in the air at one point – and he never lost his cool.
---
How willing was Andy Green and the original ThrustSSC team to work with you?
They're a great bunch of people. I haven't known them that long and I already feel part of that family. They're just a tremendously friendly, happy group of people who are really proud of what they did and welcome the chance to have some of that story told.
In many ways it was quite an unsung thing in the UK. There are a lot of people who weren't aware this even happened. Yet it was a really big deal in the US. In Gerlach, they just love these guys. They supported the British team over their own US team.
---
You mentioned that you're hoping to show how the team has changed – was achieving the land speed record fundamental to this change?
Definitely. When you talk to Richard Noble, one of the things he says is that the minute it was over there was this overwhelming sense of loss; they'd done it and now they didn't know what to do with themselves. They'd spent the best part of eight years putting this project together – and the last year of that was a pretty intense set of trials – and when it finished they struggled to get back to normality.
---
20 years on, what impact do you think this event had on the world at large?
It's moved technology forward. The first time anyone talked about doing this, people were saying it couldn't be done, but they did it. They were up against substantial competition. A McLaren team was hoping to do it too but pulled out, saying it was technically impossible to break the sound barrier on land.
---
And do you think the Bloodhound team will set its new record?
I'm certain they'll do it. Richard is one of the most positive people I've ever met; nothing seems to set him back. I watched the first trial in October out at Newquay and it's a super-refined machine – it's elegant, it's fast, it's jam-packed with modern technology and I'm sure they'll do what they've set out to do.
---