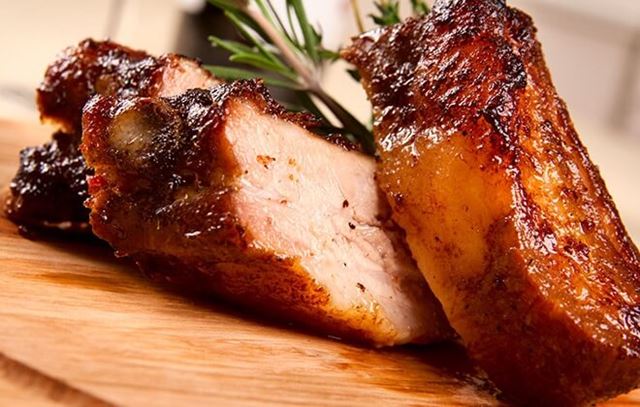 Sarah Banbery's quick and easy summer stand-bys are just the thing for a family gathering or a midweek meal with friends
---
Chargrilled Pork with New Potato Salad
The potato salad here is just as good served with chargrilled chicken, grilled salmon or with kebabs – you can add a spoon of crème fraîche or mayonnaise as a dressing or a good handful of chopped herbs, such as dill, chervil and basil.
Serves 4
Ingredients
4 x 100g pork leg escalopes, trimmed
½ lemon, juice only
1 sprig rosemary
Extra virgin olive oil
400g new potatoes
300g frozen peas
300g baby broad beans, shelled
Basil leaves
Parmesan cheese
Method
Place the pork escalopes between 2 pieces of clingfilm and, with a rolling pin, flatten them to ½cm thick.
Mix the lemon juice, rosemary and olive oil together and pour over the pork escalopes, turning them over until coated.
Boil the new potatoes for 15 – 20 mins until tender, adding the peas and broad beans for the final few minutes.
Drain the vegetables, season well and add 1 tbsp. olive oil.
Preheat a griddle pan over a medium heat –

when hot, add the pork escalopes and cook for 1 – 2 mins on each side until cooked through.

D

ivide the potato salad between 4 plates, top each with a pork escalope and shave over the Parmesan cheese.
---
Chicken Quesadillas with Sweetcorn Salsa
Serves 4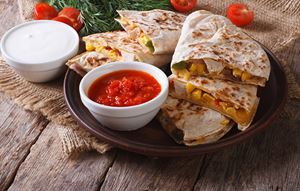 Kids love quesadillas as they can be stuffed with pretty much anything – cooked tuna, chicken, beef or lamb. The Jalapeño can be left out or extra chilli added according to your preference. Tomato salsa is particularly good as a topping, as is guacamole.
Ingredients
1 yellow pepper, trimmed and diced
3 yellow tomatoes, chopped
Small bunch Coriander, chopped
200g tinned sweetcorn, drained
3 spring onions, trimmed & chopped
1 lime, juice only
1 Jalapeño pepper, finely chopped
350g cooked chicken, shredded
200g Cheddar cheese, grated
2 avocados, stoned, skinned and sliced
8 flour tortillas
Sour cream
Method
Mix together the yellow pepper, tomatoes, coriander, sweetcorn and spring onion with the lime juice and Jalapeño, season well.
Lay 4 of the tortillas out on a flat surface and divide the cheese between them, then add the chicken and top with another tortilla.
Heat a non-stick frying pan until hot and add one of the quesadillas. Fry, without adding any oil, for 2 – 3 minutes on each side or until the tortilla is crisp, the cheese has melted and the chicken is heated through thoroughly. Keep warm while you cook the other quesadillas.
To serve, cut the quesadillas into quarters, top with slices of avocado and a spoonful of sour cream. Serve with the corn salsa on the side.

---
Penne with Pancetta and tomato
Serves 4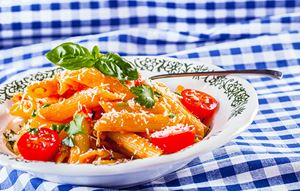 Pasta is always a good midweek supper and this really is a fast fix – using fresh tomatoes gives it vibrant colour and a more summery taste. If you can find a good mix of really fresh, flavourful tomatoes, you can leave out the pancetta for a vegetarian version.
Ingredients
450g penne pasta
1 tsp olive oil
200g pancetta cut into lardon
500g fresh mixed tomatoes, chopped
1 clove garlic, peeled and crushed
1 ball of mozzarella, drained and diced
Chopped flatleaf parsley and pecorino to serve
Method
In a large pan of boiling water cook the penne until 'al dente'.
While the pasta is cooking, heat the oil in a non-stick pan and gently fry the pancetta until crisp. Remove with a slotted spoon and drain on kitchen paper.
Add the tomatoes and garlic to the frying pan and heat through for 5 mins, then season with salt and pepper.
Add the mozzarella and cook for a couple more minutes until just starting to soften.
Stir the sauce and pancetta into the penne and serve with flatleaf parsley and grated pecorino.