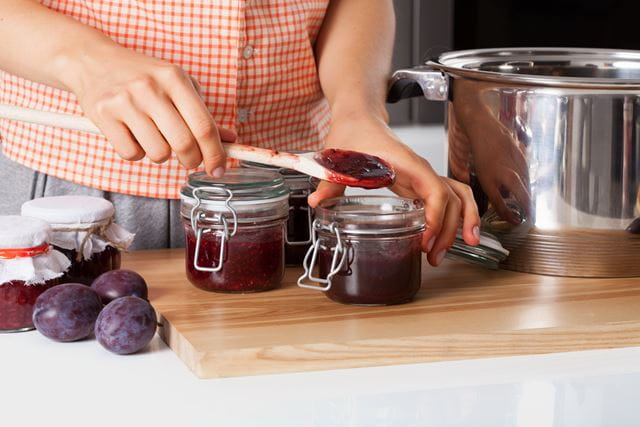 Timing, sterilising, specialist equipment… Yes, there's quite a bit to making fruity jams, but there's no need to be intimidated, says Sarah Banbery
Making jam can seem like a daunting task – all that boiling sugar and precision timing, sterilising and specialist equipment. But fear not – as long as you are well prepared and have a little patience, it can be a very satisfying pastime. Home-made jam is so much better than the shop-bought stuff and elevates a Victoria sponge to greatness. Like most things worth having, you have to invest a little time and effort. Ask your friends – you may well be able to borrow equipment.
You will need
Large preserving pan or big, wide saucepan
Jam/sugar/digital thermometer (you really can't manage without this)
Sterilised jam jars
Good-sized ladle
Jam funnel or narrow-spout jug
Wax discs, jam covers or lids – these can be bought very easily and cheaply on line. Try Hobby Craft and Lakeland
Tips
Adding lemon juice, which is high in pectin, helps to turn jam from runny to thick – add cautiously if you're worried about the jam not setting properly.
You must use the right sugar for the right jam, so stick to the instructions in your recipe. Jam sugar and preserving sugar are not the same – jam sugar has added pectin, so is best used with lower-pectin fruit like strawberries and raspberries; preserving sugar is best used with high-pectin fruits like pears, apples, plums and oranges.
The fruit must be completely dry before using – freshly washed fruit can have water clinging to it which will can dilute the pectin.
If you have lots of freshly picked fruit and little time, freeze the excess. You should only use the best fruit for jam – avoid any damaged fruits – you can make some more at a later date.
To get rid of scum at the end of cooking, stir in the same direction until reduced or add a knob of butter.
Setting point is 104.5°C – your jam is reaching setting point when the fast boil reduces to a slower, more relaxed boil. Air bubbles should disappear and the surface will look glossy, the mixture will feel thicker.
Better to undercook rather than overcook – runny jam can be boiled again.
Be vigilant – don't leave the jam when it's boiling – you need to stand over the pan.
Sealing the jars while the jam is still warm limits the chance of bacteria contaminating the mixture and ensures a good seal.
To sterilise your jars, there are various options. The following websites offer good advice: Kilner, BBC and Jamie Oliver.