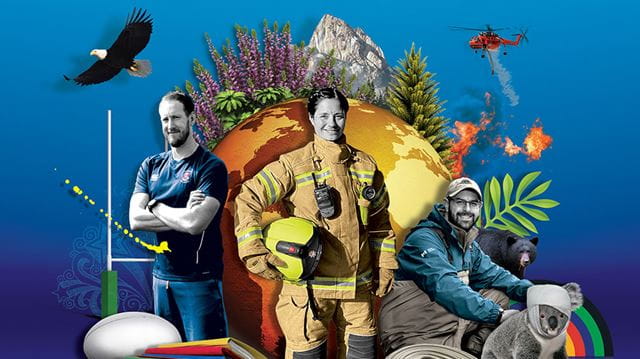 Boundless was the champion of last year's Public Service Day and, as we look forward to this year's celebration on 23 June, we meet some hardworking public sector professionals from the UK and abroad to see how their roles compare...
Firefighters

Sonja Hoeben-Bluitt
Stanmore Fire Station, London, England
"From a young age, I loved helping people – so signing up as a firefighter felt like a natural choice. I like a challenge and I'm definitely not a nine-to-five person. We start our shifts with a roll call, so everybody knows their riding positions on the truck and what their duties will be when we get a 'shout'. Our daily routines include testing the breathing apparatus, checking equipment and filling out our logbooks, while the drivers maintain the fire engine and make sure there's enough fuel and water. When we're not responding to shouts, we do drills, host lectures, test hydrants, put up smoke alarms and make school visits – whatever needs doing that day. Gym time is normally around 4pm, and the 'mess' manager (that's me) prepares dinner for about 6pm.
"I've been a firefighter for 15 years and no two shifts are ever the same: one day might be quiet when it comes to shouts, but on others we're rushed off our feet. I also work with the Fire Cadets, where we teach young people aged 14–17 – many of whom have faced challenges in their lives – skills through firefighting activities. And I volunteered with PMART (Pandemic Multiagency Response Teams), where firefighter, Metropolitan Police and health services volunteers form specialist teams to help in the response to COVID-19. I'm proud to serve and want to help out any way I can."
Kevin Stewart
Adelaide Fire Station, Adelaide, Australia

"When the bushfires started in Queensland and Kangaroo Island last year, I was deployed to assist. Firefighting in Queensland was tough as we had restricted water supplies and very rocky terrain to deal with – while Kangaroo Island's ever-changing wind direction made it harder to place crews in the right place at the right time. It was a steep learning curve and the pressure was on, but both experiences made me a better firefighter.
"Normally, though, I'm based in the city of Adelaide, where I've been doing this job for 19 years. Every morning, we get our briefing for the day: sometimes we're giving a fire safety talk to schoolchildren or visiting business premises to ensure our plans and keys are up to date – and that's alongside all the emergency calls, of course. We attend house fires, flooded buildings, animal rescues, car accidents and much more during our 10-hour shift. In the late afternoon we have a gym session, which is good for morale as everyone is so competitive – and then we'll do a station clean-up and hand over to the night shift. I spend half the year on frontline operations and the other half training up other firefighters – the variety is very rewarding. I love being part of a team and helping anyone who finds themselves in a bad situation."
Ecologists

Gill Thompson
Northumberland National Park, England

"We have a seven-strong conservation team, including farming officers, a forestry specialist, an archaeologist – and me. I've been here for 20 years and work across the park on everything from tree-planting proposals to bird surveys. I get involved with public events, lead guided walks, comment on planning applications and work closely with the rangers on various projects – basically anything that needs an ecological input.
"The park has fantastic heather moorland, which is a purple haze in late August and September and our beautiful hay meadows are full of flowers throughout summer. In spring, wading birds such as lapwings, oystercatchers and curlews come here to breed on the moorland. Their numbers are declining in Britain so we strive to protect them. The park's boggy peatlands store lots of carbon, so keeping them in good condition helps to combat climate change. We're working hard to revegetate areas to ensure the carbon isn't released.
"I've always been captivated by nature. As a child, I loved David Attenborough's Life on Earth series and was happiest when exploring outside in the Lake District, where we lived. I feel so lucky to do this job, though there's always so much to do – the park is over 1,000km2. But I just keep going!"
Jared Tomie
Cape Breton Highlands National Park, Nova Scotia, Canada
"I grew up on Cape Breton Island, so I feel very connected to its national park – and I've been working here as an ecologist for two years. The island's species and habitats are very diverse and it's a playground for anyone who loves the great outdoors. I work on a specialist team to safeguard the ecosystems and wildlife in the park, as well as the visitors who frequent our trails and facilities.
"Cape Breton's rich tapestry of mountains, forests, rivers, lakes and coast provides a variety of habitats for many species of animals, including moose, black bear, Atlantic salmon and bald eagles. For me, the day's duties really depend on the time of year: I could be in a river deploying a temperature logger, measuring pitcher plants in a wetland area or counting salamanders at sample plots in the Acadian forest.

"I have a particular interest in monitoring at-risk fauna such as the two endangered bat species (little brown myotis and northern myotis) that are found in the park, so I lead our acoustic bat monitoring project and play an active role in our Atlantic salmon recovery programme. Being able to continually learn about and protect the ecosystems on the island is a dream job for me."
Teachers

Jonothan Campbell
Hawthorn High School, Pontypridd, Wales

"I've been teaching for five years and am now head of PE and Year 9 Progress Leader. We have around 800 students from all walks of life and levels of affluence. We're at the foot of the Valleys, on the banks of the River Taff, surrounded by hills and woodland.

"I love the unpredictability of teaching. There's no such thing as a typical day. My department delivers a holistic and exciting curriculum that promotes the cognitive, social and physical benefits of movement and encourages lifelong fitness habits. I also get involved with extracurricular projects designed to show students that what they learn in lessons is transferable to all aspects of life. During lockdown I'm still keeping them active, albeit remotely, and delivering theory content to exam students. Teachers are having to upskill quickly in digital learning, while students are showing incredible resilience and sacrifice to get through this difficult period.

"Those who judge schools wholly on grades don't really acknowledge students' everyday struggles. I'm always inspired when kids realise they've developed the tools to overcome a challenge – this could be a tough school question, a friendship issue or a problem at home. It's in these moments, my small part having been played, that I take the most joy. It's important to celebrate success, no matter what form it takes."
Gauhar Serik Kazhy
Bilimkana-Almaty School, Almaty, Kazakhstan
"Bilimkana is a publicly funded group of schools throughout Central Asia. I'm an English Language teacher in Almaty, Kazakhstan's largest city. I've been teaching for almost five years: my students are aged between 13 and 17. The curriculum includes both Kazakh and Russian languages and literature as well as English, maths, geography, history, PE, the sciences, arts and music. There are also lots of elective subjects. Every senior teacher oversees one class – mine is in the 11th grade. As well as teaching, we meet students one-to-one in a local café every month to share stories and help them wherever needed. A teacher is always learning: my students live in a digital world, so I need to understand it too.

"Our schools closed on 16 March due to the pandemic. It's been a good opportunity to give the students self-study experience. They need to feel a connection with their peers and teachers, so adding live sessions through Google Meet has kept everyone engaged. It's amazing how quickly we've all got used to learning (and teaching) in a new way. I'm proud to work in the public sector: my job feels meaningful and it's amazing to see how my students develop."
Illustrations: Matt Herring