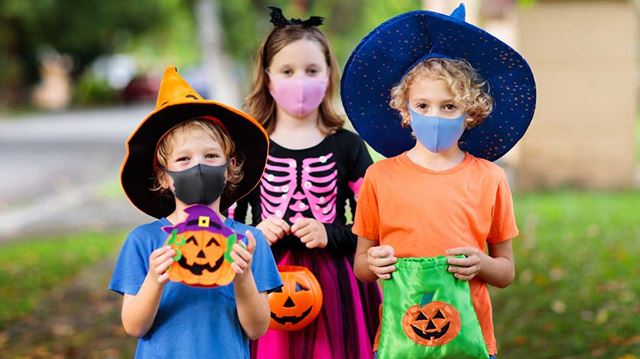 On 31 October every year, millions of children across the UK put on frightening costumes and make-up to go trick-or-treating in their local neighbourhood.
But this year, the ongoing coronavirus pandemic has left many people wondering if they're allowed to go ahead with the tradition due to health concerns. The answer is that it depends on whereabouts in the UK you live, and we'll give you all the information you need in this article.
Even if the kids aren't allowed to go trick or treating in your local area, there are plenty of other activities that they – and you – can do to make the most of this unique time of year. So don your ghostly garments and head this way...
What's the advice around trick-or-treating this year?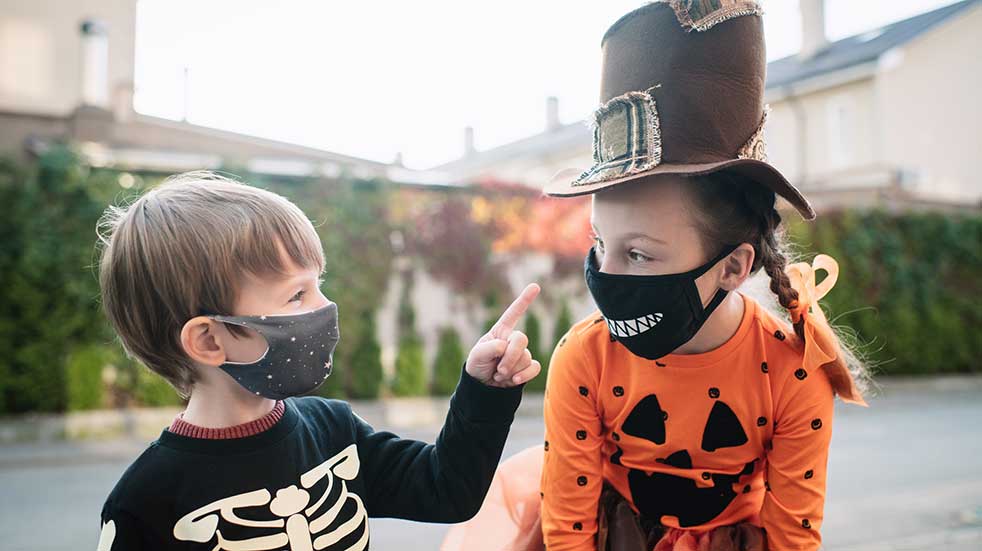 Each country has its own advice on this. In England, the Prime Minister's official spokesman has merely urged people to use "common sense" – but you will, of course, need to adhere to the Rule of Six if you are mixing with people from another household.
In Scotland, you are advised to stay at home, with Deputy Prime Minister John Swinney stating: "I know guising is a big part of Halloween and children will be sad to miss out, but as door-to-door guising brings an additional and avoidable risk of spreading the virus, our clear advice for families is to avoid it."
It's a no-no for people in Wales, too, with a government spokesman saying: "We are asking people to stay home during the firebreak period to slow the spread of coronavirus and help save lives."
And Dr Gerry Waldron of Northern Ireland's Public Health Agency also urged people not to go trick-or-treating this year.
We live in England, where trick-or-treating is allowed. What measures can my kids take to protect themselves and others from coronavirus infection?
As with every aspect of life at the moment, social distancing is key – your children should aim to stay two metres apart from anyone they don't live with, including the person answering the door.
If the home-owner offers sweets, maybe ask them to leave a handful on the doorstep, which your little ones can then retrieve once the person has gone back inside. The risk of cross-contamination from food packaging is very low, but if you're worried about your kids picking up the virus by handling the confectionery, tell them to leave the treats in their bucket to 'quarantine' for a few days before eating them. It might also be a good idea for them to wear gloves when they go door-to-door, to encourage them not to put their fingers in their mouth.
What should I do if I live in an area where trick-or-treating is not advised, and people knock on my door?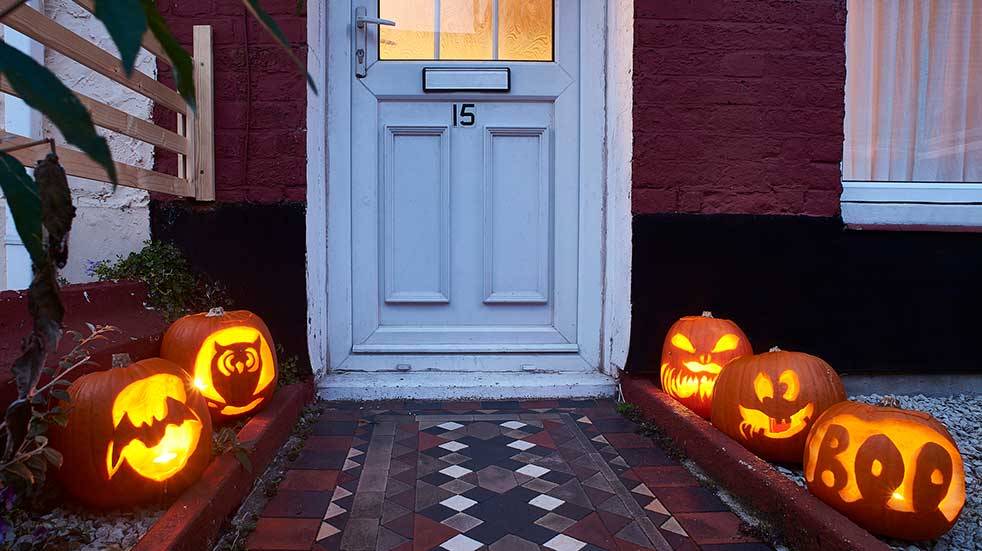 The unspoken rule among trick-or-treaters is that homes should only be targeted if they have Halloween paraphernalia (pumpkins, ghoulish decorations, etc) on display. So if you don't put anything up, you're unlikely to be disturbed.
Are we allowed to have a Halloween party with people from other households?
The rules around mixing with other households varies from country to country – you can read more about that in our coronavirus advice article.
For those people living in England, the new three-tier system means that there are also different rules for different areas.
With reference to Halloween, the Prime Minister's official spokesman said: "The rules are those which apply to household mixing in general, and what that means in practice is if you are in a very high alert level [Tier 3], then you cannot mix with other households indoors or in private outdoor spaces.
"If you're in a high Covid alert level [Tier 2], then the Rule of Six applies in private gardens and outdoor spaces, but households must not mix indoors.
"And in terms of the medium alert level [Tier 1], you can meet indoors and outdoors in groups of no more than six people."
We've decided to stay at home for Halloween this year – what fun activities can we do?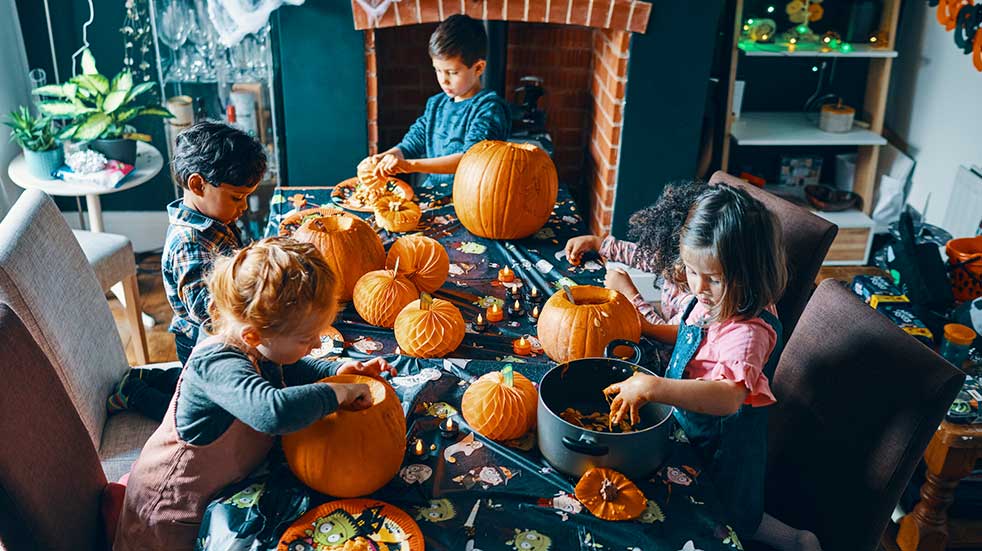 There's so much you can do to make it a Halloween to remember. Pumpkin carving is the obvious one, and this article by Cosmopolitan provides no fewer than 39 ideas for creating a memorable pumpkin sculpture, with everything from Harry Potter to haunted houses on the list. (By the way, if you want to know how pumpkin carving became a thing in the first place, this fascinating article by English Heritage will tell you.)
Other possible activities include mummy sack races, apple bobbing and eyeball pong, and you'll find these and many more ideas in this article by Country Living.
And why not rustle up a Halloween feast for them to enjoy once they're done with the fun and games? BBC Good Food is packed with Halloween-themed recipes, from Eerie Eyeball Pops to Spider Biscuits – your little terrors could even help you make them.
Are there any actual Halloween events happening across the UK this year?
There certainly are. English Heritage and the National Trust are both running events across the UK, from ghost tours to spooky woodland walks. You'll also find a wide range of Halloween events at Eventbrite, with mask-making workshops, eerie outdoor movie screenings and virtual events all represented.
Whatever you do this Halloween, remember to abide by the regulations in your local area – and above all, stay safe.
Photos: Getty Images