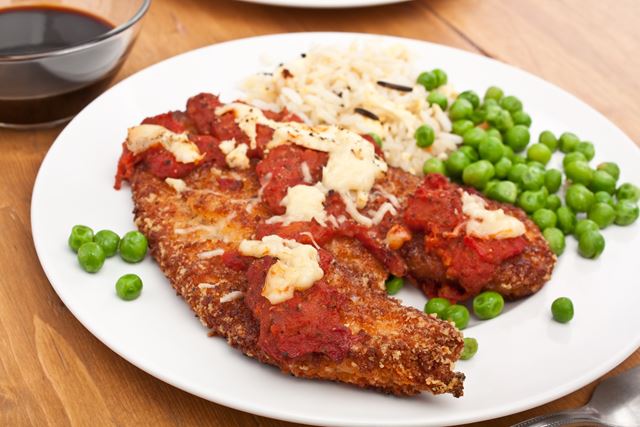 Warming, hearty and delicious – the three words you want to hear at this time of year. Sarah Banbery knocks up some great dishes
---
Spicy Meatballs and Beans
Serves: 4
Prep: 15 mins
Cooking: 30 mins
Ingredients
300g sausagemeat
1 tsp mixed dried herbs
3 tbsp olive oil
3 red onions, peeled and cut into wedges
400g tin chopped tomatoes
400g cannellini beans, drained
Method
Mix the sausagemeat with the herbs and season well, then form into 12 meatballs. Heat half the oil in a non-stick frying pan and fry the meatballs until golden all over, remove from the pan and set aside.
Heat the remaining oil and fry the onion for 10 mins until softened, then add tomatoes and beans – return the meatballs to the pan.
Simmer gently for 15-20 minutes until the sauce has thickened and the meatballs are cooked through, adding a splash of water or wine if the sauce becomes too thick. Serve with green beans or broccoli.

---
Italian Parmesan Chicken
Serves: 4
Prep: 20 mins
Cooking: 15 mins
Ingredients
4 skinless, boneless chicken breasts
3 tbsp mild mustard
1 tsp white-wine vinegar
75g home-made breadcrumbs
25g finely grated Parmesan
25g unsalted butter, melted
600ml passata
1 tbsp tomato purée
1 clove garlic, peeled and crushed
Olive oil
Preheat the oven to 190°C/Gas 5. Cut each chicken breast half in half horizontally and place the pieces between 2 sheets of clingfilm – flatten with a rolling pin. Whisk together the mustard and vinegar and season, then add the chicken pieces and mix so they are well coated.
Mix together the breadcrumbs and cheese and add the melted butter, mix well and transfer to a plate. Dredge the chicken pieces one at a time in the crumb mixture – gently press the crumbs to the chicken and then transfer to a non-stick baking sheet.
Tip the passata into a saucepan and add the purée, garlic and a splash of olive oil, season and heat until thickened while you cook the chicken.
Bake the chicken in the middle of the oven until golden brown and cooked through, about 15 minutes. Serve with the tomato sauce, sauté potatoes and a green salad.

---
Goat's Cheese Parcels
Serves: 4
Prep: 20 mins
Cooking: 20-25 mins
Ingredients
200g baby spinach leaves
1 tsp unsalted butter
4 x 50g slices firm goat's cheese
4 x tbsp. onion chutney
500g ready-made puff pastry
1 egg yolk, beaten
Poppy seeds
Method
Preheat oven to 190°C/Gas 5. Wilt the spinach in a non-stick frying pan with the butter, drain and squeeze out any liquid. Chop finely and rest on kitchen paper.
Roll out the pastry and cut into 4 equal pieces, about 15cm square. Divide the spinach into 4 and spoon into the middle of each pastry square, then top with the goats' cheese and a spoonful of the chutney.
Brush the edges of the pastry with a little egg and then bring up the corners of the pastry to make a parcel – make sure the edges are pinched together to form a secure pastry parcel.
Place each parcel on a non-stick baking sheet and brush with the egg, then scatter over the poppy seeds. Bake for 15 – 20 mins.
Serve with a winter slaw salad.