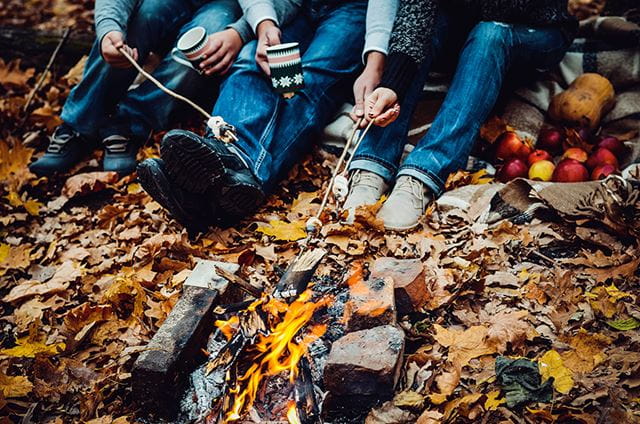 The best bit of Guy Fawkes Night is after the fireworks have finished when you get to huddle round a bonfire with friends and family, drinking cocoa out of a thermos flask and eating jaw-breaking, toothache-inducing bonfire night toffee
Surprise friends and family by handing around some traditional bonfire toffee – which, of course, you've broken up earlier with a real toffee hammer...
---
1. Bonfire Toffee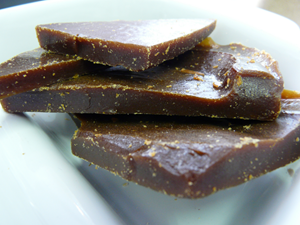 Ingredients
75g/3oz golden syrup
75g/3oz black treacle
150g/6oz light soft brown sugar
75g/3oz butter
¼ tsp cream of tartar
Method
1. Line a 15 x 20cm/6 x 8in baking tray with non-stick baking paper.
2. Measure all the ingredients into a deep, heavy-based saucepan. Place over a medium heat and stir occasionally until the butter is melted and the sugar has dissolved.
3. When the mixture is smooth, turn up the heat to bring it to a fast boil. When the mixture reaches 140C/285F (you'll need a sugar thermometer), pour carefully into the lined tray.
4. If you want even pieces, wait until the toffee is cool enough to handle, but elastic enough so that a finger pressed in the top leaves a slight indent (about 15 – 20 minutes). Partially cut the toffee into even pieces with an oiled knife. When it has cooled completely, break along these lines. Alternatively let the toffee cool completely, then break into shards with a toffee hammer or rolling pin.
5. Store in an airtight container, with individual layers of toffee separated by baking paper.
Or get some fruit involved and go for the equally popular Toffee Apple
---
2. Toffee apples

Ingredients
8 apples
400g golden caster sugar
1 tsp vinegar
4 tbsp golden syrup
Method
1. Push a wooden skewer or lolly stick into the stalk end of each apple and put them on some baking paper.
2. Tip the sugar into a pan along with 100ml water and set over a medium heat. Cook for 5 mins until the sugar dissolves, then stir in the vinegar and syrup.
If you have a sugar thermometer, boil to 150ºC. If not, you can test the toffee by pouring a little into a bowl of cold water. It should harden instantly and, when removed, be brittle and easy to break. If you can still squish the toffee, boil it a bit more.
3. Dip and twist each apple in the hot toffee until covered, let any excess drip off, then place on the baking parchment to harden. You may have to heat the toffee a little if the temperature drops and it starts to feel thick. Leave to cool before eating. Can be made up to two days in advance and stored in a dry place.
---
3. Toasted marshmallows

Everyone loves a sticky oozing toasted marshmallow, but what's the best way to get them just right?
If you're sitting round the fire – indoors or out – stick your marshmallow on the end of a toasting fork or skewer and hold it a few inches above the hot coals or wood. Then just turn it slowly round for about half a minute so it gets done evenly on the outside and goes all soft and sticky on the inside.
Or... you can do them under the grill or in the oven as well but keep your eye on them, they won't take long!
One for the kids...
Toasted Marshmallows with Raspberry Sauce
Whizz up some raspberries with some icing sugar and sieve to remove the seeds. Cool in the fridge, then dip away, making sure the marshmallows aren't too hot for the children.
And one for the grownups...
Toasted Marshmallows with Baileys.
These are easy... and seriously addictive. Hardly even a recipe, really – just dip your toasted marshmallows in Baileys and enjoy – that'll keep you seriously warm round the campfire.
---
4. Chocolate Fondue and Toasted Marshmallows
Ingredients
400g dark chocolate
85g unsalted butter
Butter

Carton double cream

300ml milk

marshmallows, for dipping
Method
Heat the chocolate, butter, cream and milk gently in a saucepan until the chocolate has melted and the sauce is smooth. Toast your marshmallows, dip in the fondue and eat.
---
5. Toasted Marshmallow Milkshake
Ingredients
Toasted marshmallows
2 cups of milk
6 to 8 large scoops of vanilla ice cream
1 tsp vanilla extract
Method
Toast the marshmallows. Put the milk, ice cream, vanilla and half the marshmallows in a blender and whizz until a smooth, thick milkshake forms. Pour into glasses and serve. For an extra dash of luxury, sprinkle some mini marshmallows or chocolate sprinkles on top.