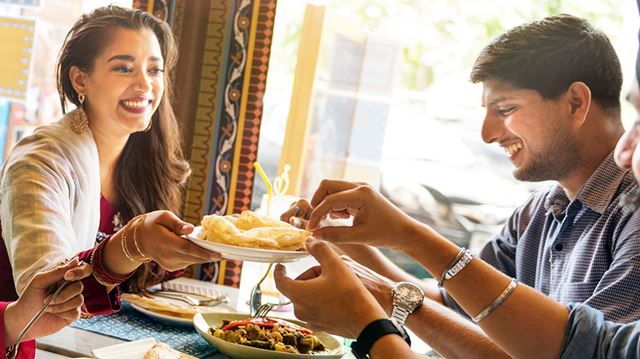 If you're out and about this week and you smell something deliciously fragrant wafting through the air, it might well be someone cooking up a feast for National Curry Week.
This annual celebration (taking place this year until 11 October) sees people and restaurants all over the UK paying tribute to the Indian-rooted staple, which has grown to become one of this nation's best-loved foods.
Indeed, a recent survey by Foodhub found that 11% of Brits eat curry between three and seven times a week, with 22% consuming the dish at least once a week. And while mild curries remain the favourite with British people, 24% of those surveyed revealed that they now opt for hotter curries than they did when they started eating this type of food.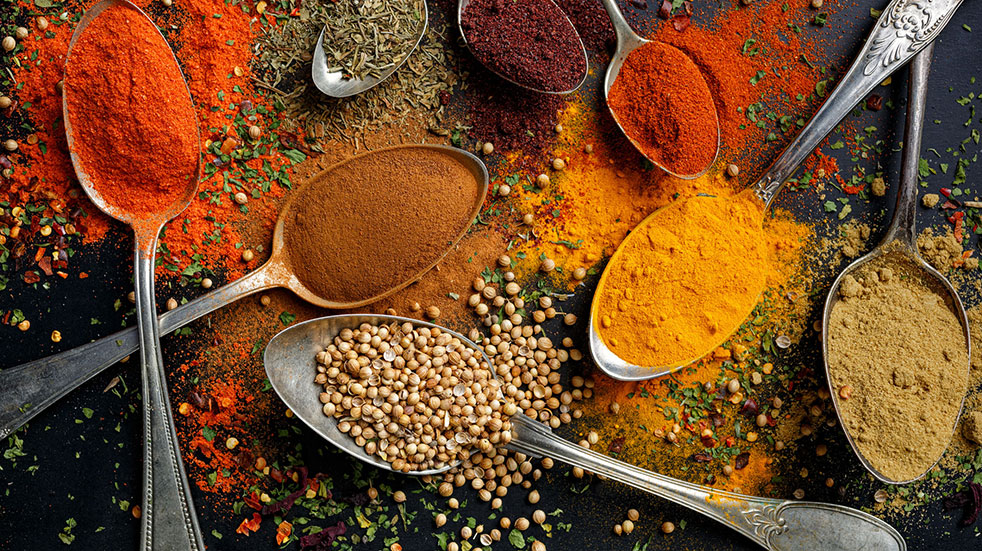 Photo: Getty Images
To mark this year's National Curry Week, we have an extra-special treat for you. Leading Indian restaurant chain Dishoom – whose eight establishments across the UK are inspired by the old Irani cafés of Bombay – has kindly shared a selection of its finest dishes with Boundless, enabling you to conjure up your own exquisite feast at home.
• Take a trip around the world with these tasty global recipes
Prawn Moilee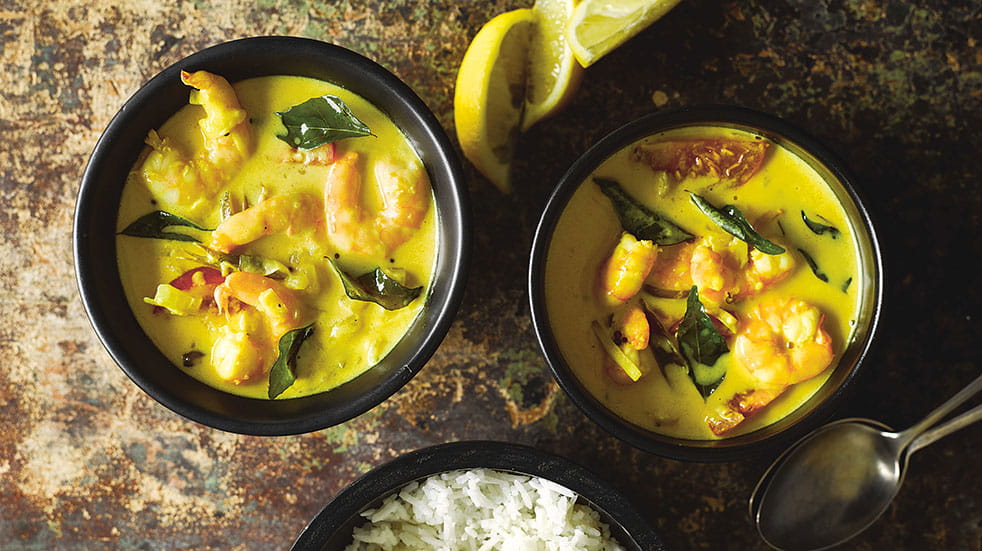 This is Naved's special dish at Dishoom Covent Garden. It's a light, fragrant and utterly delicious South Indian-style curry, packed with juicy prawns and tempered with coconut milk. Although it looks impressive, it is actually very easy to make, so you can serve it either as a week-night supper or as an indulgent dinner.

Dishoom serves it with idiyappam, the white lacy noodle pancakes, also known as stringhoppers. If you can't get these, the dish goes just as well with steamed rice.
Serves 4
• 6 green chillies
• 55ml vegetable oil
• 2 tsp mustard seeds
• 30 fresh curry leaves
• 300g white onions, sliced (a little chunky is good)
• 15g garlic paste
• 15g ginger paste
• 2 tsp fine sea salt
• 1 tsp freshly ground black pepper
• 1 ¼ tsp ground turmeric
• 25g fresh root ginger, cut into matchsticks
• 400ml coconut milk
• 250ml coconut cream
• 24 large prawns
• 300g medium tomatoes, cut into small bite-sized wedges
• lemon wedges to serve

1. Remove and discard the stalks from the chillies, then slice each one into 3 or 4 long strips. Set to one side.
2. Place a large saucepan over a medium heat. Add 40ml of the vegetable oil, let it warm for a few seconds, then add the mustard seeds and 20 curry leaves. Let them crackle for a few seconds.
3. Add the onions and sauté lightly for 12-14 minutes, until soft but not coloured.
4. Add the garlic and ginger pastes, the salt, the black pepper and the turmeric, and sauté for 3 minutes, stirring regularly. Add the sliced chillies and ginger matchsticks, and cook for 3 minutes.
5. Pour in the coconut milk and cream, and simmer for 20 minutes, stirring occasionally.
6. While the curry is simmering, place a small frying pan over a medium-high heat and add the remaining 1 tbsp oil. Toss in the rest of the curry leaves and fry for 1 minute, until crisp. Drain on kitchen paper and set aside.
7. Add the prawns and tomatoes to the sauce and simmer gently for a further 5-6 minutes, until the prawns are cooked. Do not overcook or they will be tough.
8. Serve scattered with the fried curry leaves, with lemon wedges on the side.

Note: if you'd like to prepare the dish in advance, make the sauce (up to and including step 5), chill and refridgerate, then reheat and continue from step 6 just before serving.
• Cook up a deliciously warming British dish this autumn and winter

Lamb Sheekh Kabab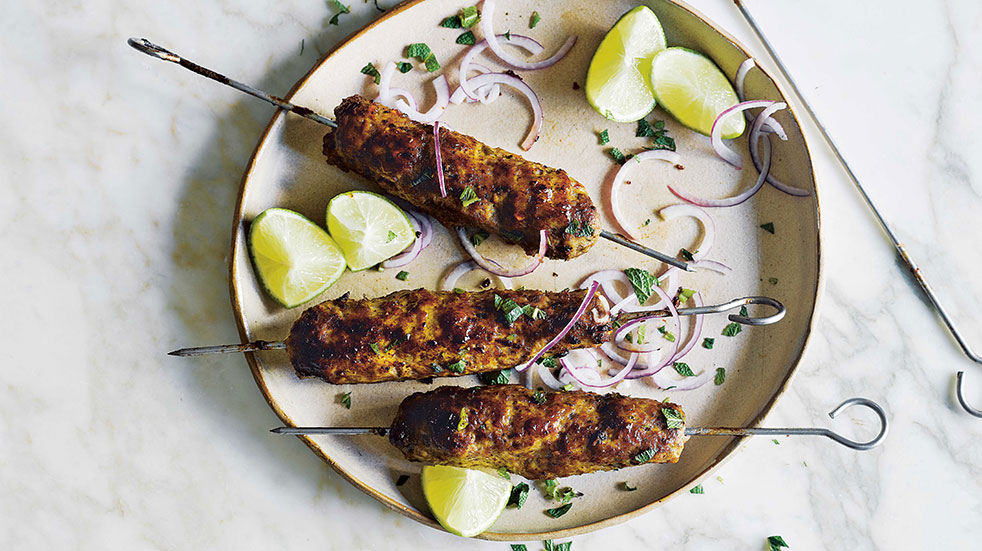 A sheekh kabab is formed from spiced lamb mince, wrapped around a skewer, then grilled. Dishoom blends a mixture of 80% lean lamb leg and 20% fresh lamb suet to give the best balance of fat for optimum succulence. If you can manage this at home, we strongly recommend it.

If you're unable to buy lamb suet, processed cheese slices are a secret trick that will add a welcome richness if your lamb mince is quite lean. For the most succulent kababs, finely chop the cheese, mix with your lamb mince and then pass through the fine setting of a hand mincer.
Serves 4
• 2 tsp coriander seeds
• 2 tsp cumin seeds
• 10g coriander stalks
• 10g green chillies (2-3)
• 50g red onion
• 500g lamb mince (20% fat)
• 2 processed cheese slices, finely chopped (optional)
• 1 ½ tsp fine sea salt
• 25g garlic paste
• 15g ginger paste
• 1 tsp freshly ground black pepper
• 2 ½ tsp garam masala
• Chopped mint leaves, red onion slices and lime wedges to serve

1. Warm a dry frying pan over a medium heat. Add the coriander and cumin seeds, and toast for 2 minutes, shaking the pan regularly. You should be able to smell the spices at this point. Tip onto a plate and allow to cool, then crush to a powder using a pestle and mortar or spice grinder.
2. Using a blender or mini food processor, briefly blitz the coriander stalks, green chilli and red onion to a coarse paste (do not make it fine).
3. If you have a mincer, pass the lamb (with the cheese, if using) through it for especially juicy kababs.
4. Put the lamb mince and salt into a large bowl and mix well to ensure they are throroughly combined. Add the coriander, chilli and onion mix, along with the crushed toasted seeds, garlic and ginger pastes, black pepper and garam masala. Mix vigorously for 2-3 minutes (using a stand mixer if you have one). You should see tiny white strands forming in the meat, which indicates that it is ready. Cover and refrigerate for 30-60 minutes. (If you are using wooden skewers, soak them now.)
5. Portion the kabab mix into 10 balls, each weighing 60g. Push a kabab stick through the centre of each, then press the mixture into a thin sausage shape around the skewer, using your hands. The prepared kababs can be covered and stored in the fridge for 3-4 hours if you're not grilling them immediately.
6. Heat the grill to medium-high. Grill the kababs for 4-6 minutes, turning them regularly, until nicely browned and cooked through, but still soft and tender inside. Let the kababs rest for 2 minutes, then transfer them to plates and garnish with chopped mint and red onion. Serve at once, with lime wedges.
• Visit the world from the comfort of your armchair with these virtual holidays

Butter-Bhutta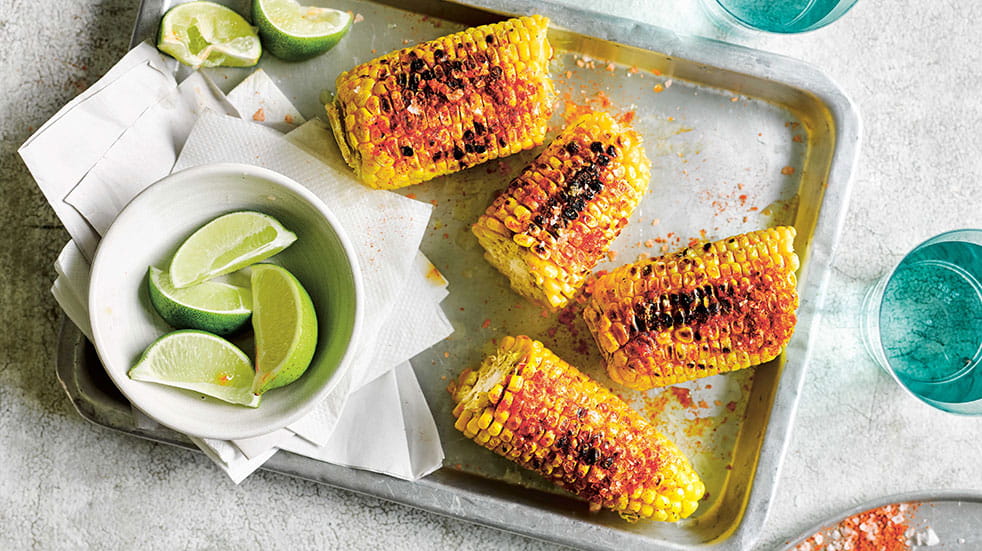 Blackened, buttered bhutta (corn on the cob), with plenty of lime and masala, is a classic of Chowpatty beach, where it's cooked in a bhatti (a mud-lined bucket) filled with charcoal. The grill is balanced on top, so the flames can lick the corn cobs.
This is delicious cooked under the grill, and even better on a barbecue. (Extra points for a barbecue on the beach. Make your own bhatti for complete credibility.)
Serves 2–4
• 2 corn on the cobs, trimmed of all leaves
• 1 tsp fine sea salt
• 30g butter, melted
• ¼ tsp deggi mirch chilli powder, 1 tsp flaky sea salt and 4 lime wedges to serve
1. Preheat your grill to high or heat up the barbecue
2. Bring a pan of water to the boil. Add the corn cobs and salt, and bring back to the boil. Cook for 3 minutes, then drain and pat dry with kitchen paper.
3. Using a cleaver or heavy-duty knife, carefully chop each corn cob in two.
4. Coat the corn in melted butter, using a pastry brush. Grill until the corn is quite charred all over, turning and basting with the melted butter every 2–3 minutes. Try to gradually build up the colour rather than burn the corn.
5. While the corn is grilling, mix together the chilli powder and sea salt.
6. To finish, dip a line wedge in the chilli-salt mix and rub all over the surface of one piece of corn. Repeat with the other pieces of corn and lime wedges.
7. Serve the corn with the remaining chilli-salt mix and spice-dipped lime wedges. Provide lots of napkins.
All of the above recipes are taken from the book Dishoom: From Bombay with Love by Shamil Thakrar, Kavi Thakrar and Naved Nasir (Bloomsbury, £26). Recipe photos © Haarala Hamilton.