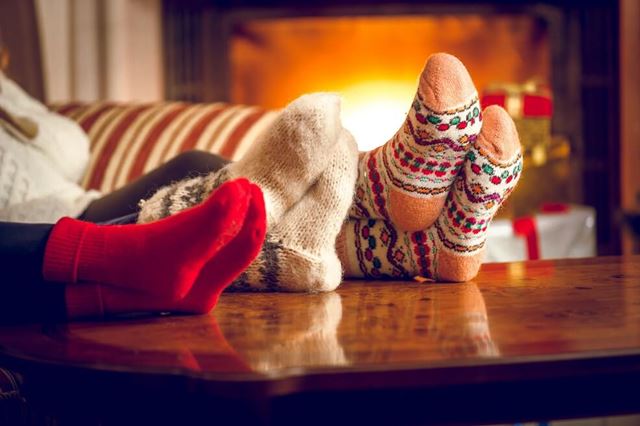 Denmark is officially the world's happiest country, according to the 2016 World Happiness Report. Could it be down to the Danes' "hygge" lifestyle?
Hygge (pronounced hue-gah) is a way of life that the Scandinavians swear by.
Whether you're looking to boost your overall wellbeing, or changing your mindset to enjoy simple pleasures, banish the winter blues and embrace your inner higgle with these simple lifestyle changes. What could be better than the feeling of living well without cutting out the things you love?
---
1. Eat comfort foods
Yes, really! In Denmark one of the signature foods is Danish pastries, and the general consensus is that we should treat ourselves now and again, rather than stop eating our favourite foods altogether. Hygge is all about comfort, after all.
What could be better than a big warm bowl of porridge topped with your favourite berries for breakfast, or a baked potato oozing with melted butter for lunch, and perhaps your favourite warming soup to round off the day? Stock up on warming food which makes you feel good… and get the oven on. See our recipe pages for warming meals to try this winter.

---
2 Boost your mood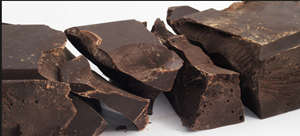 As well as comfort, hygge encompasses the ideas of happiness and nourishing the mind and body. So raw chocolate is another great 'hygge food' as it contains natural substances that may boost mood, including one called phenylethylamine (PEA), which is said to be released in higher amounts in the brain when we're in love.
It's also rich in magnesium, which is associated with relaxation.
"New research has shown that eating a square of dark chocolate a day can relieve emotional stress. It's the high quantity of antioxidants called flavonols which are responsible for these positive effects. Stick with dark, organic, unprocessed chocolate for maximum benefits," says Lily Soutter, Nutritionist and weight loss expert. (lilysoutternutrition.com.)
Flavonols are also found in high concentrations in a variety of fruit and vegetables, nuts beans and grains, if chocolate isn't your bag.
---
3 Get active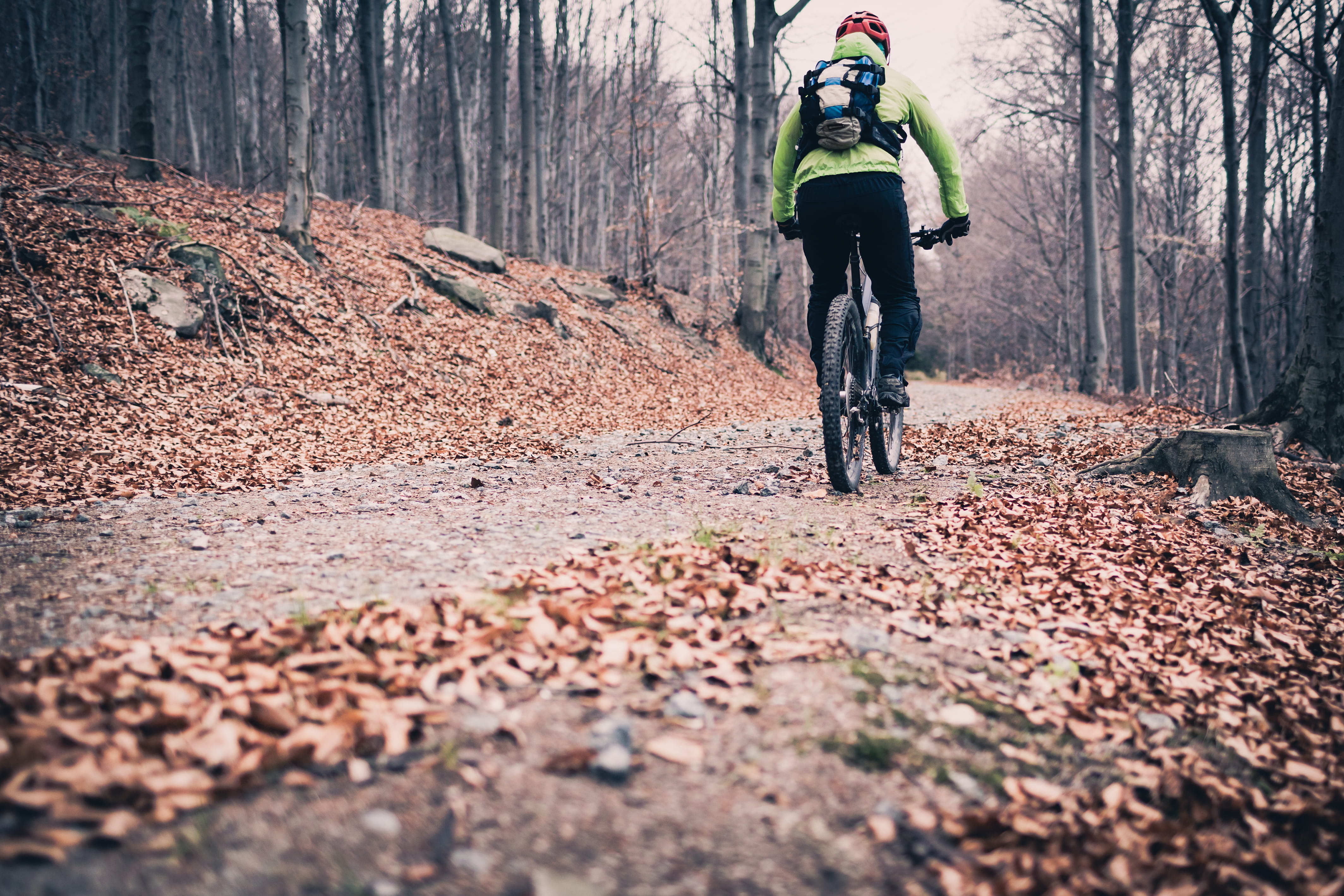 Cycling accounts for 20 per cent of all commuting trips in Denmark and exercise is a big part of Danes' daily routine. Even if you don't fancy cycling to work, it's important to make sure daily exercise is built into your routine.
As well as having physical benefits, activity reduces anxiety and depression. Exercise doesn't need to be intensive or of long duration: even a 10-minute brisk walk or a short exercise DVD can help boost endorphins.
---
4 Get outdoors
Fresh air and long walks are elements of a healthy lifestyle, but the temptation in winter for many Brits is to stay indoors... Don't! The Danes know that being active outdoors is key to keeping fit and youthful.
Nordic temperatures are much lower than here in the UK, so like them, embrace the outside world and wrap up warm in your favourite coat, hat, scarf and gloves. If it's really freezing, warm cold air before breathing it in by wrapping a scarf over your mouth. Just think how toasty you'll feel when you get back inside your warm home or office.
---
5 Don't be a desk jockey
It is easy to forget to take a break while you're at work, but for an instant boost to help you feel refreshed and revitalised take a brisk 5-minute walk to stimulate anti-anxiety effects, clear your thoughts and allow you to deal with your stressors more effectively.
Danes are well known for their devotion to the outdoors, and for making the most of their free time, and Brits can certainly afford to take a leaf out of this book.
---
6 Spend more time offline
A soon as you wake up are you checking for Facebook messages and Instagram notifications? It's easy to get addicted to the buzz of social media and the 24/7 news cycle, but it's crucial we make time to get out and socialize face to face. Studies have shown that Facebook can add to the feeling of 'FOMO' (Fear of missing out) and loneliness, rather than banishing it.
---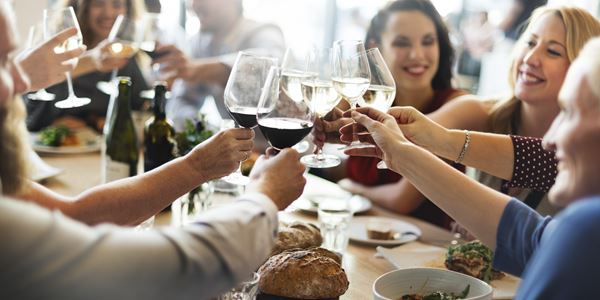 7 Make time for family
The heart of many Danish homes is the dining table. Oxytocin, the 'feel good' hormone is released when people bond socially and feel a general sense of trust, comfort and love. It's just as powerful as serotonin, so make sure you are able to spend time with your family and friends to mellow down and feel instantly better.
Don't eat in front of the television, and banish screens from the table so you can interact properly as a family. "Making sure that we spend time with friends in the real world is essential – don't neglect your real relationships with others in favour of your online connections," says nutritionist Cassandra Barns.
And if you can't spend time with family and friends in person, even just a phonecall to someone you love can brighten your mood.
---
8 Be mindful
Hygge is all about noticing those simple moments that you don't always appreciate or make the most of. Make a simple week night dinner into more of a memorable occasion by laying the table with your favourite crockery and turning off any background noise, such as the TV or radio, in order to really enjoy the moment.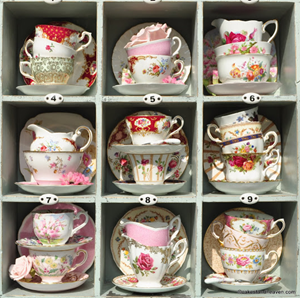 By creating simple rituals without effort, such as brewing real tea with a china cup, or buying flowers regularly, the Danes see both the domestic and personal life as an art form and not every drudgery to get away from. Hygge is about being present and recognizing, and enjoying the moment.
---
9 Snuggle up
Danes see the colder months as 'peak hygge season' and when better to get nestled under a blanket with a friend or partner?
Hygge's etymological link with the word 'hug' is obvious, and can be traced back to the word 'hugge' in the 1560s, and then again to the Old Norse word hugga 'to comfort'.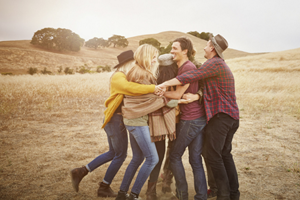 So for an extra Oxytocin level boost, have a cuddle. The feelgood hormone is released when we experience physical contact from a loved one. So whenever you feel low and need a lift, grab a hug from your favourite person for that natural feel-good, fuzzy feeling.
---
10 Make some 'me time'
The average working week in Denmark is 8am-4pm, which is a great way for the Danish to embrace 'hygge,' by spending time after work doing what they wish.
Despite many of us working longer hours, it's still extremely important to make time for yourself, so set aside regular time to do something that you love and that makes you feel good.
Read a good book, watch your favourite film, go for a massage, get out into nature, have a meal with a friend, have a long bath, or visit your favourite coffee shop and allow yourself to watch the world go by…
"Doing things we love naturally lowers our stress hormones and helps us to cope with the more stressful parts of the day," says Shona Wilkinson, Nutritionist at SuperfoodUK.com
---
11 Put things into perspective
This will help you achieve the work/life balance, which is a significant part of the Danish culture. If you're concerned that you're burning yourself out, learn to get your priorities right. There is nothing in your life right now more important than your health.
Learn to say no if you feel that you have taken on too much. Being assertive is invigorating and empowering. It also helps to make lists of what is or is not a priority and to tackle the priority tasks first, says nutritionist Dr Marilyn Glenville.
---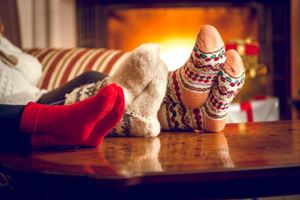 12 Get your softest clothes on
Cosy jumpers, woolly leggings, fluffy socks, slouchy slippers… you get the idea. Put on a pair of fake-fur lined slippers which snuggle your feet completely and you'll get that hygge-ful feeling.
And for winter walks what is nicer than the feeling of a warm fluffy hat and gloves to keep you toasty. Is this where the UK's obsession with Icelandic jumpers came from? Probably…
---
13 Light a candle
Embrace 'hygge' in your home by adding soft lighting with natural candles or other types of soft lighting. The Danes are Europe's biggest consumers of candles, burning around 6 kg (13 pounds) per person per year.
Think about how the ambience changes when you eat a meal or take a bath by flickering candlelight... Particular smells can also boost the feeling of well-being, and these days it's easy to find a wide variety of non-paraffin based, natural scented candles – for example vanilla, which is uplifting and relaxing. You can even make your own if the mood takes you...
---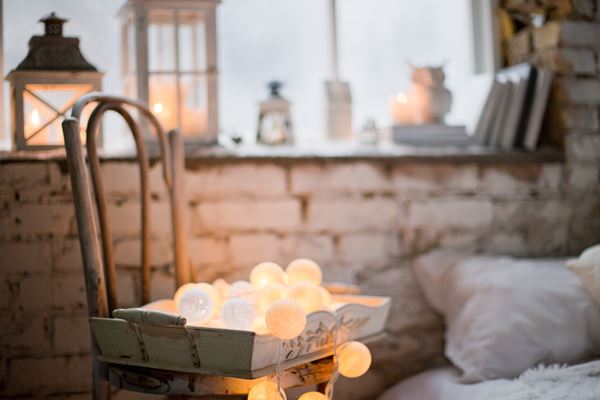 14 Hue–gah the night away
The word hygge translates literally as cosiness, and what better way to spend the evening than sitting by a roaring fire (inside or out) on a cold night?
For many people the onset of early winter darkness fills them with dread at 4pm.
So why not embrace the darkness when you get home, with things that make you happy, such as knitted socks, incense, candles and warm, soft throws and blankets.
Box set optional.
---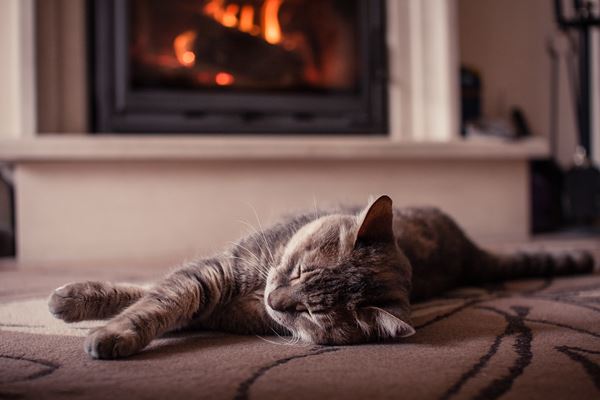 15. Sleep soundly
Sleep is a significant part of living a healthy lifestyle, and many of us simply do not get enough. If we want to take a leaf out of the Danes' book, and be as productive as possible during the day make sure you are getting enough good quality sleep.
Snoozing and napping are also essential for wellbeing and happiness, as not sleeping enough (eight hours per night) may lead to lower levels of optimism.
Magnesium is known as 'nature's tranquiliser' and is needed to relax our muscles and nerves, which helps us to fall into a peaceful sleep.
To ensure you're getting enough magnesium try and include plenty of magnesium-rich foods in your diet such as, pumpkin and sunflower seeds, fish and leafy green vegetables.