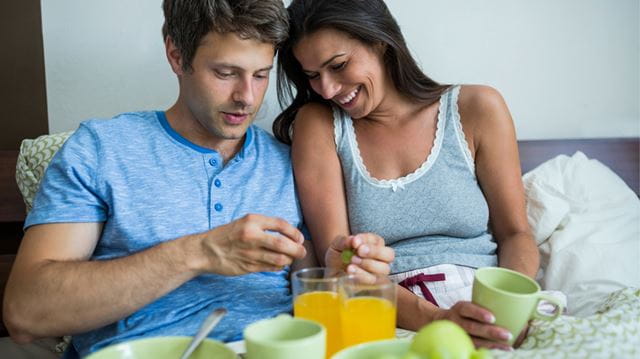 Make it a Mother's Day to remember for ever
Mothering Sunday is coming up on 26 March, but rather than handing over panic-purchased petrol-station chocolates and flowers, why not plan ahead and really spoil your mum – or the mother of your children – with a day-long experience that'll make her feel really loved and appreciated
Breakfast in bed
Propping yourself up on freshly plumped pillows and being handed a lovingly prepared breakfast tray has to be one of life's great joys – so it's the perfect way to kick off Mothering Sunday. A bowl of porridge and a slice of white won't cut it here – think softly cooked eggs, fluffy muffins, refreshing juice and freshly brewed coffee. Here are a couple of ideas to get you started:
Baked eggs with wilted spinach, prosciutto and truffle oil
Wilt a handful of spinach in a little water for about 3 minutes, then drain, squeeze and divide it between two ramekins. Top the leaves with a slice of cured ham and season with pepper. Crack an egg into each and sprinkle over a few dots of truffle oil. Sit the little pots in a roasting tin and pour in boiling water to come about halfway up the sides. Bake at 180C/gas mark 4 for 10 – 12 minutes.
Blueberry muesli and yoghurt
Combine Greek yoghurt, rolled oats, desiccated coconut and toasted hazelnuts in a bowl with a little apple juice and chill in the fridge. Just before serving, stir in some grated apple, a few blueberries, a drizzle of honey and a dab of cinnamon.
Create a hamper of her favourite treats
Package up a box of goodies with beautiful ribbons and colourful tissue paper. If she's a cheese fiend, select a few of her favourites and add a jar homemade classic apple chutney to give it that personal touch. Chocoholics will love a little parcel of delectable dainties – why not make some easy-peasy truffles?
Combine 1½kg cooking apples with 750g muscovado sugar, 500g raisins, 2 onions, 1tsp each mustard seeds, ground ginger and salt, and 700ml cider vinegar, then boil it all up for about 40 minutes before potting in sterilised jars.
Melt 300g dark chocolate, 300ml double cream and 50g butter in a bowl set over a saucepan of boiling water. Whisk in a splash of her favourite liqueur and leave to set in the fridge. Roll the mixture into bite-sized balls and coat in wonderful things like cocoa powder, icing sugar, chopped toasted nuts, even edible gold leaf, before chilling and packing perfectly. If there are young children about, they will love helping out.
Compile a scrapbook
A collection of photographs and memories is a gift from the heart and will be cherished for ever. It might be a good idea to involve as many members of the family as possible in the run up to the Big Day, so that everyone can share their recollections and show their appreciation. You can do it online or the old-fashioned way, with paper, scissors and glue. School reports, swimming certificates, holiday snaps, baby photos, ticket stubs, locks of hair… It's time to get creative!
Have a fun day out
If you're lucky enough to live in the country or by the seaside, simply wrapping up warm and heading out for a hearty stroll with loved ones is the perfect way to spend quality time together, which is what most mums really crave. Make sure there's a cosy pub at the end of your chosen route. City dwellers could head to a museum or art gallery, stopping off at a cool bar or a chic café before heading home.
Home for dinner and a movie
After a packed day, she'll be ready to kick back and relax, so what could be better than a luxurious evening meal before chilling out in front of a favourite film? The trick here is to get ahead, so that you can spend time together rather than banging pots about in the kitchen. Aim for simple but impressive dishes that you can prepare ahead, like fillet of beef coated in herbs, served with a creamy side of potato, or luxury mac and cheese.
Lemon and thyme-crusted fillet of beef with dauphinoise potatoes
First do the spuds. The day before, thinly slice 500g potatoes. Bring 200ml double cream, 100ml milk and 1 crushed garlic clove up to a boil in a saucepan, add the potato slices and simmer for 10 mins. Transfer to a gratin dish, sprinkle over 50g Gruyère and pop in the fridge. On the day, bake at 180C/gas mark 4 for 25 minutes.
Next, the beef. Rub a half fillet with a little oil and sprinkle with salt and pepper. Brown on all sides in a hot pan, before transferring to the oven (180C/gas mark 4) for 20 minutes if you like it rare, 25 if you prefer medium. Pop in the fridge. On the day, let the beef come up to room temperature, coat with mustard and roll in breadcrumbs that have been mixed up with lemon zest and thyme. Brown off in the oven with the potatoes for 5 – 10 minutes.
Melt 25g butter in a pan and fry 2 leeks and 100g mushrooms, then stir in 2tsp truffle oil. Cook some macaroni for about 8 minutes. Make a roux with another 75g butter and 75g flour, then whisk in 50ml white wine, 500ml milk and 200ml single cream. Melt in 50g each Gruyère and Parmesan and 125g Cheddar. Combine the leek and mushrooms, pasta and cheese sauce, top with breadcrumbs and grill for about 5 minutes.
Then it's simply a matter of replenishing glasses, unwrapping those truffles and snuggling up on the sofa to watch a much-loved movie. And, yes, you're on washing-up duty, too.