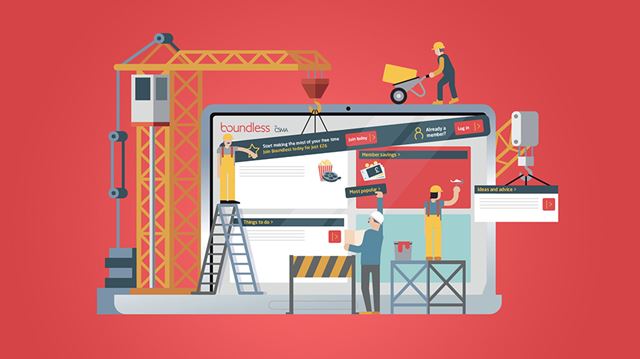 We've listened to your comments about the Boundless website and we're pleased to tell you we've made some improvements. Now you'll be able find the things you want more easily so you can really make the most of your membership.
Here's a quick rundown to show you what's new.
1. New menu
Making it easier for you to find your way around the site

The new menu no longer takes you to sections called Do More, Save More or Be Inspired.
Here are the categories you can search for now:
Popular deals: You told us that it wasn't always easy to find the best offers on the website, so this new section will show you the deals which are most popular with our members at the moment.
Member savings: We'll always do our best to get you a good deal. So in this section you'll find all our top member savings in handy categories like Travel, Motoring and Shopping Discounts.
Things to do: Looking for new and exciting things to do in your free time? This section of the website makes it easy to do just that.
Ideas & advice: Here's where you'll find your favourite articles, reviews and tips. Pick from a range of categories like Travel or Entertainment to help you find the things you're most interested in.
Members' activities: Check out Local Groups near you, our Special Interest Groups and the charity fundraising we've been getting up to via the Boundless Foundation. This is also the place to enter all our competitions.
---
2. The search bar has changed
Helping you find what you're looking for more quickly

You should be able to find everything you're looking for via the new sections on the site. If you'd prefer to use the search bar, just click on the search icon (the magnifying glass, above right) and you're in!
---
3. Intelligent searching
A great new feature in our search bar

We've added a great new feature to the search bar. When you start typing your search words, predictions will come up to help you find what you're looking for. Another great thing about predictive search is that it can even suggest items that you haven't come across before, helping you find all the latest features on the site.
---
4. Alerts about your account
Renewing your membership or updating your details is easier

You told us it would be useful if, when you log in, you could be alerted if it's time to renew your membership or update any personal details. So we've done exactly that. You'll now see a new space next to your username where a message will appear if you need to make a change to your account.
---
5. Improvements to the menu
Now you know exactly where you are

As you explore the new menu, you'll easily be able to see where you're browsing within the website. This is indicated by the red tab in the main menu and the red category name in the sub menu. In the example above, we're browsing Travel essentials within Popular Deals. Each sub menu also features a button to the left, so you can easily browse all categories within the section.
---
That's everything!
We hope you enjoy the new website features and find them useful when you're making plans for your free time. If you need any help with the site or have any questions email us: info@boundless.co.uk or call 0800 669944