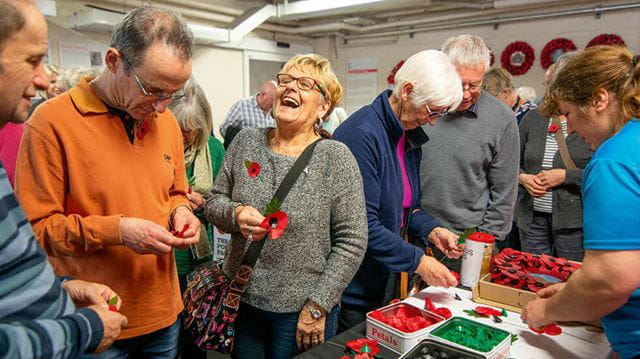 Explore the Poppy Factory in Richmond, London, where red poppies for Remembrance Day are made by disabled veterans, giving them hope for the future.
In the beautiful west London suburb of Richmond, hidden behind rows of elegant houses, is a surprising find: The Poppy Factory. A low, white-brick building that's been here since 1922, filled with people quietly working away and transforming people's lives; they're making Remembrance Day poppies, and also so much more.
How poppies change lives for veterans
On arriving at the factory, the Boundless Bath & Bristol Group is welcomed by Joyti Mistri, their charismatic guide for the day. She shares the emotional story of how the red poppy became a symbol of remembrance, but it soon becomes clear that making poppies is just the tip of the iceberg. Joyti explains the full extent of the life-changing work that The Poppy Factory charity carries out around the country; not only helping disabled veterans find work, but also giving them the support they need to stay in employment.
Steve is one of these veterans. After leaving the armed forces, he was diagnosed with post-traumatic stress disorder (PTSD). Explaining the effect it had on him, he says: "I began to push people away; my family life and my employment. PTSD impacted my life in every way." The Poppy Factory worked closely with Steve to find the best solution for him, eventually helping him find work as a tree surgeon.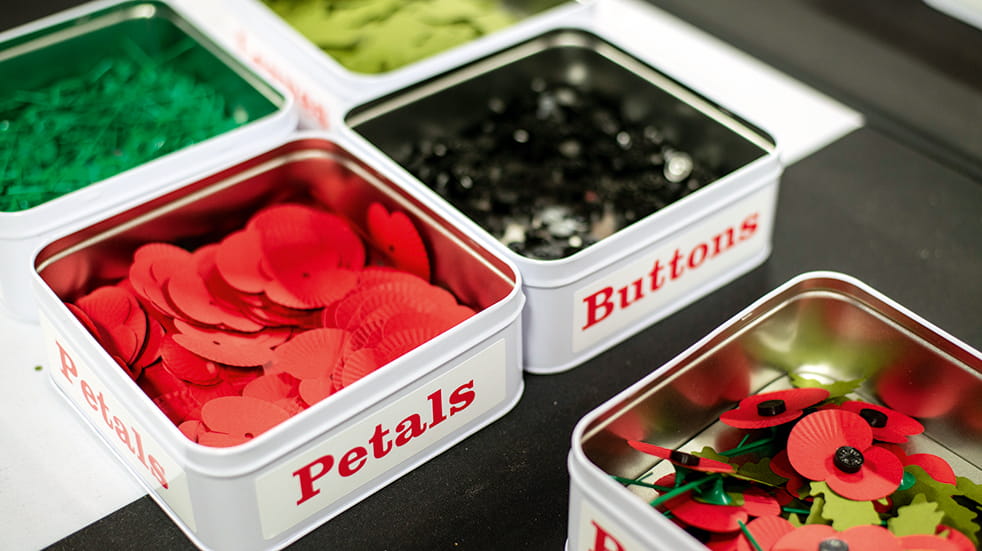 The Poppy Factory produces around 7.6 million poppies a year
---
Discover more great days out with Boundless
---
"I see The Poppy Factory as having given me crutches to help me walk again, and slowly I'm able to hand those crutches back and cope on my own," he says. "My son has a dad back, and my wife has a husband back."
Mark, another veteran supported by The Poppy Factory, suffered a severe brain injury that left him unable to concentrate and terrified of loud noises. After struggling to stay in a job and facing the loss of his home and marriage, he came across an advert for The Poppy Factory on Facebook. "I'd got up and brushed myself off so many times, I'd just had enough," he explains. "If it wasn't for The Poppy Factory, I'd have been dead. End of."
During the tour, there are many more inspiring stories like these. "What's clear through learning about what they do here," observes Bath & Bristol Group committee member, Mike Millward, "is that it's not just a case of finding work for someone – it's crucial to actually follow it through with that individual long term."
The origin of the poppy
"The poppy story began during the First World War," explains Joyti. "The seeds of the corn poppy can lie dormant in the ground for hundreds of years. During the fighting, the earth was churned up by bombs and through the digging of graves and trenches, bringing the seeds to the surface so that millions of poppies grew. Soldiers used to pick them and put them in their hats as good luck charms."
During the second battle of Ypres in 1915, Canadian Lieutenant Colonel John McCrae was devastated by witnessing the death of a close friend. Reflecting on the poppies growing on hundreds of graves before him, he was moved to write his famous poem In Flanders Fields:
"In Flanders fields the poppies blow
Between the crosses, row on row,"
The poem was first published in Punch magazine, and went on to be read by millions.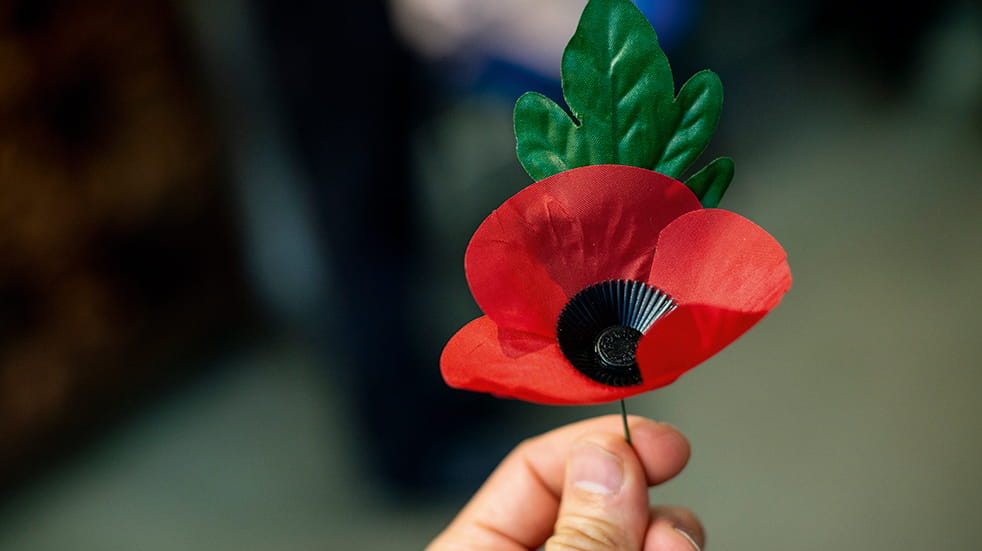 The first poppy day in Britain took place on 11 November 1921
In December 1918, an American professor called Moina Michael was inspired by the poem and vowed to always wear a red poppy in remembrance of all those who lost their lives. She wrote a response to John McCrae's poem called We Shall Keep the Faith. The last verse features these two lines:
"And now the Torch and Poppy Red,
We wear in honor of our dead."
In 1920, she was invited to host a conference of Overseas YMCA War Secretaries, and there she handed out artificial poppies in return for a donation. French socialite Anna Guerin was at the conference and spent the next two years travelling to veterans' organisations around the world, encouraging them to adopt the poppy symbol. Britain held its first poppy day on 11 November 1921, organised by the Royal British Legion. It raised an amazing £100,000, which would be the equivalent of several million pounds today.
At that point war veteran Major George Howson, who had previously set up the Disabled Society charity, offered to make poppies for the British Legion. And on 5 June 1922, with six disabled men as its employees, The Poppy Factory was founded.
The Poppy Factory today
Today's factory is light and spacious and has an air of calm about it. During our tour the production staff are quietly working, assembling poppies and wreaths. Visitors are asked not to take photos or talk to the staff, as many suffer from PTSD and need a quiet, stress-free environment.
Back in the visitor area, we have a lot of fun making our own poppies. To demonstrate how the production tools have been adapted, everyone must make a poppy with one hand behind their back. And having tried it ourselves, it's all the more inspiring to meet Nicola, who holds the record for making the most poppies in one day – an impressive 130!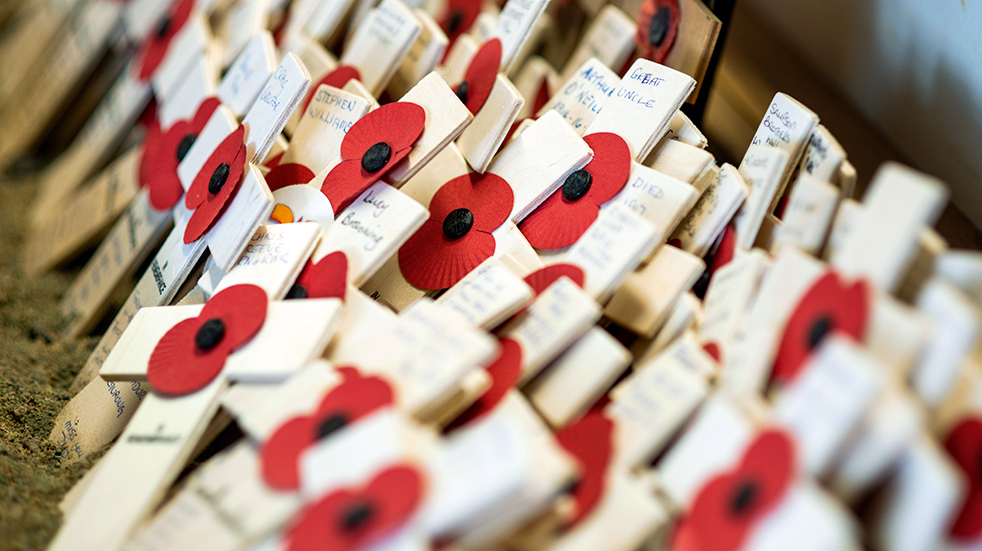 The factory also makes hundreds of thousands of remembrance crosses every year
There are an estimated 17,500 unemployed disabled veterans of working age across the country, and some of our group has first-hand experience of meeting veterans struggling to cope, often living on the streets. "I've met quite a few people who have come out of the army and are now homeless, struggling with mental and physical problems," says Group member Dawn Hancock. "They don't know where to go to get help."
"The first thing people who are struggling should do is go to their local British Legion group," advises Joyti. "They will be able to connect veterans with groups best placed to help. We know there are thousands of people out there who need our help, but they need to reach out to us. What you as visitors can do to help is to go out and spread the word about what we're doing here."
Tour the Poppy Factory
"We all found the tour so interesting," says Group member June Wakeman, "and a few feel quite emotional. My partner and I both lost great-uncles in the war and felt we missed out on getting to know them – the tour really brought this feeling back."
Mike also had family members whose lives were changed by their time in the armed services. "My father was injured by a shell blast in WWII and was ill for the rest of his life. His brother was in a POW camp in Japan. I've seen the impact these wartime experiences can have. Today has been a really interesting insight into some of the work going on that we're just not aware of on an everyday basis."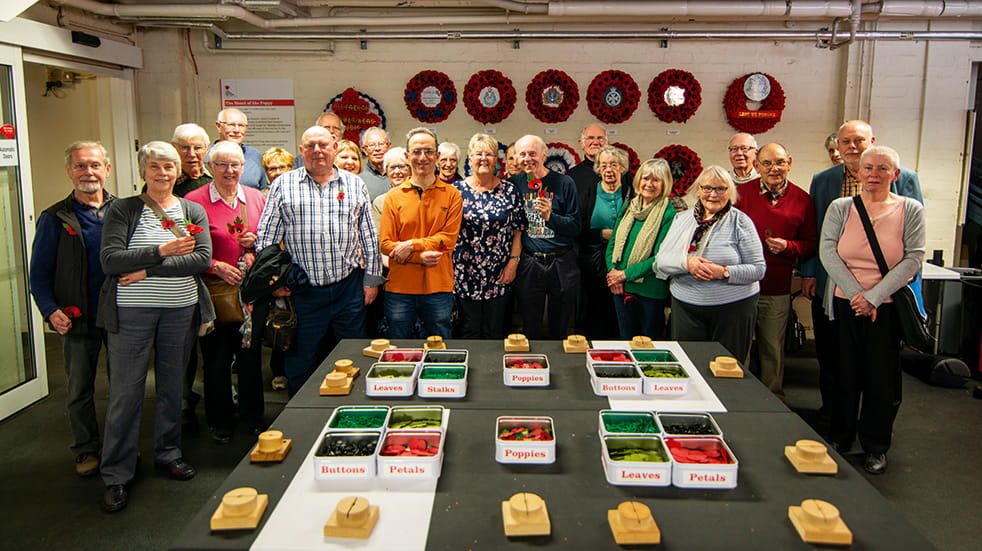 The Boundless Bath & Bristol Group, during their tour of The Poppy Factory
It's clear how much the tour has touched so many of today's group. And surely, when they buy their poppies for Remembrance Day, they'll remember not only those we've lost, but also the amazing work that The Poppy Factory's doing to support disabled veterans now fighting to get their lives back on track.
How to wear your poppy
The leaf in the poppy should always point to 11 o'clock, to signify the ending of the First World War. News reporters often wear poppies without a leaf, to avoid the risk of it being in the wrong position.
The Poppy Factory in numbers…
Last year there were:
35 employees in the factory
139,000 wreaths made
7.6 million poppies produced
925,000 remembrance crosses made
814 veterans supported
232 people started a job with help from the British Legion
70% stayed in their job for 12 months or longer
Find out what other events the Bath & Bristol Group has planned at boundless.co.uk/community, and check out the Groups in your area.