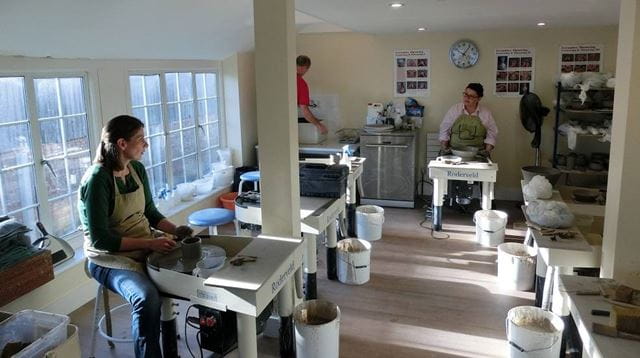 There's something reassuring solid and grounding about working with clay.
The feel of soft, sludgy earth in your hands, pleasingly changing shape moment by moment into something recognisable seems almost to offer a glimpse of a simpler existence when nothing else mattered than what you were doing moment by moment.
But it's not just the fact that the primitive lump of clay I threw onto the potter's wheel a few minutes ago is becoming a pot which fills me with joy on this particular day: there's a pleasant air of bonhomie, a smell of coffee brewing and the sound of chatter and general busy-ness.
To cap it all, despite heavy grey winter skies, a beam of sunlight streams through the window behind me and lands on the pots I've made so far, and I have the sudden realisation that I couldn't wish to be anywhere else in the world at that moment.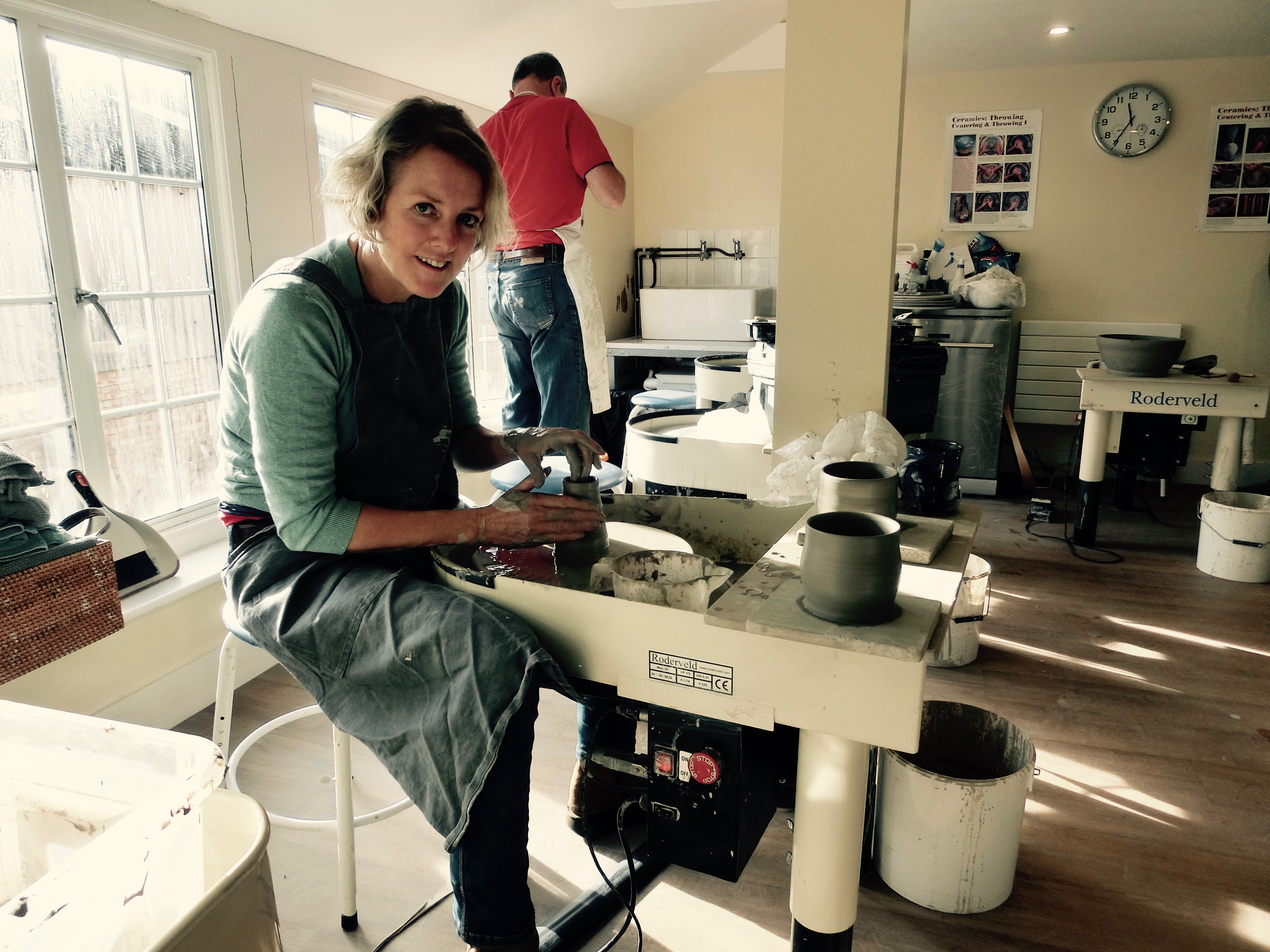 It's one of the the main reasons of artistry for me – to lose myself in the making, and it's hardly surprising considering my location. I'm lucky enough to be spending my day in The Ceramic Studio, a 10-minute drive from Tunbridge Wells in Kent, a pottery studio set in a beautiful oast house on a fruit farm, arranged spaciously over two floors.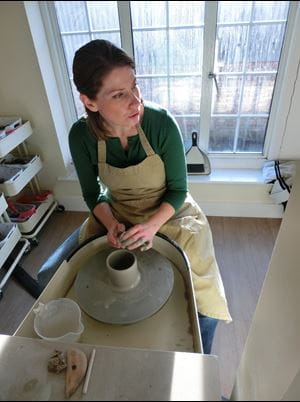 Five women and two men are poring over their creations on the other wheels nearby, while downstairs a further half a dozen or so are creating pots by hand using various hand-building methods. I'll be down there later but for now I'm focusing on centering my lump of clay (literally, getting it right in the centre of the wheel without it wobbling about) before I can begin to form it into some sort of pot.
Tutor Helen Rondell (left) helenrondell.co.uk – herself a commercially successful potter – shows me how to centre the clay ball, create a central dip and bring up the sides using fingers and thumb, with hands always in contact with each other for stability.
My mother showed me how to centre clay when I was about 12, but it is decades since I have thrown a pot. Somehow, I manage to manipulate half a dozen clay balls to make some bowls and vaguely mug-shaped pots: some good enough to keep and others consigned to the wet clay bucket for recycling.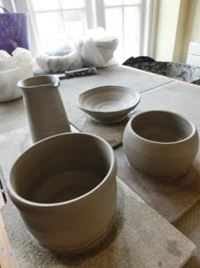 By the end of my morning session on the wheel, I have four different pots: a milk jug (sans handle) a shallow bowl, a sturdy mug and what could be loosely described as a snack bowl, proudly sitting on small boards ready for drying out and 'biscuit' firing.
The next step after the initial firing is to glaze the pots and fire again, but that is a way down the line.
Rani Moss opened the studio after completing a City & Guilds ceramics course three years ago, when she realised she wanted to continue her passion and establish a creative environment for others to do the same.
She now has more than 100 regular students, while there are also taster sessions and all-day workshops for people of all ages, from pre-schoolers to pensioners.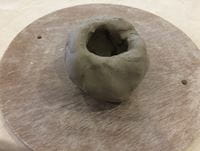 After a break for lunch and some chat with the other students, I'm to spend the afternoon hand-building.
Downstairs, a spacious area for hand building includes a slab roller and extensive selection of pottery tools.
There is also a good-sized glazing area with a large selection of oxides, slips and gorgeous glazes as well as a spray booth and gun for glazing large items.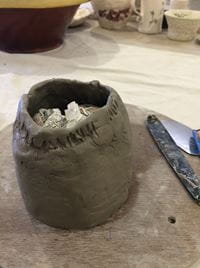 I decide to make a vase using a combination of techniques: Starting with a basic lump of soft clay I create a 'pinch pot', using just my fingers and thumbs to hollow it out and build up the sides (right).
When I've made it as tall as I can I begin rolling pieces of clay into sausages, or coils, adding them to the top using water and tools to attach them and smooth the sides, until I'm satisfied with the way it looks.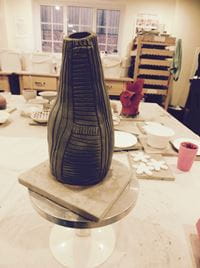 Helen recommends I stuff the pot with newspaper - which burns off in the firing process - to stop it collapsing.
A couple of hours later I manage to finish off my basic vase with some deeply scored surface markings before it's time to clear everything away.
It's the end of my pottery day in the studio, but my pots still have a way to go before I can take them home.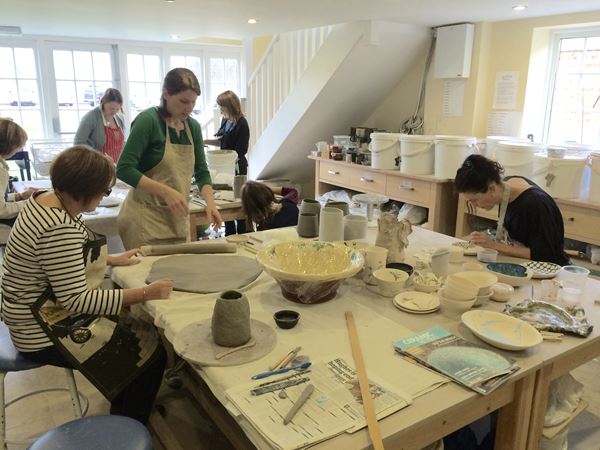 The next step is to biscuit fire the pieces I've made to around 1700 degrees Fahrenheit in a large kiln (oven), so that they can be glazed. It takes over a week until the vase is dry enough to fire as its walls have different thicknesses due to all the different construction methods I've used with hit.
When dry, the pots are fired to remove all the moisture and make them really hard, and then glazing and firing a second time will complete the process.
This involves coating them in a glass-like ceramic substance which protects them and makes them waterproof and food safe.
Glazing is also a way of decorating pots, and there are thousands of different colours, textures and finishes to choose from.
Every potter has his or her own formulation for glazes - many of whichare a closely guarded secret.
Rani makes up her own glazes for students to use and there is a display of small tiles with the different glazes on to make it easier to choose the right one for each pot.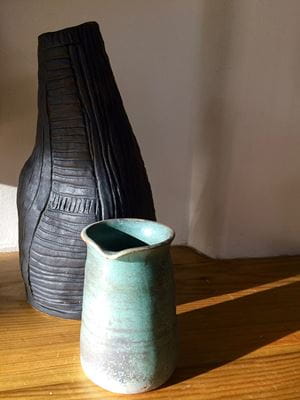 The two pots I've chosen to take home are my tall wonky vase, which I've asked Helen to glaze in matt black, and the little jug.
For the jug I wanted a sage green-type Japanese feel as it has no handle and so I chose a lovely slightly speckled turquoise/green glaze.
Another week later it's a fingers crossed moment as the pots come out of the kiln after cooling down from their second firing.
I'm really happy when I see the finished products.
Rani and Helen have made the whole process a really enjoyable experience, which made me hanker after more such creative days away from my desk bound job.
Best of all, a month or so after the workshop I get to take away one piece of work to display on the mantelpiece, and one to use in my kitchen.
---
Catherine spent a full day at theceramicstudio.me.uk Five Oak Green, Tonbridge, TN12 6RR
Rani also offers taster sessions on the last Saturday of every month (1-4pm, £40 includes refreshments) with a range of different techniques demonstrated.