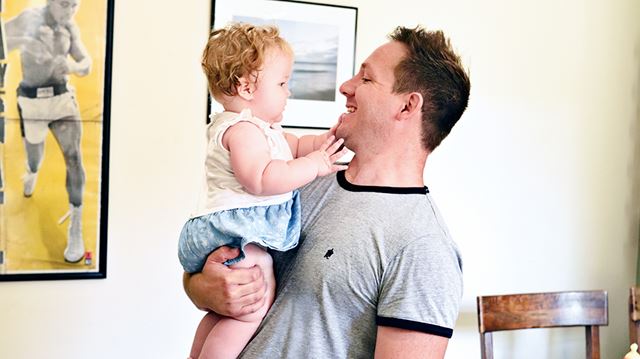 Joe is blazing a trail for parental equality, taking extended paternity leave to care for his two children, and tells us how he's loving every minute.
I'm a journalist by trade. I started in local newspapers before moving on to nationals, then a job at Soldier, the British army's magazine, came up. I stayed there for seven years before moving to London and now work in the army press office. We cover everything the army does in the London area and out to Windsor and share positive stories. The Queen's Birthday Parade is our biggest event and we make sure that the world's press and public hear all about it.
An equal role in parenting was inevitable for me. My wife and I knew it was something we'd want to do – and it just so happened that the law on shared parental leave changed just before we had our first child. My wife is a barrister and although she wanted to be with the baby, she was very conscious of how being out of the office for a year would affect her role. She's not power-hungry, but being on maternity leave for seven months rather than nine made a big difference to the opportunities open to her.
Equal parental rights
I'm very vocal about equal parental rights. It always surprises me that more people don't know what the law is. Both times I've taken shared paternity leave, my employers have been fantastic. They've told me to go for it and that they'd support me. They understand that my job is important but that you don't get chances like these often.
What I'm doing might be different, but it shouldn't be. I haven't come across any other stay-at-home dads. It's a conversation I find myself constantly having with other parents. I think we still have a generation or two to go until this type of situation is typical – there's a long way to go to before both parents have an equal role in bringing up their kids.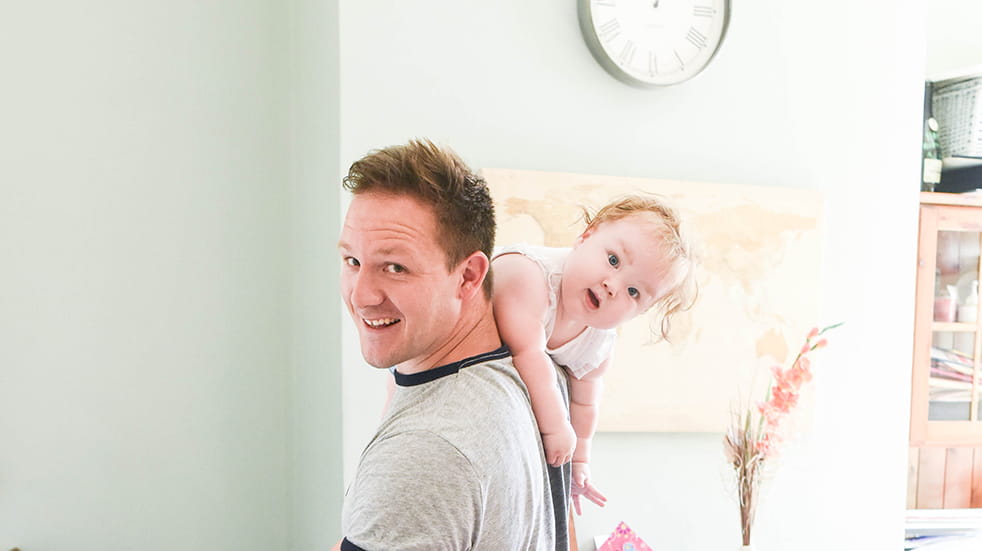 MOD Media Manager Joe Clapson loves being at home with the kids.
It's easy to blame employers, but it doesn't just lie with them. It's a complex issue. We're still very traditional in this country about how we take our leave. Employers aren't necessarily aware of shared parental leave, or may not publicise it, while parents are often in the dark about their rights. Affordability also comes into it. People tell me I'm lucky and I say it's nothing to do with luck: it's because I want to do it and it's my right.
Being at home with the kids
I don't miss my professional life but that's because I keep busy. I write my blog, Daddy Shortlegs. It's good to stay connected to social media because of my job. I think I could see myself getting a bit of brain fade if I didn't have that.
For me, it's all about being at home with the kids. I love it. I do love my work too, but being at home with the girls is the best thing I've ever done. I go to all the baby groups and I've never felt like the outsider. I come across lots of mums who say "I think it's fantastic what you're doing", which is nice but I don't do it to be praised. I'm just a dad raising his kids in the same way my wife does.
Nominate your own Boundless hero
Do you know a Boundless member who goes above and beyond the call of duty at work? Email hello@boundlessmag.co.uk, or share a picture of them, with a few words, on our social feeds on Facebook or Twitter using #boundlesshero.