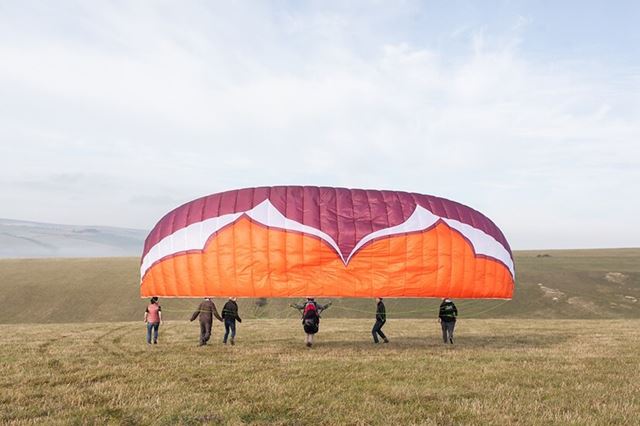 Catherine Eade takes a leap into the unknown when she experiences paragliding for the first time
We look like a gaggle of goslings learning to fly. Arms outstretched, wheeling slightly to the left and then to the right, we run down the hill after the instructor, before pulling imaginary brakes in the air and coming to a halt.
Brightly coloured 'wings' have begun to appear in the air above us, and there's a noticeable whooshing sound as people swoop about. It's fair to say that I'm feeling an equal amount of trepidation and excitement.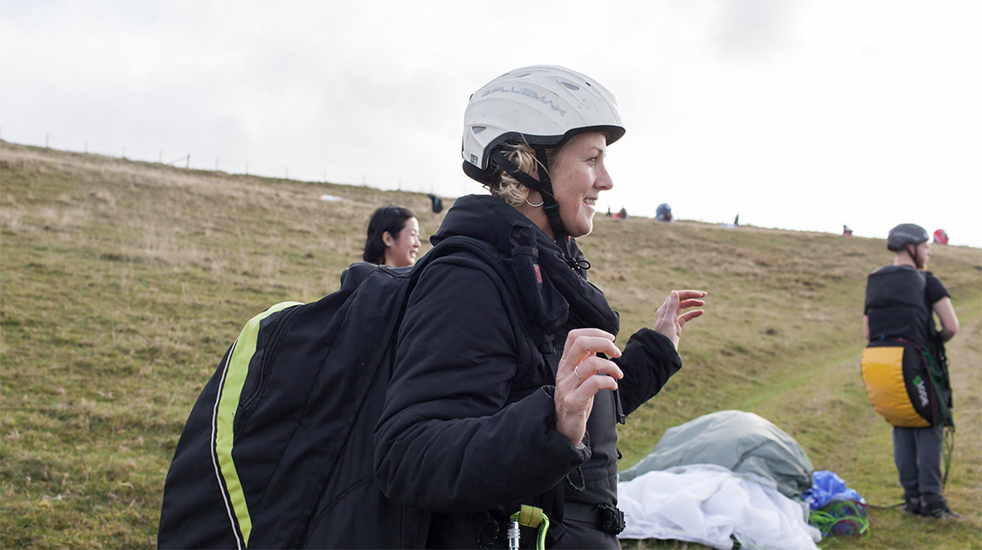 It's my first paragliding lesson, and I am about to don my helmet and harness in preparation for the big push (literally, as it turns out).
Paragliding is one of the fastest- growing forms of leisure aviation, and it's also one of the most accessible.
Fly Sussex Paragliding is a British Hang Gliding & Paragliding Association (BHPA)-approved school in the heart of the Sussex Downs National Park, which was set up by Tim Cox more than 25 years ago.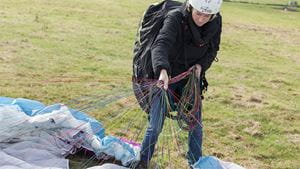 Tim has taught thousands of people to paraglide, from total beginners to world champions. And he's not the only member of his family to have caught the flying bug.
Jess, Tim's youngest daughter, is not only a paragliding instructor but also happens to be the 2015 British Women's Paragliding Champion, while Tim has been awarded the Royal Aero Club Lifetime Achievement Award.
The equipment we will be using to fly is an inflatable wing attached to a harness-cum-chair. Strapped in and still on the ground, one feels a bit like a giant snail, although the resemblance ends as soon as you're gracefully airborne.
'It's a bit like riding a bicycle: you can talk theory all you want but the best way to learn is to actually do it,' says Tim, as he arrives back up the hill after demonstrating a take off and landing.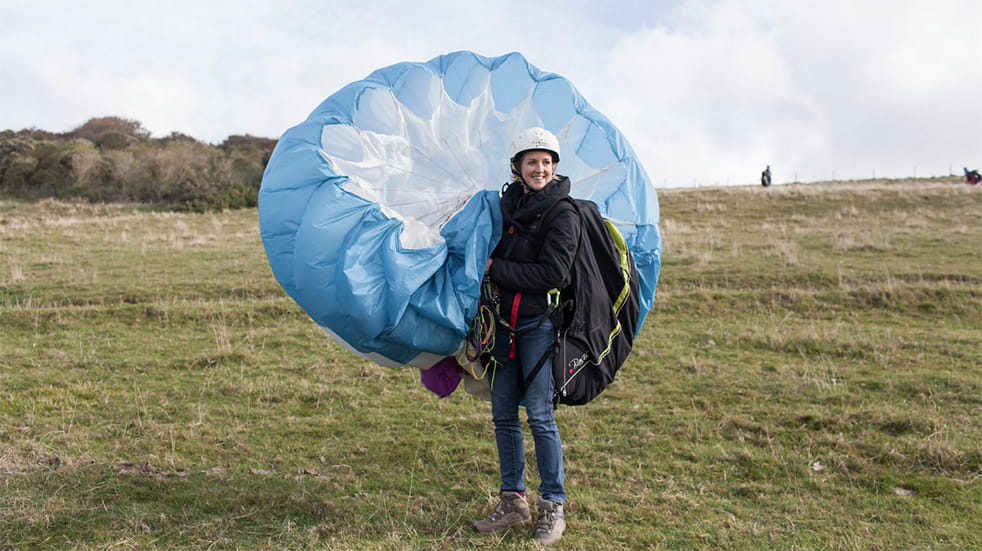 Just 15 minutes later, having gone through the basics – how the wing flies, how to launch it symmetrically and how to land safely – we are quite literally up and running.
Checking wind direction and speed with the Met Office is a prerequisite, though Tim only needs to stick his head out of the car window to know which is the best slope for us to make our maiden flights.
We are spoilt for choice: this area of the South Downs, with its undulating fields and lack of trees, is excellent terrain for beginners. Tim tells me that he often glides for miles and miles when the conditions are right, using thermals, as birds do, to climb to dizzying heights.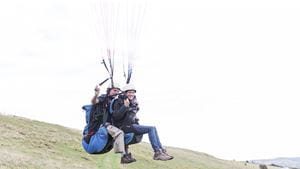 'You can glide over cliffs, y above the sea, over forests and mountains...' His face takes on a faraway, euphoric expression.
After the compulsory equipment check, Tim helps me launch the wing and I run downhill, pushing my body forwards, my arms stretched out at right angles, holding onto the lines.
There's a moment when I feel like I'm moonwalking, and then Tim gives me a little shove...
I can't quite believe it, but I am flying. It's an exhilarating moment.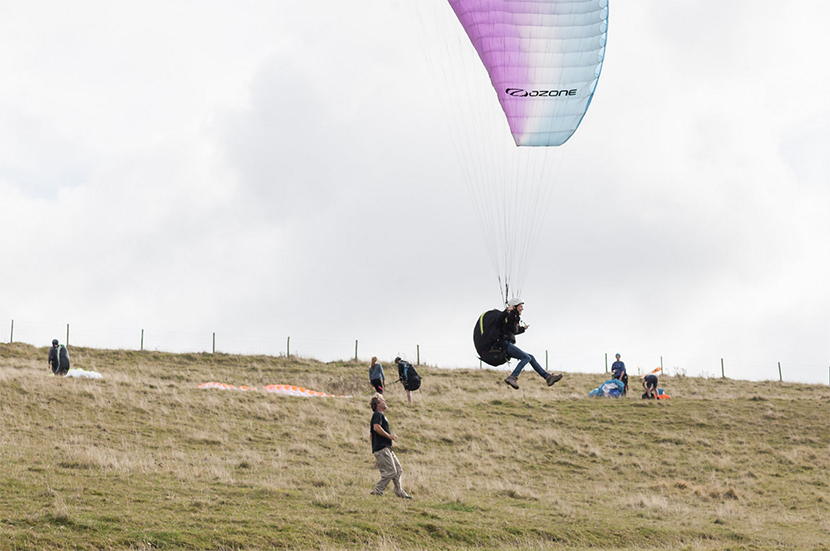 I can see the instructor at the bottom of the hill, moving the bright orange paddles used to guide flyers in to land, and I raise my arms slightly, mirroring his.
All too soon the ground looms and I pull the brake lines to 'flare' the wing and land gently. To go back up the hill, I simply gather the lines and wing as show, or 'mushroom up', bunching the wing over one shoulder.
The whole kit and caboodle fits into a large rucksack, which makes it easy to transport anywhere. Tim and his fellow paragliding fanatics have travelled all over the world paragliding over land and water over the last couple of decades.
If you sign up for Sussex Fly's five-day Elementary Pilot paragliding course, you are qualified to fly anywhere in the UK, provided a BHPA instructor is present; and after the Club Pilot course, you can fly anywhere in the world unsupervised.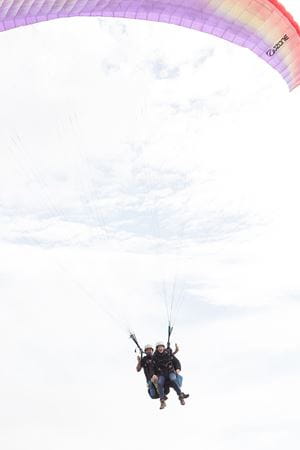 Everyone in my group manages to complete three or four solo flights, and the elated expressions on their faces sum up exactly how they're feeling.
It's around lunchtime when I find I have a bonus ride: I am going to fly in tandem with Tim, and after strapping ourselves into a dual harness, we go much much higher than I did when I flew solo.
I feel as graceful as a swan skimming a lake as we float above the Sussex Downs before landing and gathering in the lines and the wing once more.
The next day, back at my desk, I find myself Googling 'paragliding wings for sale' (from around £2K) and can't help thinking of the Leonardo da Vinci quote Tim has used on the Fly Sussex Paragliding website:
'For once you have tasted flight, you will walk the earth with your eyes turned skywards, for there you have been and there you will long to return.'
Catherine Eade learnt to fly with flysussex.com