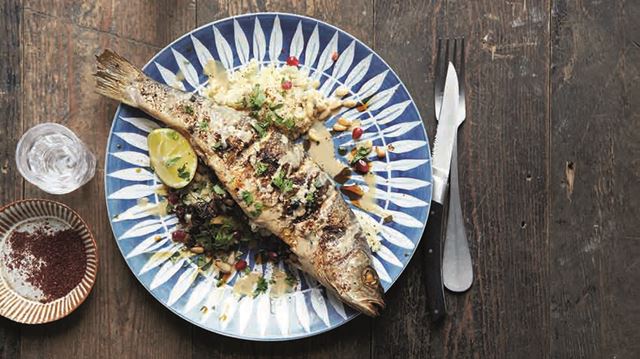 Now that many supermarkets, specialist stores and online retailers offer the spices and more unusual produce needed for Middle Eastern cooking, it's easier to try some of the region's best-known recipes. Ingredients such as pomegranate molasses and preserved lemons are widely available, as is sumac, the delicious, lemony spice mix. Za'atar is a herb, but the name also refers to a dried spicy herb combination, which you can buy ready-mixed or blend at home.
There are lots of za'atar recipes available to ensure you get the correct amount of toasted sesame seeds, oregano, marjoram, sumac and cumin, which really is key to achieving the pungent aroma redolent of Middle Eastern food. At its most simple, it can be mixed with olive oil and spread onto meat, chicken and fish, or simply scattered over hummus or salads.
---
Za'atar-spiced sea bass with olives and preserved lemon
Serves 4
Prep: 15 mins Cooking: 25 mins
INGREDIENTS
2 whole seabass, gutted and cleaned
1 tsp each sumac and za'atar
2 tbsp olive oil
Flat-leaf parsley and dill, finely chopped
2 tbsp toasted pine nuts
3 preserved lemons, chopped
50g pitted black olives, chopped
50g golden sultanas
4 tbsp tahini mixed with 1 tbsp lemon juice
Pomegranate molasses
Fresh pomegranate seeds and prepared bulgur wheat, to serve
METHOD
1. Line an oven dish big enough to hold both fish with foil; preheat the oven to 180˚C/Gas Mark 5.
2. Using a sharp knife, make 3 – 4 slashes on each side of the fish, being careful not to cut through the bone, then place them in the oven dish.
3. Mix 2 tbsp olive oil with the sumac and za'atar and coat the fish generously with the mixture, before sprinkling with salt.
4. Mix half the herbs with the pine nuts, preserved lemons, olives and sultanas and use this to stuff the fish. Roast for 25 mins ­– turning once – until cooked through.
5. Serve on top of the bulgur, drizzled with a little of the lemon-tahini sauce and pomegranate molasses and scattered with pomegranate seeds and the rest of the herbs.